Kent Island is the largest island in the Chesapeake Bay, but each day thousands of drivers pass by without much thought of it while crossing the Chesapeake Bay Bridge (William Preston Lane, Jr. Memorial Bridge). Kent, however, is a Maryland island worth visiting for a stopover or a longer stay. Steeped in history, ringed with beaches, and full of opportunities for recreation and relaxation, Kent Island is one of the gems of the Chesapeake region. Only about 20 miles from Annapolis and fewer than 50 miles from both Washington, D.C. and Baltimore, Kent Island offers a quick escape from busy city life. 
Geography Of Kent Island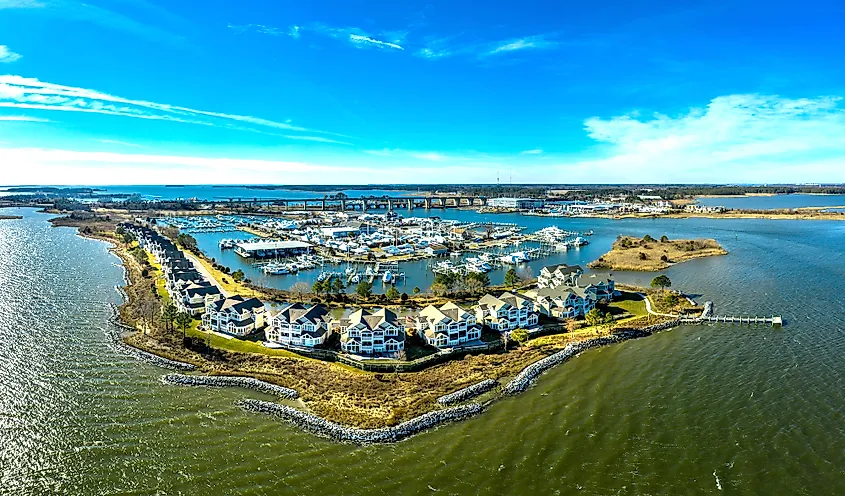 Kent Island rests at roughly the north-south midpoint of the Chesapeake Bay, the largest estuary in the United States. The island is also part of the narrowest portion of the bay; there are only about 4 miles of open water between the west side of the island and the bay's western shoreline at Sandy Point, Maryland. To the east, Kent Island is barely separated from Maryland's Eastern Shore region on the Delmarva Peninsula by the Kent Narrows, which is less than 1/4 mile wide at its narrowest. Kent Island is about 15 miles long (north-south) and about 6 miles across at its widest, covering roughly 31 square miles.
Geology And Climate
Kent Island has extensive marshlands, especially on the eastern side. A portion of the marshland in the Kent Narrows area has been dredged regularly since 1876 to maintain a navigable channel, but several other marshland areas maintain a more natural state. The island also has forested areas as well as previously forested areas that were cleared for agriculture over the past four centuries. Numerous inlets juts into the island, such as Cox Creek (the largest), Warehouse Creek, Shipping Creek, and Crab Alley Creek. Along with Maryland's Eastern Shore region, Kent Island has a humid subtropical climate, with an average temperature of about 57 degrees Fahrenheit and an annual average precipitation of about 44 inches.
Fish And Other Wildlife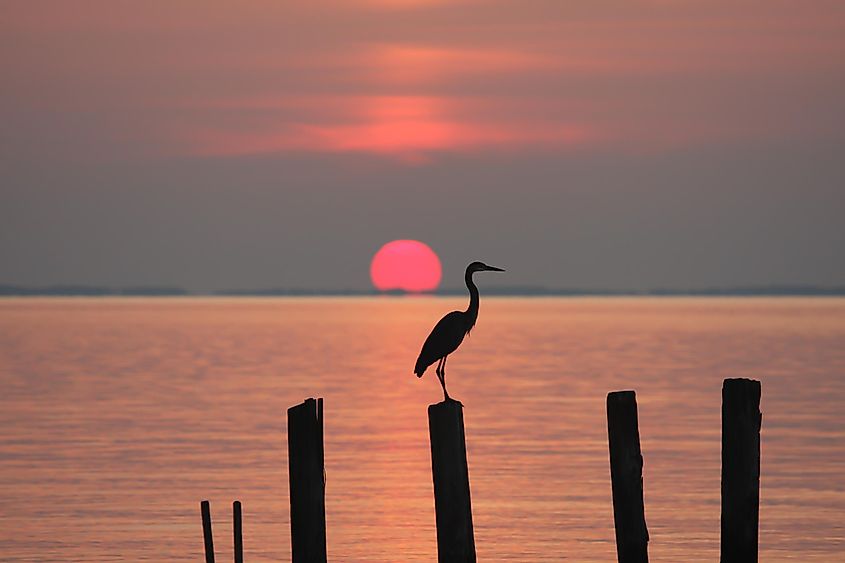 Kent Island is surrounded by some of the best fishing waters in the Chesapeake Bay, with species including striped bass, hardheads, white perch, bluefish, sea trout, and rockfish. People have long harvested shrimp, oysters, and crabs from Kent Island's waters as well. While Kent Island is no longer a center of the commercial fishing industry in the Chesapeake Bay, numerous fishing and sightseeing charters still operate, mostly in the Kent Narrows area. The island is home to eagles, blue herons, foxes, deer, rabbits, and squirrels, including black squirrels. Protected areas of the island, such as Terrapin Nature Park, provide excellent wildlife sightseeing opportunities for visitors to Kent Island.
History
Kent Island has been inhabited for some 12,000 years, including the Matapeake people at the time of European contact. The first English settlement on Kent Island was established in 1631, marking the first European settlement in what is now Maryland, although Virginia also claimed the island for decades afterward. Kent Island was first used as a trading post with Native Americans, then a fishing center, and, by the mid-1800s, a busy stop for the various ferry lines that crossed the Chesapeake Bay. The completion of the Chesapeake Bay Bridge in 1952 hastened Kent Island's transformation into a tourist destination as well as a "bedroom community" for commuters into Annapolis across the bay.
Points of Interest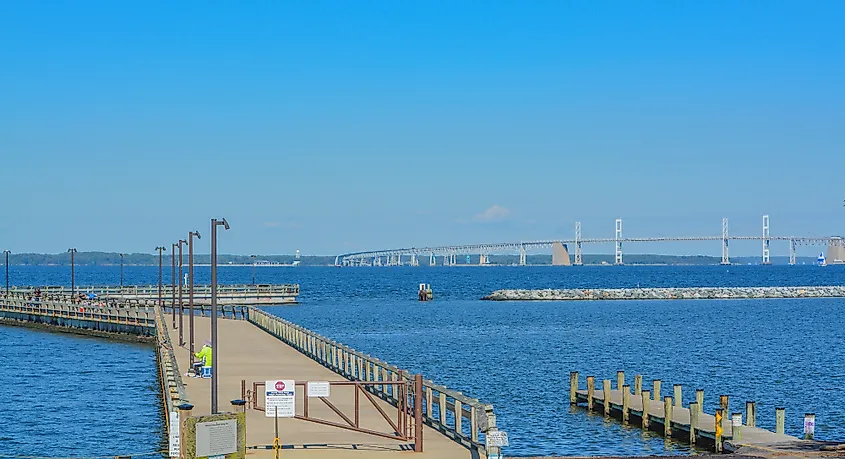 Historic Stevensville: The village of Stevensville used to be a key stop along the short railway that crossed Kent Island (between ferry stops on the east and west sides). The town's charming downtown area feels as though it has been trapped in time since the end of the railroad in 1948.
Terrapin Park: Situated just to the north of the Chesapeake Bay Bridge, Terrapin Park offers one of the most picturesque public beaches in the entire bay region. It also includes a 2.8-mile biking and walking trail that passes through a range of wildlife habitats.
Ferry Point Nature Park: Located near the Kent Narrows, this park offers a more isolated public beach—you have to walk or bike a 1-mile trail to access it. But that trail takes you through the heart of 41 acres of beautiful tidal wetlands.
Kent Narrows Restaurants: The Kent Narrows area is home to several popular crab restaurants and tiki bars, making it the heart of Kent Island's nightlife. Visitors come by land, bridge, and water to enjoy great food and great fun.
Kent Island may be the Chesapeake Bay's largest island, but it is still a small place with a cozy, relaxing feel. This relaxed vibe and its easy-to-access location near both Washington and Baltimore make it a great spot for a day trip. However, Kent Island also contains more than enough natural beauty, recreation, historical charm, and great food to be an ideal destination for a longer stay—or even a permanent relocation!