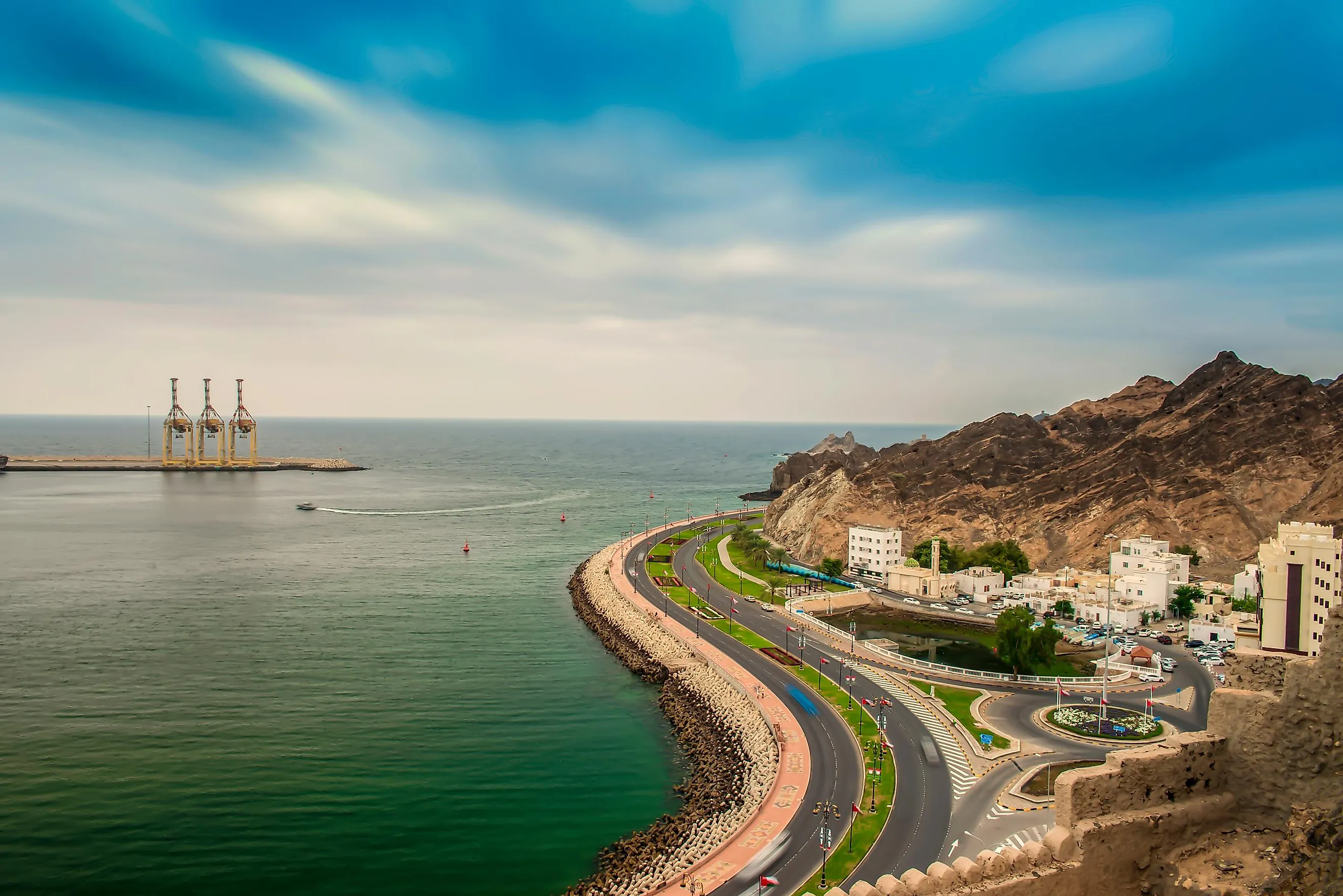 A gulf is a large inlet from the ocean into the land. Gulfs are formed as a result of plate tectonics and are often connected to the ocean by narrow water passages known as straits. Covering a total area of 181,000 km2, The Gulf of Oman is a western extension of the Arabian Sea and is situated in the Middle East between the countries of Iran, Oman, and the United Arab Emirates.
Contents:
Where Is The Gulf Of Oman?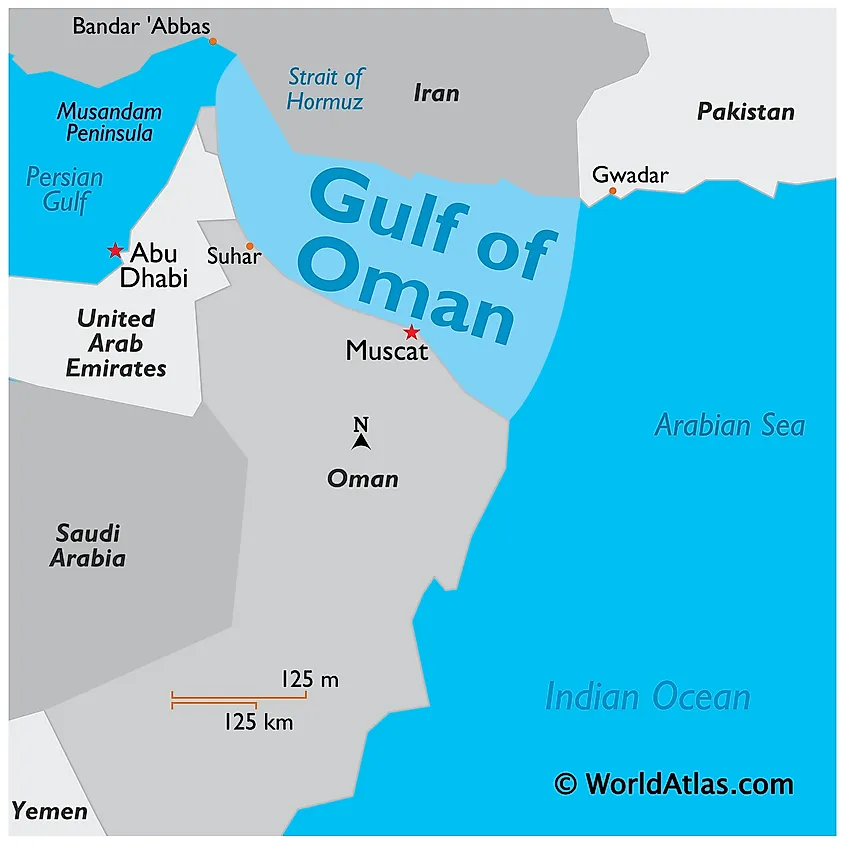 Also referred to as the Sea of Oman, the Gulf of Oman is located in the northwestern Indian Ocean. The Gulf connects the Arabian Sea with the Strait of Hormuz, which then empties into the Persian Gulf. The Gulf of Oman is bordered by Pakistan and Iran in the north; by the United Arab Emirates in the west and by Oman in the south.
The Gulf of Oman is about 320 km wide at its widest point between Cape al-Hadd in Oman and the Gwadar Bay on the Iran-Pakistan border. It is approximately 560 km long. Some of the significant islands that are located in the Gulf of Oman include Sheytan Island, Al Fahal Island, Dimaniyat Islands, and the Sawadi Islands.
Marine Life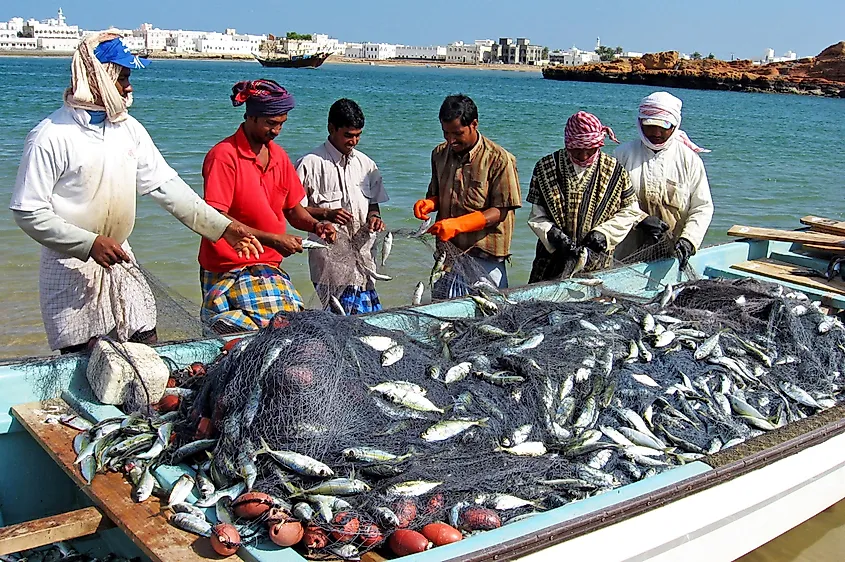 About 530 species of fish are found in the Gulf of Oman. Some of the notable fish include tuna, marlin, pomfret, swordfish, rainbow sardine, mackerel, sailfish, greater lizardfish, sardinella, and common dolphinfish. Some of the sharks that are found here are the Blue shark, silky shark, scalloped hammerhead, and bigeye thresher.
Scientists and researchers have confirmed that one of the world's largest "dead zones" measuring approximately 165,000 km2 has been found in the Gulf of Oman. These hypoxic dead zones are incapable of supporting aquatic flora and fauna.
Anthropogenic agricultural activities have led to an increase in nitrogen-rich chemical fertilizers and pesticides along with phosphorus-based detergents that are eventually washed away by rains or by rivers into the aquatic ecosystems. These nutrients favor the growth of algae and result in algal blooms. When these algae die, they lead to deterioration in the water quality and depletion of dissolved oxygen in the water bodies. Over the years, these water bodies turn into "dead zones."
Important Cities/Towns Along The Coast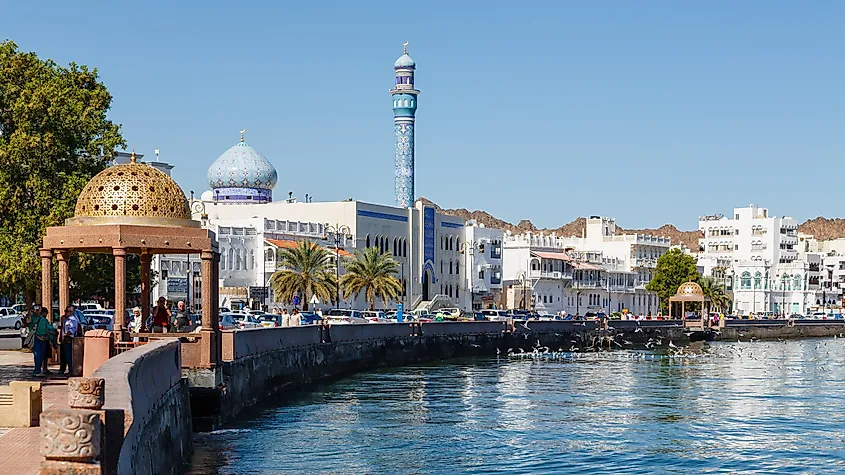 The countries bordering the Gulf of Oman include Iran, Oman, the United Arab Emirates, and Pakistan. Muscat, the capital of Oman, is located on the coast of the gulf. The major Iranian cities that are located on the coastline of the Gulf of Oman are Gawadar Bay, Jask, and Chabahar.
The major international shipping ports that are situated in the Gulf of Oman include Port Sultan Qaboos Muttrah in Muscat, Oman; Chabahar Port in Iran; the Port of Fujairah and Khor Fakkan Container Terminal in the United Arab Emirates.