Geography
Comprised of two large islands (separated by the Cook Strait), as well as Stewart Island, hundreds of coastal islands and many regional islands, New Zealand is a country of snowcapped mountains and scenic landscapes - north to south.
Positioned along the Ring of Fire, the Southern Alps (and it's many ranges) extend through the western portions of South Island. The country's highest point, Mount Cook (Aoraki) is located there, as well as over 350 glaciers and a wide assortment of national parks. Mount Cook rises to 12,316 feet (3,754 m).
Throughout the Southern Alps an additional 19 mountains rise above 10,000 ft (3,000 m). Along the western side of these massive peaks there's a narrow strip of coastline. Along their eastern flank, the mountains slope into a region of rolling hills and plains, drained by glacier-fed rivers.
In the far south, within the confines of Fiordland National Park, a jagged coastline of fjords, inlets and bays front the Tasman Sea. Milford Sound, located within the park, is surrounded by sheer rock faces that rise 3,937 feet (1,200 meters) or more on either side. It's widely considered New Zealand's top travel destination.
The mountains found on North Island are volcanic in nature, and many remain quite active. On the island's southwestern corner, Mount Taranaki (or Mt. Egmont) rises to 8,261 ft (2,518 m).
Other volcanic peaks of note stretch across a wide central plateau, including Mount Ruapehu (2,797 m/9,177 ft), Mount Ngauruhoe (2,291 m/7,515 ft), and Mount Tongariro (1,968 m/6,458 ft). This thermal belt area is replete with boiling mud pools, geysers, hot springs and steam vents.
Broad coastal plains ring much of North Island, and along its central western coastline, limestone caves, caverns and underground rivers are common. Along the northeastern coastline, the Bay of Islands is famous for its 125 (or more) scenic islands and secluded coves.
With Mount Maunganui guarding the entrance, and nearly 62 miles (100 km) of white sand, the Bay of Plenty is New Zealand's premier beach area.
Large areas of temperate rain forests are found along the western shore of South Island, and across much of New Zealand's North Island.
Occupying an extinct volcanic crate, the country's largest lake is Lake Taupo on North Island. The country's longest river, the Waikato, flows north from Lake Taupo through Hamilton, and on into the Tasman Sea.
Lake Te Anau is the largest lake on South Island. The Clutha River is that island's longest river, and like most rivers here, it originates in a Southern Alps glacial lake.
The lowest point of New Zealand is South Pacific Ocean (0 m).
Geography and Landforms of Oceania
Geography
New Zealand
Location:
Oceania, islands in the South Pacific Ocean, southeast of Australia

Geographic coordinates:

41 00 S, 174 00 E

Map references:

Oceania

Area:

total: 268,680 sq km
land: 268,021 sq km
water: NA
note: includes Antipodes Islands, Auckland Islands, Bounty Islands, Campbell Island, Chatham Islands, and Kermadec Islands

Area - comparative:

about the size of Colorado

Land boundaries:

0 km

Coastline:

15,134 km

Maritime claims:

territorial sea: 12 nm
exclusive economic zone: 200 nm
continental shelf: 200 nm or to the edge of the continental margin

Climate:

temperate with sharp regional contrasts

Terrain:

predominately mountainous with some large coastal plains

Elevation extremes:

lowest point: Pacific Ocean 0 m
highest point: Aoraki-Mount Cook 3,754 m

Natural resources:

natural gas, iron ore, sand, coal, timber, hydropower, gold, limestone

Land use:

arable land: 5.6%
permanent crops: 6.99%
other: 87.41% (2001)

Irrigated land:

2,850 sq km (1998 est.)

Natural hazards:

earthquakes are common, though usually not severe; volcanic activity

Environment - current issues:

deforestation; soil erosion; native flora and fauna hard-hit by species introduced from outside

Environment - international agreements:

party to: Antarctic-Environmental Protocol, Antarctic-Marine Living Resources, Antarctic Treaty, Biodiversity, Climate Change, Climate Change-Kyoto Protocol, Desertification, Endangered Species, Environmental Modification, Hazardous Wastes, Law of the Sea, Marine Dumping, Ozone Layer Protection, Ship Pollution, Tropical Timber 83, Tropical Timber 94, Wetlands, Whaling
signed, but not ratified: Antarctic Seals, Marine Life Conservation

Geography - note:

about 80% of the population lives in cities; Wellington is the southernmost national capital in the world
Note: The information tabled directly above was researched by and provided by the U.S. Central Intelligence Agency
What is Geography?
Geography is the study of the physical features of the earth and its atmosphere, in addition to the human activity that affects these. Geography is the nature and relative arrangement of places and physical features.
Landforms
Earth's surface has been modified over millions of years by a combination of geological processes that include, but are not limited to, the uplift of mountain ranges, the growth of volcanoes, and the formation of drainage basins (in which the surface of the landscape drops and is filled with eroded material). Landforms are categorized by a number of physical attributes including rolling plains, broad valleys, deserts, coastlines, and the slope and elevation of mountains.
Rivers
Rivers are natural courses of water, usually freshwater, that flow towards an ocean, lake or sea, or sometimes into another river. In certain instances, rivers will either flow into the ground or dry up completely before reaching a larger body of water. River water is collected from precipitation, groundwater recharge, and the release of stored water in ice and snowpacks.
Lakes
Lakes are inland bodies of water that are fed and drained by rivers; there are also artificial lakes, constructed for industrial or agricultural use, hydro-electric power, domestic water supply, or simply for aesthetic purposes. Generally, lakes are considered to be temporary over geologic time scales, as they slowly fill in with sediments.
Mountains
Formed through tectonic forces or volcanism, mountains stretch and tower thousands of feet above the surrounding land.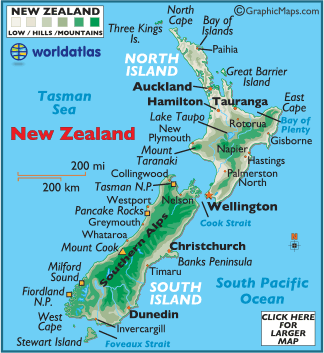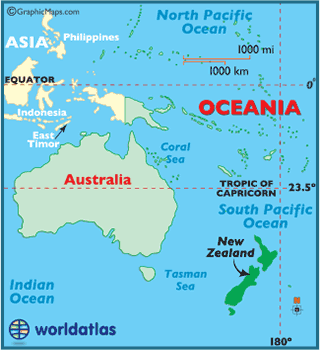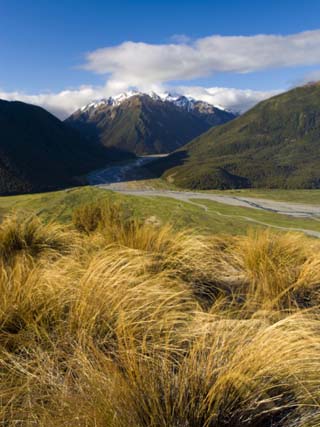 Arthur's Pass National Park, New Zealand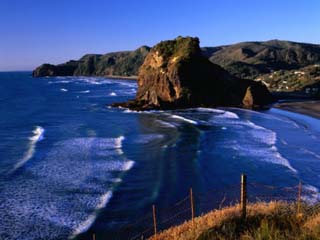 New Zealand coastline
About the Author
John Moen is a cartographer who along with his wife are the orignal founders of worldatlas.com. He and his wife, Chris Woolwine-Moen, produced thousands of award-winning maps that are used all over the world and content that aids students, teachers, travelers and parents with their geography and map questions. Today, it's one of the most popular educational sites on the web.