Ban Gioc – Detian Falls is the collective name for two waterfalls that are situated on the Quay Son River. The Ban Gioc – Detian Falls is the largest waterfall in Asia that is located along the international boundary between the People's Republic of China and the Socialist Republic of Vietnam. After crossing the boundary between the two countries, the Ban Gioc – Detian Falls joins with the Banyue Waterfall in Vietnam. The waterfalls are situated approximately 272km north of the Vietnamese capital city of Hanoi. 
Geography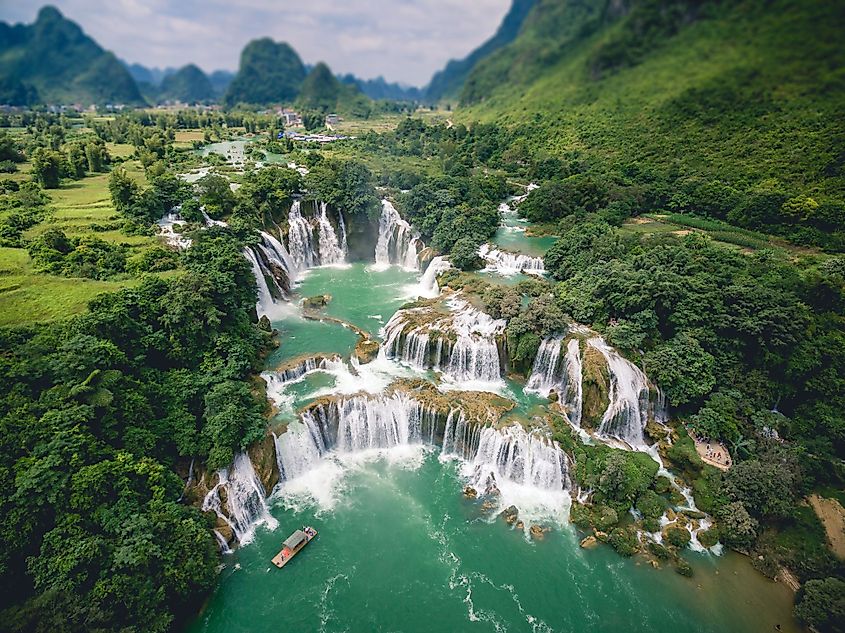 One-half of the Ban Gioc – Detian Falls is located in the karst hills of Daxin County, in the Guangxi Zhuang Autonomous Region of China. The other half of the fall is located in the Trùng Khánh District in the Cao Bang Province of Vietnam. The Ban Gioc – Detian Falls is currently the fourth largest waterfall in the world that is located along an international boundary, after the astounding Iguazu, Victoria, and Niagara Falls.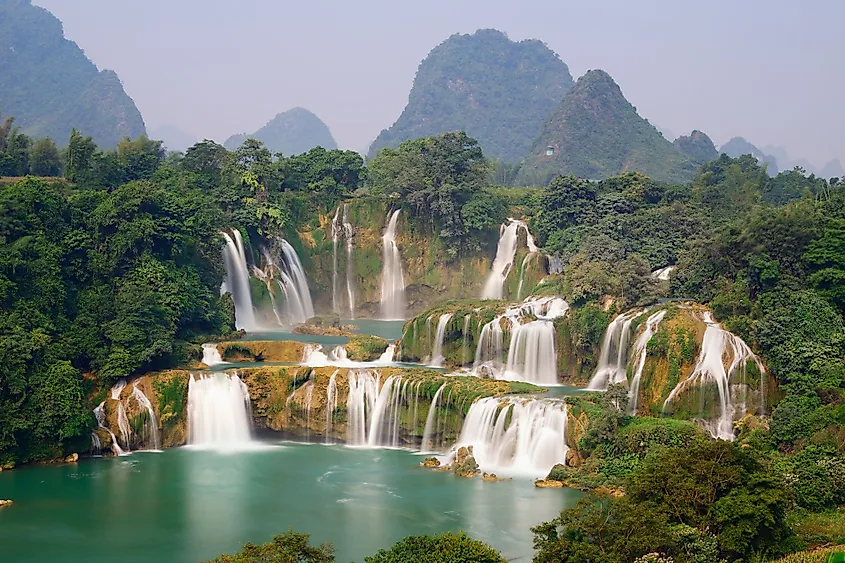 The Ban Gioc – Detian Falls is over 200m wide and has a drop of 30m. Below the falls, there is a deep pool that is also more than 200m wide and has a depth of over 30m. The waterfall is surrounded by picturesque karst peaks and its water rushes down a three-tiered cliff, separated into three falls by the rocks and trees. The local area surrounding the Ban Gioc – Detian Falls contains mature karst formations, where the initial limestone bedrock has been eroded. Many streams emerge from the underground fissures along the lower levels of the area. Geological studies have revealed that the terrain has been formed over millions of years by the multiple depositions of sediments of varying hardness. Due to the continuous eroding of its crest for thousands of years, the Ban Gioc – Detian Falls have slowly moved further upstream. At present, it appears as two separate falls, but due to the swelling of the river during the summer rainfall, it appears a single thunderous waterfall again. 
The Vietnamese people consider the two falls as two parts (main and subordinate) of a single waterfall. The entire waterfall is known by the sole name "Ban Gioc", where the main waterfall is known as thác chính and the subordinate waterfall as thác phụ. In Chinese, both the falls are known as Détiān Falls.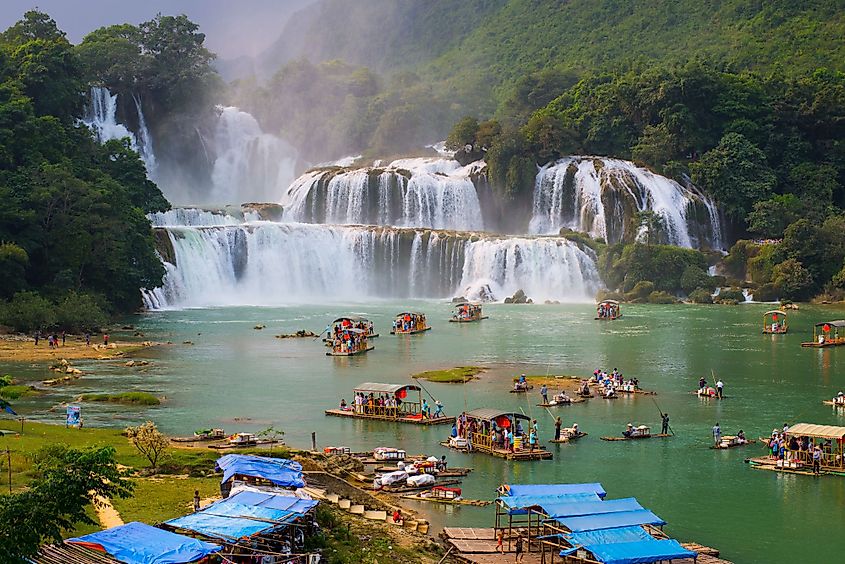 The surrounding scenery changes according to the different seasons throughout the year. During the spring season, the red blossoms are in full bloom, while in the autumn season, the surrounding scenery turns golden-yellow. During summers, the waters become much stronger and violent, while during winter the waters become calm and clear.