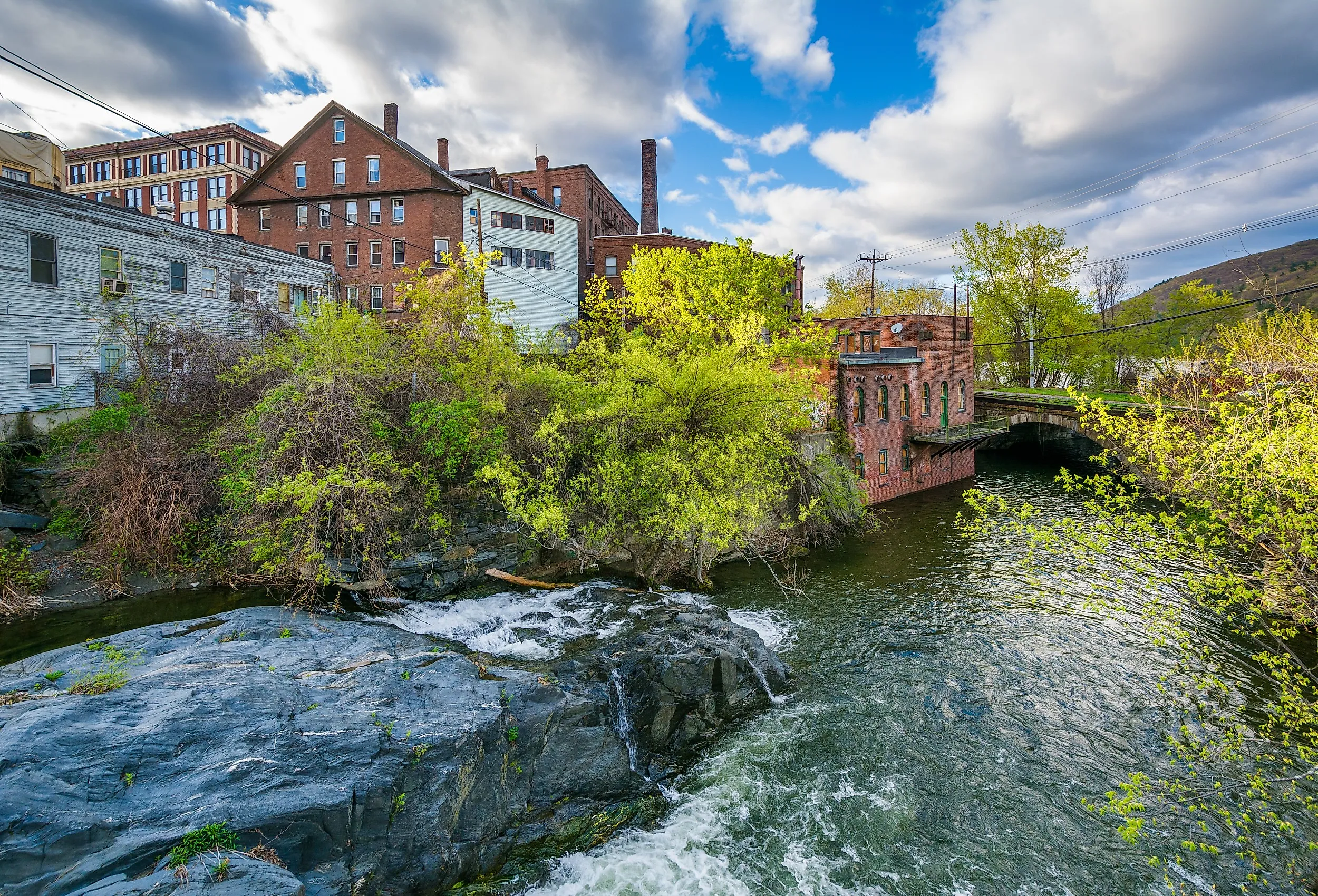 The Best Small Towns in Vermont To Chill Out
Vermont, United States, resides in the northeast and is one of the New England states. Millions of people come to tour the state on a yearly basis and often look forward to the stretching mountains, sinking valleys, and expansive county areas. Within the state are numerous mountain towns with greenery and farms, offering stunning views of the Green Mountains, a part of the Appalachian Mountains. The Green Mountains extend for 250 miles, covering most of the state, home to many small towns, perfect for chilling out.
Stowe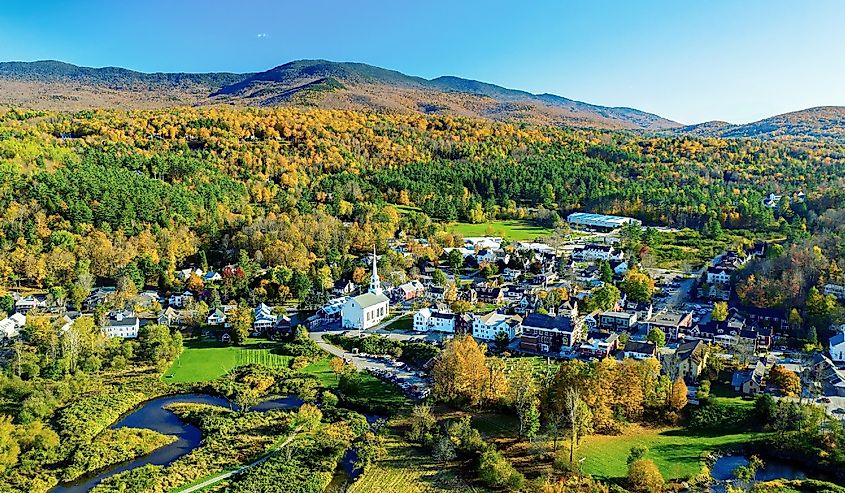 You will want to stow away to this town and never come back. The best time to visit Stowe is during the winter, as it is a ski area, making it a great town to chill out in (literally). Take to the snow-powdered Mount Mansfield and ski and snowboard to your heart's content. Ride a gondola up the mountain, sit back and relax, and take in the majestic view. If you opt to travel here in the summer, you are still in luck. Stowe houses Smuggler's Notch State Park, which used to be a smuggling passage to Canada. Now, enjoy looming cliffs for hiking, rock climbing, and biking. Also, do not miss Moss Glenn Falls' crystalline views. The waterfall trickles into a ravine. Take your shoes off, walk in the water, and chill out, or find a nearby rock and sit and stare at the mesmerizing water flow.
Woodstock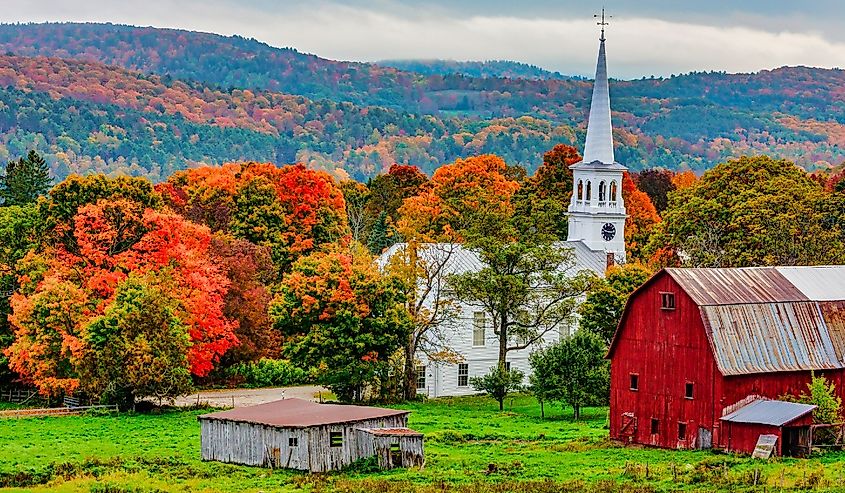 If you like supporting local and sustainable traveling, then you will love Woodstock. This is a beautiful, small town that contains a cute vibe with colonial houses, farm-fresh food, and craft breweries. Imagine sitting in a local brewery without a care in the world. All you have to do is chat with your friends while sipping on fresh beer. It is the epitome of chilling out. Only 10 minutes away in Bridgewater, experience Long Tail Brewing Company, named for the trails that wind through the Green Mountains, and the brews are inspired by this too. Try a Limbo IPA or Pumpkin Ale, something different that you cannot experience elsewhere. Additionally, the Ottaquechee River cuts through both towns with the stunning Ottauquechee River Trail to explore.
Shelburne
Nestled into Lake Champlain, there is no better picture-perfect weekend than spending time in the lakeside town of Shelburne. Simply standing on the shores will relax you. Explore the ecosystem in more detail by visiting Shelburne Farms. It contains walking trails around the river, and the Green Mountains are visible in the distance. Additionally, if you are a bookworm, check out Flying Pig Bookstore. They carry bestsellers and new releases. Stop here first to grab a book, then visit the above trail. Reading while enjoying a spot in nature is incredibly peaceful and the perfect escape.
Manchester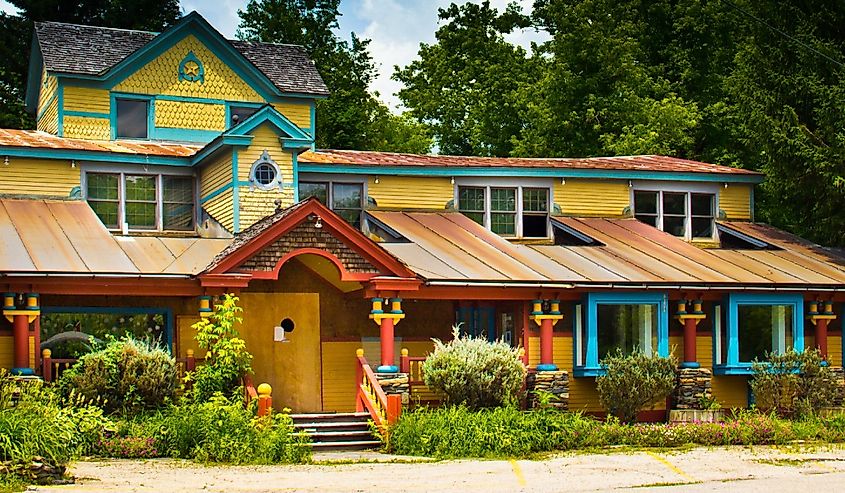 Manchester has one of the more bustling downtown areas among the small towns in Vermont and is perfect if you want a busy, modern experience. The town's core contains stores, lodging, cafes, and renowned restaurants. Ye Olde Tavern is a favorite among the crowd and serves meals like traditional pot roast, New England scrod, and liver. Enjoy your meal on the patio during warmer months. Additionally, the river that winds around this town is Battenkill River and is open to public recreational activities, like tubing and hiking. For farm foods, visit Earth Sky Time Community Farm, where three generations of organic farm growing, baking, and artistry have come together to form a marketplace vibe. Enjoy freshly baked bread and locally grown produce. After tasting these holistic foods, you will wish you lived in this town.
Middlebury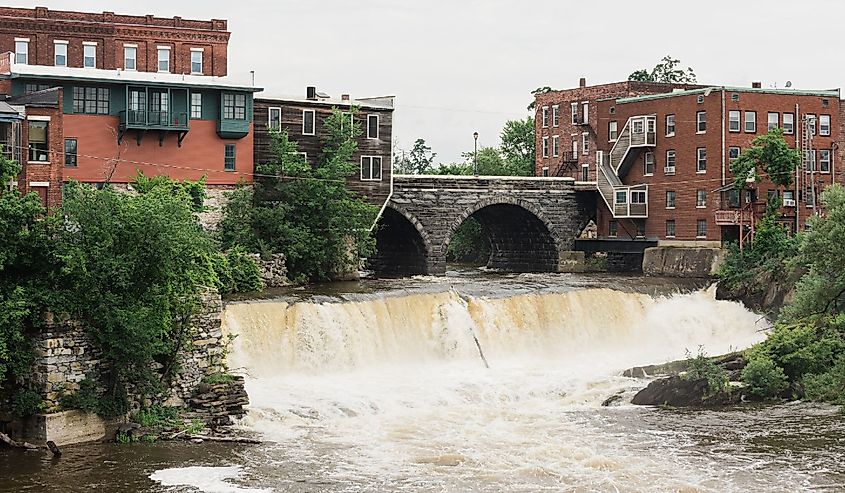 With a population of around 8,500, Middlebury has an artistic and historical scene. Walk down the main street and view brick buildings, the gleaming white of a church, and rolling mountains in the background. The mountain range that resides in this town is the Green Mountains, much like other towns in Vermont. Otter Creek runs through Middlebury and offers a beautiful waterfall view. This area is also a hot spot for writers, as Robert Frost lived nearby in Ripton, where he taught at the Middlebury College Bread Loaf Campus, otherwise known as the Bread Loaf School of English. Students and writers gather here to fine-tune their practice and collaborate. For outdoor enthusiasts, stop by Green Mountain National Forest, which holds walking and biking trails. It is a bit of a day trip as it is in Rutland, 50 minutes away, but it is worth it. The terrain is unlike anything you have seen before, with a mixture of mountain peaks, lush forests, and lakes.
Brattleboro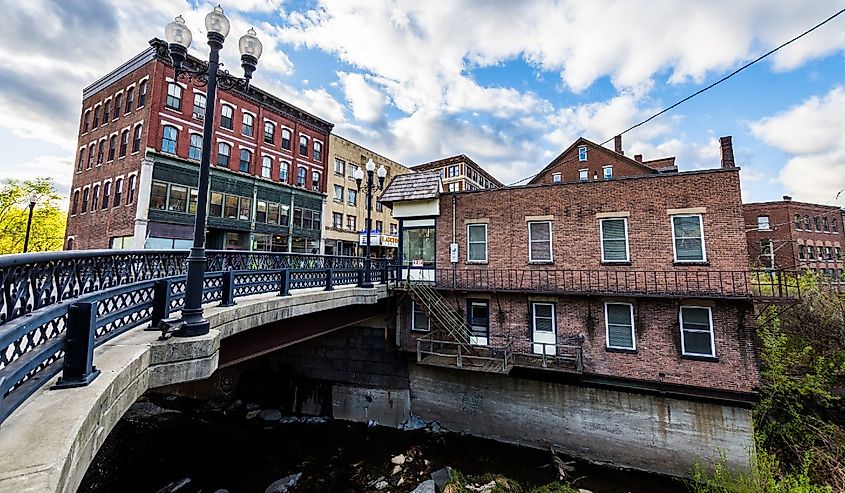 Want the vibes of New England without traveling overseas? Then come to Brattleboro with its charming character and bustling downtown scene, all of it surrounded by the Green Mountains. Check out the Brattleboro Area Farmer's Market, which includes over 50 vendors. Bite into produce right off the farm or buy a unique craft for your home. An arts and culture scene blossoms in this town. Explore it at Brattleboro Museum and Arts Center. Since 1972, this museum has offered people the ability to view contemporary pieces and educational exhibits, like Lela Jacks' micro/tele SCOPE or Hannah Morris' Moveable Objects. After, enjoy a bite to eat at TJ Buckley's Uptown Dining. This upscale eatery is a renovated 1925 train dining car and offers new American cuisine, such as crab cakes and rabbit. Two prominent rivers converge in the town, the West River and Connecticut River, and Mount Wantastiquet also looms over the town.
Montpelier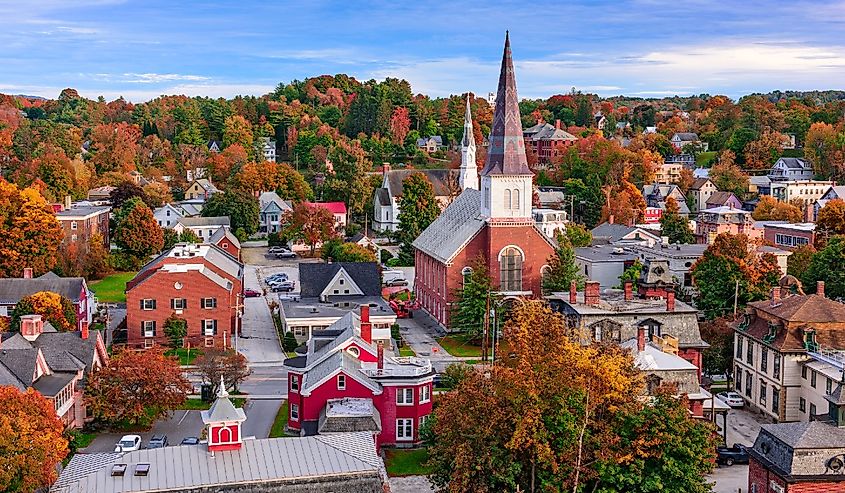 If you are into the arts, then you are in luck, as Montpelier overflows with arts and culture. From local theaters to live music performances, Montpelier is one of the top 100 small towns in the US. The Savoy Theater plays movies (not all Blockbusters) and serves snacks and craft beer. Constructed in 1905 on 26 Main Street, this theater features documentaries and is a gathering for artists worldwide. Aside from the arts, the downtown core offers many unique shops. Grab a book to read at Bear Pond Books or select one-of-a-kind items for your home at Antiques at 110 Main. Next, quench your hunger and thirst at a cute café, Capitol Grounds Café. Sip on a freshly brewed cup of coffee or indulge in a croissant straight out of the oven. Some prominent parks in the area include Hubbard Park, North Branch Park, and Blanchard Park.
Waitsfield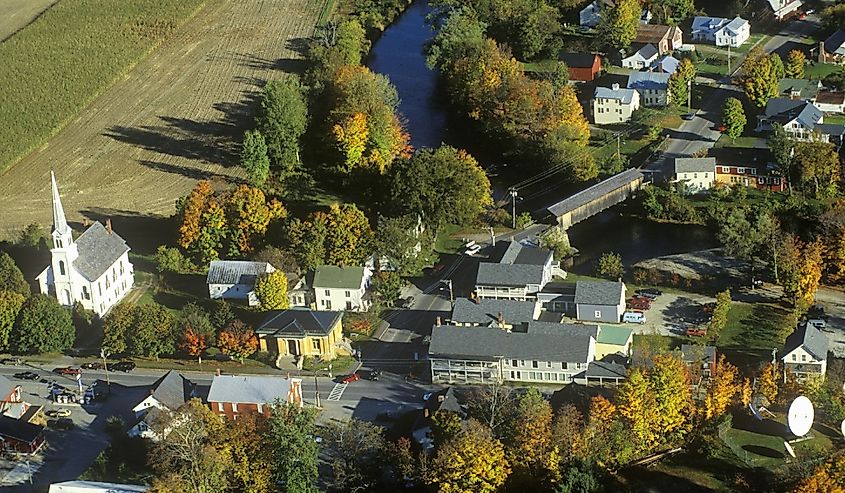 On the shores of Mad River awaits a small town with a history reflecting freedom, community, and unity. Meet Waitsfield, Vermont, with lush trees and deep green, expansive fields for miles. The Green Mountains border this city, and Mad River Valley creates a fissure of beauty and recreation throughout. Attend the tent village Waitsfield Farmer's Market and try global cuisine, like Taiwanese noodles, or opt for locally grown pickles from Gizmo's Pickles. If you are looking for an adrenaline rush, then visit Clear Water Sports, which will set you up for successful and fun water recreation activities. Rent a kayak or tube down the river. They also offer guided tours.
No matter which town you visit in Vermont, there are charming New England vibes, surrounded by rivers, lakes, and the picturesque Green Mountains. You can either center your stay around nature and explore the mountains with recreational activities, or you can shop and eat in town while viewing them from afar. No matter which you choose, you will have a relaxing and charming experience.