Soda Springs is a small community and popular tourist destination located in Nevada County, California. Since the 1800s, when the first resort was established here, Soda Springs has been a tourist magnet. It is surrounded by lush nature with great sightseeing opportunities. In winter, people flock to this town to access the nearby snow-capped mountains to enjoy some incredible winter sports. Soda Springs is also as much about history as it is about nature and houses a Central Pacific Railroad station serving as one of the key attractions in the area.
Geography And Climate Of Soda Springs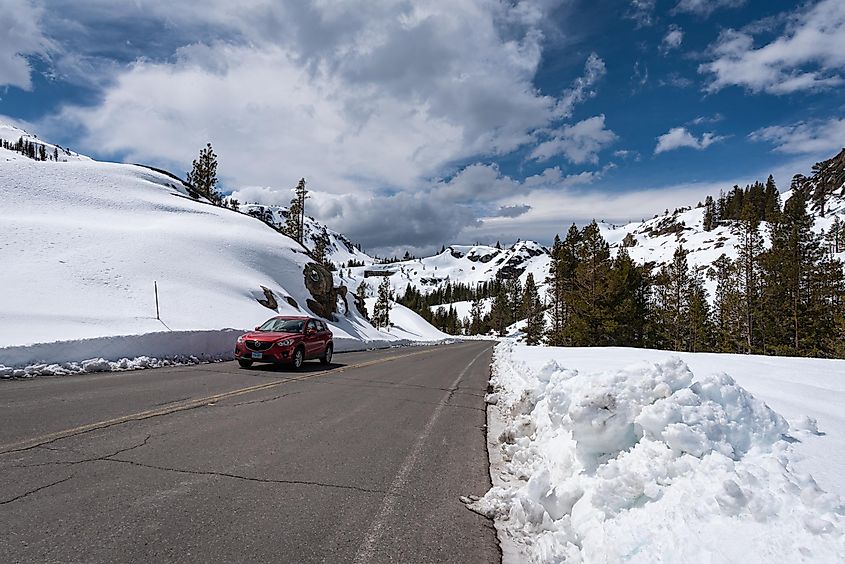 Soda Springs sits south of Tahoe National Forest and west of the Boreal Mountain, within a mountainous area home to many picturesque hills and luxurious resorts. The town covers an area of 0.34 square miles., making it one of the smallest communities in the region. Beautiful coniferous forests cover the hill slopes surrounding this community, providing a picture-perfect destination for travelers in Nevada.
Based on the Koppen Climate Classification, the area experiences a dry-summer continental climate with warm and dry summers and cold and wet/snowy winters. Temperatures in Soda Springs can reach as low as 10°F in January, the coldest month. On the other hand, summer temperatures average around 60°F in the months between June and September. While rainfall in Soda Springs is pretty low, around 35 inches a year, there is no shortage of snow in this place, making it one of the snowiest towns in California. It receives around 192 inches of snow a year, seven times the national average! 
Brief History Of Soda Springs
This town's past entirely revolves around its prominent resort and tourism industry. While the exact details of early settlers are unknown, the first confirmed occupation of this area took place in the late 1800s. At the time, the community was named Summit Valley and home to a small community with a few houses and a post office. Between 1870 and 1880, the community went through various name changes, including "Soda Springs Station," "Hopkins," "Hopkins Springs," etc., until finally getting the name Soda Springs. Parallelly, during this time, Soda Springs was the site of a Central Pacific Railroad station named Tinkers Station. This station was active from 1867 to 1873 and was named after J.A. Tinker. The route transported freight from the nearby Forest Hill Divide mines.
That being said, things completely changed for Soda Springs in 1880 when the American railroad executive Mark Hopkins and industrialist Leland Stanford opened up the famous Soda Springs resort. This resort was a perfect addition to capitalize on the region's pristine natural beauty. Over time, popularity grew, and Soda Springs evolved into a leading tourist destination. 
The Population And Economy Of Soda Springs
Soda Springs is home to only around 94 people, including 73 White people, followed by 12 Hispanic or Latino individuals. The remaining population's racial composition is either Asian, American Indian, or two or more races. However, as the data for Soda Springs is not comprehensive, these facts and figures are not updated as regularly as they would be for other major cities.
The number of housing units in Soda Springs, 131, far exceeds the total population. However, more than 85 of these are vacant, and only 43 housing units are occupied as of 2020. According to census data, 100% of the people in the community are employed, and the poverty rate is 0%. This is significantly better than California's poverty rate of 12.3% in 2021.
Attractions In Soda Springs
Soda Springs Mountain Resort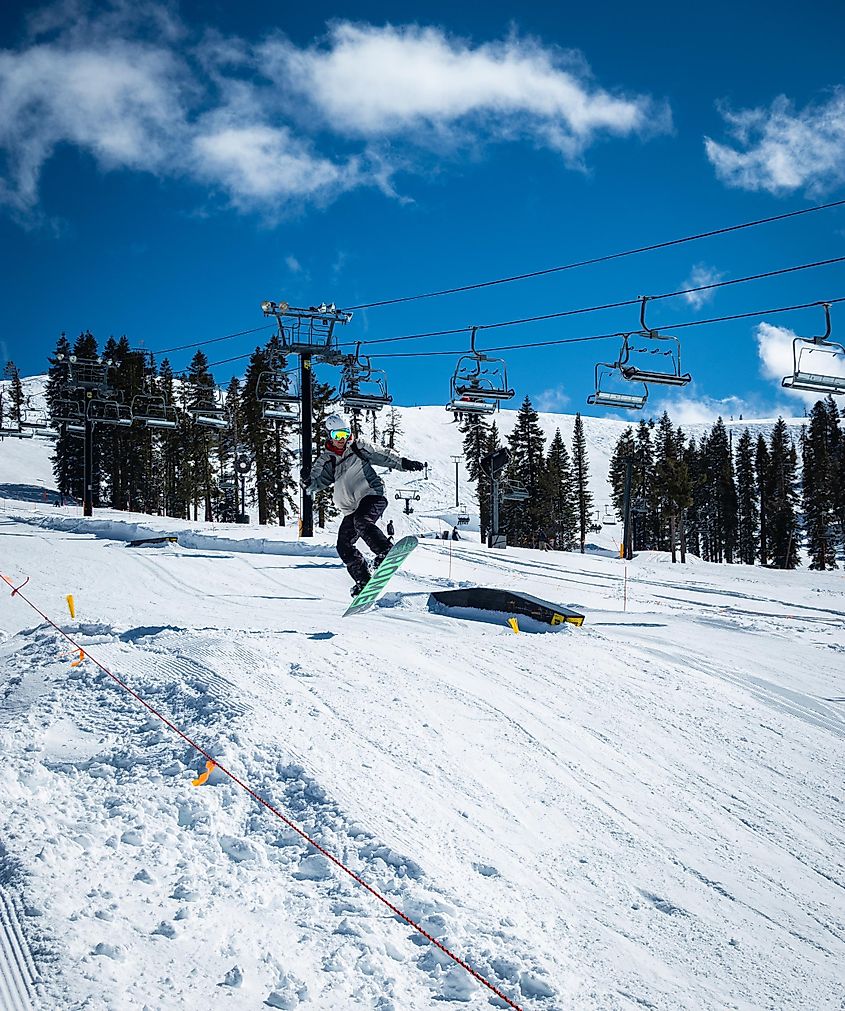 For those planning a winter vacation to Soda Springs, the Soda Springs Mountain Resort has everything one needs! With great lodging, play areas for kids, skiing, snowboarding, and much more, this is the place to be if one wants to indulge in some snowy fun. The site offers all kinds of winter sports opportunities with trails ranging from beginner to advanced. Moreover, conveniently located just off the I-80, getting here is super easy, and one does not have to worry about any confusing maps to find this family-friendly winter resort.
Van Norden Meadow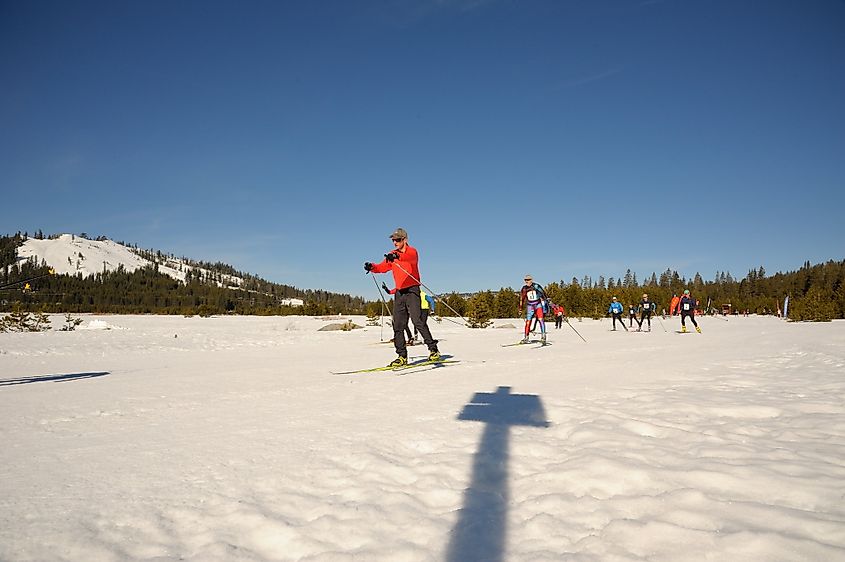 The Van Norden Meadow is located just a short distance from Soda Springs and is the perfect getaway for nature lovers. With a total area of 458 acres, this meadow is owned by the Tahoe National Forest and offers a safe abode for animals, plants, and even the local water bodies. Several hiking trails along this meadow offer the perfect opportunity to spend time exploring and appreciating the beauty of the natural surroundings. 
Royal Gorge USA Cross Country Ski Resort
This resort is the ideal location for true enthusiasts of cross-country skiing. It encompasses North America's largest cross-country ski area and eight unique trail systems, all offering stunning natural sights. Whether one wants to snowshoe, practice, or walk with a pet, here there are trails of every type. There are also experts here who offer XC lessons to those who wish to become a pro in the sport. 
Soda Springs is packed with attractions to cater to the needs of the entire family. Great winter sports and spectacular natural scenery are its biggest draws providing cherishable lifetime memories for all who visit this tiny town in California.