Norwalk is a small city situated in Los Angeles County in the US State of California. Norwalk, the state's 58th most densely populated city, has gradually evolved into one of its most rapidly developing and growing communities. Being a part of the Greater Los Angeles area, Norwalk is located approximately 27km southeast of Los Angeles. 
Geography And Climate Of Norwalk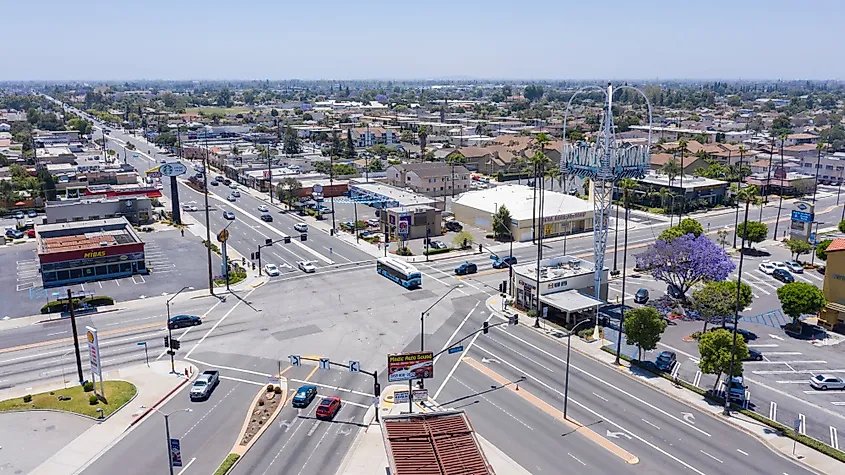 Norwalk covers a total area of 25.24 sq. km, of which 25.14 sq. km is occupied by land, and 0.10 sq. km is covered by water. Norwalk is bordered by the cities of Cerritos and Artesia to the south, Santa Fe Springs to the north, Whittier to the east, Bellflower to the southwest, and Downey to the northwest. 
According to the Köppen climate classification, Norwalk experiences a hot-summer Mediterranean climate that is characterized by moderate-rainy winters and hot-dry summers. The average yearly temperature is 19°C, with August and December recording the highest (24°C) and lowest (14°C) average temperatures, respectively. On average, Norwalk gets 31.1 mm of precipitation yearly, with February reporting the highest number (14.1mm). The day duration varies along the year, where the longest day is recorded on June 21 (14 hours, 21 minutes), and the shortest day is recorded on December 21 (9 hours, 54 minutes). The sky remains mostly cloudy from November to April. The rest of the year remains mostly clear. The average annual relative humidity is around 60%, with a wind speed of 5 km/hour.
Brief History Of Norwalk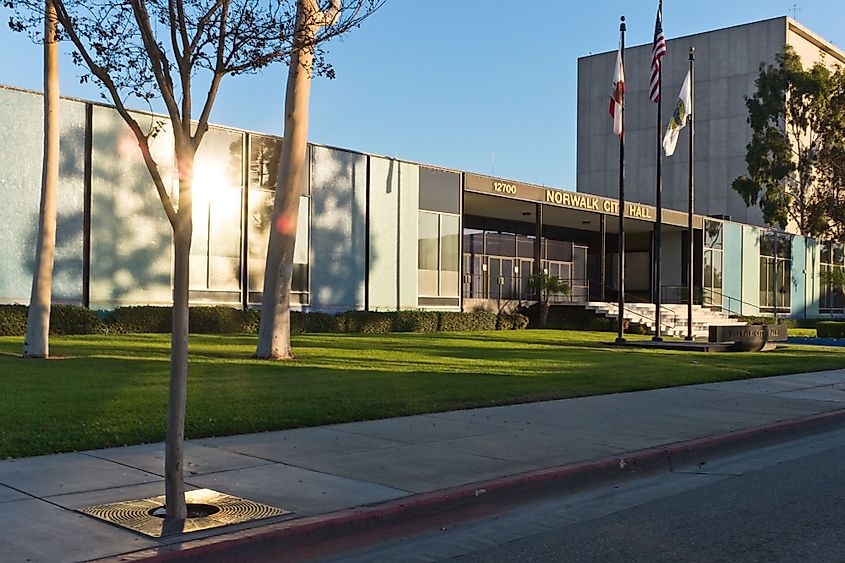 The region was formerly a part of Rancho Los Coyotes, a subdivision of the Spanish property grant Rancho Los Nietos, established in 1784. Gilbert and Atwood Sproul bought the land in 1869, and after the train passed through the "North-walk" region, they established Corvallis in 1873. The city was renamed Norwalk the following year. The city gradually grew as a hub for logging, dairying, and ranching. Some of southern California's biggest sugar beet farms had their hubs in Norwalk. In the 20th century, the city's industrial development moved forward quickly. Gilbert Sproul's 1870-built home was relocated to Norwalk City Park and is now a museum. In 1955, Cerritos (community) College was established in Norwalk.
The Population And Economy Of Norwalk
Norwalk has a population of 102,773 residents as per the latest US Census, where 49.8% are females, and 50.2% are males. The city's racial makeup includes 67.8% Hispanic/Latino, 13.2% Asians, 11.7% White alone (non-Hispanic/Latino), and 5.4% African-American or Black. The rest are distributed among other races. English is spoken by 36.2% of the population. The rest speak Spanish (51.1%), Indo-European languages (2%), Asian and Pacific Islander languages (10.3%), and other foreign languages (0.4%). Only 59.7% of the population in Norwalk are naturalized US citizens. And veterans make up 3.2% of Norwalk's population, of which 92.7% are males, and 7.3% are females. The same census also reported that 58.5% of the population are employed, with a poverty rate of 9.8%. The homeownership rate in Norwalk is 66.1%, where the median gross rent cost is $1,678 per month, with a median household income of $77,425.
Significant Attractions In Norwalk
Norwalk Park
Due to its spacious central court, Norwalk Park, the city's emblematic park, attracts a lot of basketball enthusiasts. There should always be a game here that you can attend or watch, and Norwalk Park has a ton of other things to do if you want something a little more relaxing. Some of these provide family-friendly picnic spaces as well as playgrounds for kids.
Gilbert Sproul Museum
The Sprouls, who was originally from Oregon but fell in love with the fertile plains and landscape of this region of California, was one of the founding families of Norwalk. In 1869, brothers Atwood and Gilbert Sproul purchased the property in Norwalk and erected a house there. The house that is now the Sproul Museum was constructed in 1870. Currently, the museum is packed with historical relics and Sproul family heirlooms that provide an intriguing look at how this town evolved into the city it is today. There are tours offered here that are led by volunteers from the area.
Norwalk Nature Center
The Norwalk Nature Center is ideal for a family outing and is open many times a month. Children can interact with various domesticated animals at the facility, including lambs, goats, hens, and donkeys. There are also exquisite gardens for guests to stroll around, as well as charming orchards with fruit trees and a vegetable garden. The center is also home to some lovely streams and ponds, as well as a famous old-fashioned carousel with painted horses that younger visitors are sure to adore.
Knott's Berry Farm
Knott's Berry Farm, one of the most popular amusement parks in the country, is only eight miles from Norwalk in the nearby city of Buena Park. Before transforming into a theme park with more than 165 rides for guests of all ages to enjoy, the farm was merely a modest berry stand. The park is divided into themed regions, and depending on how much excitement you desire, there are rides for all various ages. There is a beautiful promenade, a terrifying haunted house, and even an old town where you might participate in a shootout between cowboys. The park is renowned for its cuisine, and you can sample a variety of mouthwatering all-American theme park treats here.
Norwalk is covered in green parks and natural regions, and while you can visit and take in the peaceful atmosphere, the city is also accessible to popular California tourist destinations like those mentioned above.