New Jersey is recognized globally for its busy Newark and Jersey City, and its name is synonymous with Atlantic City, as its the first thing people think when mentioning the best beach towns in New Jersey. The state is nicknamed the "Garden State." for its beautifully preserved nature and greenery, but there is much more to New Jersey than its vast green lands and skyscraping buildings. However, only locals of the state know about its hidden small-town gems that make up the perfect summer escapes and holiday vacation spots. 
Cape May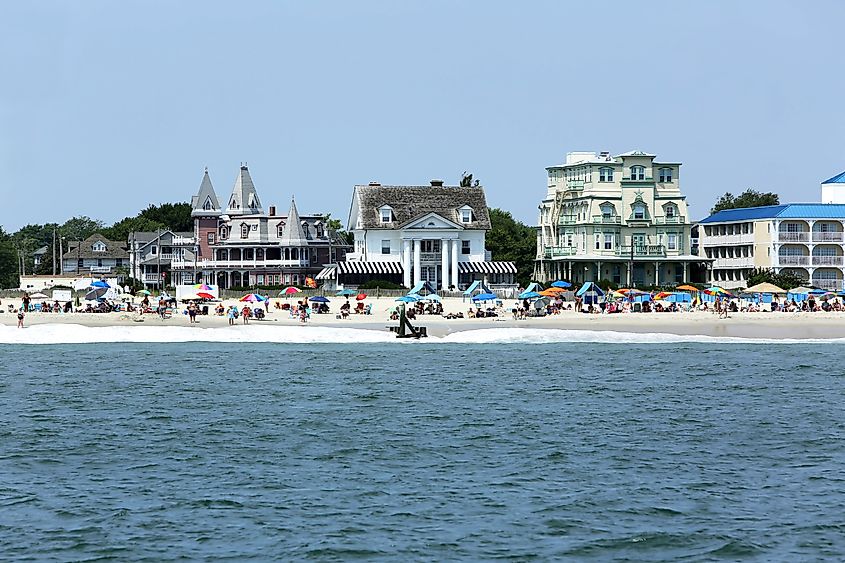 The New Jersey local go-to destination for a summer beach party or a weekend getaway, Cape May is known to offer some of the best waters in the area. With the country's largest concentration of Victorian architecture, the whole town I a historic landmark, and the unique building differentiate the town from all other beach towns on this list. The cuisine is a significant factor in why everybody loves Cape May, as you can enjoy a wide array of fresh seafood on Beach St, located along the shore. An extensive 1.6km beach promenade offers many tourist attractions from well-known festivals. Some of the most notable festivals and events are hosted here, including the Cape May Music Festival, Cape May Jazz Festival, Cape May Food & Wine Festival, and Cape May New Jersey Film Festival.
Ocean Grove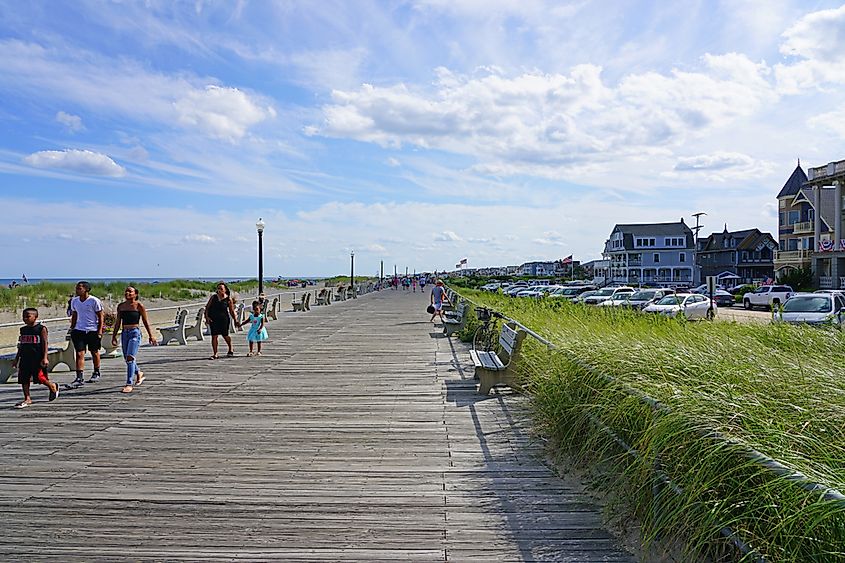 Ocean Grove is one of New Jersey's best beach town destinations because of its unique, timeless architecture and many outdoor events. Fairs and community events are an every-season thing in Ocean Grove, while its sandy shorelines and welcoming community make it the perfect all-inclusive getaway. The Great Auditorium is one of the most recognizable landmarks in town, built in 1894 and is well maintained by locals looking exactly how it did when built. The historic town was developed as a religious retreat and now has a piece of Christian history in every place you look.
Barnegat Light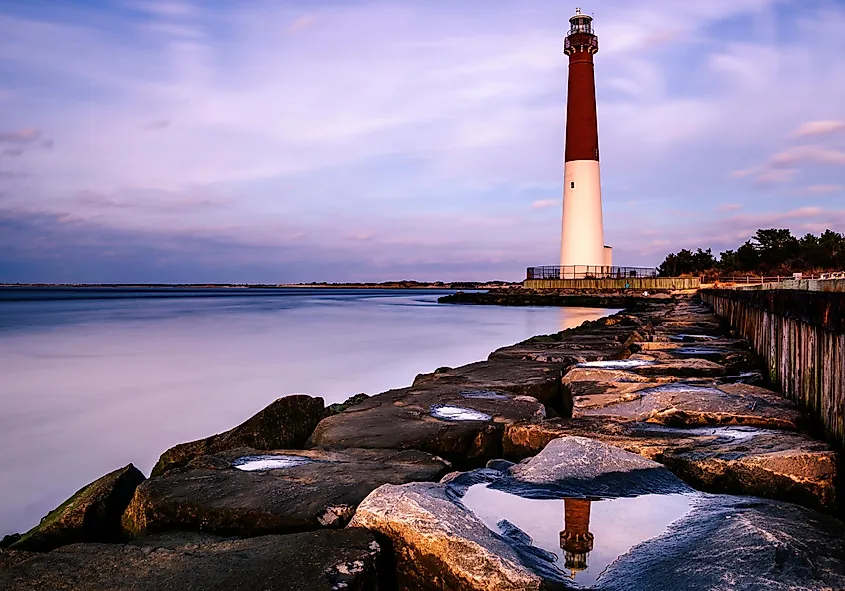 Barnegat Light's most famous landmark is "Old Barney," the red and white-banded Barnegat Lighthouse at Long Beach Island's northern tip. It is one of the more peaceful beaches in the area, with sandy shorelines and clear ocean waters of the North Atlantic. The small Barnegat Light Museum is within walking distance of the beach, and visitors can also take a tour of the famous lighthouse. Barnegat Beach is the place to go for an overnight date or a solo escape to regroup, as there is not much to do on the long-beach island strip but enjoy nature and embrace the deep blue sceneries.
Point Pleasant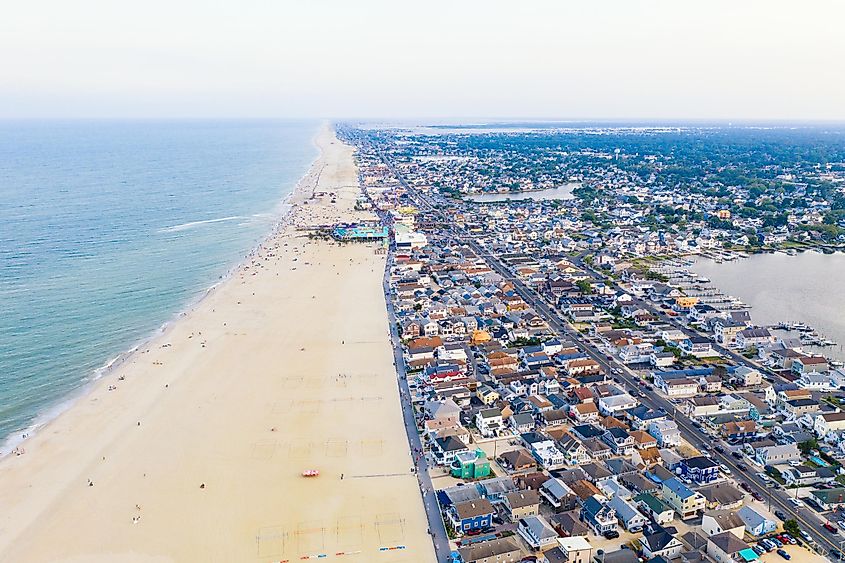 Point pleasant beach throws you back in time with its heartwarming entertainment and mile-long boardwalk shopping. The town is the perfect beach town escape for its expansive offering of all kinds of watersports and family activities; only a one-hour drive from New York City, some of the most popular attractions aside from its famous boardwalk include the Jenkinson's Aquarium and Uncle Vinnie's Comedy Club. In the summer, Point Pleasent is bustling with different fairs, festivals, and street vendors, while it calms down to be a relaxing scenic destination throughout the winter.  
Seaside Heights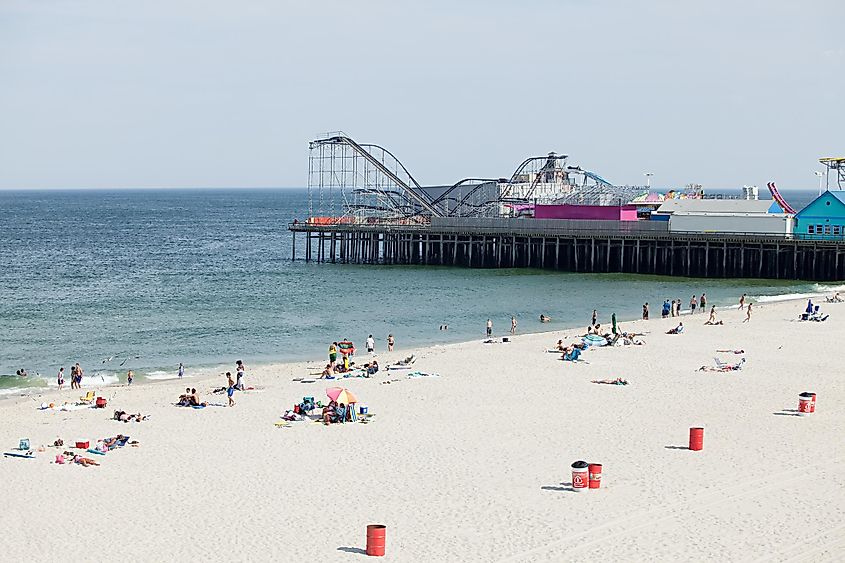 Another popular summer destination for family vacations, Seaside Heights, features an amusement park boardwalk strip dedicated to fun activities and rides. The beach is generally split into two areas. The first is the area between the Funtown and Casino Piers, and the other is north of the Casino Pier, stretching up to Hiering Ave. Each beach area has its unique vibe, but all the post-beach destinations, such as restaurants and arcades, are located in the second area stretching to Heiing Ave. Check out the town's many restaurants and bakeries, rent a scooter to explore Seaside Heights, and lose yourself to endless fun and entertainment.
Beach Haven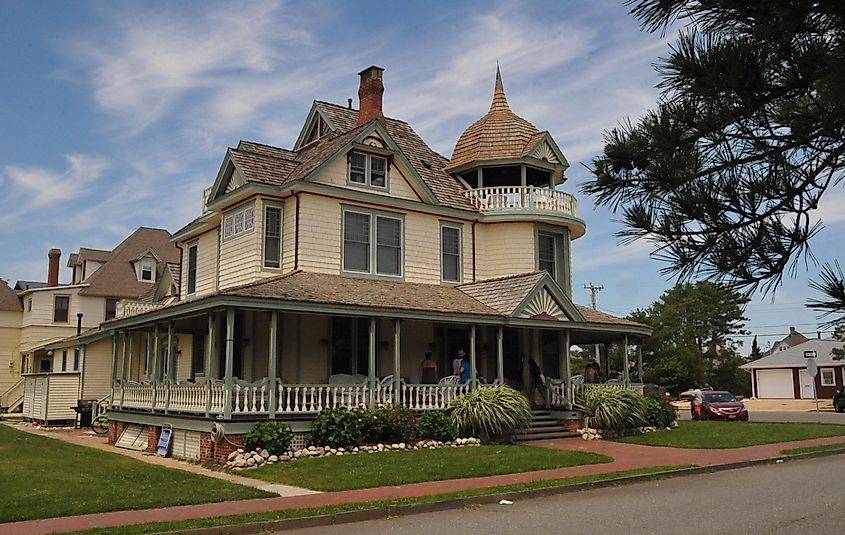 Another cute beach town on Long Beach Island, Beach Haven part of Ocean County, is nicknamed "Queen City." It's by far the busiest town on the island, hosting the island's only amusement park, a range of historical exhibits, and a local family-owned waterpark. All these attractions are considered waterfront activities, as the town has many more unique destinations such as old-school themed Bay Village and the Museum of New Jersey Maritime History. The perfect destination to kick back and relax, take a family trip, or explore what Long Beach Island offers without visiting the whole island. 
Sea Bright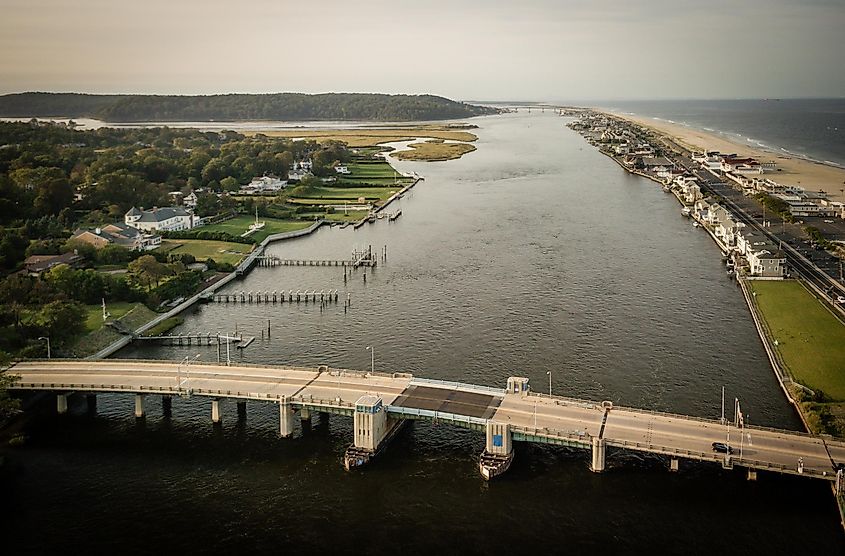 Sea Bright is a borough situated on the Jersey Shore, within Monmouth County, in the U.S. state of New Jersey. It is one of the unique beach-town escapes due to its narrow stretch along the Atlantic shores and balance of not-too-crowded beaches. The town has been rated one of the best places to live in New Jersey, but that's only if you love the sandy shore and relaxing water views. Sea Bright has over seven public beaches and a range of small romantic locally-owned restaurants and Ice-cream parlors. Additionally, the town has a small waterfront boardwalk for the colder season picnics and ocean views. 
Finally, this all-inclusive list of the best beach towns in New Jersey is a guide to all the best summer destinations up north. Although many are family-focused and tailored to offer something to do for every age and interest, a few others are recommended solely for those seeking calming escapes to regroup and enjoy nature. They're all located relatively close to one another, especially the small towns on Long Beach Island, so if you've had enough of one, drive on to the other and see more of what "The Garden State" has to offer.