Margate City is located in Atlantic County, New Jersey, in the United States of America. It has roughly 6,300 residents. It is part of Absecon Island, one of the barrier islands off the Jersey Shore. Margate sits between Ventnor City and Atlantic City to the northeast and Longport to the southwest.
The area now known as Margate City used to be called South Atlantic City but was renamed in 1897 after Margate in Kent, England. The area includes approximately eight blocks of mainly residential area that run from the Atlantic Ocean to the bay and a narrow beach and coastline.
Beaches In Margate City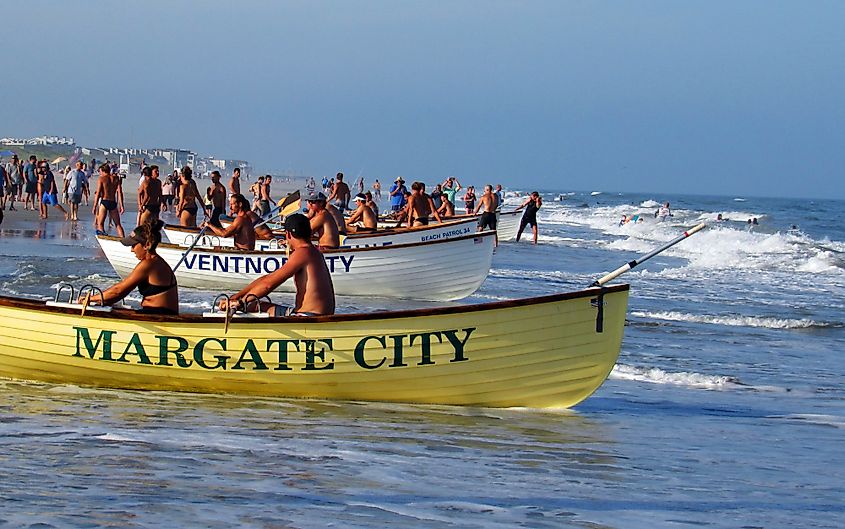 Like much of Absecon Island and the Jersey Shore, Margate is known for its beaches and coastal area. Surfers, kayakers, swimmers and water sport enthusiasts all flock to the beach in the warmer summer months. Margate beaches are more narrow than the rest of the island and do not have any natural sand dunes, though some have been created as hurricane barricades. Natural erosion and beach loss from extreme weather are a growing concern in the area, and precautions have been taken to ensure storms do not wash out the natural sand.
The Margate beaches do have lifeguard stations and beach patrollers during peak hours in the summer to help keep swimmers and boaters safe, but they are not present year-round or in the evenings. Additionally, there is a paid pass needed to access the beaches. 
Fishing In Margate City
Fishing is popular along Absecon Island, and no less so in Margate City. Docks and piers are great places for amateur fishers, while more seasoned individuals can enjoy chartered boats for sport or deep-sea fishing. Flounder is the most popular fish sought in these waters, but anglers can also find Blowfish, Bluefish, Croaker, Kingfish, Ling, Perch, and Sea Bass, to name a few. Fishing tours and hired boats are common, and there are many experiences to choose from. 
Attractions In Margate City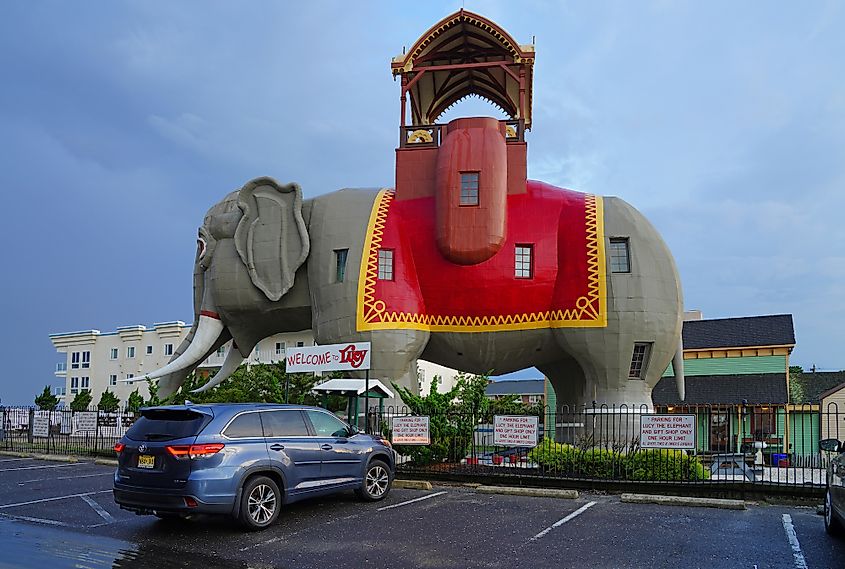 Probably the most notable attraction in Margate is the giant statue of Lucy the Elephant, which has been called the "largest elephant in the world." The statue dates back some 130 years and is continually restored due to its popularity and the frequency of visitors. Visitors can also explore the Margate Historical Society Museum for a look at Margate's past. 
Popularity Of Margate City
Like much of Absecon Island, and more specifically Atlantic City, some areas along the Jersey Shore have seen a decrease in popularity and visitor numbers over the last few decades.
Margate is seen as a quieter, more suburban area than the bustling gambling-centric Atlantic City and is still an excellent place for a summer escape to a quiet beach area. Families and individuals of all ages can enjoy the beach views, warm water, and local community full of cafes, eateries, shops and charm.
Many of the homes in the area are specifically summer homes, and since the neighborhood has no hotels in it directly, the majority of the crowd here will be locals. Home rentals are also uncommon, so many visitors will opt for day trips or stay in one of the neighboring areas. This makes it an ideal spot amongst the Jersey Shore cities for anyone seeking a more laid-back experience and hoping to enjoy the more homely side of Absecon Island. Of course, the sights, sounds, and excitement of Atlantic City are also just around the corner for those that want to experience a bit of both worlds.