La Quinta is a resort city in Southcentral California, United States. It is known as the "gem in the desert" for its sunny skies, mountain views, luxurious living, boutique shopping, health and wellness focus, world-class golf courses, and of course, its pristine desert setting. 
Geography Of La Quinta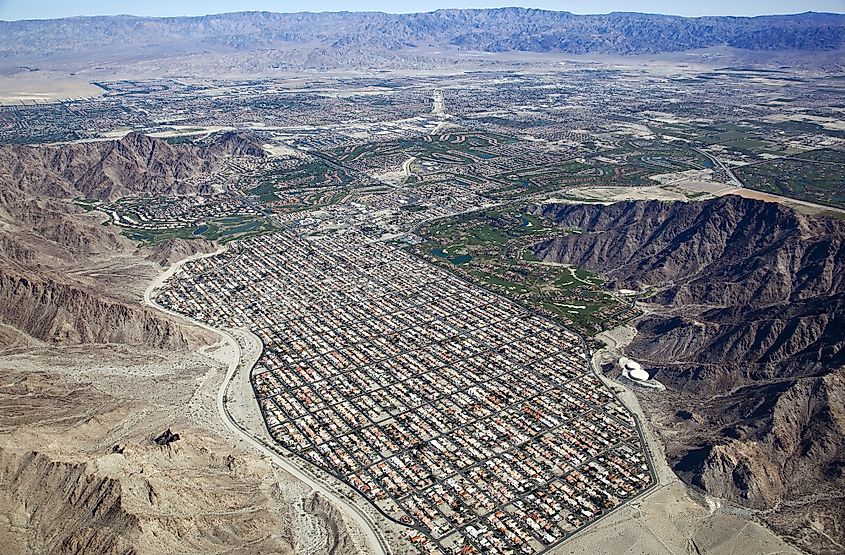 La Quinta is located in Riverside County and is one of nine cities situated in Coachella Valley. This picturesque environment is bordered by Joshua Tree National Park (to the East) and the Santa Rosa and San Jacinto Mountains (to the West). La Quinta is just a stone's throw from Palm Springs (20 miles Southeast) and around 125 miles East of Los Angeles. 
Climate Of La Quinta
The climate around La Quinta is hot, sunny, and dry. The average annual temperature is about 73 degrees Fahrenheit, ranging from a high of 108 degrees in July to a low of 41 degrees in January. La Quinta sees 269 sunny days per year, much higher than the 205 national average. In terms of annual precipitation, there is barely any to speak of. La Quinta receives a mere 3-inches of rain, on average, each year. The average relative humidity is about 37%. 
Population And Economy Of La Quinta
Based on prior census data and established growth rates, the current population of La Quinta is estimated to be between 42,200 and 42,600. This is made up of 50.41% males and 49.59% females, with an average age of 47.9 years. The racial breakdown is approximately 58.1% white, 34.2% Hispanic or Latino, 3.3% Asain, and 2% black or African American. 
The average household income in La Quinta is approximately $75,500 to $76,200. The unemployment rate sits at 5.8% and the overall poverty rate is about 11.18%.
History Of La Quinta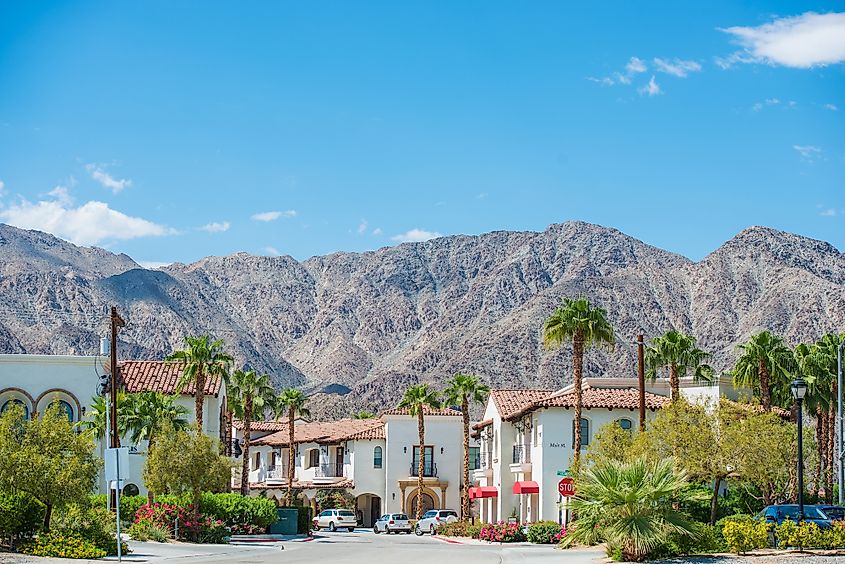 The Desert Cahuilla Indians were the original inhabitants of the Coachella Valley. The Cahuilla Peoples (who can be subdivided into the Desert, Mountain, and West groups) have lived in the valley and the surrounding region for over 3,000 years. 
Approximately 500 years ago, the Coachella Valley flooded when the Colorado River changed course. This led to the formation of the freshwater Lake Cahuilla. The waterline of this lake can still be seen along the Santa Rosa Mountains.
At the time of European colonization (late 18th century), the Cahuilla's population was estimated at about 6,000, though some Cahuilla members believe the number was much higher. In 1863, a smallpox epidemic wiped out over 80% of the Cahuilla population. Currently, the Cahuilla population registers at about 3,000. 
In 1876, trains began running between Los Angeles and Indio, La Quinta's neighboring city. Farmers were attracted to La Quinta for its climate that favored the growing of exotic dates, sweet corn, Bermuda onions, and Thompson seedless grapes. Gradually the area caught the attention of everyday Los Angeles residents. In 1926, the La Quinta Resort was built, and in 1982, the city was incorporated, taking its name from this catalyst resort. 
Visiting La Quinta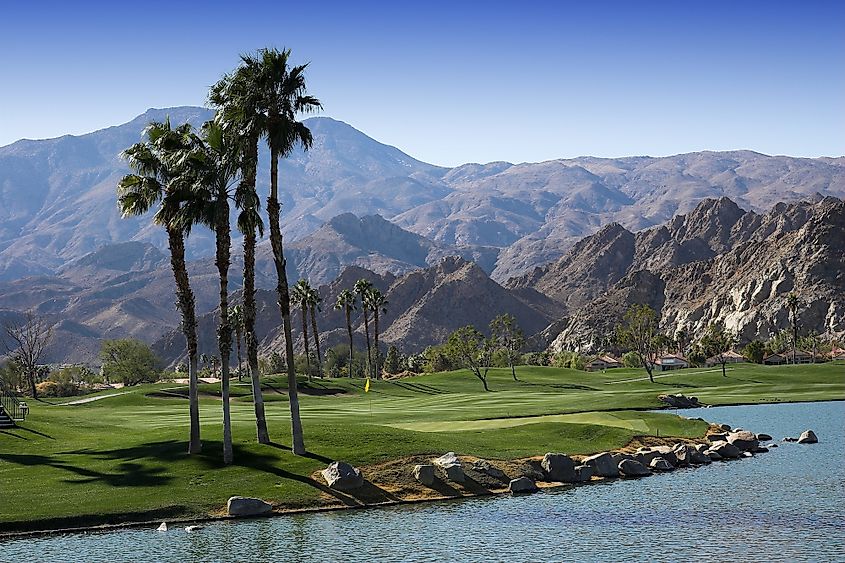 Today, La Quinta continues to be a popular "snowbird" destination. It also hosts world-famous golf events on its renowned courses, including the PGA TOUR American Express (formerly The Desert Classic and The Bob Hope Classic). In some eyes, La Quinta is the golf capital of the world. Aside from the more exclusive clubs, there are also plenty of public courses for anyone to book a tee time at. 
For those not smitten with golf, La Quinta offers plenty of other outdoor-recreation opportunities such as cycling, hiking, and exploring the nearby mountains and national parks. Visitors should also stroll along the cobblestone sidewalks of La Quinta's Old Town. Along the way, they will find appealing patios to settle into, boutique shops to peruse, fresh markets for nutritious stock-ups, and perhaps some of the periodic Art on Main Street displays. 
La Quinta has developed into a popular resort city because of its endless sunny days, enthralling desert/mountain landscape, and alluring activities. This Southcentral Californian city continues to be a winter destination hub, and it also serves as a jumping-off point for exploring the rest of the famed Coachella Valley.