Clemson city and its surrounding area, at the base of the Blue Ridge Mountains, provide tourists with a distinctive opportunity to enjoy the great outdoors and re-establish ties with the Appalachian culture. Originally known as Calhoun, the town changed its name to Clemson in 1943. Clemson University, a prominent public university founded in 1889, has a significant role in shaping the character of the city of Clemson. Even though a modest, multi-block downtown with homes, shops, and restaurants is located just north of the campus, the institution serves as the city's cultural hub. The 17,681 residents of the university town of Clemson enjoy a strong sense of community and a good standard of living.
Geography And Climate Of Clemson
Clemson is a small city situated in Pickens and Anderson Counties in the northwestern portion of the US State of South Carolina. Clemson forms a part of the Greenville-Spartanburg-Anderson, South Carolina, Combined Statistical Area. Pickens County, which is a component of the Greenville-Mauldin-Easley Metropolitan Statistical Area, contains the majority of the city. A minor fraction is located in Anderson County, which is a part of the Anderson Metropolitan Statistical Area. Clemson lies at the foothills of the Blue Ridge Mountains and is bordered by Lake Hartwell from the west. The city stands at an elevation of 221 m and is near Pendleton, Central, and Seneca. It is located 27 miles west of Greenville and 15 miles north of Anderson. Clemson serves as the home of Clemson University, which occupies around 1,400 acres in the city's southwestern corner. Clemson has a total area of 20.74 sq. km divided into 19.55 sq. km of land and 1.19 sq. km of water.
According to the Köppen climate classification, Clemson has a humid subtropical climate characterized by hot, humid summers and very cold, snowy, and windy winters. The average annual temperature is 16.1°C, with July and January recording the highest (26°C) and lowest (5.9°C) average temperatures, respectively. On average, Clemson gets 1325.9 mm of precipitation yearly, with March reporting the highest number (142.2 mm). The snowy period occurs between December and February. However, the rainy season lasts the entire year. 
History Of Clemson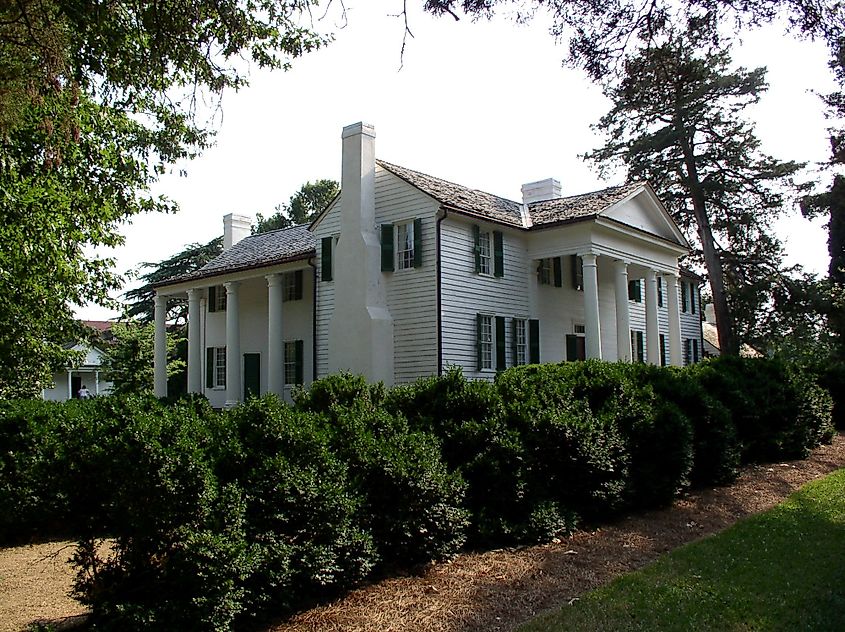 Calhoun was the original name of Clemson that was named after John Ewing Calhoun, who in the late eighteenth century bought a parcel of land known as Fort Hill. His daughter Floride married John C. Calhoun, vice president of the United States and John E. Calhoun's first cousin. They both resided in Fort Hill from 1825 until John E. Calhoun died in 1850. Anna Maria, their only surviving daughter and fourth child, finally received the estate after she married ambassador, Thomas Green Clemson. In 1872, the couple relocated to Fort Hill. Fort Hill Plantation was given to the State of South Carolina in 1899 under Clemson's bequest to build an agricultural college there. Clemson agreed to this condition at his wife's request since she wanted the land belonging to her family to be used for this cause. Eventually, the college would develop into Clemson University, a well-known institution that is currently South Carolina's second-largest university. The decision to change the town's name from Calhoun to Clemson was made in 1943.
The Population And Economy Of Clemson
As per the latest US Census, Clemson has a population of 17,681 residents, where 44.7% are females and 55.3% are males. The city's most prominent ethnic groups include 80.8% white (non-Hispanic/Latino), 6.8% African-American or Black, 8% Asian, and 2.5% Hispanic or Latino. The rest are distributed among American Indians and Alaska Natives (AI/AN), and other races. English is spoken by 90% of the population. The rest speak Spanish (1.4%), Indo-European languages (5%), Asian and Pacific Islander languages (3.2%), and other foreign languages (0.4%). Only 17% of the population in Clemson are naturalized US citizens. And veterans make up 9.1% of Clemson's population, of which 95.7% are males, and 4.3% are females.
As per the same 2020 Census, the employment rate in Clemson is 54.6%, with a poverty rate of 37.1%. The homeownership rate is 39.8%, where the median gross rent cost is $950 per month, with a median household income of $46,075. The percentage of people without healthcare coverage is 5.3%.
Attractions In Clemson
Hartwell Lake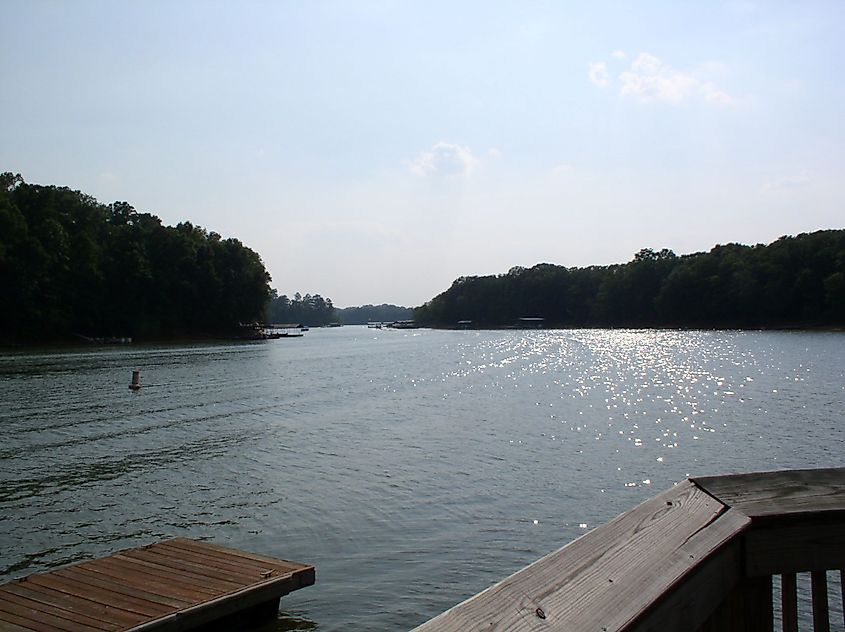 One of the largest and most popular public recreation lakes in Southeastern United States is Hartwell Lake. Hartwell is frequented by millions of people who use the numerous public parks, marinas, and campers that are conveniently situated around the lake.
South Carolina Botanical Garden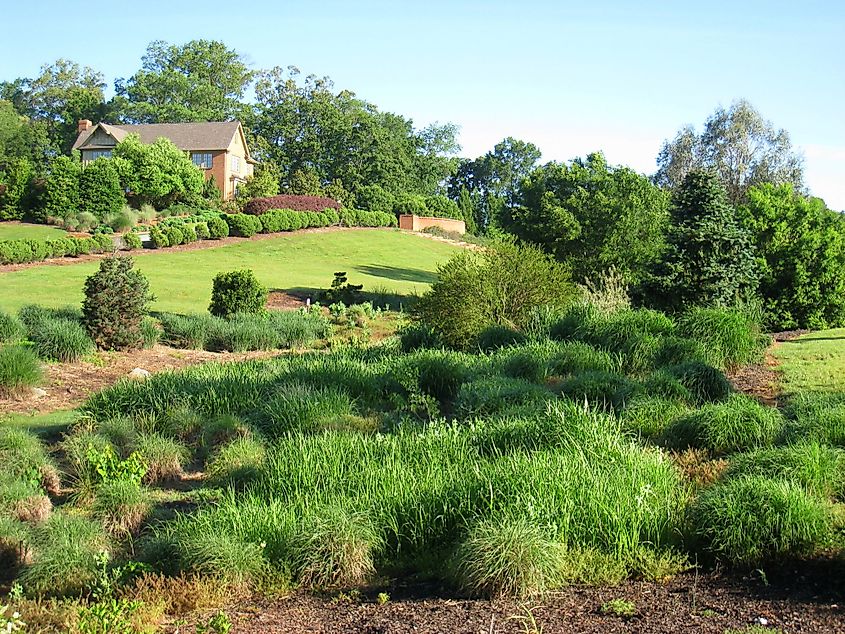 The South Carolina Botanical Gardens is a must-see for tourists of all ages who like the great outdoors. It offers a variety of nature trails, streams, natural landscapes, and beautiful showcase gardens.
Memorial Stadium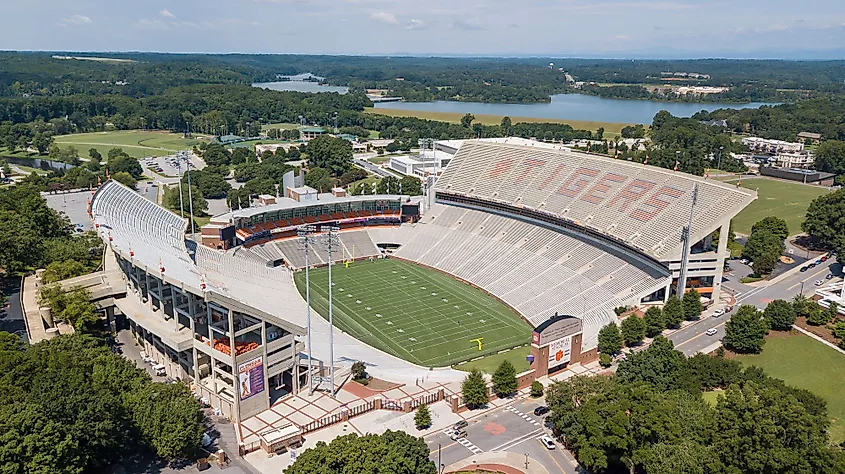 Memorial Stadium, often known as Death Valley and the home of the famous Clemson Tigers, has played host to all the blood, sweat, and tears of college football since it opened its doors in 1942.
Brooks Center For The Performing Arts
This cutting-edge theater, which serves as Clemson University's performing arts center and showcases several renowned dance companies, theater ensembles, and music ensembles on a national and international scale, consistently receives excellent feedback.
Clemson University Walker Golf Course
This 18-hole championship golf course is situated on the Clemson University campus and is made to suit players of all ability levels. The last five holes, which follow Hartwell Lake's shoreline, are among South Carolina's most breathtaking ones.
Clemson provides an idyllic mix of mountain, lake, and urban lifestyles as it is adjacent to the mountains and situated along the shores of Lake Hartwell. It is one of the prettiest cities in the state, offering a variety of outdoor recreation and historical backgrounds.