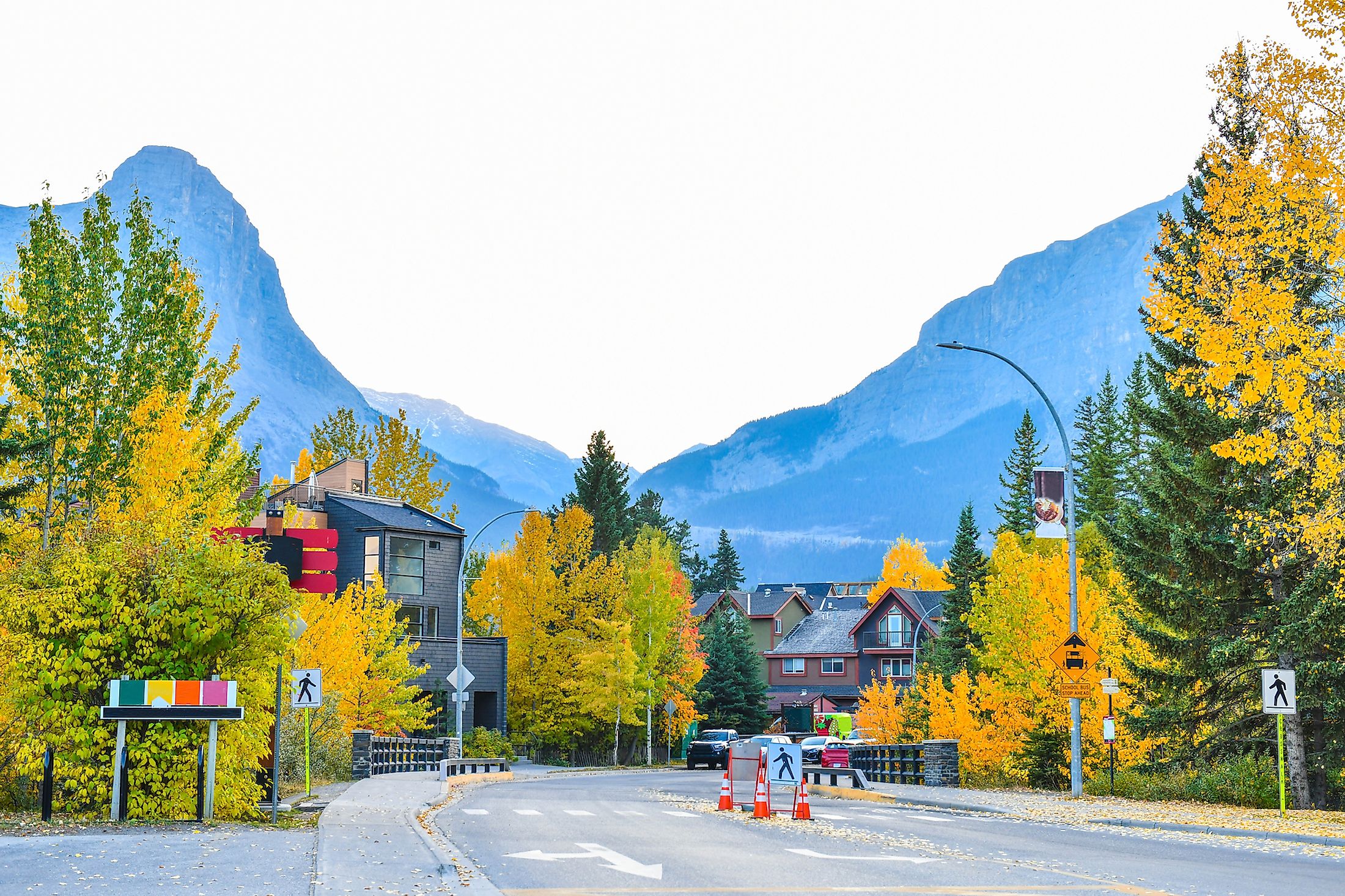 Canmore is a classic mountain town in Alberta, Canada. It sits just outside the Banff National Park boundary, surrounded by mostly-hikeable Rocky Mountain peaks. You would be hard-pressed to find a more physically active town in the entire country. Many of its 14,370 residents can be spotted hiking, biking, running, or climbing before and after a day's work at many of the athletic, adventure, and hospitality-centered businesses in town. Canmore does not quite have the acclaim of its neighbor, but it certainly has all of the natural appeal and social energy as Banff. 
Geography And Climate Of Canmore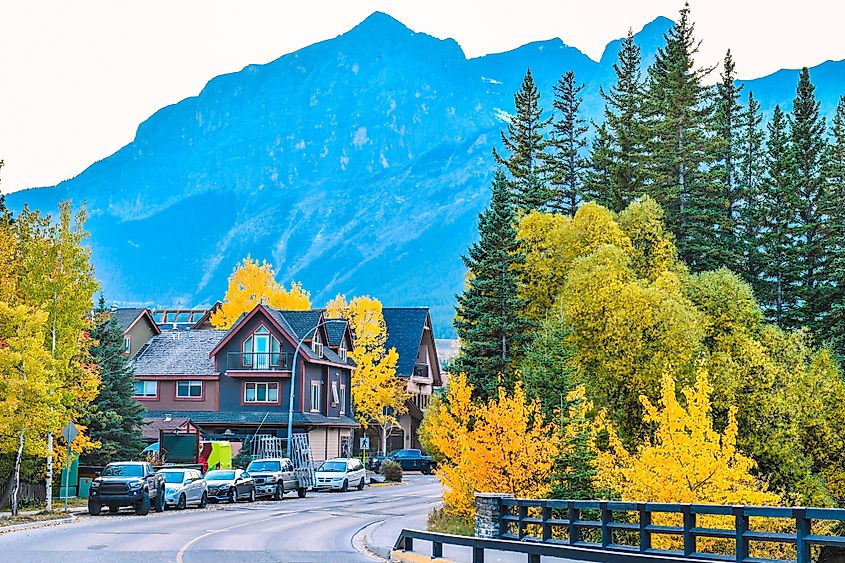 Canmore is located in the Southwestern portion of the province of Alberta, right on the Bow River. This area is part of Treaty 7 territory, including Stoney-Nakoda (Bearspaw, Chiniki, and Wesley First Nations), the Tsuut'ina First Nation, and the Blackfoot Confederacy (Siksika, Pikani, Kainai). The town is approximately 65 miles West of Calgary and 16 miles Southeast of the Town of Banff. The town center sits at 4296 feet above sea level. 
Canmore's climate is classified as cold and temperate. The average annual temperature is 37 degrees Fahrenheit, ranging from a low of 8 degrees in December to a high of 71 degrees in July. The relative humidity, on average, is 66%, and just over 30 inches of precipitation falls annually. The cold, snowy winters are often punctuated by the warm chinook winds that blow over the Rockies from British Columbia. This phenomenon can swing the frigid temperatures up to a pleasant spring level for a few days at a time. For this reason, the term Chinook means "snow-eater" in several Indigenous languages. 
History And Economy Of Canmore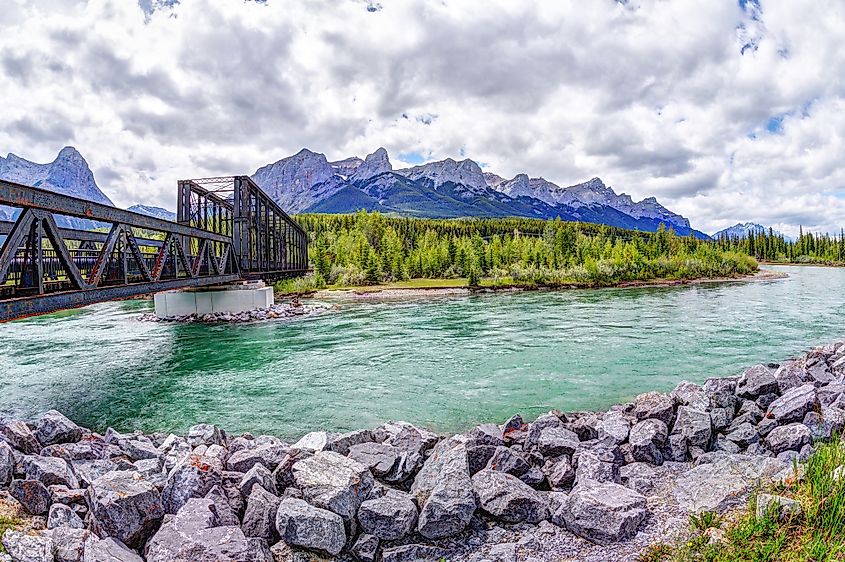 Early inhabitants of the modern Canmore area, the Stoney-Nakoda nations, called it Chuwapchipchiyan Kudi Bi, which means "shooting at the willows." Archeological evidence from the nearby sites of Vermillion Lakes and Sibbald Flats suggests occupation by Indigenous people as far back as 10,300 - 11,000 years ago. Evidence of habitation directly in Canmore dates back 1,000 years, indicated by pictographs on the walls of Grotto Canyon. 
In 1884, the name Canmore was given to the newly formed Canadian Pacific Railway site. This title stems from the Gaelic word Ceann Mór, meaning "big head," or possibly "great head," or even "chief," and was chosen in honor of King Malcolm III of Scotland. From 1887 to 1979, Canmore operated as a coal-mining town, primarily serving the CPR. 
The 1988 Winter Olympics were formally hosted by Calgary but utilized Canmore for some skiing events. This sparked the mountain-tourism boom that still characterizes the town today. Since the games, Canmore's population has tripled, owing mainly to the outdoor recreation scene, the corresponding hospitality sector, and retirees.  
Visiting Canmore
Canmore does not have the same restrictions on development as the Town of Banff. Therefore, it has been steadily growing due to the increased tourism and swelling population. To manage the high traffic in Kananaskis Country, the Alberta government has recently initiated the Kananaskis Park Pass, which can be purchased online and is required to park at all applicable trailheads. The community of Canmore has also added a flat-rate fee of $20 (~15-16 USD) to park at Quarry Lake. Once the logistics are handled, the activities around town are unlimited. Here are some highlights: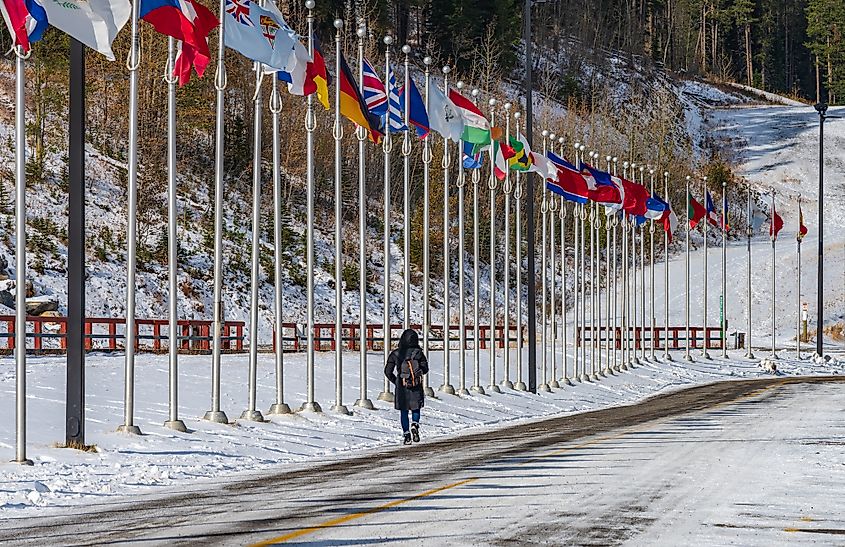 The Canmore Nordic Center (Provincial Park). Almost 40 miles of world-class cross-country ski trails are maintained during the winter, including a small illuminated section for night skiing. In the summer, nearly 60 miles of trails are available for mountain biking and running - all within the shadow of Mount Rundle. 
Quarry Lake Park in an off-leash dog-walkers (and dog's) paradise. This wide-open, grassy park sits at the base of Ha Ling Peak and is also an excellent place for swimming, paddle-boarding, and enjoying a picnic. Grassy Lakes is a short, idyllic, family-friendly hike just outside of town. This is also a popular site for rock climbers. 
Hike one of the "Canmore Quad'' peaks. This more advanced outing can include any or all of Ha Ling Peak, The East End of Mount Rundle (EEOR), Mount Lady MacDonald, and Grotto Mountain. Local trail runners constantly compete for the Fastest-Known-Time (FKT) for all 4 mountains done consecutively. For mere mortals, the single most approachable peak is Ha Ling. The trail was recently upgraded and now features several wooden staircases on the steeper sections. The new route is also slightly longer, with more switchbacks and a gentler grade.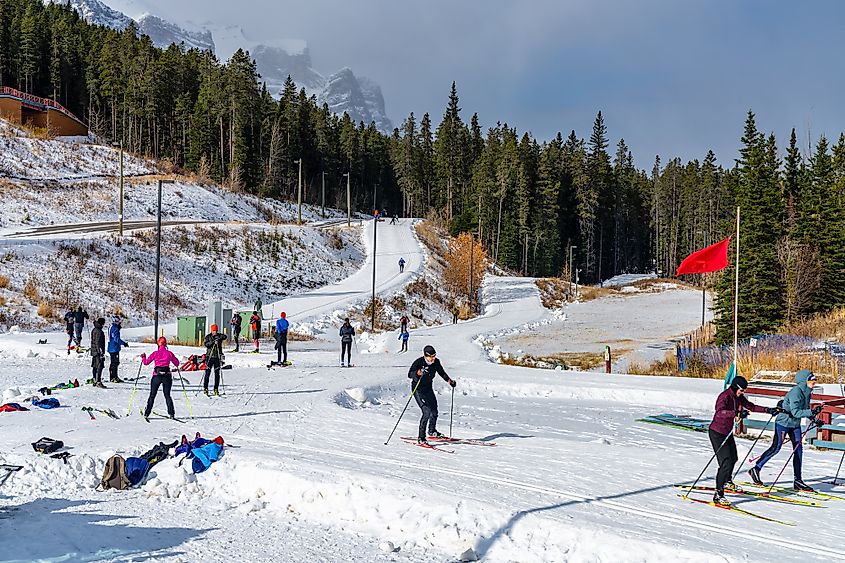 Backcountry skiing, snowshoeing, or even dogsledding. Take a guided tour or head off with your own gear and know-how. Head into Kananaskis Country via the Smith Dorrien Trail (Highway 742) for an unlimited powdery playground. 
Enjoy the leisure activities around town. Walk the modest Bow River Loop to view the surrounding landscape, most notably, The Three Sisters. Afterward, stroll downtown and peruse the many shops, cafes, and restaurants. For any golfers out there, you will never hit the ball further than on the well-groomed, high-altitude courses of Canmore. 
Canmore is an outdoor-recreation gem that offers a great alternative to visiting Banff. Save for the developed ski-hills, Canmore has just about everything else a nature-enthusiast could hope for. For anyone in the Calgary area or en route to the adjacent National Park, dropping by Canmore is a must.