Bryson City is a small town situated in Swain County in the US State of North Carolina. When Swain County was formed from parts of surrounding counties, Bryson City was selected to serve as the county seat of Swain County. The town eventually grew into an important local rail hub. Today, Bryson City is a popular tourist destination, located just west of the entrance to the Great Smoky Mountains National Park.
Geography And Climate Of Bryson City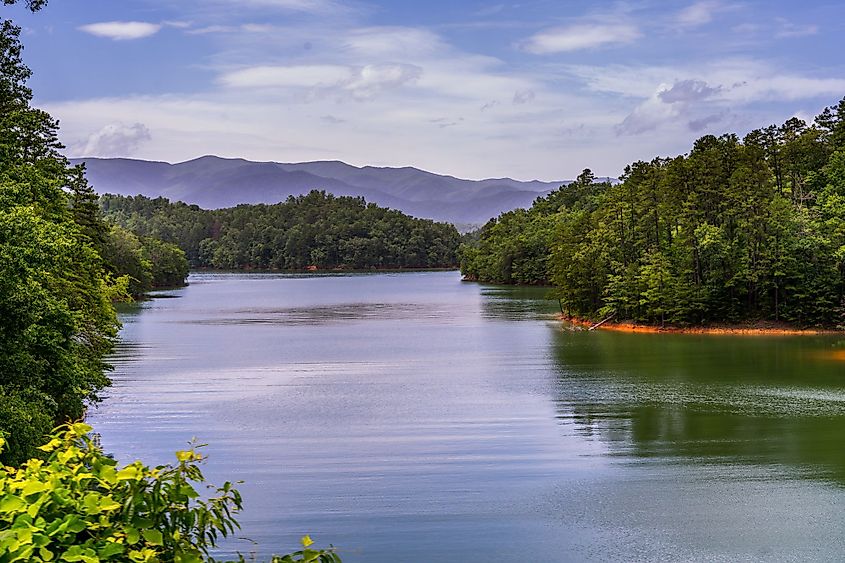 Bryson City is situated immediately west of the meeting point of the Tuckasegee River and Deep Creek. The Tuckasegee River runs in the westward direction from its source in the mountains, while the Deep Creek flows southwards from its source in Newfound Gap in the Great Smoky Mountains. Mountain ranges encircle the town on every side. The Plott Balsams rise to the east, while the Great Smoky Mountains rise to the north. The Nantahala National Forest's boundary runs just south of town, whereas the Great Smoky Mountains National Park's boundary runs north. The eastern area is dominated by the Qualla Boundary, which encompasses most of the Eastern Band of Cherokee Indians reservation. Bryson City covers a total area of 5.7 sq. km, of which 5.4 sq. km is occupied by land, and 0.26 sq. km is covered by water.
The climate in Bryson City is described as warm and temperate. In July, the average daily high in the Bryson City area is 84 °F, with an average low of 62.4 °F. While the weather is cold, it is not unbearable. In January, the average daily high is 47.5 °F, and the average low is 26 °F. The absence of seasonal extremes allows for regular outdoor activities and comfortable living throughout the year. The cool summer nights that have drawn visitors to the area for generations are among the most prized aspects of Swain County's climate.
History Of Bryson City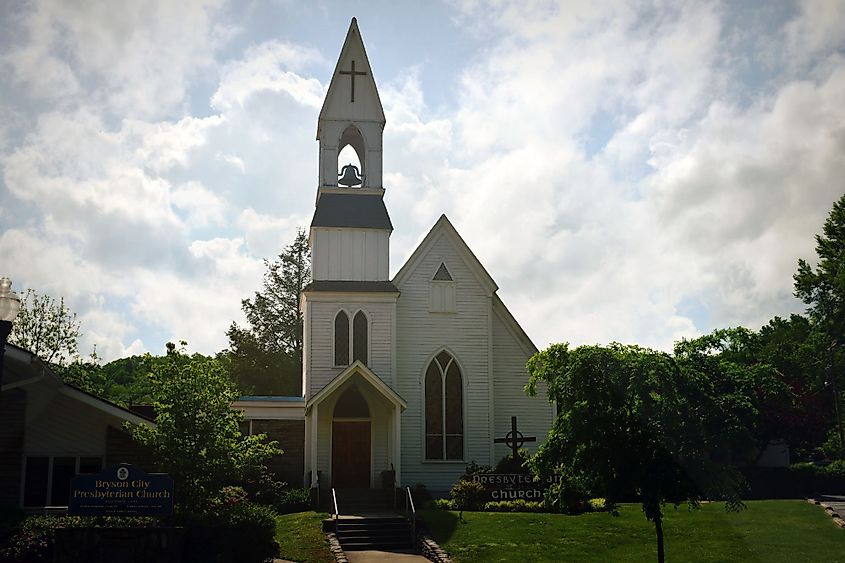 For nearly 14,000 years, Native Americans have lived and hunted in the vicinity of what is now Bryson City. The Cherokee considered Kituhwa to be their oldest village, and it was located on the Tuckasegee River just upstream from Bryson City. An orata (minor chief) from Kituhwa is thought to have met Spanish explorer Juan Pardo in the French Broad Valley to the north in 1567. Although American soldiers burned Kituhwa in 1776, the Cherokee kept holding yearly ceremonial dances at the site throughout the nineteenth century. Around 1818, Big Bear, a Cherokee chief, received a 2.6 sq. km reservation of land immediately west of the meeting point of Deep Creek and the Tuckasegee River, which included the majority of what is now Bryson City. In 1819, Big Bear sold a portion of his reservation to Darling Belk and another to John B. Love in 1824. Love, in turn, sold a part of the land to James and Diana Shular the following year. Colonel Thaddeus Bryson and merchant Alfred Cline sold portions of their land to the Shulars. A little village known as Bear Springs developed in the center of what was originally Big Bear's reserve. Bryson City was founded as Charleston in 1887. In 1889, the residents of Charleston changed the city's name to Bryson City in honor of Colonel Thaddeus Dillard Bryson. The town square was built on the Tuckaseegee River's south bank, with the main street paralleling the river and extending an equal distance east and west from the square. Everett Street reached the current location of the Shuler Furniture Store by crossing the river, which was spanned by a wooden bridge. For many years, Bryson City had only dirt streets that were frequently muddy, with no sidewalks. The first sidewalks were built with voluntary contributions from property owners. As a result, some areas had sidewalks while others did not. Because of the growing popularity of automobiles, railroad transportation declined, and Southern Railway discontinued passenger service in 1948. The state of North Carolina purchased the tracks after Norfolk Southern discontinued freight service on the railroad in 1985.
The Population And Economy Of Bryson City
As per the latest US Census, Bryson City has a population of 1,461 inhabitants. The city's population has increased by 2.53 % since the 2010 census, which recorded a population of 1,425 inhabitants. The largest ethnic groups in Bryson City are White at 87.06%, Native Americans at 7.60%, Two or more races at 3.19%, Other races at 1.92%, and Native Hawaiian or Pacific Islander at 0.23%.
The city's annual median income is $35,658, which is less than the national annual median income of $65,712. With an unemployment rate of 4.9 %, Bryson City's job market has grown by 0.8 % in the last year. The future job growth is expected to be 35.7 % over the next ten years. 
Attractions In Bryson City
Great Smoky Mountain Railroad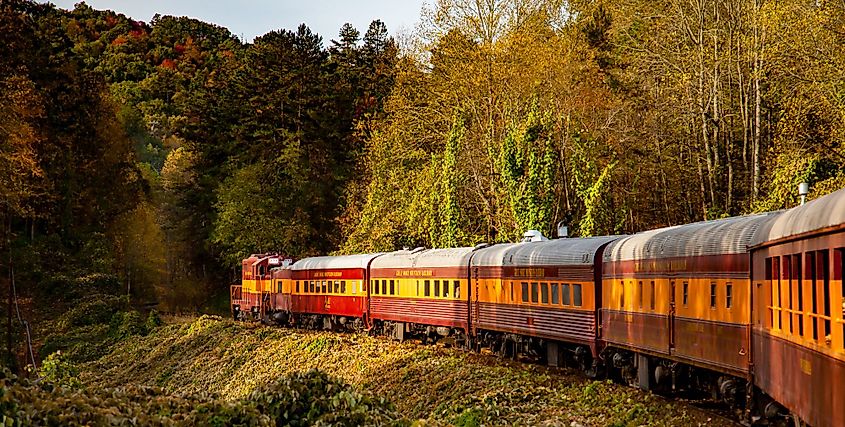 The Great Smoky Mountains Railroad, considered one of the best train rides in the United States, offers impressive, scenic excursions through the natural beauty of the mountains in Western North Carolina. The ride crosses tunnels, rivers, lakes, gorges, and valleys and is available in both a diesel engine train and a restored steam engine. They offer a variety of tours and excursions, and as it is a popular attraction, tourists are advised to book in advance. The Great Smoky Mountain Railroad is considered one of the ideal ways to experience both the incredible views and the rich history of North Carolina.
Nantahala Outdoor Center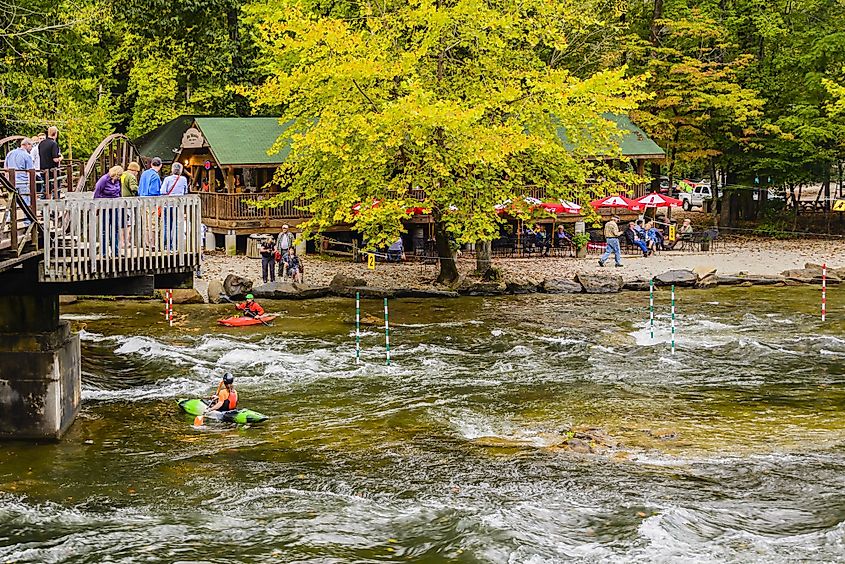 Nantahala Outdoor Center has been designated as "One of the Best Outfitters on Earth" by National Geographic Adventure. It is considered the most prominent outdoor recreation company in the United States, offering over 120 different river and land-based activities for everyone from families to adrenaline junkies. Whitewater rafting, world-class paddling lessons, and lake kayaking are all options for visitors. Visitors can also attend their leadership institute for wilderness medicine and river rescue training. Nantahala Outdoor Center provides instruction and equipment to ensure everyone has a fantastic experience.
Smoky Mountain Gold and Ruby Mine
The Smoky Mountain Gold & Ruby Mine, located 20 minutes from Bryson City and popular with children, allows visitors to take home some valuable souvenirs from North Carolina. With free admission, visitors can search for emeralds, rubies, sapphires, amethysts, garnets, topaz, and other gemstones in various bags and buckets.
Smoky Mountain Trains Museum
Visiting the Smoky Mountain Trains Museum is a great way to continue the rail adventure. It houses a collection of 7,000 Lionel engines, cars, and accessories that will delight both children and adults.
Swain County Heritage Museum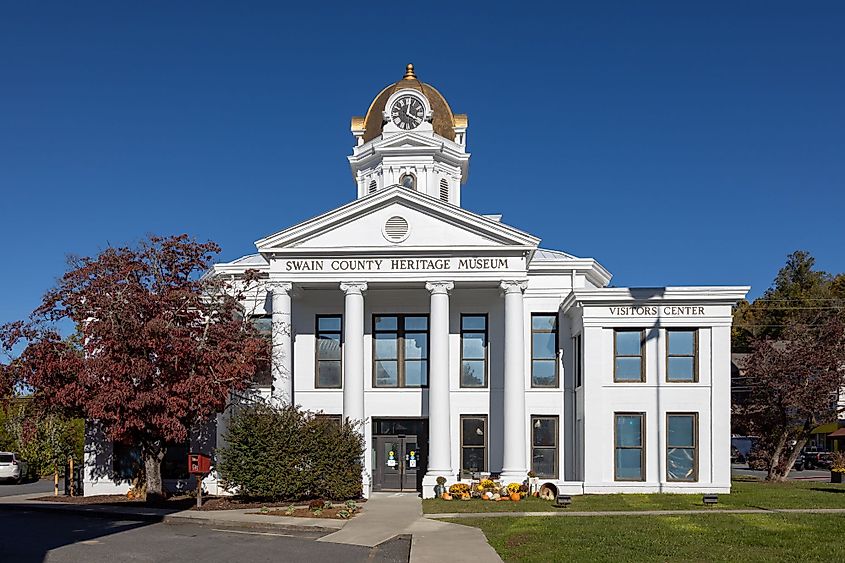 The story of Swain County and its people is told through exhibits, photographs, and videos at this museum. The museum is housed on the second floor of the 1908 historic courthouse in downtown Bryson City.
Nantahala Brewing Company
This microbrewery produces award-winning, unfiltered ales and offers a welcoming atmosphere to unwind after a day of sightseeing, but their most popular option is their beer to go. They offer tours and tastings in their taproom on Fridays, which is a fantastic way to try up to eight different beers.
Cooper Creek Trout Farm
Cooper Creek Trout Farm raises 750,000 rainbow trout each year and has a public pond where guests can catch their own fish. They provide fishing equipment, picnic areas, and guided tours. They also have access to hiking trails and waterfalls because of their location.
Deep Creek Recreation Area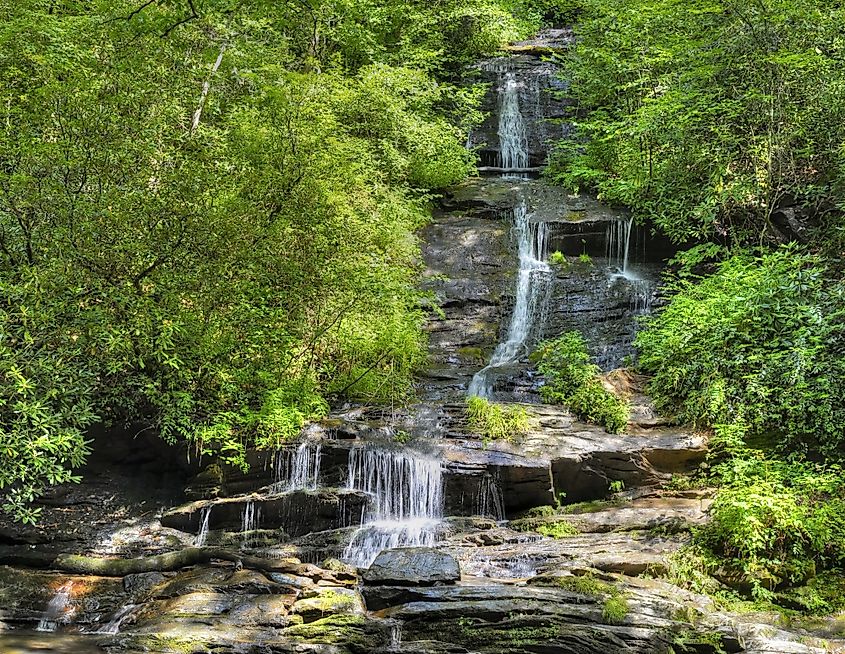 Deep Creek is 5 minutes from Bryson City and is one of the most picturesque sites in the Great Smoky Mountains National Park. It has many outdoor activities to enjoy, such as hiking, biking, and horseback riding trails. The most popular routes pass by Indian Creek, Tom Branch, and Juney Whank Falls, which are among the most beautiful sights in the park.
Great Smoky Mountains National Park
The Great Smoky Mountains National Park, located on the border of Tennessee and North Carolina, is the country's most visited national park. With 522,419 acres, this breathtaking location is also the largest protected area in the Eastern United States. The park has everything visitors need to ensure they get the most out of North Carolina, including waterfalls, camping areas, and backpacker shelters, as well as black bears, reptiles, other animals, and unique flora.
Western North Carolina offers a hidden gem surrounded by mountains that is the ideal place to unwind and appreciate nature. Bryson City has a small-town feel, friendly people, and a peaceful downtown, but it also has a diverse choice of things to keep you busy for weeks. It's an outdoor paradise, with everything from hiking and mountain biking paths to fishing and water sports.