Asbury Park is a city located in Monmouth County, eastern New Jersey, in the United States of America. The city had its good share of hosting famous and influential people. Famous Actor Bud Abbott, a member of the comedy team of Abbott and Costello, was born there in 1895. Woodrow Wilson took Asbury Park as his summer headquarters during his campaign for reelection in 1916. Rock and roll musician Bruce Springsteen started his career in the music industry in Asbury Park and named his first record album "Greetings From Asbury Park."
Asbury Park's boardwalk, swimming pavilions, Convention Hall, 4000-seat Auditorium, and fishing facilities have spurred the city's popularity as a site for resorts and conventions. Today, the city has a total population of 15,600 people.
Geography Of Asbury Park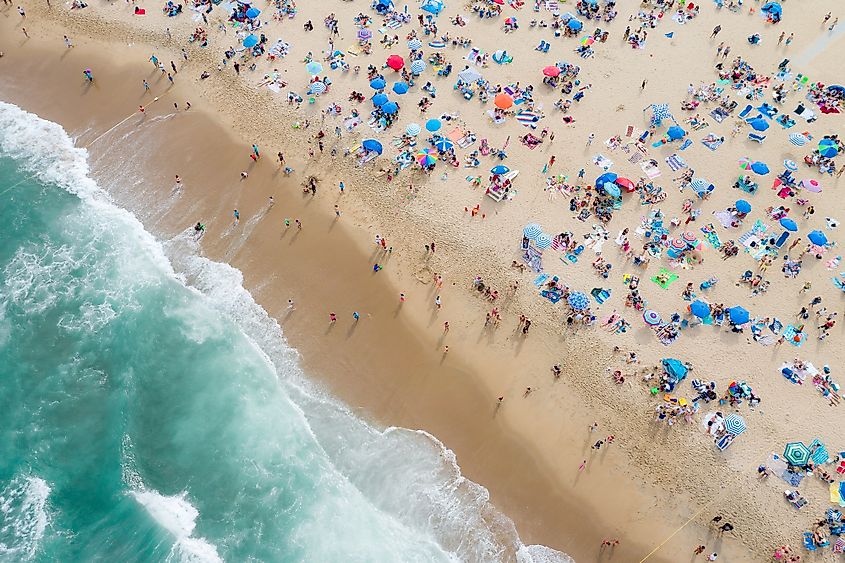 Asbury Park is a seaside city on the New Jersey shore on the Atlantic Ocean with an altitude of 6 meters. It is part of the New York City Metropolitan Area and shares borders with the Monmouth County communities of Loch Arbour, Interlaken, Ocean Township, and Neptune Township. According to the U.S. Census Bureau, the city has a total area of 4 square km, including 3.70 square km of land and 0.47 square km of water.
Asbury Park is one of the seven municipalities that border Deal Lake, an artificial lake and the largest one in the county. It covers 0.63 square km and drains into the Atlantic Ocean. 
The Population Of Asbury Park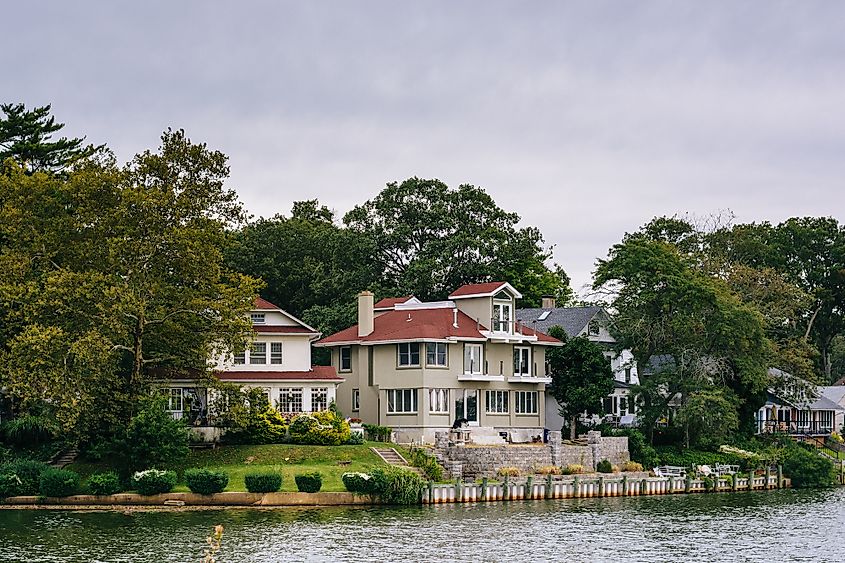 In 2019, Asbury Park in New Jersey was home to a population of 15,600 people with a population density of 3,867 people per square km and a median age of 36. The five largest ethnic groups in Asbury Park are Black or African American, making up about 41.5% of the population, White most of whom are considered non-Hispanic around 31.1%, Other at 10.5%, Hispanic at 9.19%, and Hispanic Black or African American at 2.57%. The city had 1.33 times more Black or African American residents than any other race or ethnicity. All the households in the city speak English as their primary language.
As of 2019, around 17.7% of Asbury Park residents were born outside the United States, which is higher than the national average of 13.7%. The most common birthplace for foreign-born residents of New Jersey was India, followed by the Dominican Republic and Mexico. 
The Economy Of Asbury Park 
The median household income in Asbury Park was $47,841, and the poverty rate is high at 25.8%. The income inequality in New Jersey (measured using the Gini index) is 0.493, which is higher than the national average. This is reflected in the residents' income as males tend to have an average income that is 1.38 times higher than the national average income of females.
The economy of Asbury Park employs up to 51.4% of the city's residents in different industries, including Health Care & Social Assistance, Accommodation & Food Services, and Retail Trade. The highest paying industries in Asbury Park are Information, Real Estate & Rental & Leasing, and Finance & Insurance.
Brief History Of Asbury Park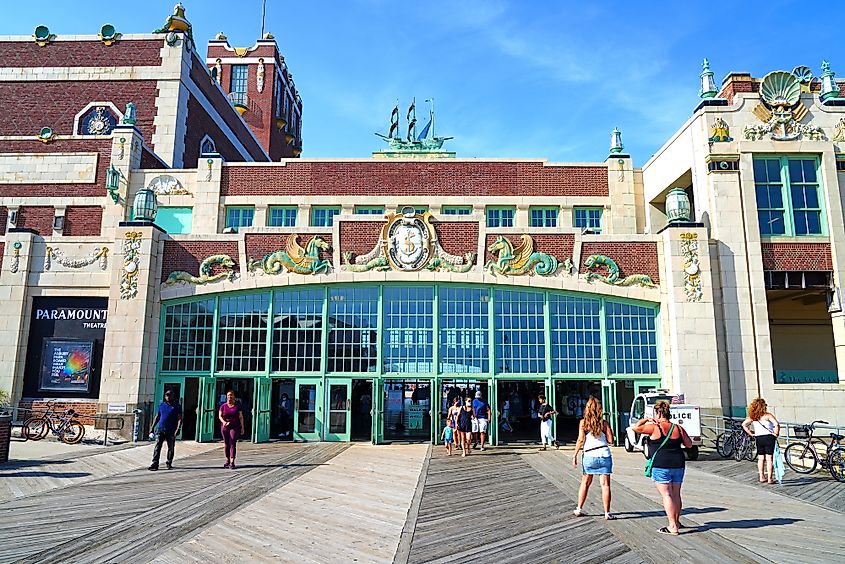 Asbury Park was planned in 1869 and founded in 1870 by James A. Bradley, a New York businessman who had plans to make it a haven for temperance advocates. It was named for Francis Asbury, the first American Bishop and founder of Methodism in the United States. Many of the streets are named for prominent 19th century Methodist ministers. Asbury Park was served by the Central Jersey Railroad and developed as a center of light manufacturing as well as a resort and residential community. Asbury Park became a borough in 1874 and was later incorporated in 1897. The city had the first municipal sewer system on the Jersey Shore and was an early adopter of telephones. In 1903, the resident doctors of Asbury Park started what developed into Jersey Shore University Medical Center. The house where Stephen Crane, author of "The Red Badge of Courage," spent his teenage life is now the Crane House, a museum dedicated to his life and writings.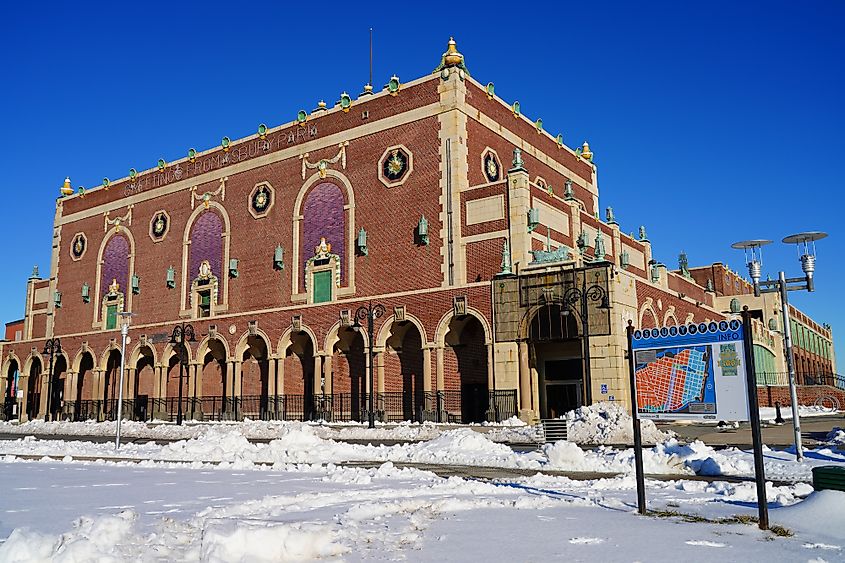 The city has been a "hub of gay life" for decades. Property values plummeted locally in the 1950s, and gays from New York City purchased and restored Victorian homes in the city, leading to a growth in the LGBT community and transformation of some parts of the city. The LGBTQ+ rights organization Garden State Equality is headquartered on Main Street, and in 2021, the LGBTQ+ community center Qspot relocated back to Asbury Park, having been established there in 2005. 
Tourist Attractions In Asbury Park 
The pleasant seaside town of Asbury Park has always been a popular vacation destination. As far back as 1871, visitors came from all over the state to enjoy the historic ocean-front Asbury Park Boardwalk and Pier as well as the famous Paramount Theatre entertainment hub. Visitors who admire modern contemporary art visit the Parlor Gallery, annually hosting around 11 exhibitions and arty events.