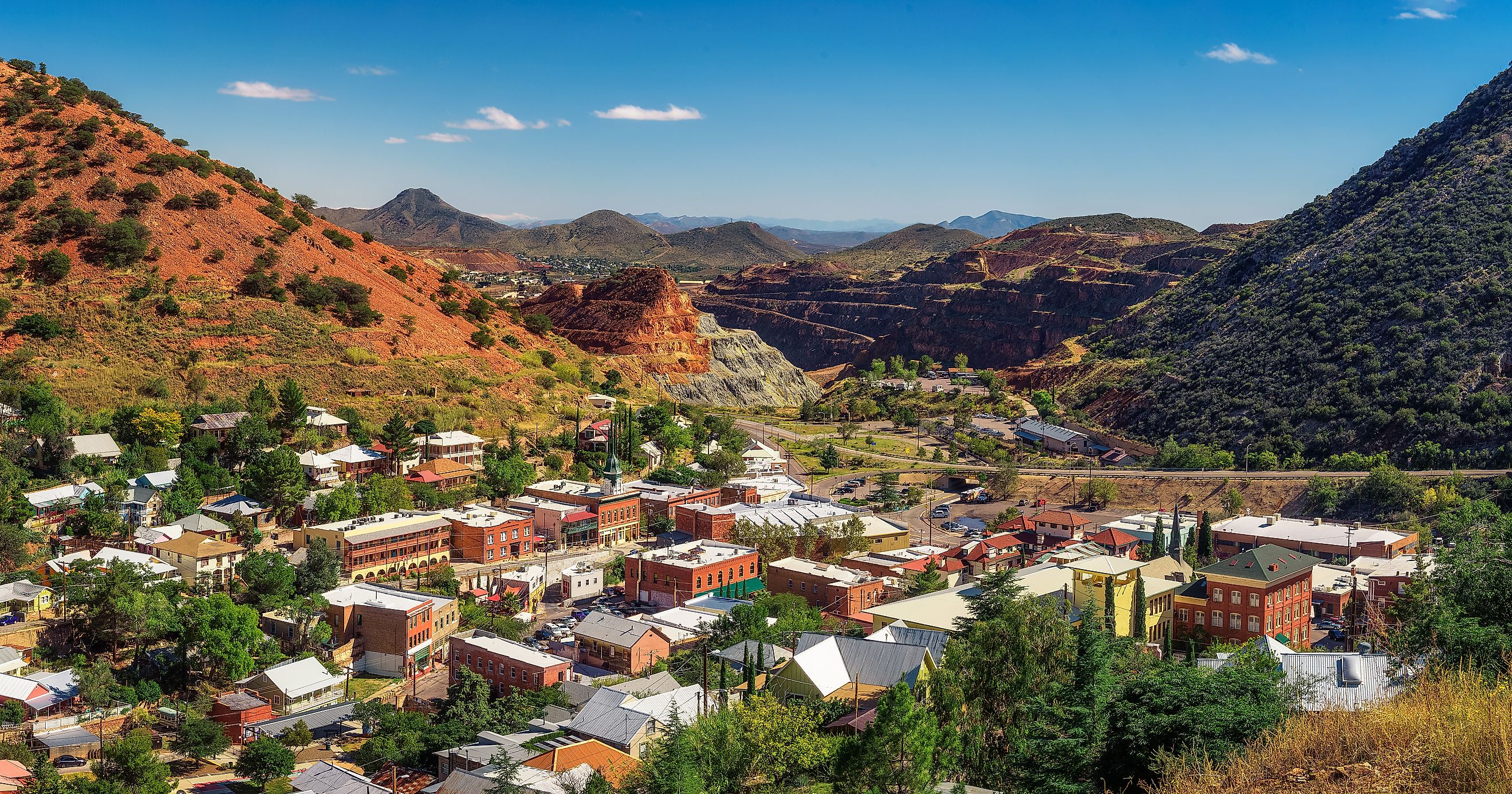 8 Cutest Small Towns in Arizona
Arizona is a state of stunning beauty, with breathtaking landscapes and stunning vistas that will leave you in awe. It is full of charming small towns, from the iconic town of Sedona to Bisbee. This southwestern paradise is known for its iconic desert scenery, including towering saguaro cacti and red rock formations.
With its gorgeous mountain views and vibrant art scene, there's something in every corner of this beautiful state. The state also boasts a rich history and culture shaped by Native American traditions and Spanish colonial influence. Home to The Grand Canyon, one of the world's most awe-inspiring natural wonders, is located in Arizona. Arizona has your best interest if you're looking for something special. Here are the 8 cutest small towns in Arizona. 
Winslow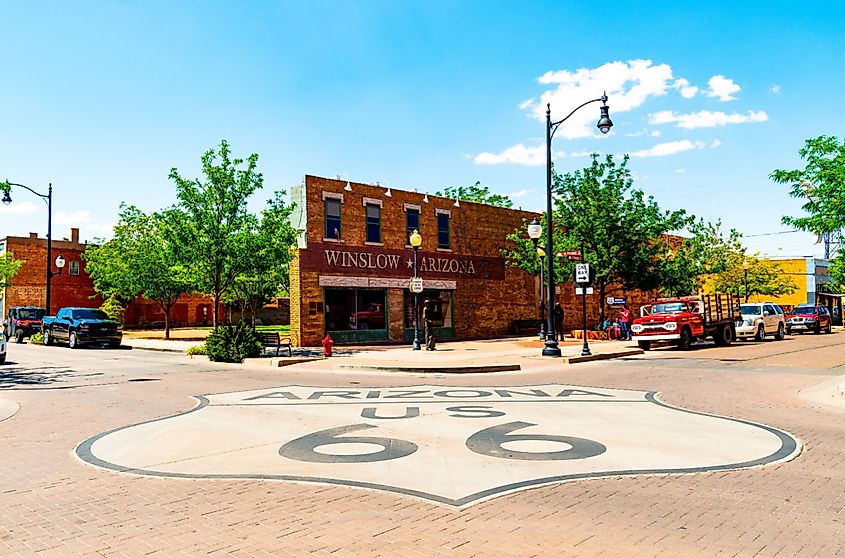 Winslow is an adorable small town in Arizona known for its stunning views of the nearby Little Colorado River. The river runs through Winslow, providing a wonderful backdrop for charming restaurants and shops. Also, it has easy access to Lake Mary and several state parks, such as Homolovi Ruins State Park and Meteor Crater Landmark. The La Pasoda Art Museum is a magical place that transports you into the world of art. It's a perfect destination for anyone who loves creativity, color, and imagination. Every museum corner is filled with unique artwork from different historical periods. 
The town has always been an essential stop on route 66. Previously with railroad travelers and currently with motorcyclists and motorists. Winslow also offers many recreational activities, including camping, boating, fishing, and hiking. Explore Petrified Forest National Park or visit the Old Trail Museum to see exhibits and artifacts in Winslow's history.
Tombstone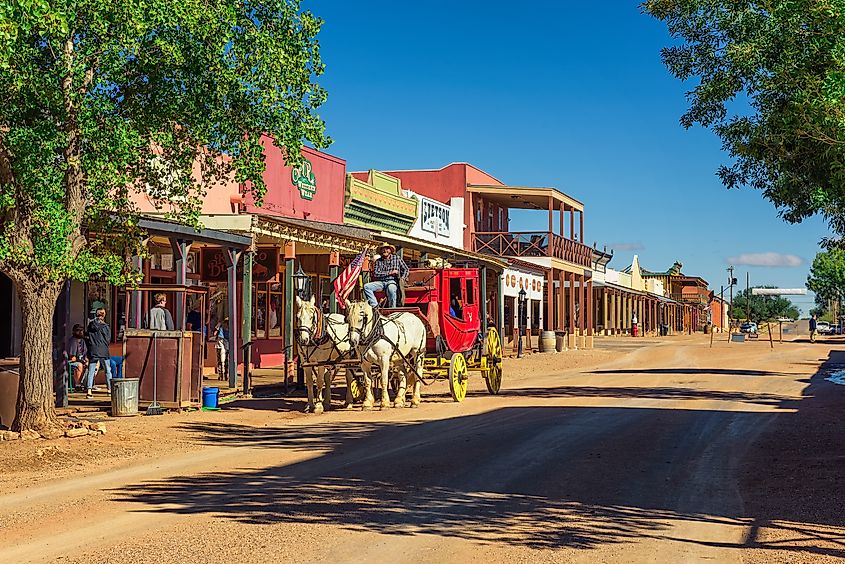 Tombstone is home to famous gunfights from the Wild West days. It also has a rich mining history. Take a walk around the town, and explore old buildings still standing strong, representing a time when cowboys roamed free. Tour the infamous O.K Corral, where Wyatt Earp fought for justice during the famous shootout. Walking down the dusty streets of Tombstone can transport you back in time. You will feel like you have stepped onto a movie set with saloons, brothels, and old-fashioned shops lining the sidewalks.
The San Pedro River winds through town, offering visitors a peaceful stroll or an exciting river rafting adventure. If you're feeling adventurous, head to Kartchner Caverns State Park to explore stunning underground caverns. Exploring the depths of the caverns will make you feel like you're on an adventure straight out of a movie. The beauty of the stalactites and stalagmites is mesmerizing. Tombstone Courthouse State, The Tombstone Epitaph, and Ed Schieffelin monuments give you great historical insights.
Williams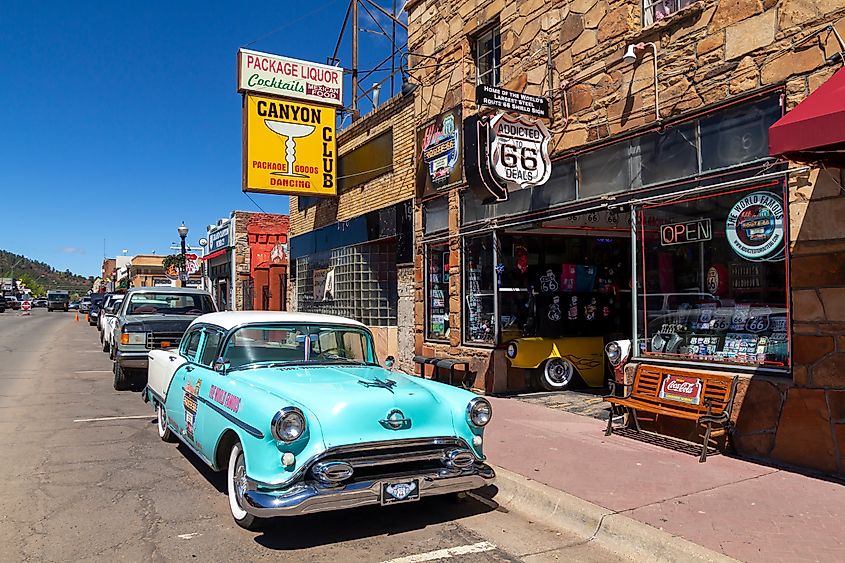 Williams is a charming small town nestled in the majestic Kaibab National Forest. It is located in the Coconino County of Arizona and lies along Route 66 with stunning views of the San Francisco Peaks Mountain range. Home to beautiful forests and lakes, Williams is the perfect destination for outdoor enthusiasts. Explore the Cataract Lake State Park or enjoy fishing on Dogtown Lake. 
Williams is also home to Bearizona Wildlife Park. Visitors can drive through habitats featuring wolves, bears, bison, and more! Additionally, there are walking paths throughout the park where visitors can get up close and personal with smaller animals like otters and foxes. With rustic cafes, boutiques, galleries, and restaurants, visitors can experience some of Arizona's perfect beauty.
Camp Verde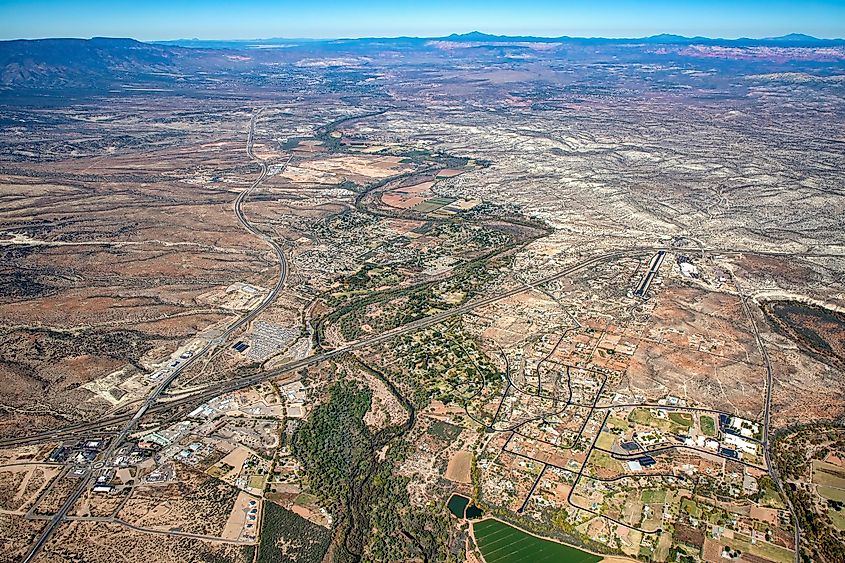 If you're interested in ancient civilizations, visit Montezuma Castle National Monument. This well-preserved cliff dwelling was home to the Sinagua people over 800 years ago. You can marvel at the impressive architecture and learn about their way of life.
There are plenty of hiking, fishing, and camping opportunities for outdoor enthusiasts in the surrounding areas. Check out the scenic trails along the Verde River, or dip in the refreshing waters. Enjoy Fort Verde State Historical Park, which showcases the area's military history from the late 1800s. Wander through the restored buildings and imagine life for the soldiers stationed here.
Sedona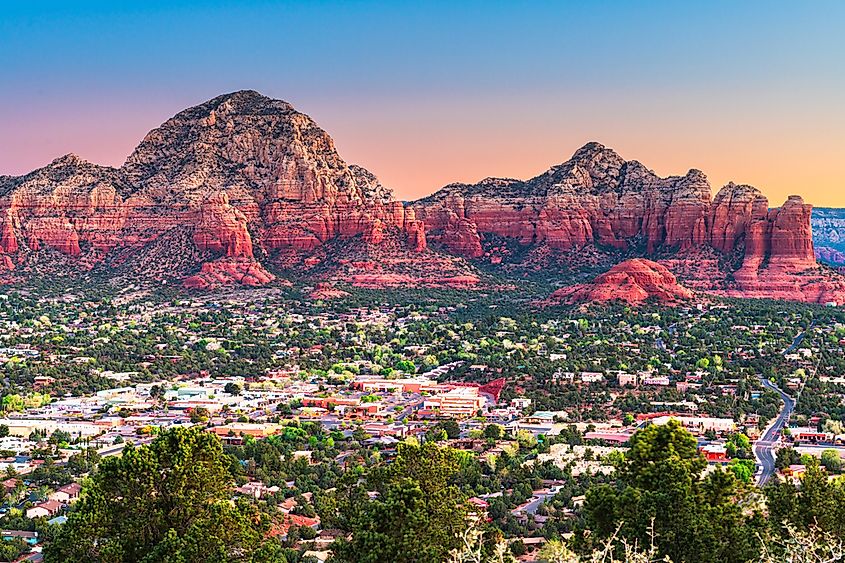 Sedona is famous for its vibrant arts scene and mystical energy and is situated in the red rock formations of the Coconino National Forest. The town is surrounded by rust-colored cliffs and pine forests, making it a haven for outdoor enthusiasts. Explore the iconic buttes and mesas, remembering the nearby rivers, lakes, and state parks. 
Several State Parks are within driving distance from Sedona, like Slide Rock State Park and Red Rock State Park. Slide Rock State Park provides an awesome day trip full of swimming holes, trails, and natural slides. The beautiful Oak Creek runs through Sedona, providing picturesque rafting, swimming, fishing, or tubing opportunities. When you're ready to relax after all that outdoor exploration, visit one of Sedona's charming restaurants or art galleries. 
Bisbee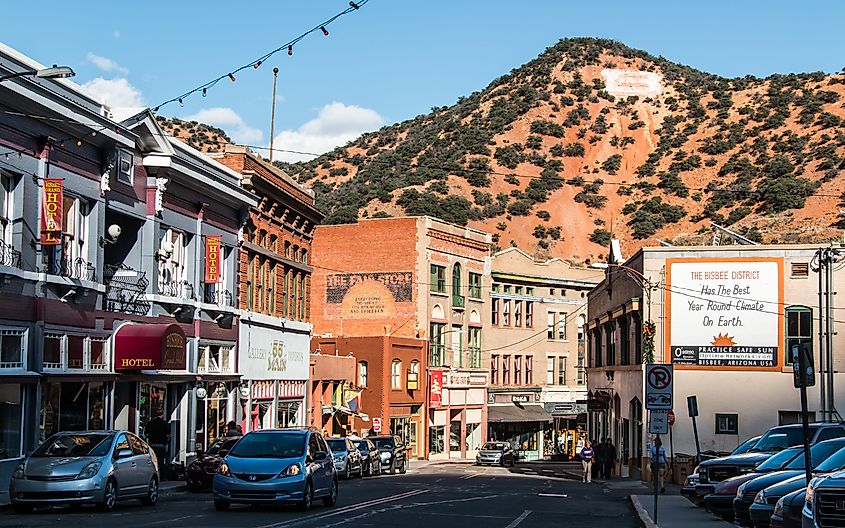 Bisbee is located in the southeastern corner of the state. Its spectacular views and historical mining heritage have earned it a spot on many lists of the "cutest" small towns in the Grand Canyon State. 
This charming town sits in the Mule Mountains and boasts stunning views of the surrounding desert landscape. The town is filled with colorful Victorian-style homes and buildings that have been lovingly preserved over the years. Walking through Bisbee's streets feels like returning to a bygone era. Spend your day by visiting Vista Park, Mount Ballard, and Mule Pass Tunnel. Whether you're looking for a weekend getaway or a new place to call home, Bisbee is worth a visit.
Jerome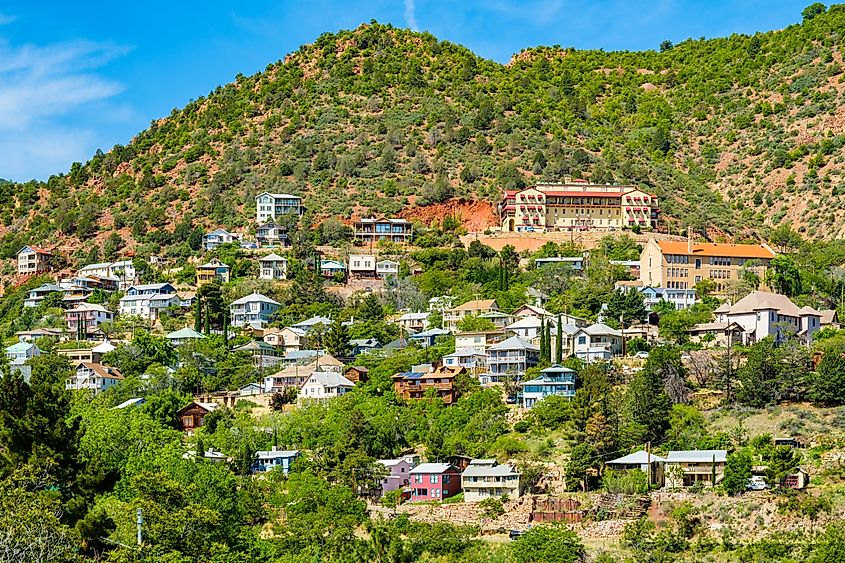 Jerome is a charming small town in the Black Hills of Arizona's Verde Valley. It sits at an elevation of 5,200 feet and offers stunning views of the surrounding desert landscape. Located on top of Cleopatra Hill between Prescott and Flagstaff, this former mining town provides spectacular views of the Verde Valley below. Once known as the "Wickedest Town in the West," Jerome was a thriving mining community during the late 1800s. Today, you can still see remnants of its colorful past in the form of historical buildings and fascinating museums that tell the story of this unique place.
Take a scenic drive along Mingus Mountain for incredible panoramas, then explore the nearby lakes, rivers, and parks. Explore its history by visiting the Jerome State Historic Park and Jerome Bible Art Museum. Don't leave without visiting Dead Horse Ranch State Park. The park offers many recreational activities, such as horseback riding, mountain biking, bird watching, and camping, leaving you feeling fulfilled and refreshed. The trails are easy for beginners yet challenging enough for more experienced hikers seeking adventure. 
Carefree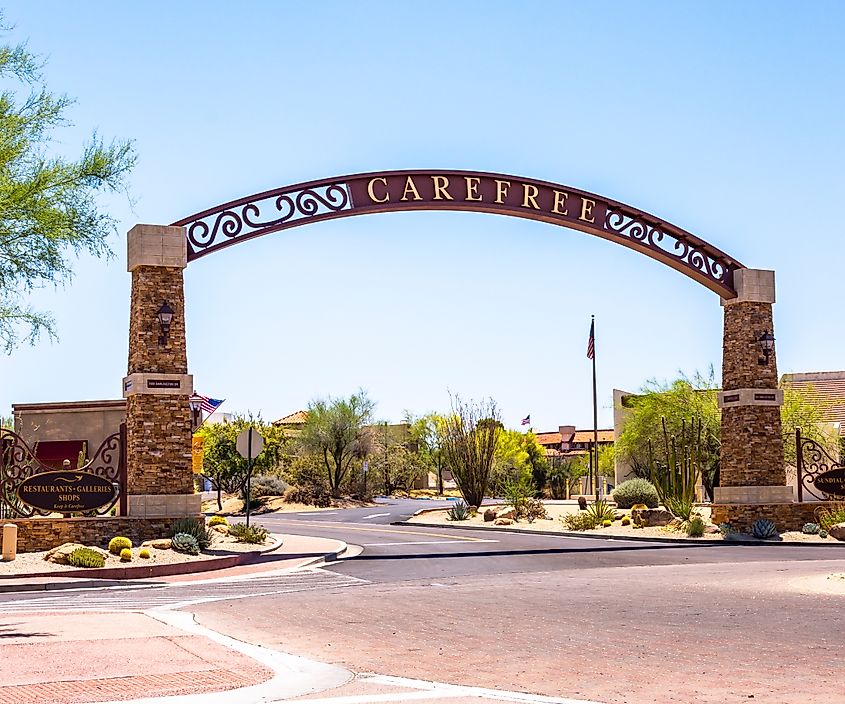 Carefree is a charming and unique small town in the Sonoran Desert's foothills. It is known for its spectacular views of nearby Black Mountain and tranquil rivers and lakes, perfect for swimming, fishing, and boating. Outside Carefree lies Cave Creek Regional Park, offering miles of hiking trails and scenic vistas to take your breath away. The nearby Bartlett Lake and Cave Creek Regional Park offer excellent fishing and boating opportunities, while the region's state parks provide breathtaking natural vistas. 
Visit the carefree Desert gardens, one of the botanical gardens in the area. The fascinating cacti collection will capture your attention, as they come in all shapes and sizes. These desert giants are a sight to behold with their unique prickly exteriors and intriguing textures. With its world-class restaurants, art galleries, specialty stores, and wineries, the unique character and charm will strike you. From world-class golf courses to upscale shopping centers, there's something here for everyone.
Final Thoughts
Arizona is full of delightful towns that will surely steal your heart. Among these lovely places are eight towns that stand out in charm and beauty. From the vibrant Sedona to the historic Bisbee, each town has its unique character that makes them worth visiting. You can hike in the mountains, explore historic sites like Tombstone or take a hot air balloon ride over the Sonoran Desert. Arizona has something to offer everyone. So what are you waiting for? Experience all that this amazing state has to offer.