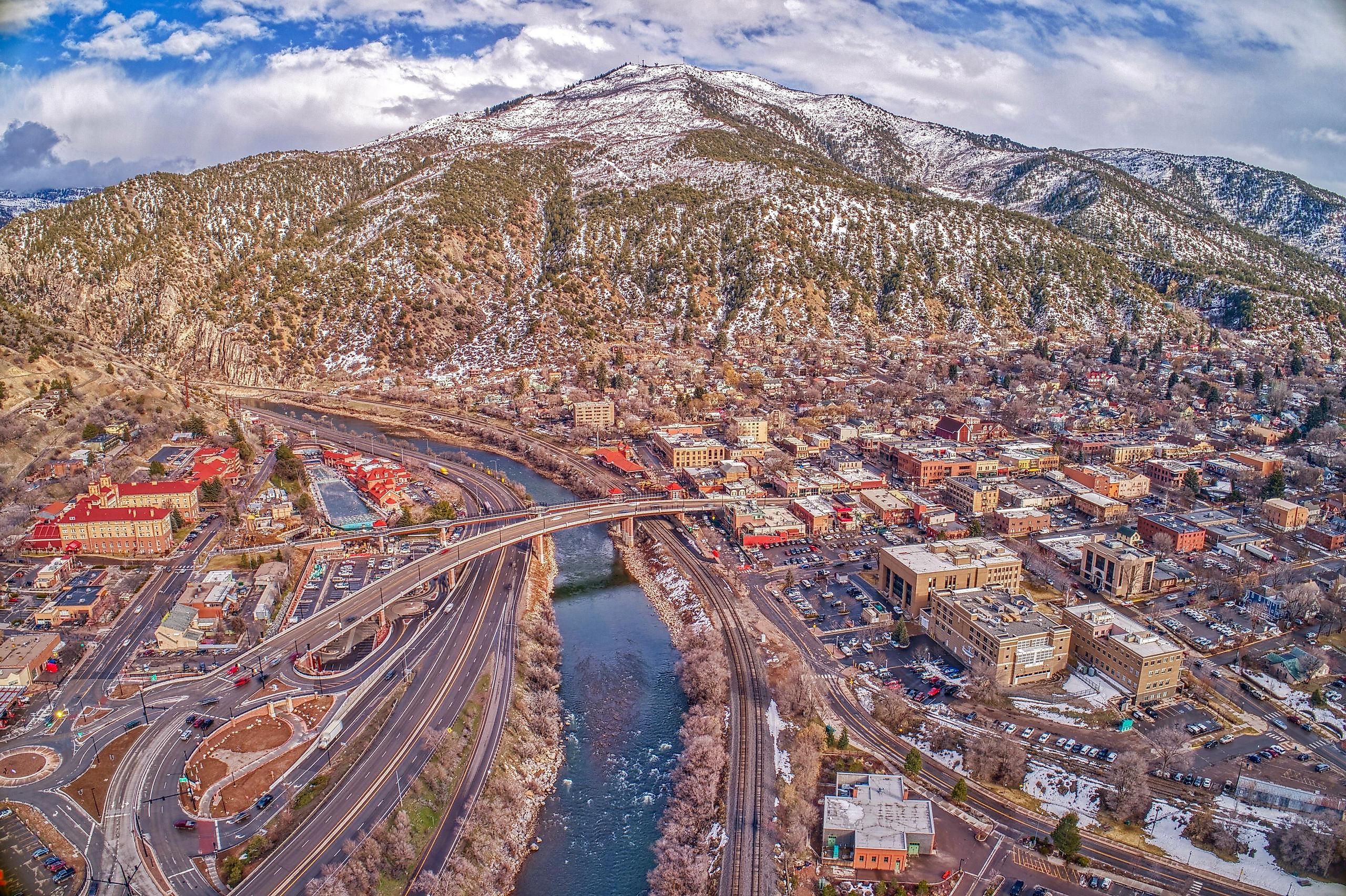 7 Most Charming River Towns in Colorado
Located in western United States, Colorado is one of the most geographically unique states in the country. With a range of deserts, snow-covered mountains, large water bodies, and even massive valleys, there truly is everything to see in this state. That being said, with so much to see, how exactly can you figure out where to go? We have prepared a list of Colorado's most charming river towns for those who love to spend a day by the river. So, let's get into the list!
Pueblo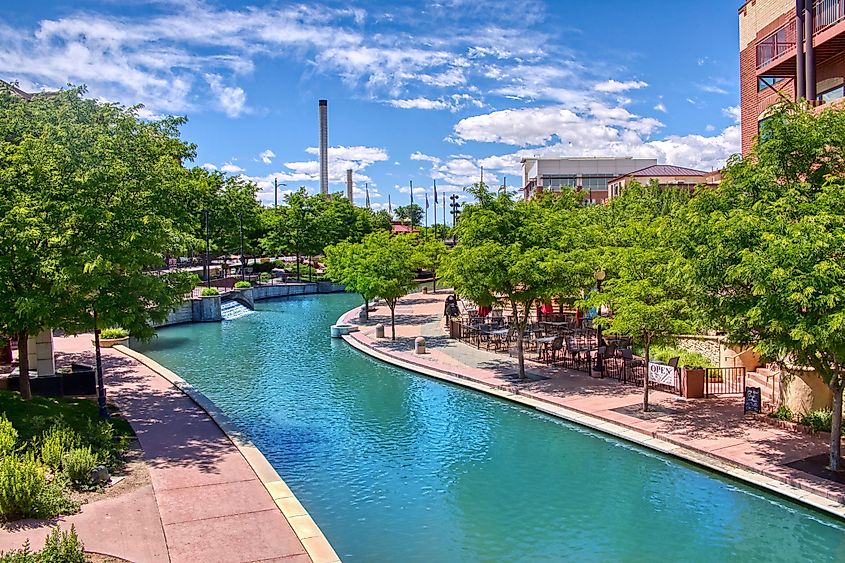 Home of the Colorado State Fairgrounds, Colorado State University, and many other important historic locations, the city of Pueblo is a mix of natural and urban charm. This city is home to an impressive 110,000+ individuals and is also quite large, with nearly 150 sq. km. of total area. With all this, Pueblo manages to offer a vast range of options which stems from its impressive history with the early boom of Steel Mills, which boosted the region to success. Taking advantage of this, the town began to develop rapidly around the Arkansas River thanks to which one can know make the most of the urban amenities and attractions while also enjoying the beautiful riverside views.
The list of things to do is truly endless in Pueblo, with some of the most popular attractions being the Pueblo Zoo, Elmwood Golf Course, Historic Arkansas River Walk (HARP), and even fantastic restaurants such as "La Forchetta da Massi," which is known for its Italian cuisine. As a charming river town, the HARP is genuinely one of the most charming parts of this city, providing picturesque views while also expressing the history of the Pueblo Flood of 1921. Although, while Pueblo certainly attracts a wide range of tourists for these attractions, the residents also enjoy the city being the least expensive residential real estate market out of all major cities in the state. So, whether you want an all-inclusive trip to enjoy the city or are looking for a reasonable and charming town to buy a home, Pueblo might have the answers for you.
Durango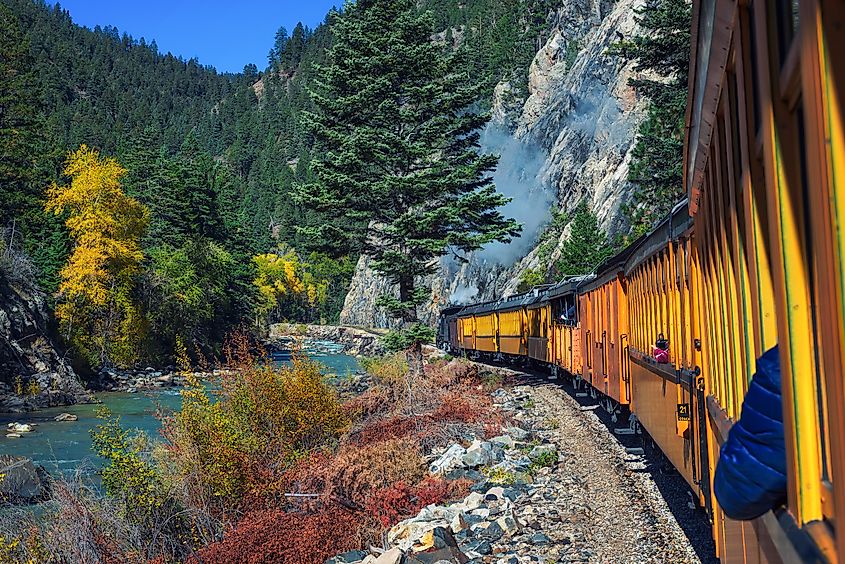 Bifurcated by the beautiful Animas River, the city of Durango is located in southwestern Colorado and is the county seat for La Plata County. Founded in 1880, the city was initially developed near the Animas River, which was essential for commerce in the area. Home to nearly 20,000 people according to the most recent U.S. Census, this small city has a lot to offer. Specifically, regarding tourism and charm, Durango offers both riverside enjoyment and a plethora of recreational, historical, and cultural activities. For example, the city is home to some of the most well-preserved historical artifacts with an impressive 13 historical sites within and around it, such as Chimney Rock National Monument.
Apart from this, Durango was also once very famous in movies with more than 30 films being shot in the area. This was due to the nearby Mesa Verde National Park, which boasts acres of greenery, and the Animas River, where the main characters of 'Butch Cassidy and the Sundance Kid' took a plunge. Similarly, the areas surrounding the river are famous for attracting people with a wide range of restaurants, stores, and parks to make for a scenic, relaxing area. However, even if you prefer the adrenaline side of trips, Durango still has a lot for you. The city is home to mountain trails, zipline adventures, large skating rinks, and even houses competitions such as the Iron Horse Bicycle Classic, so there is something for everyone to enjoy!
Steamboat Springs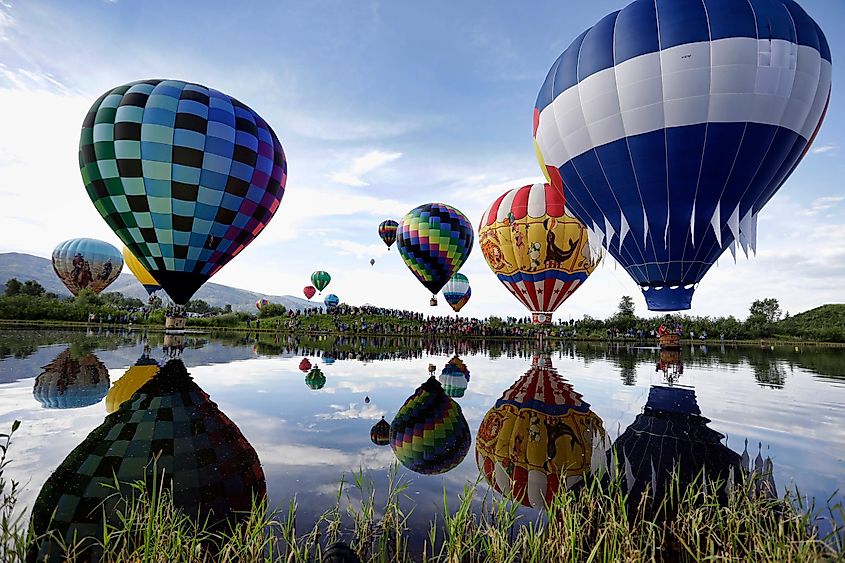 The county seat of Routt County in Colorado, Steamboat Springs is a city known for being an enjoyable winter ski destination. Engulfed by the beautiful Yampa river on the western boundaries and mountainous regions in the southeast, there is a vast range of unique attractions and natural elements to enjoy. When it comes to skiing and winter sports, the city reaches sub-zero temperatures for more than 6 months a year, providing an ample environment to ski in the famous Steamboat Ski Resort. Testament to this, Steamboat Springs has also been home to the most Winter Olympics athletes in America, such as Debbie Armstrong, an Olympic gold medalist alpine skier.
That being said, with a population of more than 12,000 individuals and plenty of tourists, winter sports are not the only thing you can enjoy here. Specifically, the Yampa River plays a significant role with various long trails running parallel to it, facilitating sports such as kayaking, rafting, tubing, etc. Steamboat Springs also hosts a 'Yampa River Festival' once a year in June, which involves a kayak rodeo with many international athletes often seen competing.
Getting here is also a breeze as Steamboat Springs is quite well connected, being a three-hour drive from Denver and directly accessible via the Steamboat Springs Airport. So, if you are a fan of water or winter sports, this is a place to visit!
Estes Park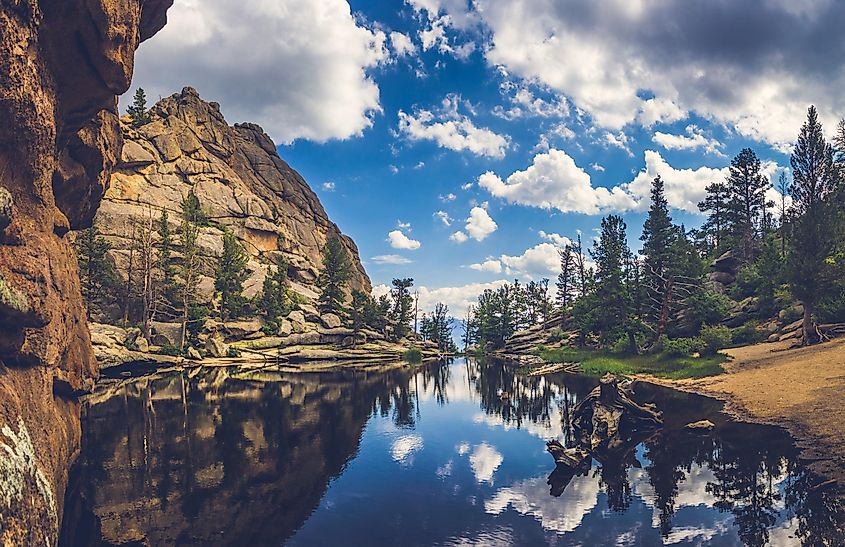 When it comes to river towns, Estes Park fits the description; being situated along the Big Thompson River, overlooking Lake Estes, and home to various smaller rivers, it truly has all the river you can ask for. Thanks to this, the town in Larimer County offers some of the most beautiful waterside environments you can get in the state. Moreover, home to less than 6,000 people and located at the eastern end of the Rocky Mountain National Park, this town is both peaceful and picturesque for a complete natural experience.
While the city may not be the most well-known tourist attraction today, it was certainly home to many popular attractions in the 1900s. For example, Estes Park and the nearby vicinity used to have various ski areas and resorts, such as Old Man Mountain. Similarly, there are also various historic attractions, such as the famous Stanley Hotel, which opened in 1909 and still has 140 rooms. However, with time, Estes Park slowly dwindled to become the peaceful town it now is. Thankfully, well connected via the US 34, US 36, and State Highway 7, you can still get to this charming river town with ease. 
Basalt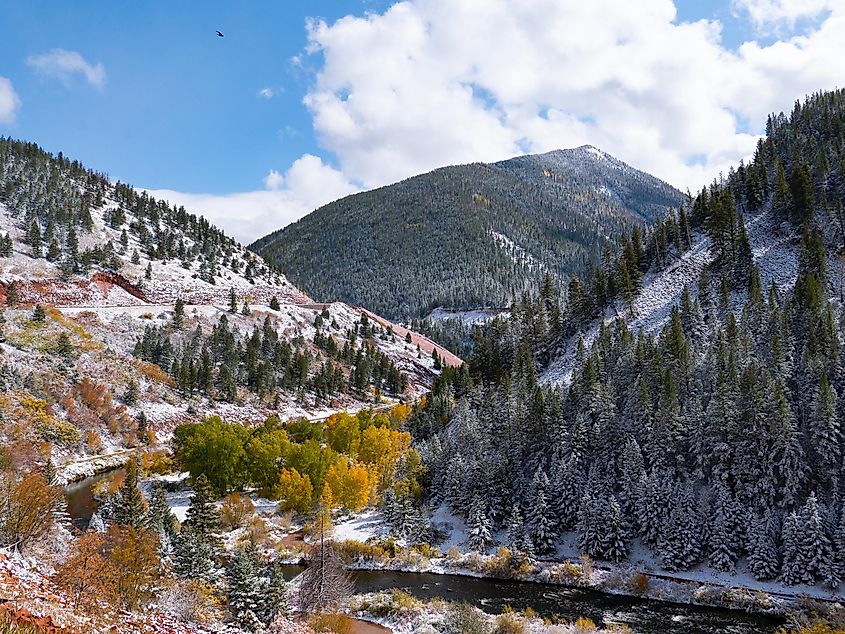 Initially named Aspen Junction which was the inspiration for the city of Aspen, Colorado, Basalt is a small town located in both Eagle and Pitkin counties. Somewhat bordered by Roaring Fork River and Frying Pan River on the southern boundaries, this town is relatively small, with just 4,000 individuals living within a 5.178 sq. km. area. However, while it may lack in size, the beautiful Roaring Fork River provides Basalt with a beautiful charm that makes it a great place to enjoy the natural beauty of the state without any urban hustle-bustle.
In terms of tourism, the town of Basalt is most prominently known for its Gold Medal trout fishing which can be done in the Frying Pan River. Moreover, the town also offers boating and similar watersports, which allow tourists and locals to make the most of the continuous riverside land found across the southern borders. Apart from this, the town is engulfed with green and mountainous land providing people with various hiking, cross country, and other trails that can bring one closer to the beauty of nature.
Glenwood Springs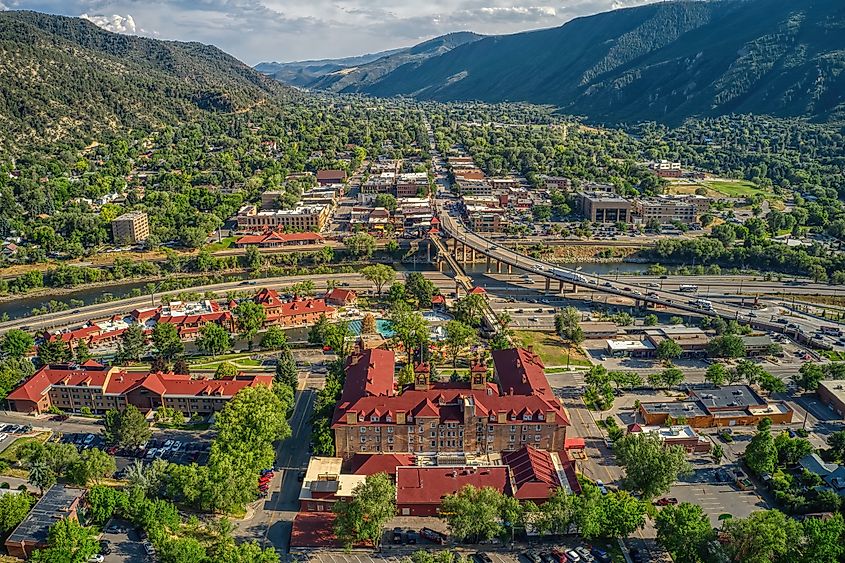 Another county seat within the state of Colorado, Glenwood Springs is a decently sized city with approximately 10,000 individuals residing in it. The city is located north of the Colorado River, following the point of confluence of the Colorado River and Gunnison River. With the abundance of river areas within and surrounding the town and the region being rich in greenery, it has become a charming town to visit to take in nature's beauty. Moreover, the town's 15 sq. km. area is enclosed within a narrow mountain valley providing the area with unique natural structures such as steep cliffs, caves, and even the local hot springs, which are quite popular with locals and tourists alike.
This beautiful and unique geography also made Glenwood Springs, then known as "Defiance," a small town known for housing gunslingers, outlaws, and gamblers back in the Wild West times. It was only in the latter half of the 1900s that the production of a railroad stop in the town promoted growth in the region. One surprising fact in this regard is that Glenwood Springs was one of the original American places to have electric lights, with lighting installed in the Fairy Caves in 1897. Thankfully, parallel to the growth in commerce, the town has remained close to its natural roots and was even named the "Most Vibrant Small Town Arts Environment in the United States" in a list by Southern Methodist University.
Grand Junction
A river city known for being the hub of Colorado's wine county, Grand Junction is the county seat of Mesa County. The city sits along a small section of the 2,330 km long Colorado River at its point of conflux with the smaller Gunnison River. This is also how the city got its name, with the word "Junction" being decided to signify the meeting of both rivers.
Specifically, when it comes to recreational activities, the town is most notable for three things, history, wine, and nature. This is eminent through the various riverside spots, museums, and wineries, such as the Two Rivers Winery, which has quite a befitting name. The city is also surrounded by points such as the Grand Mesa, a mountain top viewpoint that offers a scenic riverside view, and the Tabegauche Trail, which allows for a beautiful hiking experience. That being said, stray away from nature, and you can still enjoy shopping and dining at Downtown Grand Junction with a plethora of restaurants, hotels, etc. such as the famous Rockslide Brewery and Restaurant to enjoy your day.
Colorado is one of the most beautiful states in the US. Its natural granduer and beauty make it a perfect spot for escaping the city, and enjoying stunning views by rivers and lakes. If they aren't already on your bucket list, make sure you add these river towns!