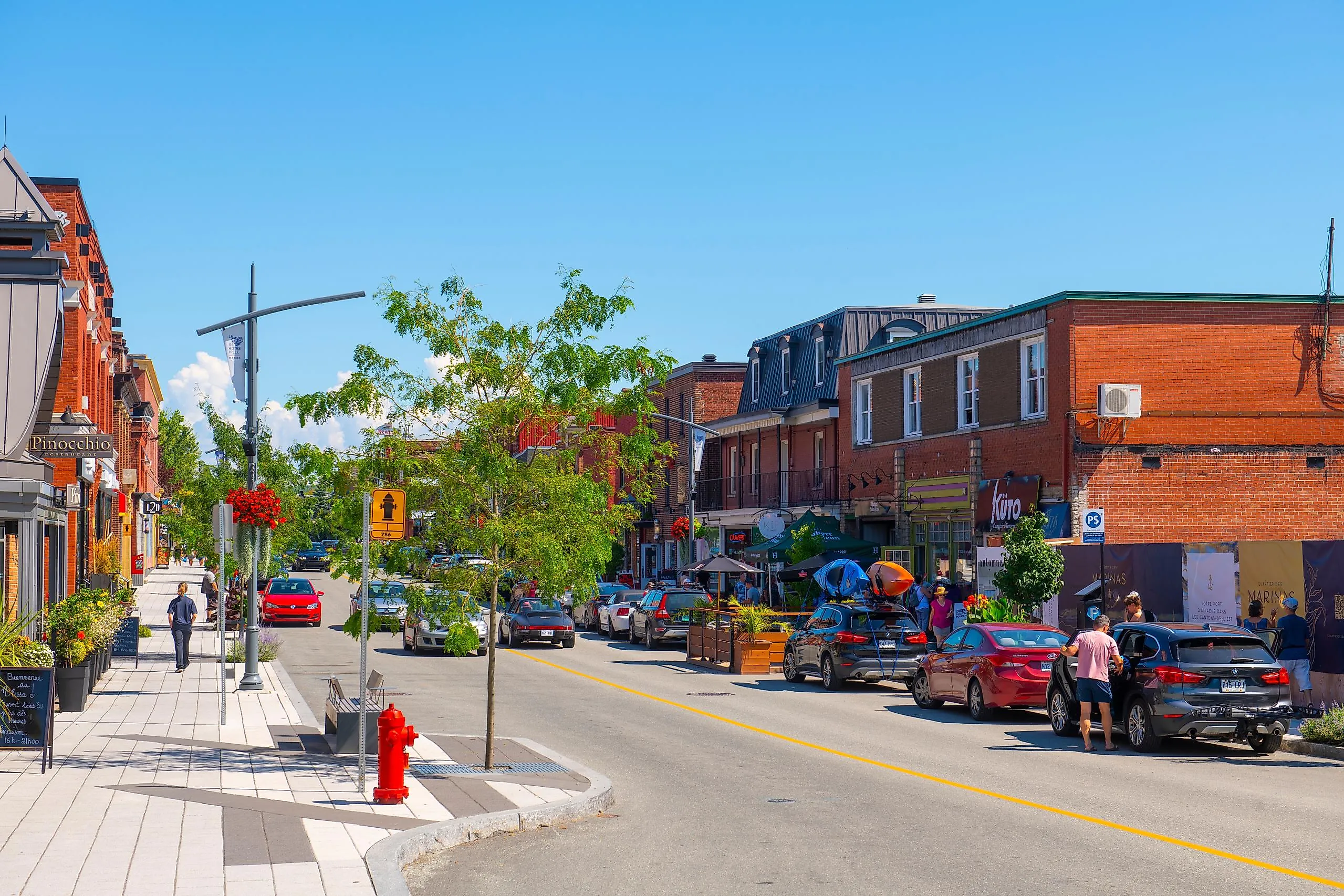 12 Best Small Towns to Visit in Quebec
Quebec, the largest Canadian province, is a world-sought destination for its two principal cities, the glamorous Montreal and historic Quebec City. Far enough yet proximate to the cosmopolitan glam, these towns have a concentration of French-Canadian culture, like culinary delights, and a clear connection between Europe and North America weaved into local life. You can discover Quebec's long indigenous history and mixed settlement heritage in plain sight through the architectural past and present.
Boasting breathtaking natural geography, the towns and villages are scattered through mountains, deep forests, fruitful valleys, and along the beautiful St. Lawrence River and the immense coastline hugging Hudson Bay with maritime views. Enjoy the best of it in Percé, home to Quebec's trademark, l'Île-Bonaventure-et-du-Rocher-Percé, a boat hop away from Bonaventure Island with its largest gannet colony in the world! The magnificent Kanawa Spring Valley, replete with lakes and ski resorts, is a year-round destination, with Saint-Sauveur at its heart, only 45 minutes from Montreal, while Magog is a charming lakeside town!
Baie-Saint-Paul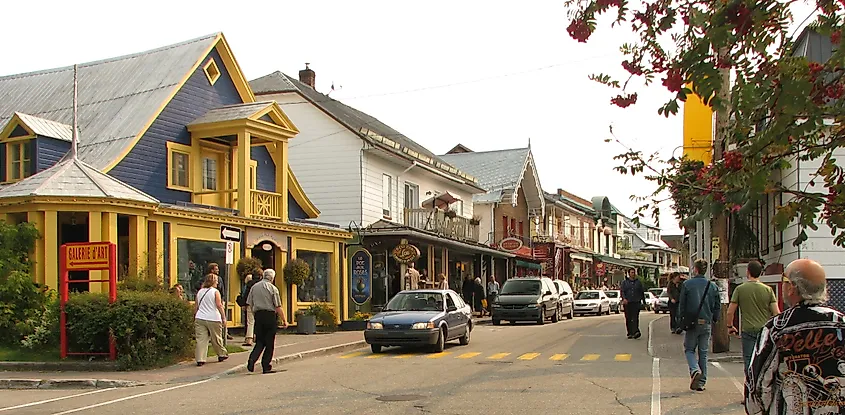 This destination town in the Charlevoix region is just a little over an hour's drive from Quebec City. With its lively art scene, Baie-Saint-Paul, the birthplace of Cirque du Soleil in the early 1980s, is filled with artistic treasures. If you set out early, you can start discovering at one of the charming bistros over lunch or on a boutique spree with incredible views of the St. Lawrence River! You can follow the river straight down through Gouffre Park to the coast, where the popular Plage de Baie-Saint-Paul offers an intimate atmosphere to relax after the hike. You can stop by Mousse Café along the way and make your way back in the evening to the mega-popular Le Saint-Pub Microbrasserie Charlevoix.
There is also Boisé du Quai Park, a forested park and Quai de Baie-Saint-Paul viewpoint, while Belvédère Baie St. Paul, along the highway, offers second-to-none views over the waters and mounted islets. Deemed "the epitome of French Canadian charm" by Travel + Leisure, this tiny town of just over 7,000 is, for all you culture vultures, one of the national cultural capitals! Home to musicians, painters, acrobats, and street performers, Baie-Saint-Paul bursts with French Canadian charm and galleries, with one of the nation's highest concentrations of art galleries.
Gaspé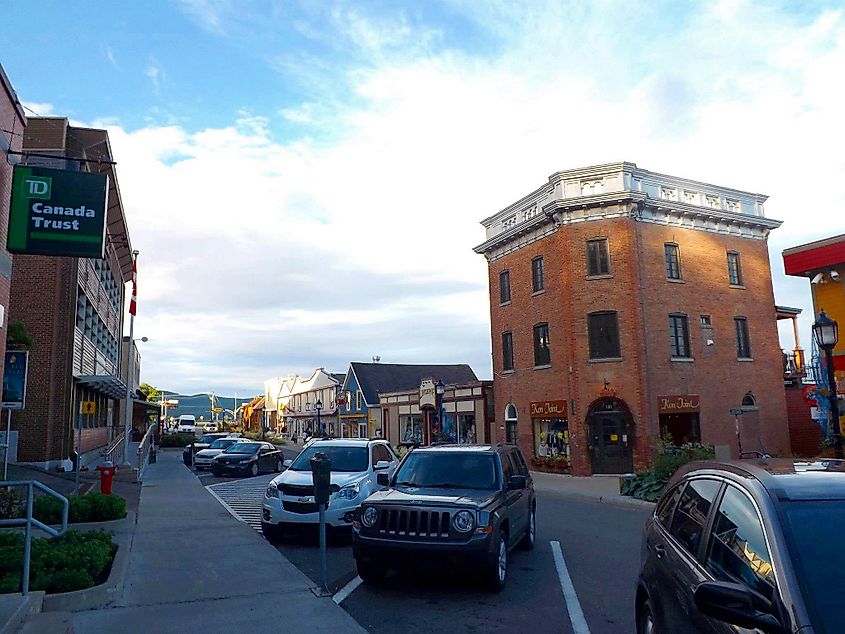 Simply stunning, this apt town will make you gasp, French accent included. It is a fun road trip stop and casual vacation destination along the Gaspé Peninsula—vastly untouched land. It is no wonder that with its blend of mountain views, pristine landscapes, and some of the nation's best beaches, this main town on the peninsula is a long-time sought-after summer getaway for Quebecers, despite being far northeast of Quebec City. The scenery will hold you captive, prowling through sights with scenic adventures like Belvédère Mont Béchervaise and with adorable small town charms to relax after!
Parc national Forillon is like the friendliest wilderness for forest hikes, while camping sites are strewn along the coast, like Azellus Camping near Gaspé Harbor and charming waterside accommodations along Bassin du Sur-Ouest! Don't miss the most popular Brise Bis for dinner, and save room for dessert at Banquise Dairy Bar even if it is winter! Next door, there's the most popular Gaspesie Museum at the water's edge, while the HI L'Anse-au-Griffon Aventure Hostel is rated high for kicking up your feet with comfort and views of the coast!
Havre-Aubert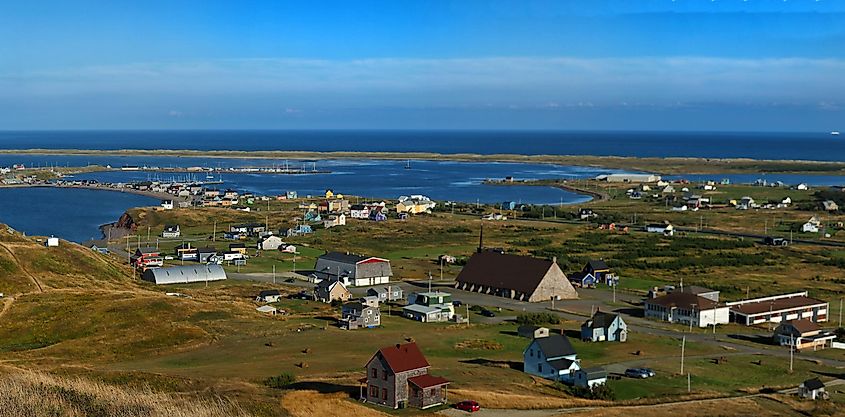 One of the two municipalities, Havre Aubert, the main city on Les Îles-de-la-Madeleine, The Magdalen Islands, is a tiny town of around 2,500 peeps. Part of the fun is getting here, in the most remote reaches of Quebec, for a one-of-a-kind getaway via ferry and flight access only. The rewarding intimate seclusion greets you along some of the country's best beaches, with expansive stretches of sand that rival the US West Coast. Add a slew of picturesque lighthouses—seven on the archipelago—amazing coastal walks, and seafood galore! You've got yourself a town accredited by the Association des plus beaux villages du Québec—the most beautiful villages in Québec! So take that and run with it from the hills to the sea, plowing long stretches of sand and dunes, enjoying the popular wind sports here, or building sand castles with your family!
In fact, Havre-Aubert is home to the biggest sand castle contest in the world along its Sandy Hook beach! If you are out of practice, the Centre nautique de l'Istorlet, accommodations included, offers rentals, sea kayaking excursions, sailing, and windsurfing lessons. Le Site d'autrefois features a miniature fishing village with a guide and authentic buildings, including Captain Claude's home. Parc patrimonial William-Cormier, a heritage park, is just across from the L'Anse-à-la-Cabane lighthouse. Musée de la Mer features an impressive sperm whale skeleton, while Au Vieux Treuil is the regional cultural center, with shows through several venues, like the 105-seat summer theater in La Grave, at the edge of the sea.
La Malbaie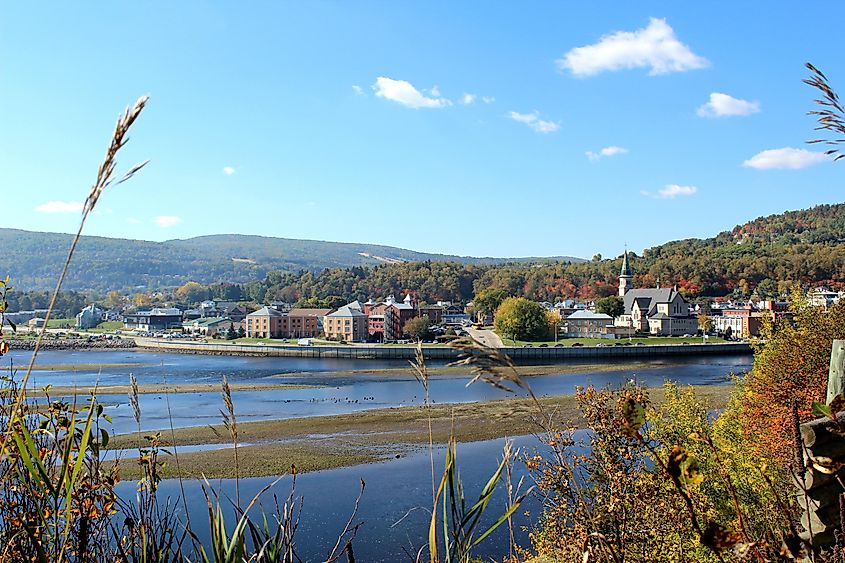 Since the first rich Americans arrived aboard white-sailed ships, La Malbaie has been the cradle of resort vacationing in Canada. Searching for beauty to expand their horizons, the town continues to attract city dwellers for a change of scenery, namely the two centuries of history in its pocket, natural beauty, and maritime charms. From beachgoing, whale-watching, and sunset cruises, the snow-covered slopes of Mont Grand-Fonds beckon skiers to this truly year-round getaway town for every taste and group! When not exploring bucolic maritime landscapes, there is a great shopping scene and bourgeois residences from another century, like the five-star emblematic manor atop a cliff.
The 6-km cycling path beckons for a salty sea air ride alongside the St. Lawrence, while chemin des Falaises features a steep climb up with postcard views behind! La Malbaie is for adventurers, nature lovers, romantics, and sightseers, with its iconic Camping Des Chutes Fraiser and the peaceful Jardins de Quatre-Vents. The town brims with feel-good pursuits for an easy-going getaway, like boutiques, boulangeries, chalets, and golf clubs. From Pointe-au-Pic to rue du Quai, there is the staple Fairmont Le Manoir Richelieu and Casino de Charlevoix for entertainment, while the beautiful waterfront is always a staple with views to the horizon!
Les Éboulements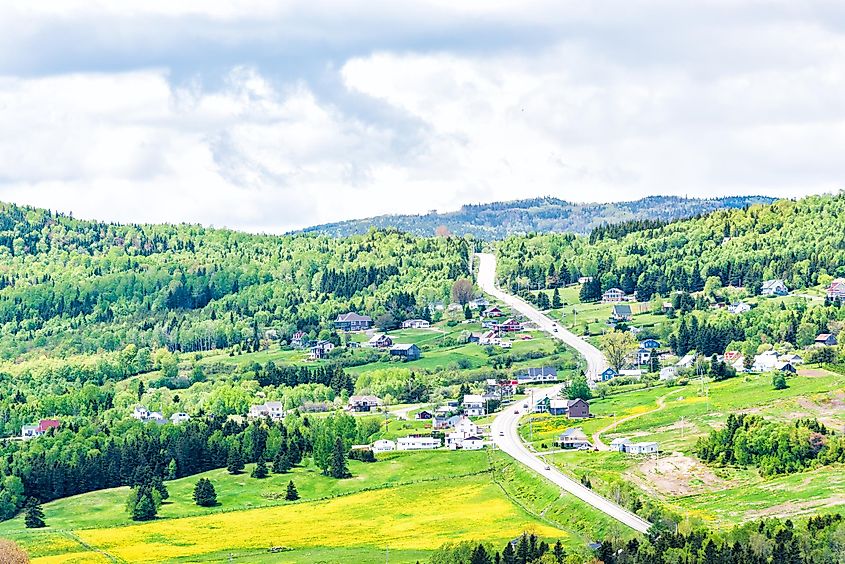 Les Éboulements are double the fun—two villages just across the St. Lawrence River from Notre-Dame-du-Portage, with all three named among the "most beautiful villages in Quebec." With a small town population of under 1,500 and replete with sights, the sparse region spreads along the river bank and a mountainside in the heart of a meteor crater! From Saint-Joseph-de-La-Rive to the beachside villa of Saint-Irénée just north along the highway, one of the prettiest in Charlevoix, La Belle Province, charming inns sit against the majestic St. Lawrence River views.
You can explore sights like Tunnel Train Charlevoix, Lookout Point, and Point de vue magnifique, while the Ancienne Courbe de St-Joseph de la Rive, a historical landmark, is a scenic curve in the road. The incredibly cool and diverse Les Jardins du Centre, with produce like blue potatoes, offers a garden and a grocery store to stock up and make a spread in the picnic area, with a mini farm on site. The Seigneurial Mill of Les Éboulements is a historic, completely intact, and still-operating flour mill from 1790 during the French regime. There are cool exhibitions at the Musée maritime de Charlevoix along the former shipyard with four boats you can tour, as well as scenic activities on the wharf.
Magog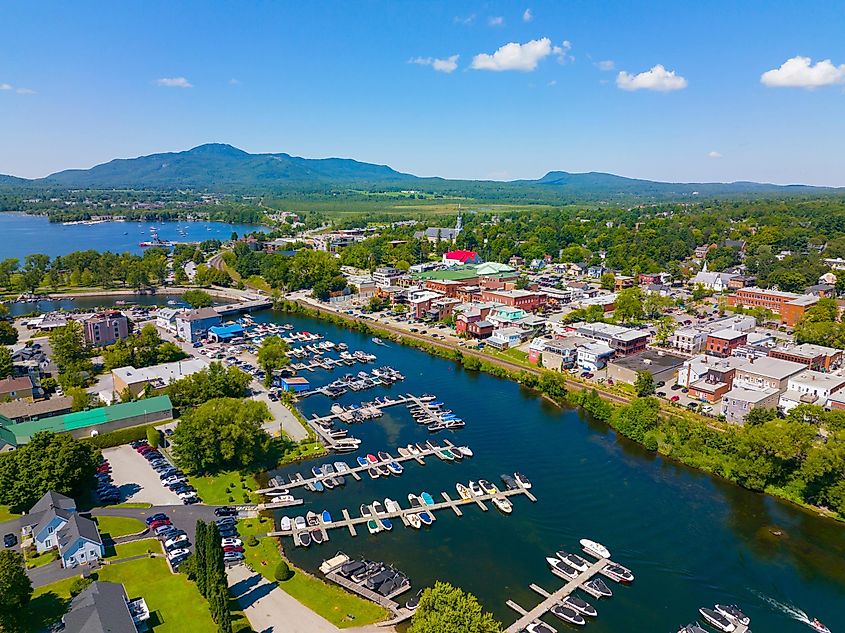 Magog, a historic hub for textiles, may have dried when imports became widely available, but its iconic lake scene sure hasn't! Artists, attracted by nature, breathed life into the 20th-century community, now thriving with tourism! Although an affluent Francophone region, there is no more laidback destination than the artsy Magog, with traditions intact and a tourist-friendly atmosphere. Boasting the same heritage buildings as its swanky neighbors, Montrealers and New Englanders enjoy year-round access to nearby lakes and ski resorts.
Let's be honest, even if this town adopted the whole name of the lake, it would just be the best lakeside getaway that is really fun to say. Nestled by Lake Memphremagog, the picturesque town against the backdrop of Mount Orford dresses up in every season. From winter sports along the iced-up lake and powder play along the banks to skiing under snowy peaks, Bleu Lavande is a must-see in the warmer season when water sports prevail. You can relax at Pointe-Merry Park and recharge at bed and breakfasts, nearby cafes, and bars for more cycling along the lake or some mountain biking.
Métis-sur-Mer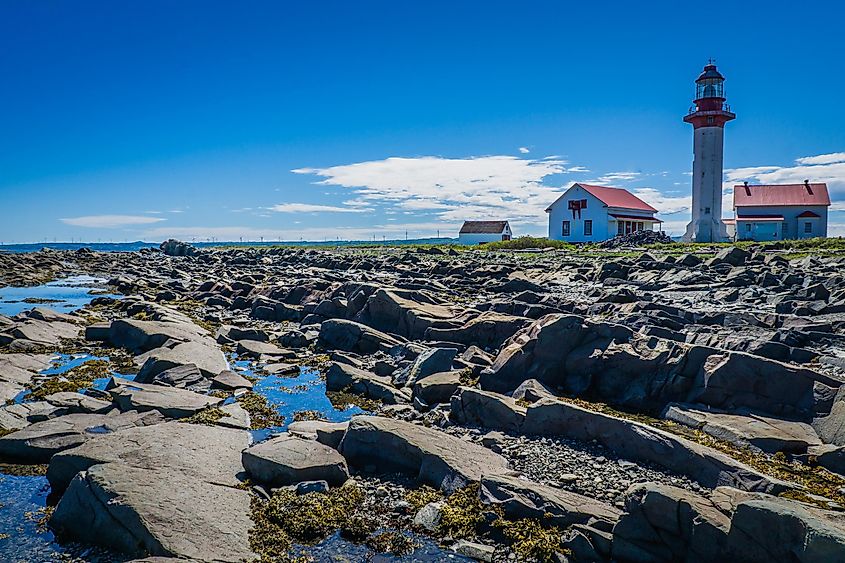 This seaside gem of only 560 locals along the Gaspé Peninsula boasts remarkable architecture, lighthouses, and gardens. Blessed with stunning nature, you can relax and go adventuring for every taste and level, like Jardins de Métis, the botanical Reford Gardens with over 3,000 species of plant and flower displays against art installations and sculptures. There is fishing and kayaking along the wildlife-rich Cap-Chat River and a beautiful sandy beach with an intimate atmosphere to swim, sunbathe, kayak, and paddleboard. The historic Metis Lighthouse offers sweeping views from the top, as does Mont Saint-Joseph, when you scale over an invigorating hike or go mountain biking.
Mont-Joli Lookout is a perfect picnic spot with sweeping views of the St. Lawrence River and the surrounding mountainscape, while the nearby Miguasha National Park is a UNESCO World Heritage Site with hiking trails around some of the world's oldest preserved fossils! Métis-sur-Mer boasts three "florets," awarded by Fleurons du Québec for magnificent horticultural and award-winning landscaping like the seaside rest area on Rue Principale. Here, you will find picnic tables, restrooms, cafés, inns, restaurants, art galleries, and more with free wifi. There is also a scenic covered bridge (Route MacNider), stairs leading to a sand and pebble beach, and adapted trails for winter sports.
Notre-Dame-du-Portage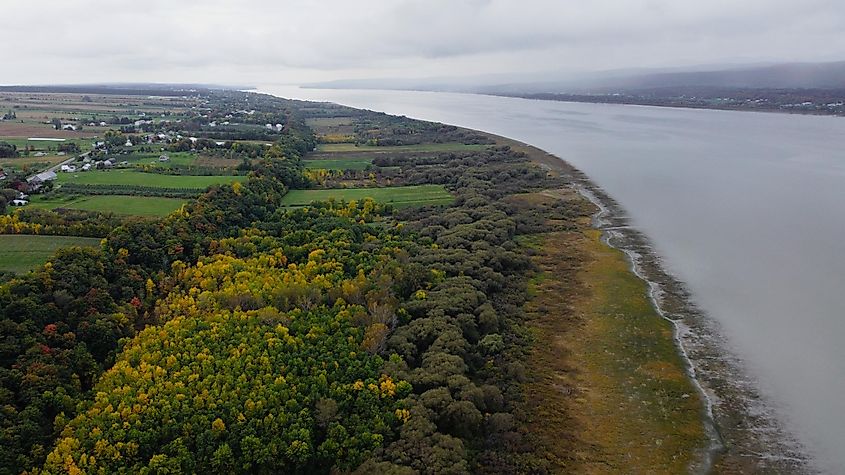 Notre-Dame-du-Portage in the Bas-Saint-Laurent region is one of the most beautiful hidden gems, some 10 km west of Riviere du Loup. The strategic location saw natives, missionaries, and coureurs de bois travel to the north end of the great canoe-carrying trail between the St. Lawrence River, Acadia, and the Maritime provinces. From the last stop on a long and arduous journey, it evolved into a place to relax with an exclusive resort feel at the edge of the St. Lawrence estuary, between the marine docks, perfect for smelt fishing, and a swimmable beach!
From downtown to the shores, the village is soaked through with salt water and an algae scent, while a European feel is easy on the eyes with its illustrious heritage on display, like the 1859 waterside church and a choice of historic inns. You can stay at the 1859 Victorian-style Auberge du Portage with its ocean-water pool and go whale-watching from the doorstep! The views across the great river include the Rivière-du-Loup ferry and, further, the Laurentian capes of Charlevoix in blue tones, framed by the Île aux Lièvres (Hare island) and Saguenay fjord to the horizon east of the island.
Neuville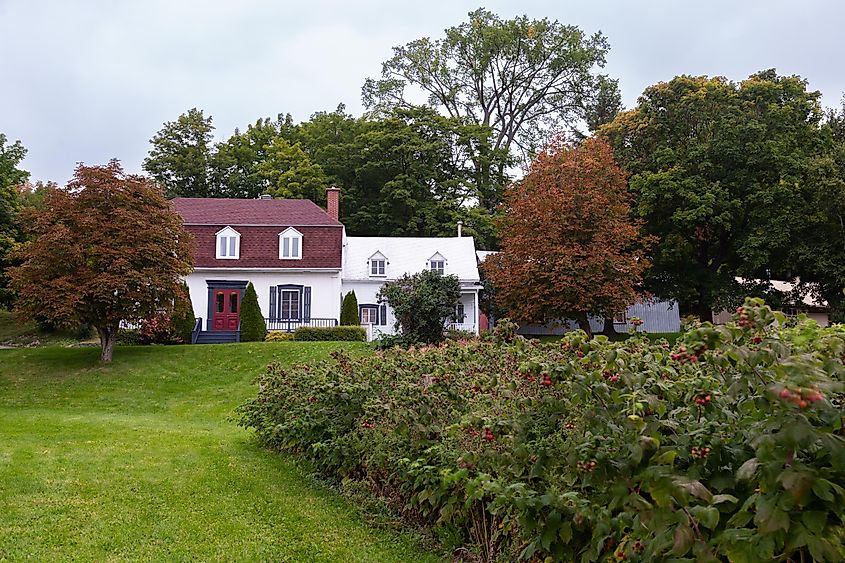 This charming town in the Portneuf Regional County Municipality is the best getaway, just 30 minutes from Quebec City! Blessed with nature, the small town with rich history and friendly locals is the perfect base for outdoor adventures, spliced by the cross-province 5,000-km La Route Verte through the heart. You don't have to reach far for the best St. Lawrence River views along the 67-km-long Sentier des Caps de Charlevoix hiking trail, or enjoy a long, multi-day trek! The nearby picturesque Lac Saint-Augustin is a popular summer escape for swimming, boating, and fishing, with several beaches and parks to seek shade, like Parc de la Plage-Jacques-Cartier or Parc de la Pointe-aux-Lièvres.
The thriving community of 4,000 relies on agriculture, fishing, and tourism, with small businesses full of authentic Quebec charm and its own character! Domaine de la Seigneurie features a 17th-century manor house, a chapel, and beautiful gardens to relax with historical insights into the province's seigneury system. The annual vibrant Festival de la Truite de Neuville celebrates the fishing heritage, including cooking demonstrations and live music, while the Festival des Guitares du Monde gathers guitarists for a jam session like you wouldn't believe! In nearby Boischatel, Parc de la Chute-Montmorency is home to a stunning 83-meter waterfall, one of North America's highest!
Percé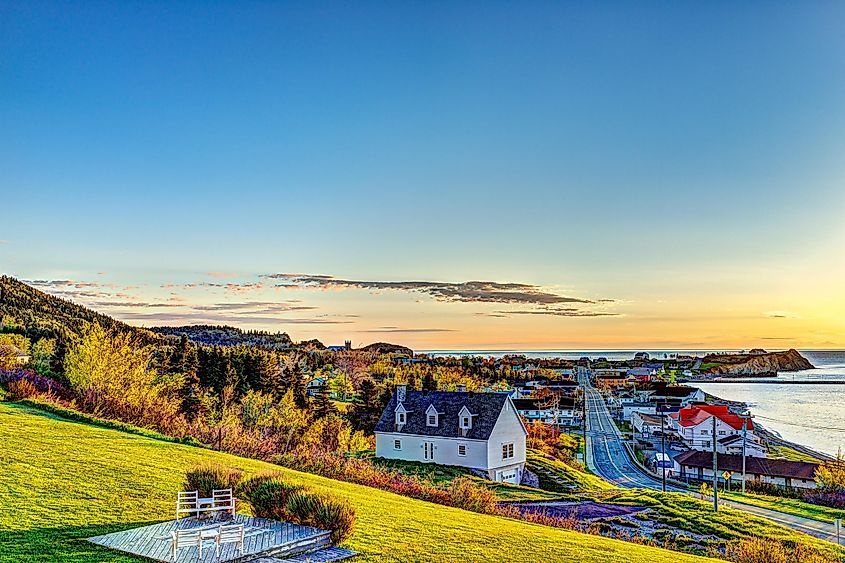 A stunning must-visit, Percé is home to one of the country's natural wonders and Quebec's trademark, l'Île-Bonaventure-et-du-Rocher-Percé, with plenty to see and do in the area around these rocks! The charming village greets you with the awe-inspiring sight of the iconic Percé Rock and Bonaventure Island, just off-coast, during your shoreside strolls and relaxation. With a bustle of activity at its heart, the vibrant array of literally colorful businesses like boutiques, studios, restaurants, and cafés beckon with warm service.
From Chute de La Rivière, you can take Sentier des Rivières right to Coin du Banc, a popular yet serene sandy beach to relax, while Plage de Bridgeville is just north for even more privacy! With its own hiking, bird watching, and sea kayaking, the Percé UNESCO Global Geopark features a glass platform for a unique perspective overlooking Percé, suspended from 200 meters (660 feet) above the ground! You can always hop over to Bonaventure Island, which is the most accessible northern gannet colony in the world, with a great chance of sighting different species of whales aboard any vessel on a sea excursion along the Gaspésie coastline!
Saint-Sauveur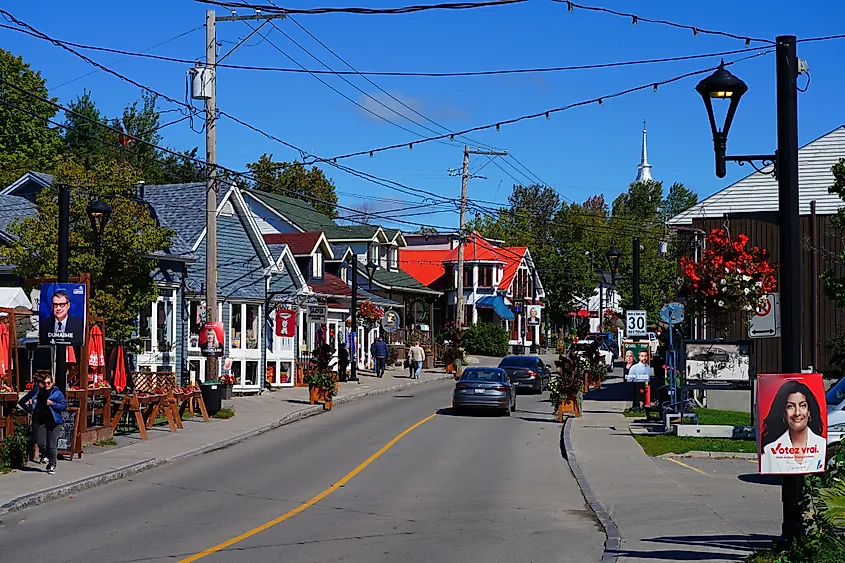 In the foothills of the Laurentian Mountains, the small town of Saint-Sauveur is weekend getaway-ready, a mere 45-minute or 60-mile drive from Montreal. There are a whole lot of lakes in the magnificent Kanawa Spring Valley, fit for every scenario of a dream escape. Blessed with nature, this beautiful resort town is replete with activities, like powder shredding at Ski Mont Habitant in the winter and epic waterslides at Sommet Saint Sauveur in the summer! From a lot of sightseeing in the fresh air outdoors to a little shopping, the locals welcome you to embrace the scenery, falling in love once again with the slower pace and peaceful lake vibes.
Just under 60 miles from Montreal, the small town of Saint-Sauveur is great in every season, with a calendar full of festivals. The fall season is spectacular here in the center of the Laurentians, where you can zip-line through the colors! After the skiing season winds down at six world-famous ski resorts and trails, the slopes turn into a hiking and mountain biking destination in the Laurentians. There is the spectacular Parc John-H.-Molson, golfing in the valley with Riviere du Nord views, and cycling the iconic Petit Train du Nord bicycle path. There are many hotels to kick up your feet and recharge at local favorites like Petinos Saint-Sauveur and the popular Bâton Rouge Grillhouse & Bar.
Tadoussac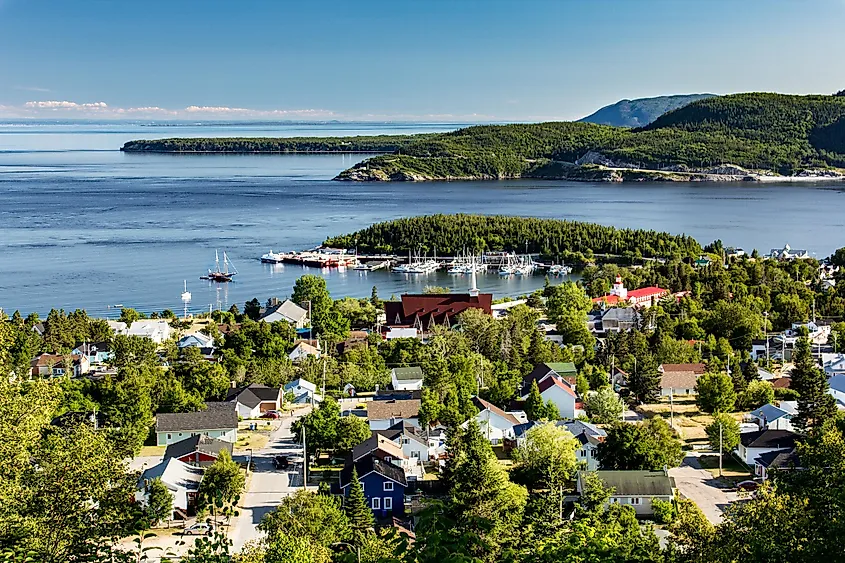 The ultimate destination along the popular North Shore, Tadoussac is its tourist hotspot at the marine junction of the St. Lawrence River and the Saguenay Fjord! Tadoussac is a millennium-old destination, once home to the First Nations and then European settlers at the beginning of the 17th century. With all the scenery, it remains the famous place to set up dates, celebrations, and even get engaged, with people traveling here from around the world to this serene yet flamboyant town! You can check out the historic Hotel Tadoussac and explore marine life and the nature around you, including whale watching from the shores!
Home to only 800 locals, Tadoussac emanates waves of romance and intimate seclusion along "La Fleuve" and views of the Fjord of Saguenay. With hikes, kayaking, boating, and golf in the summer, there is also cross-country skiing and snowshoeing in the surrounding area! You can stroll along the Marina de Tadoussac with its Croisières AML for sightseeing cruises, including whale watching. From Point de Vue Pour Observer to Les Baleinesnear for whale watching from land, there is the Bistro de la Baie off shore for spectacular dining on water! Sentier des Dunes de Tadoussac is spectacular in fall, overlooking the coast, and just a boat hop across the river to the Pointe-Noire Interpretation and Observation Centre.