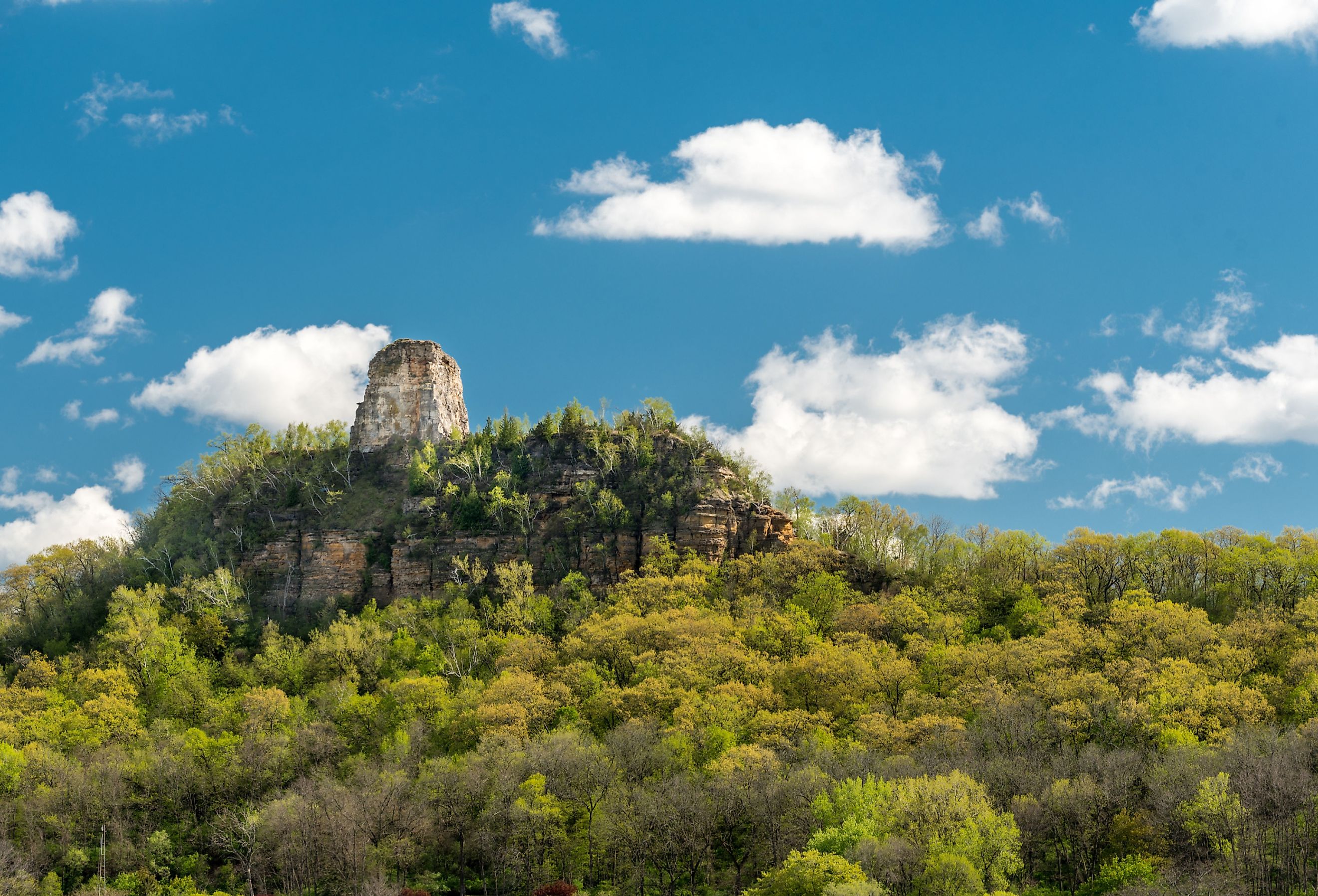 10 Prettiest Towns In Minnesota
Along the meandering riverbanks and rolling hills, the prettiest towns of Minnesota offer a journey that transcends the ordinary. From the banks of serene rivers to the shadow of forested peaks, these towns are gateways to boundless outdoor adventures. Amid the lush greenery, indulge in a range of water activities such as relaxed kayaking to thrilling fishing expeditions. Yet, beyond the natural allure, these towns are cradles of culture and heritage. Quaint main streets bustle with art galleries, craft boutiques, and local eateries, while charming historic districts hold stories of yesteryears. The towns come alive with annual festivals, where vibrant music and local flavors mingle in celebration of traditions both old and new. Intriguing, diverse, and teeming with life, the following prettiest towns in Minnesota are far more than mere postcard images!
Lanesboro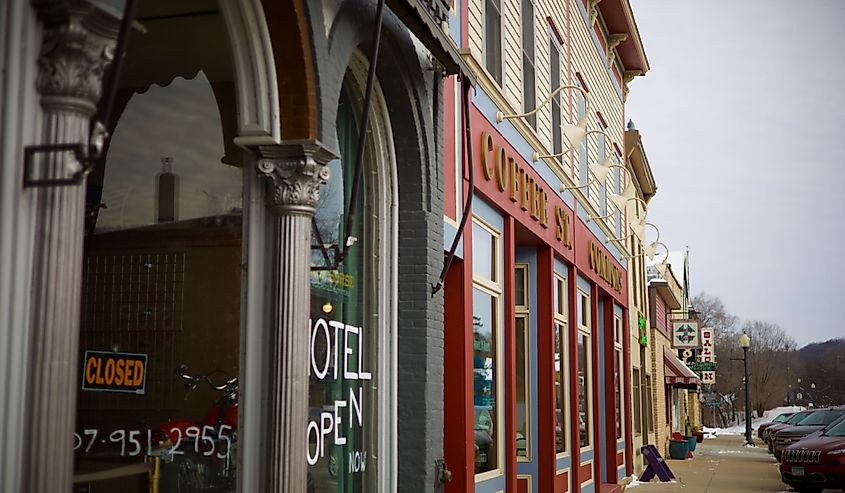 Lanesboro, one of the most picturesque small towns in Minnesota, is a hidden gem known for its gorgeous setting along the Root River and beckoning outdoor enthusiasts and art lovers. The Root River State Trail offers endless opportunities for biking, hiking, and wildlife watching, while the Commonweal Theatre presents captivating performances of musicals, comedies, and dramas year-round. Do not miss the Lanesboro Arts Center, which showcases local talent and holds performance arts, public artworks, and free youth education classes. The annual Art in the Park festival is a must-attend event, celebrating family and fine art creativity in a lush, green setting. You can also hop on a tour of Old Order Amish's traditional houses and living style with Bluffscape Amish Tours.
Taylors Falls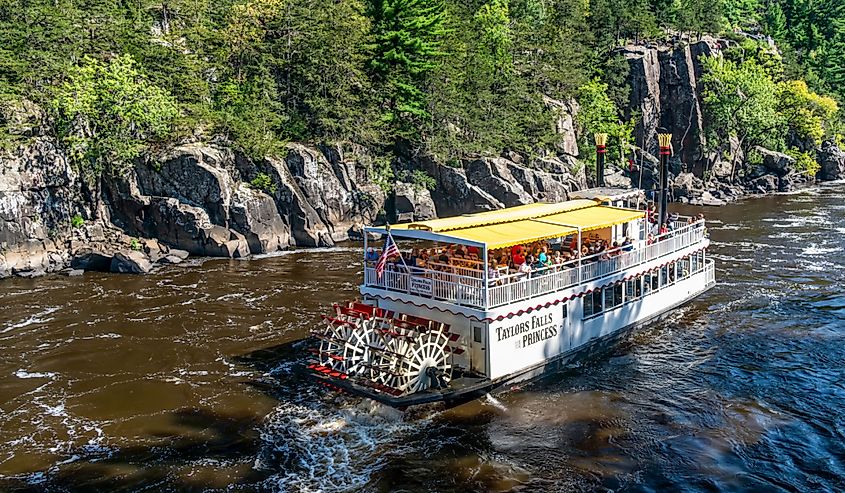 Taylors Falls, sitting smugly on the banks of the St. Croix River, is an adorable haven for history buffs and nature enthusiasts. The dramatic glacial potholes at Interstate State Park are a geological wonder that draws visitors year-round. For a glimpse into the past, take a boat tour down the St. Croix River, recounting the legacy and passing towering cliffs and sites like Turk's Head, The Old Man of the Dalles, and Lion's Head. Autumn brings a burst of colors, making it the perfect time for heading on to the Ice Age National Scenic Trail or City of Trails along the river's edge. Embrace the town's artistic spirit during the Chautauqua Festival, featuring live music, art exhibits, and interactive workshops.
Biwabik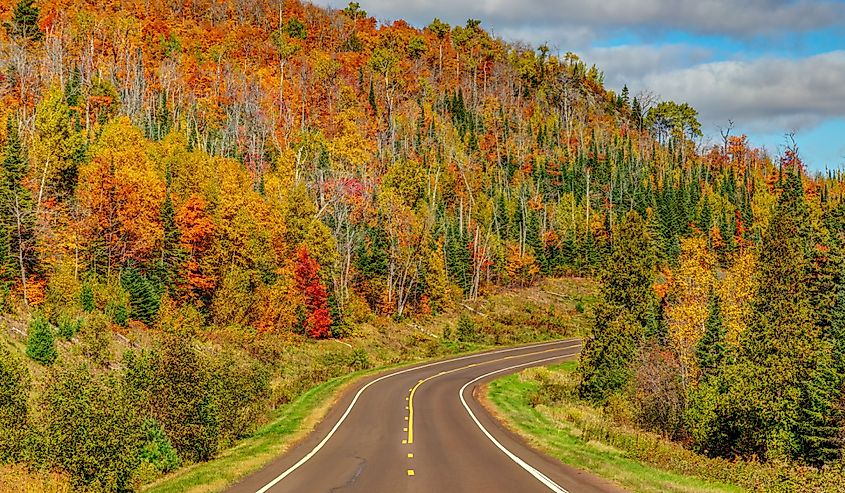 Nestled amid the mesmerizing Iron Range is one of the most charming towns in Minnesota, Biwabik, which offers a paradise for outdoor enthusiasts throughout the seasons. In the winter, Giants Ridge Recreation Area transforms into a skier's paradise with pristine slopes and well-groomed trails for snowmobiling. Summer welcomes golfers to its two championship golf courses at Giants Ridge, surrounded by northern Minnesota forests and the serene Wynne Lake. The Winter Frolic, a celebration taking place every year in February and provides several winter activities, including snowshoeing, ice fishing, snowmobiling, and entertaining events like snow sculpture competitions and bonfires, is one to keep an eye out for. A Touch of Plasch, Laurentian Divide Salon & Spa, and Lodge At Giants Ridge are all tempting places to indulge in a revitalizing self-care day. 
Lindstrom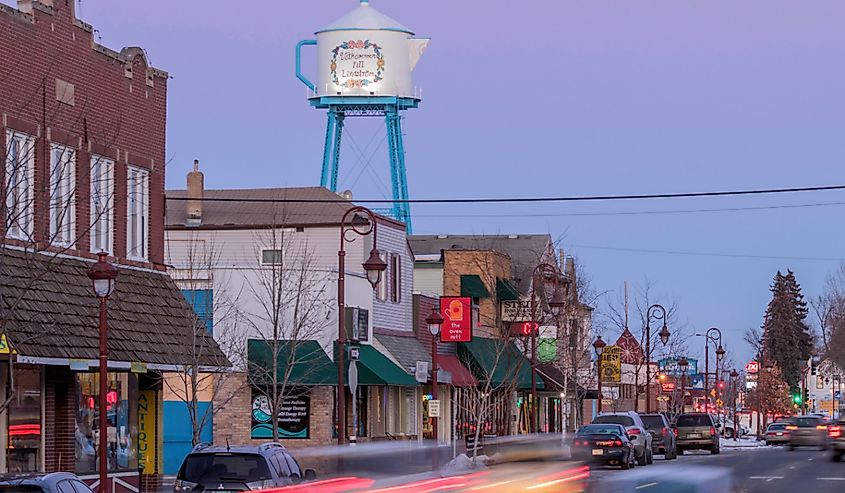 Scandinavian air flows in the US with its "Little Sweden" of Lindstrom proudly embracing its Swedish roots, evident in its architecture, festivals, and community spirit. A touch of Scandinavia can be felt at the Karl Oskar House, a museum preserving the town's heritage with its Swedish lessons, folk tunes, and talk events. For relaxation, enjoy the serene beauty of South Lindstrom Lake, perfect for kayaking and fishing. Also, check out Chisago Lake for fishing and boating and Ki Chi Saga County Park's winter ski trail, horseshoeing area, and nature trail. Treat yourself to Swedish delicacies during Karl Oskar Days, a lively festival featuring a classic car show, traditional dances, crafts, and delicious treats.
Northfield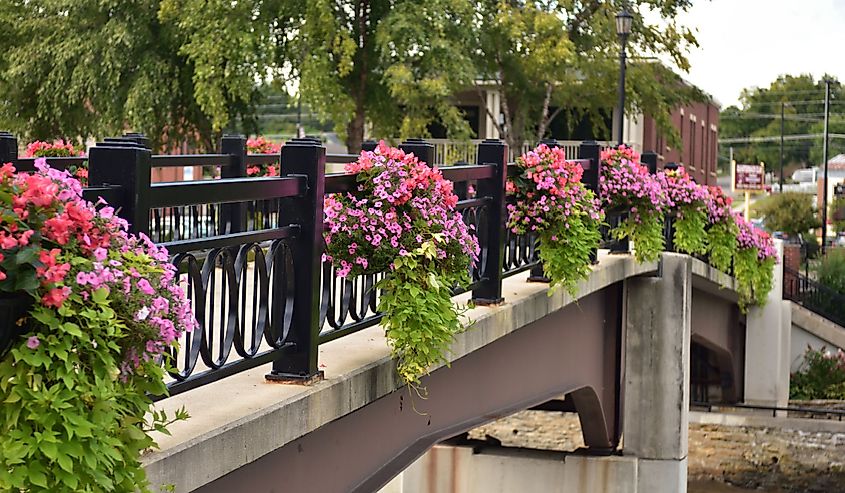 Home to two esteemed colleges, Carleton and St. Olaf, Northfield is one of the most underrated cities in Minnesota exuding a youthful vibrancy. A bike tour with Sherpa will take guests around the historic downtown with interesting stops like Monarch Gift Shop and Tanzenwald Brewery. History buffs can appreciate the Northfield Historical Society Museum, recounting the famous 1876 bank raid, and learn about the daring Jesse James-Cole Younger Gang history. The Northfield Arts Guild specializes in theatrical shows covering genres like comedy, musical, and drama. The town comes alive during the Defeat of Jesse James Days, a lively festival complete with reenactments, parades, and rodeo events. The nearby Caron Park is your place to snap the secret and enchanting Caron Falls, the charming old steel footbridge, and massive rock formations.
Red Wing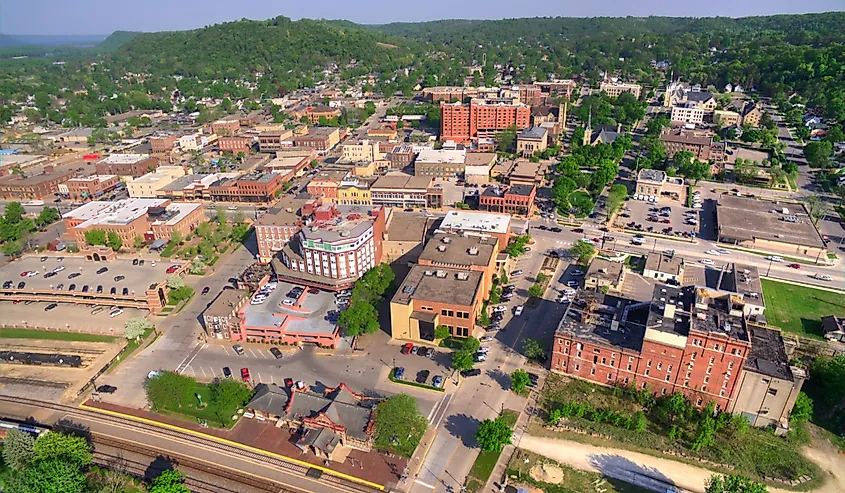 Set on the bluffs overlooking the Mississippi River, Red Wing is a captivating blend of artistic expression and natural beauty and one of the best small towns in Minnesota to chill out. Art enthusiasts will appreciate the Red Wing Arts Association's gallery exhibits and events, like Plein Air and Concert in the Park, showcasing local talent. Don't forget to tour the Red Wing Shoe Museum to learn about the iconic footwear brand's legacy via The Big Boot, The William D. "Bill" Sweasy Exhibit, and Norman Rockwell original art gallery. The Barn Bluff Trail offers panoramic river and town views, especially breathtaking during fall foliage. If visiting during February, then don't skip out on Red Wing's musical flair at the annual Big Turn Music Fest, highlighting diverse talents of regional bands across numerous venues in the town.
Stillwater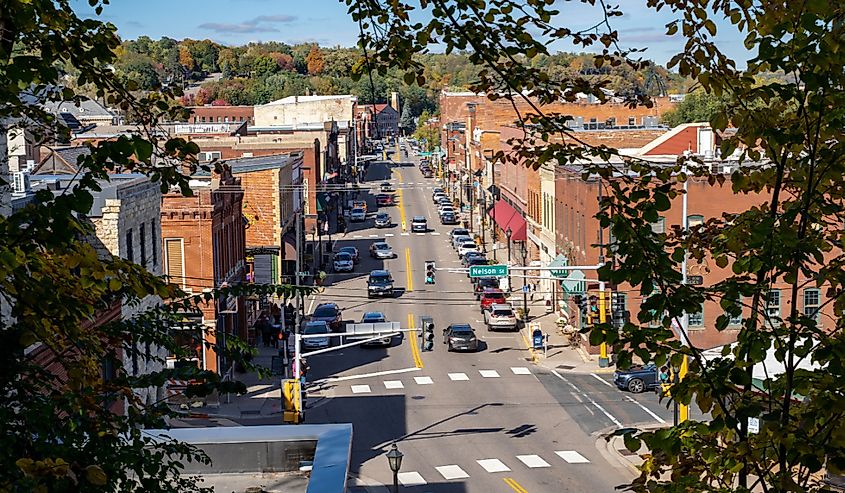 Elegance meets charm in the riverfront treasure of Stillwater, one of Minnesota's oldest towns. A riverboat cruise with Stillwater River Boats, Lady Chateau, or Gondola Romantica along the St. Croix River, soaking in the picturesque landscapes and enjoying a delicious dinner on the cruise. The Stillwater Harvest Fest celebrates the season with pumpkin regattas, chili cook-offs, a beer & wine garden, and a charming community atmosphere. The Stillwater Lift Bridge is a Classical Revival architectural gem connecting Minnesota and Wisconsin. Wine enthusiasts will relish tours of Saint Croix Vineyards, Domacin's Wine Bar & Shop, and Forge & Foundry Distillery. While the Rivertown Fall Art Festival showcases fine Art against the stunning autumn backdrop.
New Ulm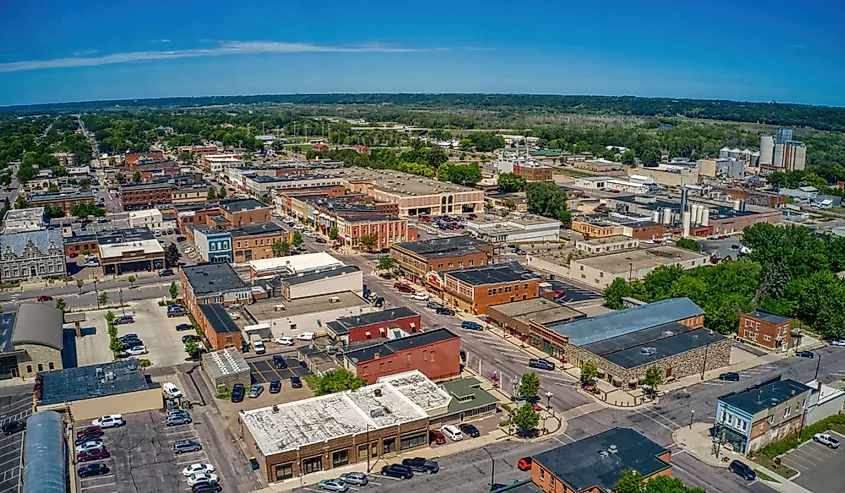 The German heritage of New Ulm is evident in its architecture, cuisine, and annual festivals. You can take a look at the Hermann Heights Monument, offering sweeping looks at the Minnesota River Valley, or have a picnic at Grotenberg Mountain. The August Schell Brewing Company, one of the oldest breweries in the country, invites you to savor traditional German beers and tours into its historic brewing methods. Plan your visit during the Oktoberfest celebrations, complete with polka music, beer gardens, and mouthwatering German cuisine. Explore Flandrau State Park for hiking and birdwatching, or delve into artifact collections, research library, walking tours of Kiesling House, or programs like Lunch and a Bite of History at the Brown County Historical Society.
Ely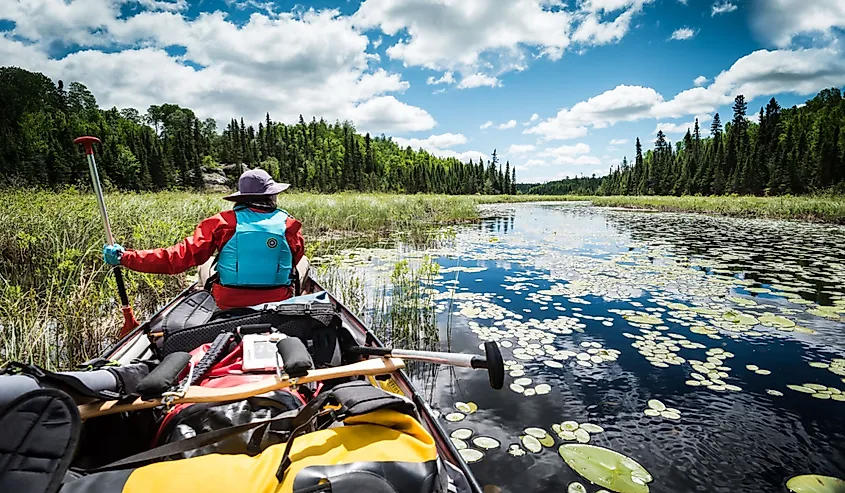 One of the most adorable small towns in Minnesota, Ely is a gateway to the untamed wilderness of the Boundary Waters Canoe Area Wilderness, where you can paddle pristine lakes, fish for walleye and northern pike, and camp beneath star-studded skies. The International Wolf Center offers education about the region's apex predators and their vital role in the ecosystem. The Dorothy Molter Museum pays homage to the last resident of the Boundary Waters with its Root Beer legacy lessons, documentary screenings, fundraisers, and charity runs. Witness the joyous Blueberry Arts Festival, featuring local art, live music, and delectable blueberry treats amid Northwoods dominating the background. Boathouse Brewpub & Restaurant can be your relaxing spot promising extensive in-house brewed ales and beers. 
Winona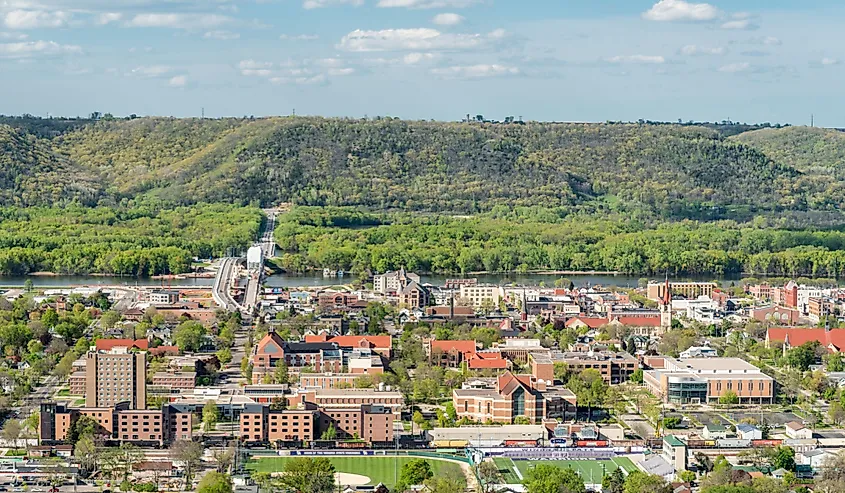 With a breathtaking natural backdrop, Winona is a cultural gem offering a blend of arts, history, and outdoor beauty. The Great River Shakespeare Festival takes you on a performing arts journey on Shakespeare's writings like Macbeth's podcast and As You Like It production. The Minnesota Marine Art Museum will impress you with its water-inclined collections. You can also admire the stunning architecture of the Winona State University campus, featuring the beauty of the Mississippi River and majestic bluffs. For outdoor enthusiasts, Garvin Heights Park offers a cycling path, a hiking route, and picnic spaces amid lush oaks that are particularly captivating during fall foliage. Do not miss the annual Steamboat Days festival, a lively celebration of Winona's riverboat history through vibrant parades, exhilarating carnival rides, and booming fireworks.
Conclusion
Minnesota's prettiest towns stand as vibrant threads weaving together history, culture, and natural allure. Beyond mere aesthetics, these towns invite visitors to step into their stories, partake in local festivals, and discover the region's authentic character. From the artistic enclaves in Lanesboro, where creativity thrives alongside outdoor adventures, to the historic allure of Stillwater, where riverside antiquity meets contemporary artistry, Minnesota's prettiest towns offer a blend of tradition and modernity. Each town is a chapter in the state's narrative, inviting exploration and engagement, promising memories forged through diverse experiences that highlight the true essence of the Land of 10,000 Lakes.