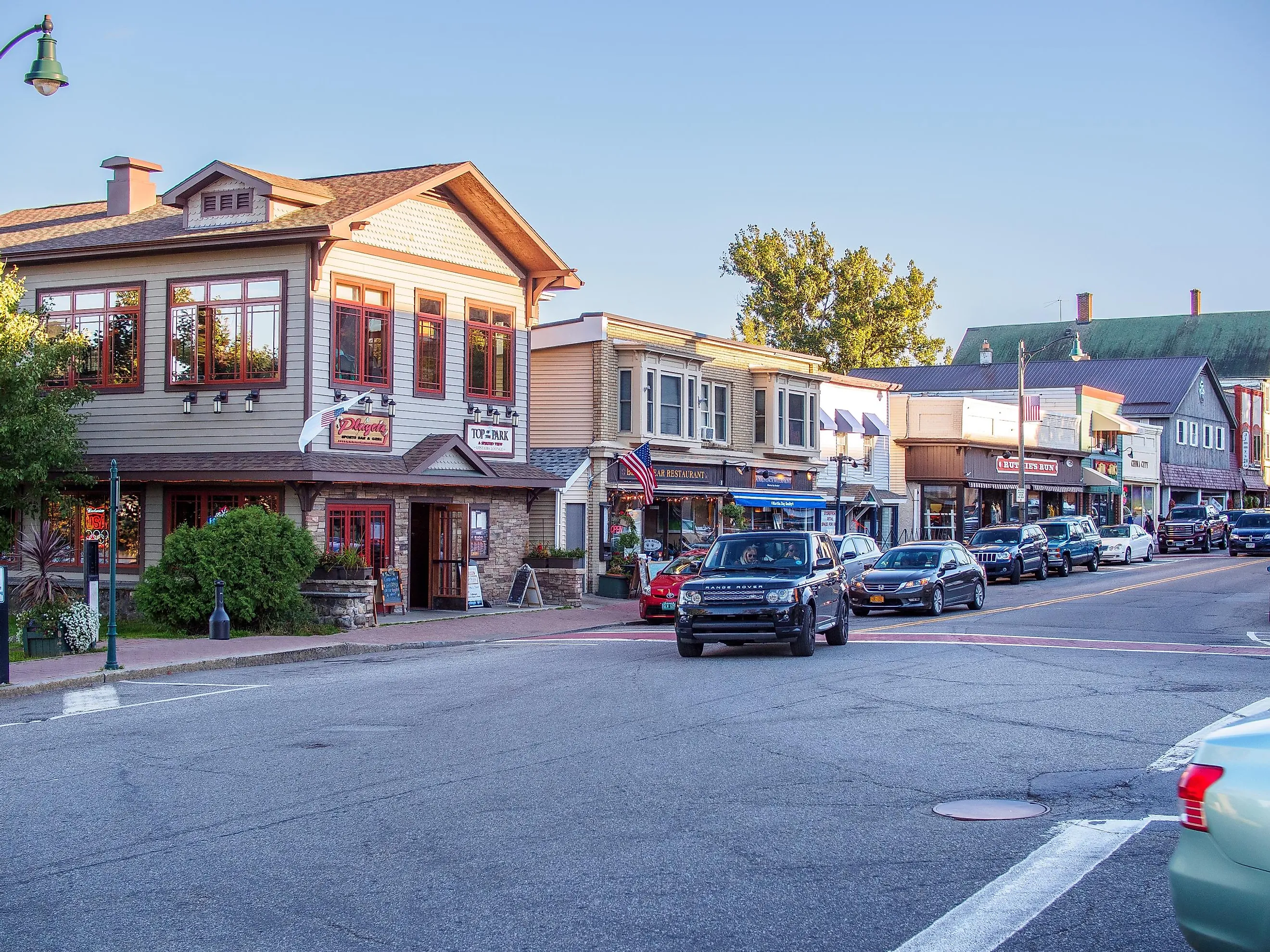 10 of the Most Welcoming Towns in Upstate New York
It is impossible to not think of New York City when thinking of New York State. The two are inseparable, no matter how much annoyance that might cause some of the other residents who live outside of the United States' largest city. All the glitz and glamour aside the rest of New York, often referred to as Upstate New York has some of the most charming and welcoming towns in the entire nation. 
A far cry from the hustle and bustle of the Big Apple, the people you will find Upstate are best known for their warmness and hospitality to visitors, something that their urbanite cousins certainly don't have a reputation for. If you ever get the chance to travel through Upstate New York make sure you do. There are dozens of hidden gems just waiting to be found. 
Alexandria Bay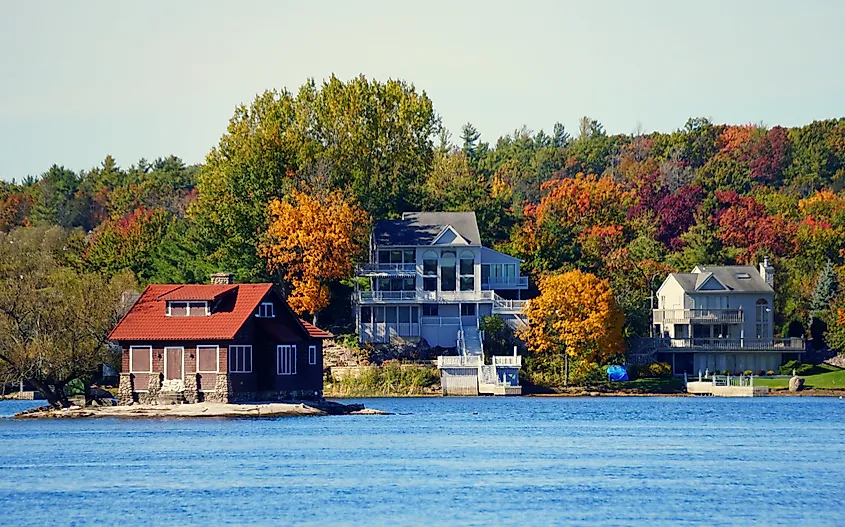 Just across the border from Canada lies the small riverside village of Alexandria Bay. Known for its stunning coastline along the St Lawrence River, it is common for out-of-town visitors to spend their time exploring the countless islands that dot the horizon nearby. This can be done either by setting up a boat tour or renting your own. Either way, the experience is just as fantastic. 
The town itself has a classic New England vibe to it. Rows of old brick colonial-style homes and shops make up most of its buildings. The official population of Alexandria Bay is only in the hundreds but what they lack in number they make up for in hospitality. 
Small businesses and family-run restaurants are staffed with helpful and smiling employees who are happy to help newcomers around town. Alexandria Bay has long been a go-to destination for other members of the Upstate area. It is high time you saw for yourself what all the fuss is about. 
Canandaigua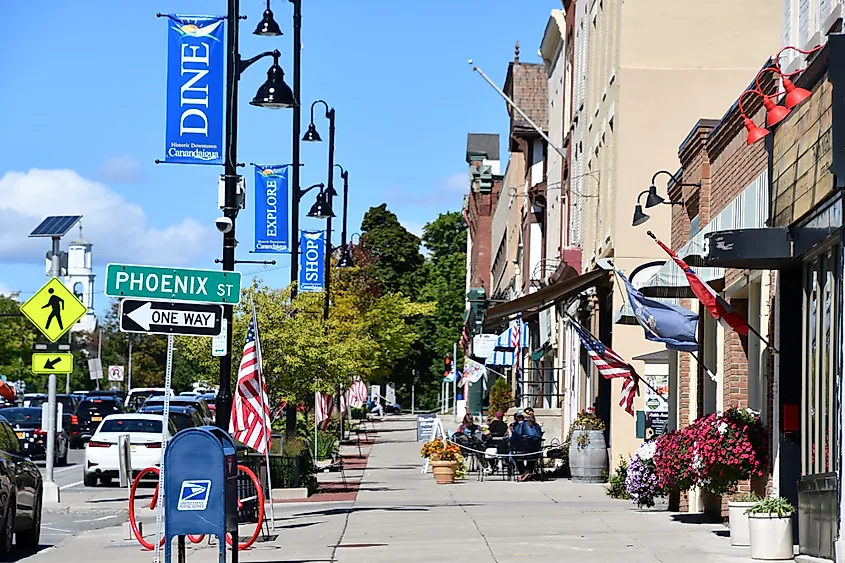 Southeast of Rochester lies the sleepy town of Canandaigua. Getting its name from the local Native American word meaning "chosen spot" this picturesque village has served Americans far and wide as a perfect getaway from the fast-paced life of the city. 
Nestled right along Lake Canandaigua, boating and other water activities are popular amongst the locals. Canandaigua is also known for its stellar wine scene. Whether getting a taste at one of the dozen or so wineries in the surrounding hills or stopping by specialty liquor stores, the local vintage is some of the best in the region. 
Those who call Canandaigua are as pleasant as could be. More than open to outsiders, the locals here are more than happy to help anyone with directions around town or restaurant recommendations. Canandaigua is a great place to introduce yourself to small-town life in Upstate New York. 
Cooperstown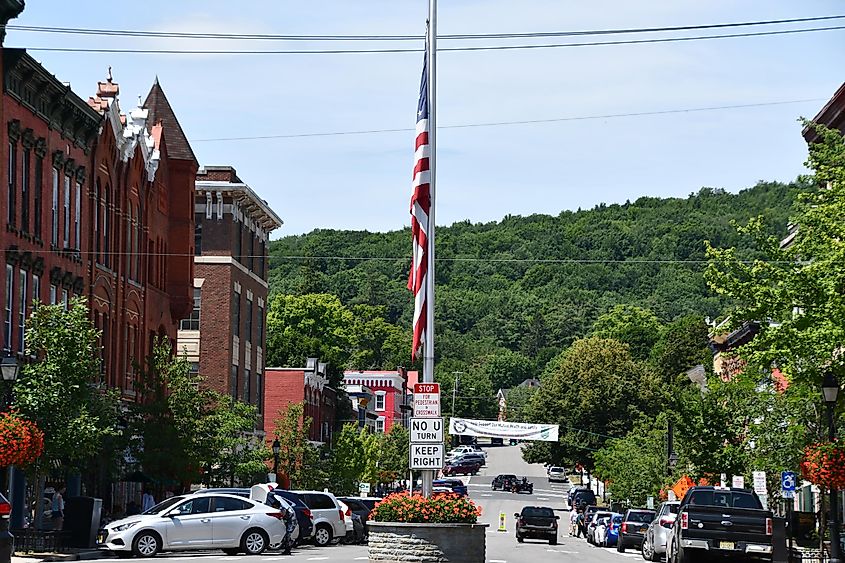 Sitting on the south side of Otsego Lake, Cooperstown is another gem of this region. Visitors are often shocked at how vibrant and alive Cooperstown is despite only having a population sitting just under 2,000. 
For those wanting to explore the lake, there is no shortage of kayak and canoe rentals at reasonable prices that will allow you to get a close-up look at the stunning scenery on a budget. Cooperstown has a surprisingly robust art scene for its size too. You can peruse through a handful of museums instead of the great outdoors doesn't interest you. 
The locals are more than accommodating to those who have taken the time to drop by and visit their small village. Friendly and kind, it is hard to find better people anywhere else. 
Ellicottville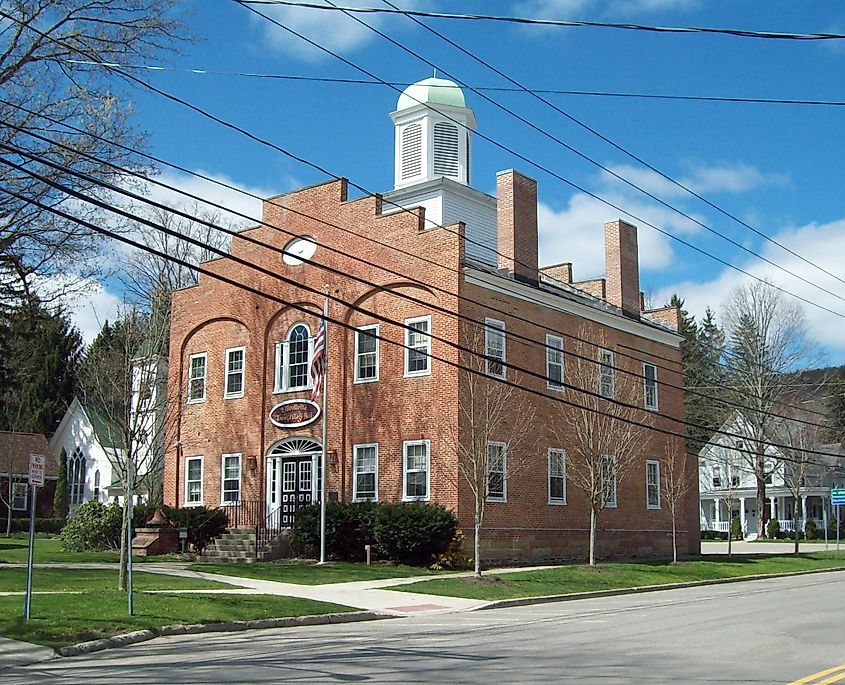 Located in Western New York, just south of Buffalo the village of Ellicottville thrives as one of the go-to ski resorts in the state. No matter if you are visiting to ski or snowboard or just to take in the breathtaking views Ellicottville's quaint charm is hard to grow tired of. 
If ski down mountains is not in your wheelhouse then be sure to check out the nearby Allegany State Park. Here you can get close to nature without having to spend money on fancy equipment or a ski pass. 
In winter the town is full of tourists both from New York and out of state. If you want to come and see what the day-to-day life is like in Ellicottville then make sure to come in the warmer months. The people here are accommodating and helpful all year round and are sure to leave a long-lasting impression. 
Lewiston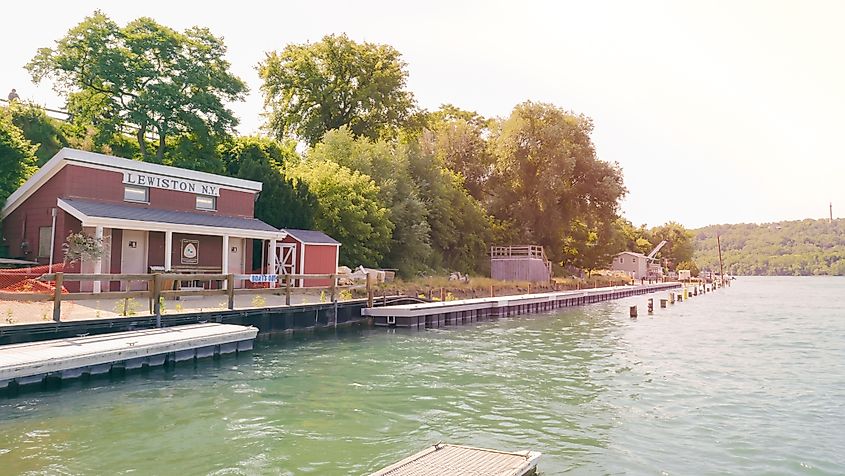 Lewiston lies just north of the world-famous Niagara Falls along the Canada-United States border. Aside from being in close proximity to the falls themselves, Lewiston is home to a ton of fascinating historical monuments and sites. 
This unassuming border town was in fact where the first battle of the War of 1812 took place after the United States attempted to invade British North America. Lewiston was also the final stop along the Underground Railroad that led runaway American slaves into Canada. 
The people in Lewiston take pride in their unique history and are more than happy to explain it to those who are interested in learning. 
Saratoga Springs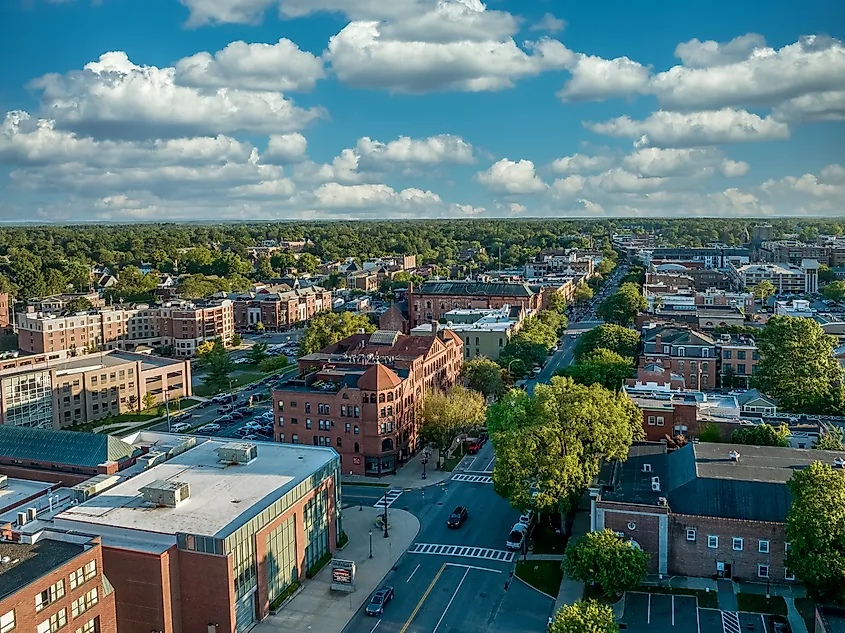 Staddling the north side of Saratoga Lake is the aptly named town of Saratoga Springs. This idyllic town is surrounded by the beautiful Adirondack Mountains that dominate the local landscape. Visiting here, especially during the fall will gift you will give you one of the best experiences Upstate New York has to offer. 
Saratoga Springs is known for its quaint colonial architecture and its impressive horse racing track that is located right in the middle of town. If you want to catch a few races you can do so at only $7 a head for general admission. Races are held only during the summer months so you will have to keep that in mind. 
The locals at Saratoga Springs are more than used to tourists and outsiders flooding into town during summer and fall. Despite some claiming that the locals are snooty and stuck up, this could not be further from the truth. The people who call this town home are just as open and friendly as any other town on this list. 
Woodstock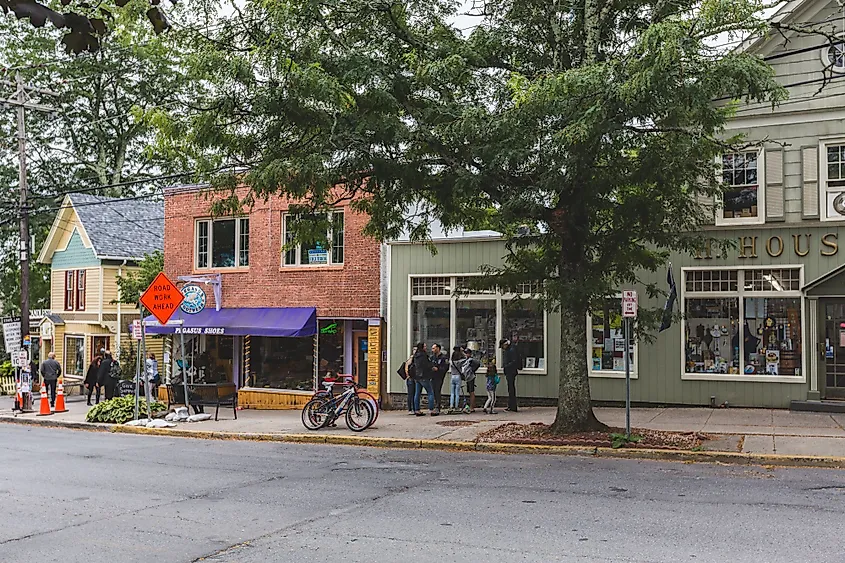 Well before the legendary music festival of the same name ever took place in Bethel, New York, the town of Woodstock had always been a sanctuary for musicians and artists to hone and practice their skills. 
Today, the town still embraces its reputation and could accurately be called a hub of hipster culture in the area. Anyone visiting here is sure to take a stroll down Tinker Street and take a look at the dozens of unique shops selling all manner of things ranging from homemade clothes to eccentric knickknacks.
The people here have definitely embraced their reputation as being a haven for the more artistically minded people out there. You will meet plenty of interesting yet kind people here who are more than happy to help out visitors trying to get around town. 
Cold Spring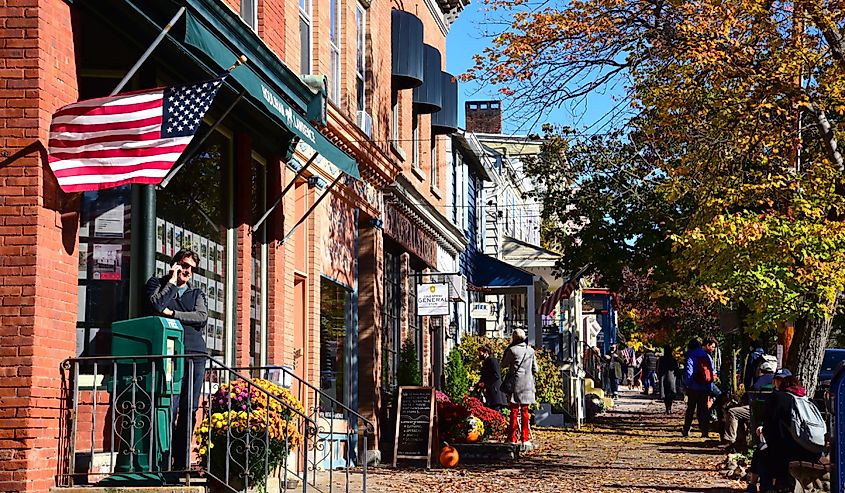 Resting right along the shores of the mighty Hudson River, Cold Spring remains one of Upstate New York's best-kept secrets. Cold Spring is a great mix of old and new, rural and urban. The town is both quiet and tranquil while also having a thriving scene of shops of quality restaurants. 
Cold Springs is a great destination if you enjoy the great outdoors. Footpaths and bike trails are wide throughout the rolling hills that surround the town on all sides. Kayak and bike rentals are easy to find as well if you are lacking any equipment of your own. 
The local residents at Cold Spring are quiet and tend to keep to themselves but are in no way hostile or standoffish towards visitors. Quite the opposite. The locals here are more likely to give you their shirt off their back before they give you a dirty look.
Lake Placid
Lake Placid can be found in Northern New York just a short trip south from the Canadian border. Lake Placid has rightfully built up its reputation as being one of the best towns to visit during winter and Christmas time.
During the Christmas season, the entire town comes to life and is reborn into a stunning winter wonderland. The main streets are bustling with hundreds of people all taking part in various seasonal activities or dropping by the dozens of shops to get some last-minute Christmas shopping done. Hot chocolate, candy canes, and all the other bells and whistles of a great Christmas festival are here for all to enjoy. 
The people of Lake Placid are not afraid to get into the holiday spirit either. The people who live here all year round are more than happy to see those from out of town take part in their traditions and festivals. This is a great place to take family and friends for a weekend getaway during the winter break.
Sleepy Hollow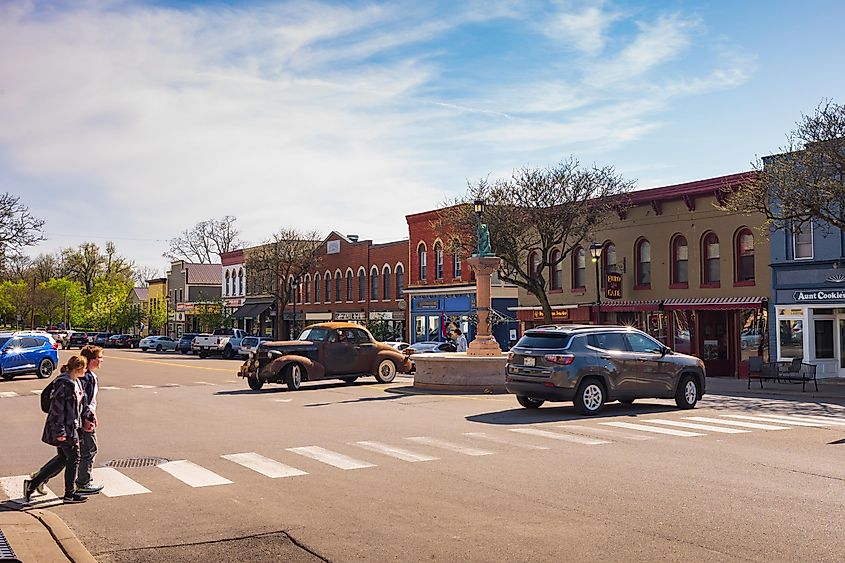 Only a short distance from New York City, the small village of Sleepy Hollow has been forever immortalized in the famous tale written by Washington Irving in 1820 titled "The Legend of Sleepy Hollow."
Today the town has enthusiastically embraced its macabre reputation as a place in touch with the supernatural. The most memorable character from Irving's tale, the headless horseman remains the unofficial mascot of the town. 
No matter if you are visiting in hopes of running into a centuries-old ghost or are just wanting to take a peek at the lighthouse the people here are helpful and accommodating wherever you go. 
Summary
If you are looking for a new place to travel this fall and winter make sure to take a serious look at Upstate New York. This region of the state is chalk full of various towns and villages that have their own unique history and charm that you will not be able to find anywhere else. 
The locals are friendly and more than welcoming to visitors. Not only will you make new memories but there runs a good chance that you will make new friends that will last you a lifetime.