World's Top Cinnamon Producing Countries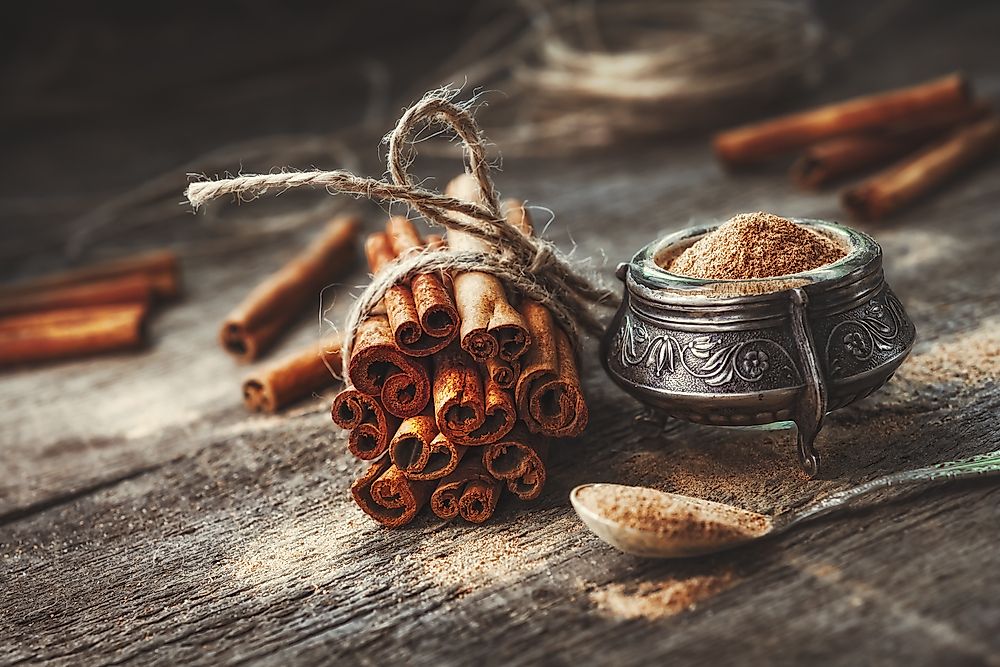 Cinnamon is one of the most popular spices used almost everywhere in the world. It is obtained from the bark of an evergreen tree known as Cinnamomum zeylanicum. Cinnamon is native to several countries including Sri Lanka, Burma, and India. The crop is also grown in South America and West Indies. However, Sri Lanka boasts the best quality of cinnamon. Cinnamon trees are evergreen trees with oval-shaped leaves, thick barks, and berry fruits. The tree takes approximately 15 years to mature. The global production of Cinnamon has increased over the years with 213,600 tons of cinnamon produced in 2014. Four countries combined to produce 99% of the world's total.
Leading Cinnamon Producers
Indonesia is the world's leading cinnamon producer, accounting for 43% of the total world's production in 2014. Indonesia produces over 90,000 tons of cinnamon every year, worth about $85 million. Almost all cinnamon produced in Indonesia come from the slopes of the country's highest volcano, Mount Kerinci, in Sumatra, where the cinnamon tree flourishes. The Kerinci cinnamon is popular for its unrivaled quality due to factors such as high oil content.
China is one of the leading producers of cinnamon, accounting for 33% of the total world production in 2014. China produces mainly cassia cinnamon variety. Cassia has a stronger, more intense, and hotter flavor than Ceylon variety. Chinese Cassia has a sweeter flavor compared to Indonesian Cassia. In China, cinnamon is grown in large scale in the provinces of Guangdong, Guanxi, Yunnan, and Fujian
Vietnam produces mainly the Saigon cinnamon. Saigon cinnamon is closely related to cassia. Vietnam accounted for 15% of the world's cinnamon production in 2014 or 31,674 tons. Cinnamon is produced in Vietnam both for domestic use and export. Cinnamon is produced in the areas around the central and Central Highlands regions of Vietnam, especially Quang Ngai Province. Cinnamon is grown in large scale with total land area ranging between 50,000 and 100,000 hectares. Cinnamon spice is an important ingredient in making a noodle soup known as pho.
Sri Lanka boasts of the best quality of cinnamon in the world. The country accounted for 8% of the world's cinnamon production in 2014 or 16,677 tons, making it one of the top cinnamon producers in the world. Cinnamon cultivation is mainly concentrated along the coastal belt from Kaluthara to Mathara. Some of the plantations may be found in Ratnapura and Ambalangoda. About 25,000 hectare of land in Sri Lanka is a cinnamon plantation. However, the size of the plantation has been diminishing over the years.
Uses of Cinnamon
Cinnamon bark is an important spice that is employed in cookery as a flavoring material. It is often used in savory dishes of chicken and in preparation of chocolates, especially in Mexico. In the US, a cinnamon and sugar mixture is used to flavor cereal and other bread-based dishes. The mixture is also sold separately for the same purpose. Turkish cuisine is never complete without cinnamon spices. The Persians have also used cinnamon powder to enhance the flavor of their cuisine. Cinnamon has also been used as a traditional medicine for conditions such as bronchitis and diabetes. However, there is no scientific evidence of its health benefits.
World's Top Cinnamon Producing Countries
| Rank | Country | Production (Tonnes) |
| --- | --- | --- |
| 1 | Indonesia | 91,400 |
| 2 | China | 71,146 |
| 3 | Vietnam | 31,674 |
| 4 | Sri Lanka | 16,766 |