Wolfgang Amadeus Mozart - Famous Composers in History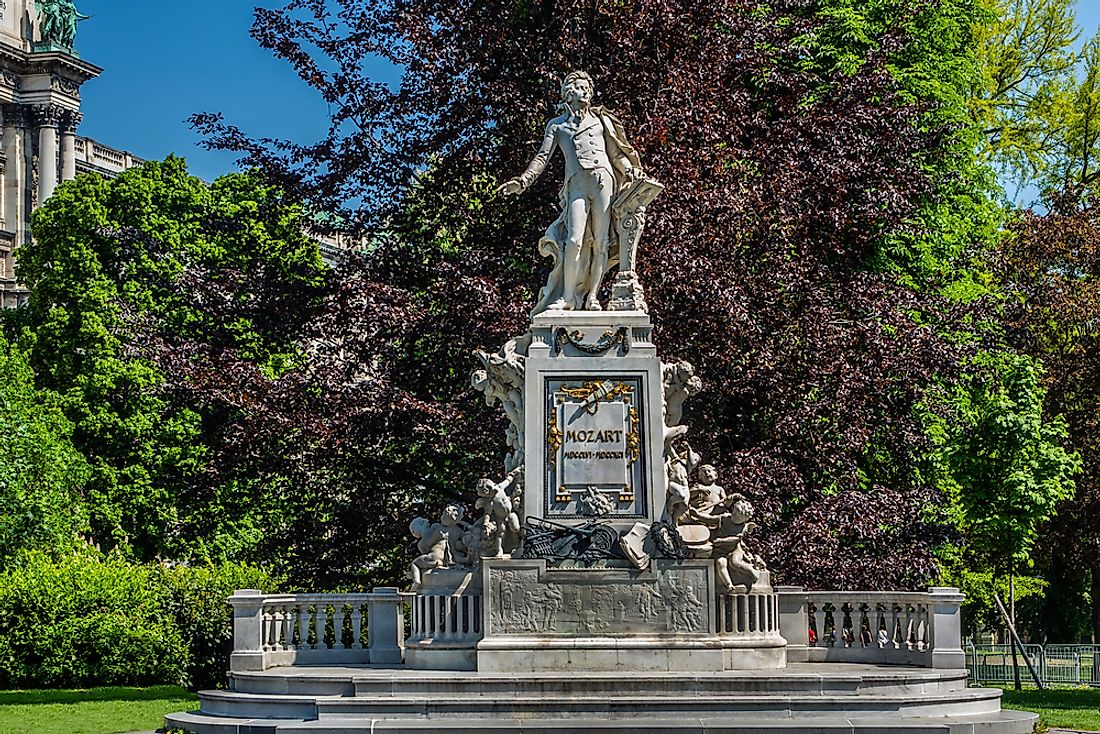 Mozart was an Austrian music writer, instrumentalist, and music teacher and he is better known as the most influential and prolific composer of the classical era. Wolfgang showed great talent since a young age of five years, where he started playing musical instruments and writing small pieces of music. By the time of his death, he had written almost 600 musical works.
Early life
Wolfgang was born on January 27, 1756, in Salzburg Austria which was part of Roman Empire at that time. He was the last born son of Leopold and Anne Maria who lived in Salzburg, Austria. He was baptized as Johannes Chrysostomus Wolfgangus Theophilus Mozart. At an early age of four, his father began to teach him some few minutes which the young Wolfgang would play tirelessly. In 1762, Wolfgang and his sister Nannerl were taken on their first tour and European public performances where they visited courts of Paris, London, Hague, and Zurich performing as child prodigies.
Career
At the age 13 years, Wolfgang's career was building up. The family traveled from Salzburg to Italy with his father who was also his music teacher. The trip took three years as the aim of Leopold was for his son to get many and different audiences as possible, hence marketing the young performer and composer. In 1773, Wolfgang was appointed assistant concertmaster by the archbishop where he had the opportunity to produce five violin concertos and Piano Concerto number 9 in E flat major. In 1777, he took a trip to Paris, Manheim, and Munich in search for better employment but it proved futile as all the promising employment opportunities failed. He came back in 1779 and was given a better position in the church where he continued writing, singing, and performing. During his time as a private actor, he opted to hire large private rooms in apartments or a ballroom which could accommodate more audiences compared to theaters. His career flourished between 1782 and 1783 when he learned about the works of Johann Sebastian Bach and George Handle. Their work inspired him, and he wrote a Mass in C minor which was one of his greatest pieces.
Major Contributions
Mozart's greatest contributions are the more than 600 compositions, some of which are widely acknowledged as the pinnacle of the operatic, chamber, piano, symphonies, and choral music. Mozart is a legend and is one of the most enduringly popular composers in Europe. Most of his work is now among the standard concert repertoire. Mozart was a versatile and gifted composer who wrote virtually in every music genre like symphonies, solo concerto, string quartet, piano sonata, string quintet. Although most of these genres were common at the time, piano concerto was developed and popularized by Mozart single handedly.
Challenges
Mozart faced numerous challenges in his career. These challenges include lack of stable and reliable employment which forced him to sell some valuables he had acquired during his early life. The death of his mother Anna Maria who had accompanied him in search of employment in 1778 was one of the biggest blows. During early life tours, he faced health challenges due to primitive means of transportation; he at one point got a chicken box which left dark spots on his face.
Death and Legacy
Wolfgang Amadeus met his death on December 5, 1791, aged 35 years old and he was buried in a common grave. His artistic work was and is still considered one of the greatest arts of all time. His work is still an inspiration to many music lovers to this day. In 1777, Mozart was knighted by Pontifical decree of Pope Clement XIV with the Order of the Golden Spur. A bronze statute has been erected in London, UK at Ebury Street in remembrance of Mozart.