Countries With The Most Winter Olympic Medals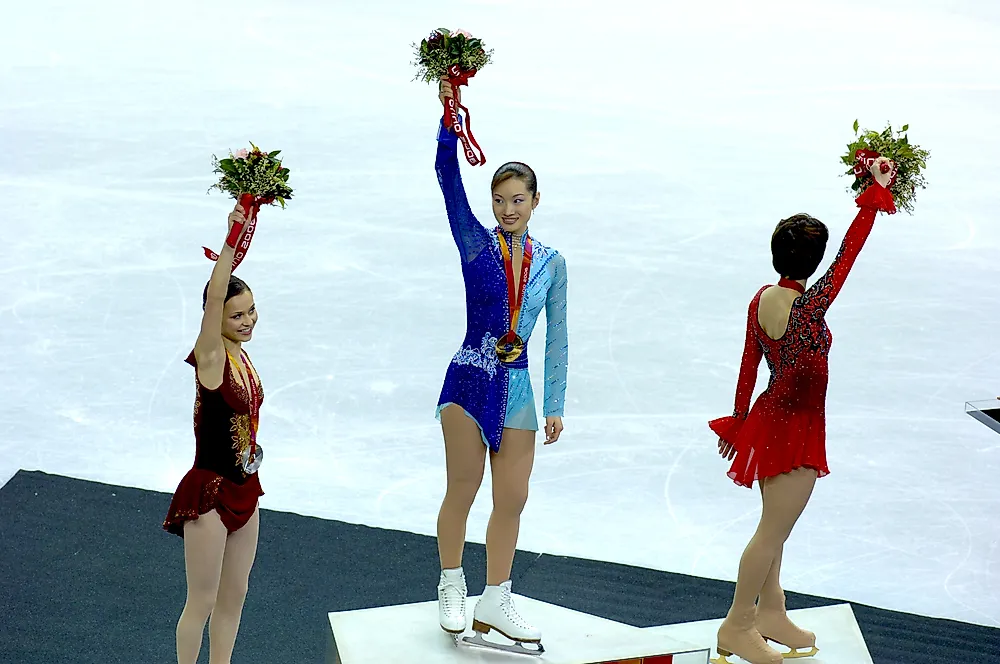 The first modern Winter Olympic Games took place in France in 1924. The Olympic Charter maintains that sports played during the winter games must be played on ice or snow. It's not surprise then that the all time leading medal winning countries are located in the northern hemisphere where there's a natural abundance of snow, mountainous terrain, and icy temperatures.
The Top Medal Winning Countries
The countries who have won the most medals at the Winter Olympics include Norway, the U.S, Austria, Germany, and the Soviet Union. The northern country of Norway has the distinction of winning the majority of its medals during the winter games. Medal winners in Norway include gifted athletes such as Aksel Lund Svindal (alpine skier), Helene Olafsen (snowboarder), & Johann Olav Koss (speed skater).
American athletes have excelled in both the Winter and Summer Games. Some noteworthy examples include Dorothy Hamill (figure skater), Apolo Anton Ohno (speed skater), and Picabo Street (alpine skier).
The eastern European country of Austria ranks third among top medaling countries. The nation hosted the global competition on two occasions; in 1964 and 1976. Both games took place in the city of Innsbruck. Local athletes such as Karl Schnabl (ski jumper), Pepi Stiegler (alpine skier) and Leni Thurner (luge) all medaled in the winter games.
The country of Germany is unique because versions of it appear four times on the leading medal winning countries. Not only is the modern nation of Germany #4 on the all time list but East Germany takes the #12 spot while West Germany comes in at #18 followed by the United team of Germany (with 19 total medals).
Like Germany, Russia has gone through numerous political changes over the years. As the Soviet Union the country won a total of 194 medals at the Winter Olympics. After the fall of the Soviet Union a team called the Unified Team participated in the 1992 Summer and Winter Olympics. Excluding the Baltic states the team was composed of athletes from the former Soviet Union including Armenia, Belarus, and the Ukraine. The modern Russian Olympic team has earned an impressive 124 medals putting the country at 10th place in terms of overrall medal count.
The Spirit of Competition
Northern nations such as Norway with its cold weather, abundance of snow, and mountainous terrain have an advantage when it comes to competing in the Winter Olympics. Regardless of a countries medal count, however, the games provide a forum for athletes from around the world to gather together, represent their country, and share in the spirit of competition as representatives of the very best in sport.
Winter Olympic Winners by Total Medals
| Rank | Country | Total Number of Medals Won at Winter Olympics |
| --- | --- | --- |
| 1 | Norway | 329 |
| 2 | United States | 282 |
| 3 | Austria | 218 |
| 4 | Germany | 209 |
| 5 | Soviet Union | 194 |
| 6 | Canada | 170 |
| 7 | Finland | 161 |
| 8 | Sweden | 144 |
| 9 | Switzerland | 138 |
| 10 | Russia | 124 |
| 11 | Italy | 114 |
| 12 | East Germany | 110 |
| 13 | Netherlands | 110 |
| 14 | France | 109 |
| 15 | China | 53 |
| 16 | South Korea | 53 |
| 17 | Japan | 45 |
| 18 | West Germany | 39 |
| 19 | Great Britain | 26 |
| 20 | Czechoslovakia | 25 |
| 21 | Czech Republic | 24 |
| 22 | Unified Team | 23 |
| 23 | Poland | 20 |
| 24 | United Team of Germany | 19 |
| 25 | Belarus | 15 |