Who Was Vice President During Lincoln's Administration?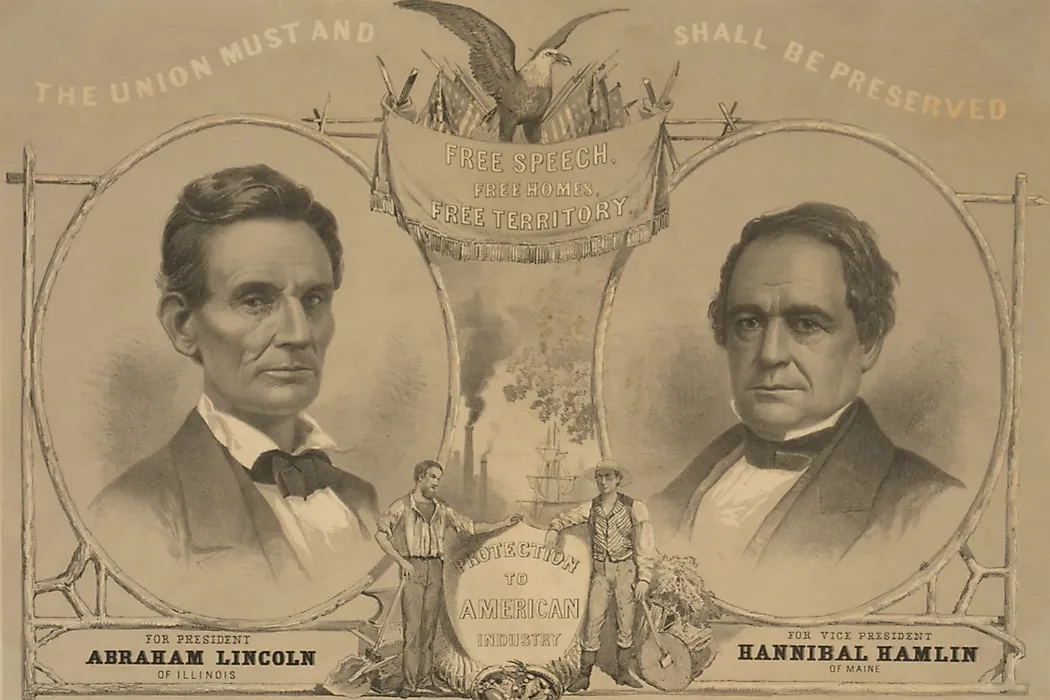 Hannibal Hamlin was a politician and attorney from Maine who served in the public service for over fifty years. Hamlin served as the fifteenth vice president of the United States under President Lincoln from 1861 to 1865. He was one of the most influential Republican politicians from Maine who was initially a Democrat.
Early Life
Hannibal was born in Pris (present-day Maine) to Cyrus and Anna Hamlin. He was the grand-nephew of Senator Samuel Livermore and a descendant of James Hamlin, an English colonist who settled in Massachusetts Bay in 1639. Hamlin attended a district school before joining Hebron Academy. After school, he managed his family's farm, but from 1827 to 1839 he partnered with Horatio King to publish a newspaper called "Oxford Jeffersonian". Hamlin studied law with Samuel Fessenden's firm and passed his bar exams in 1833. He practiced law in Hampden Maine until 1848. He married Jane Emery in 1833, and they had four children.
Career
<p "="">Hannibal began his political career in 1835 when he was elected to the House of Representatives in Maine. He was later appointed as a major under governor Fairfield where he served as part of the militia in the Aroostook War. He took part in the negotiations of the Webster-Ashburton treaty (between John Harvey and Fairfield) which ended the Aroostook War. <p "="">Although he was unsuccessful in the 1840 election, Hamlin was later elected for two terms in the House of Representative where he served from 1843 to 1847. In 1848, he was appointed to fill the Senate vacancy by the legislature and to a full term in the 1851 general elections. In 1857 the Republicans nominated him as their candidate for the governor's seat which he won and served as Maine's governor until 1861. <p "="">The Republicans nominated him as Lincoln's vice president in the 1860's elections which they won, and he served under President Lincoln until March 4, 1865. After his term expired, Vice-president Johnson appointed him as the pot of Boston's collector where he served briefly before resigning to protest, Johnson's reconstruction policy. He returned to the house of Senate in 1869 where he served for two terms, before becoming the ambassador to Spain.
Major Contributions
<p "="">Hamlin facilitated the negotiations between Harvey and Fairfield which helped ease the tension and made it possible for the signing of the Webster-Ashburton treaty. Hamilton opposed slavery, and although he did not succeed to stop the Democrats from supporting the Kansas-Nebraska Act, he took a stand and even became a Republican because the Democrats were supporting the bill. Hamlin is the only vice president to serve in the Maine coast guard as a muster, therefore proving that then a man in his position can serve in militia unit as a muster, and then a cook.
Challenges
<p "="">Even after assisting in the ending of the Aroostook War, he still lost his seat at the House of Representative in 1840. Hamlin also lost his position as Lincoln's vice president to Andrew Johnson, simply because the war democrats and the Republicans joined to form the National Union party.
Death and Legacy
<p "="">Hannibal collapsed while playing cards on June 4, 1891, at club Tarratine. He was placed on the club's couch where he passed away after some few hours. Hamlin died at age 81 and was buried in his family's plot at Mt. Hope Cemetery in Bangor. Hamlin was the first Republican vice president in the United States and his vice presidency ushered in some 50 years of the Maine Republican Party occupying various significant seats in the government. There are numerous towns in the United States named after him including Hamlin County in South Dakota. There are statues of Hamlin in the public park in Bangor and at the United States Capitol.