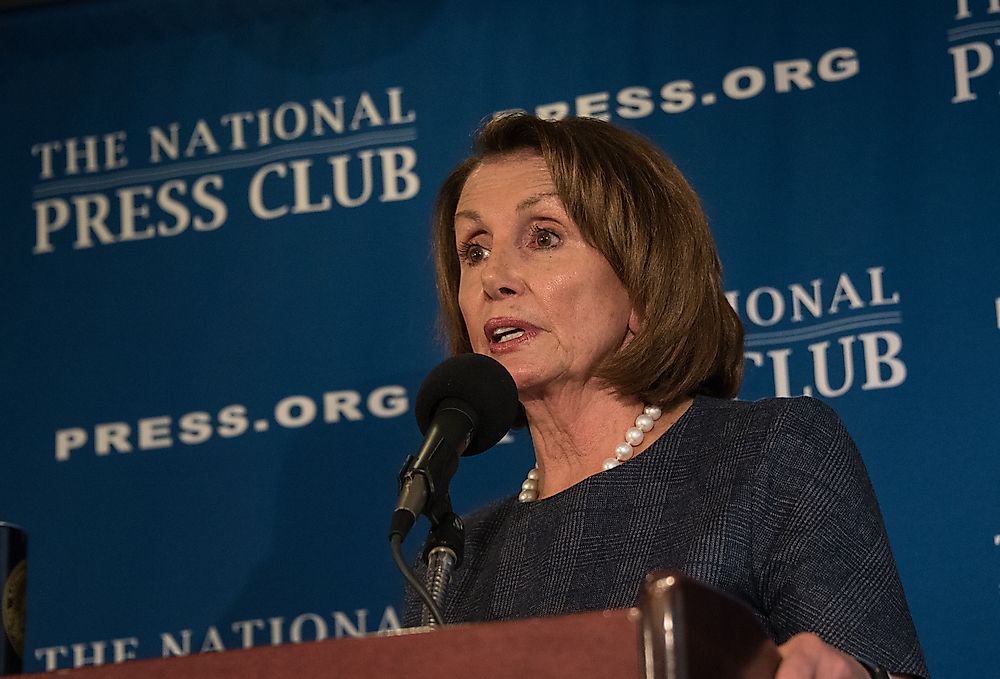 Nancy Pelosi is well known as the Leader of Minority in the House of Representatives. She was born on March 26th, 1940 in Baltimore, Maryland in the United States of America. Nancy is the youngest in a family of six and the first daughter. Her family resided on Albemarle Street in Little Italy. She is 5.5" tall, and her current net worth is $120 million. Nancy's father was a mayor, and before her birth, her father had won an election. Her father served for three consecutive terms in Little Italy. She is married to Mr. Paul Pelosi and they have five children. Nancy Pelosi is the first American woman to be the speaker of the US House of Representatives.
Early Life
Nancy has a firm Catholic background. She attended the Institute of Notre Dame High School and later joined Trinity College also funded by the Roman Catholic Mission. She earned her first degree from Trinity College and graduated in 1962. While at Trinity College, she met Paul Frank Pelosi whom she married in 1963 in Baltimore. They later moved to New York and finally to San Francisco in 1963.
Career
Nancy's political interest began to bloom at a tender age.She is the 60th Speaker of the House of Representatives and she attended the inauguration ceremony of John F. Kennedy in 1961. Nancy practiced her internship under Senator Daniel Brewster and the upcoming House Majority Leader Steny Hoyer. Upon moving to San Francisco, she worked up the ladder in Democratic politics. She was a friend of one California Democratic Party Leader – Phillip Burton. On January 30, 1977, she was elected as the party chairperson for Northern California. In 1976, she represented California in the Democratic National Committee, a position she held for twenty years.
Major Contributions
Nancy Pelosi is among the seven American lawmakers who took part in the 2007 Mideast excursion with Henry Waxman (D-CA), Louise Slaughter (D-NY), Keith Ellison (D-MN), Tom Lantos (D-CA), David Hobson (R-OH), and Nick Rahall (D-WV). This great trip incorporated stops in Syria, Israel, Lebanon, Saudi Arabia, and Palestinian territories. She got the occasion to lecture to the Israeli Knesset. The delegation also met with the folks of the three abducted Israeli soldiers. It is during the trip that she raised concerns about the lack of feminine politicians with the Saudi officials. She was also among the founding members of the Congressional Progressive Caucus and left when she was elected the minority leader in 2003. Pelosi was given a lifetime rating of 92% on Congressional scorecard by the American Civil Liberties Union for her voting record on civil liberties.
Challenges/Controversies
On March 21, 2008, Nancy Pelosi challenged the People's Republic of China's stance on handling the unrest situation in Tibet and called on all the worldwide freedom loving people to point the finger at China. In October 2007, the House Foreign Affairs Committee approved a motion to brand the murder of 1915 Armenians by Ottoman Turks as genocide, Nancy Pelosi promised to shift the gauge to a ballot. She voted against the Iraq war, and she was criticized by San Francisco's anti-war activists for voting against the war while continuing funding the war.
Other Interesting Facts
With her affluent background, Nancy Pelosi has never hired a babysitter for her five kids. She is also known to be the most ostracized politicians in American history. She is broadly seen as an egotistical snob and as a Progressive Marxist. The 2010 Rasmussen survey showed that 64% of electorate views her as unfavorable. A News survey conducted by CBS in March 2010 revealed that no more than 11% of registered constituency members have a positive judgment of her.