Countries That Recognize Taiwan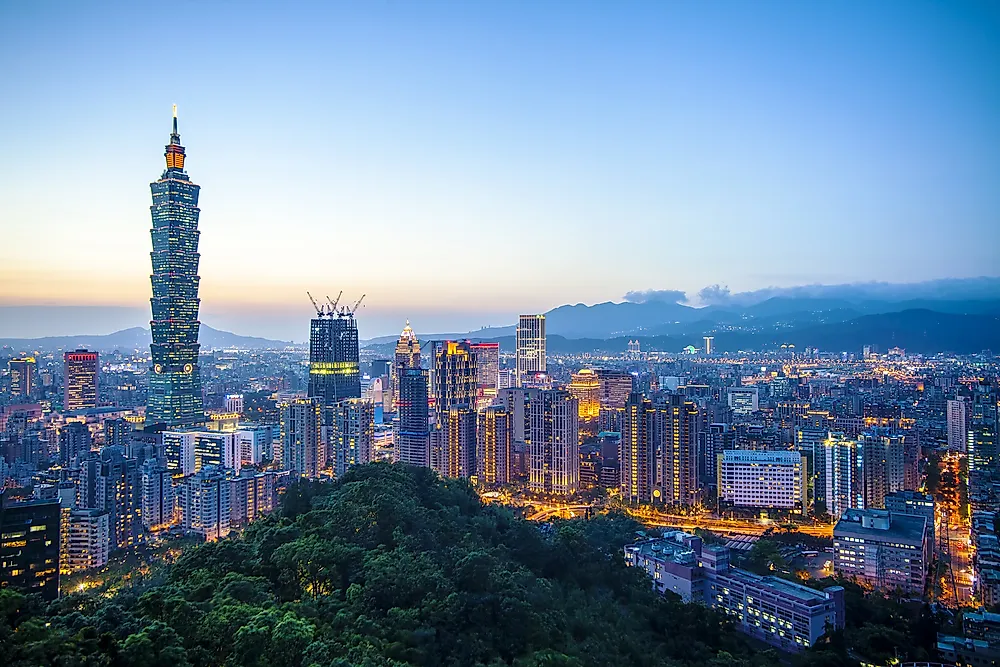 Taiwan, officially and constitutionally known as the Republic of China, is recognized as a sovereign entity by the Holy See as well as 19 member states of the United Nations. It maintains diplomatic relations with 57 other member states of the UN, although they are unofficial. The states recognize the Taiwanese government as a representative of the Chinese people but not as an independent state.
Relations With the People's Republic of China
The Peoples Republic of China claims sovereignty over Taiwan and its territories. In 2005, China enacted what was called an "anti-secession law" towards Taiwan against military intervention from the US on Taiwan's independence. The law formalized China's policy to use non-peaceful means against the Taiwanese independence movement in the case of a declaration of independence. This created tensions between the two entities.
Neither China nor Taiwan sees their relations as foreign. They prefer to use the term Cross-Strait relations in referring to their geographical separator, the Taiwan Strait. The Taiwanese and Chinese governments do no interact directly.
However, relations between the two sides have been warming up since 2008 with the promotion of cross-strait links and increased economic and social interchanges between them.
Bilateral Relations
The relations between Taiwan and other nations vary from state to state. Entities like Kiribati and the Holy See recognize Taiwan and have embassies in Taipei. 57 other member states of the UN maintain unofficial and non-diplomatic relations with Taiwan.
106 nations, among them 46 African countries, have no form of relations with Taiwan. There are also ten entities, among them Serbia, that neither recognizes China nor Taiwan. Over the years, the recognition of Taiwan's independence has decreased with many nations shifting allegiance to Beijing. This could be attributed to the rise of China as a superpower.
Relations With International Organizations
Many international organizations have excluded or downgraded the Republic of China due to pressure from China. In some cases, Taiwan may only retain full participation if it uses names such as "Chinese Taipei" or "Taiwan, China". Taiwan has however been a part of several major international treaties.
Transport and Communications
Due to the sensitivity of the issue regarding Taiwan's status, airlines of various nations have set up their subsidiaries to operate services in Taipei. They operate under a different name and omit their national symbols. The International Telecommunication Union officially allocated Taiwan the International Dialing Code +886 in 2006.
Countries With Diplomatic Relations With Taiwan
| Rank | Countries Recognizing Taiwan and Year of Recognition |
| --- | --- |
| 1 | Belize (1989) |
| 2 | El Salvador (1961) |
| 3 | Guatemala (1960) |
| 4 | Haiti (1956) |
| 5 | Honduras (1965) |
| 6 | Kiribati (2003) |
| 7 | Marshall Islands (1998) |
| 8 | Nauru (1980–2002, 2005) |
| 9 | Nicaragua (1990) |
| 10 | Palau (1999) |
| 11 | Paraguay (1957) |
| 12 | Saint Kitts and Nevis (1983) |
| 13 | Saint Lucia (1984–1997, 2007) |
| 14 | Saint Vincent and the Grenadines (1981) |
| 15 | Solomon Islands (1983) |
| 16 | Swaziland (1968) |
| 17 | Tuvalu (1979) |
| 18 | Vatican City (The Holy See) (1942) |