Travel
The Tallest Buildings in Mexico
The 915-feet tall Torre KOI mixed-use skyscraper is currently under construction, and is set to become Mexico's tallest building.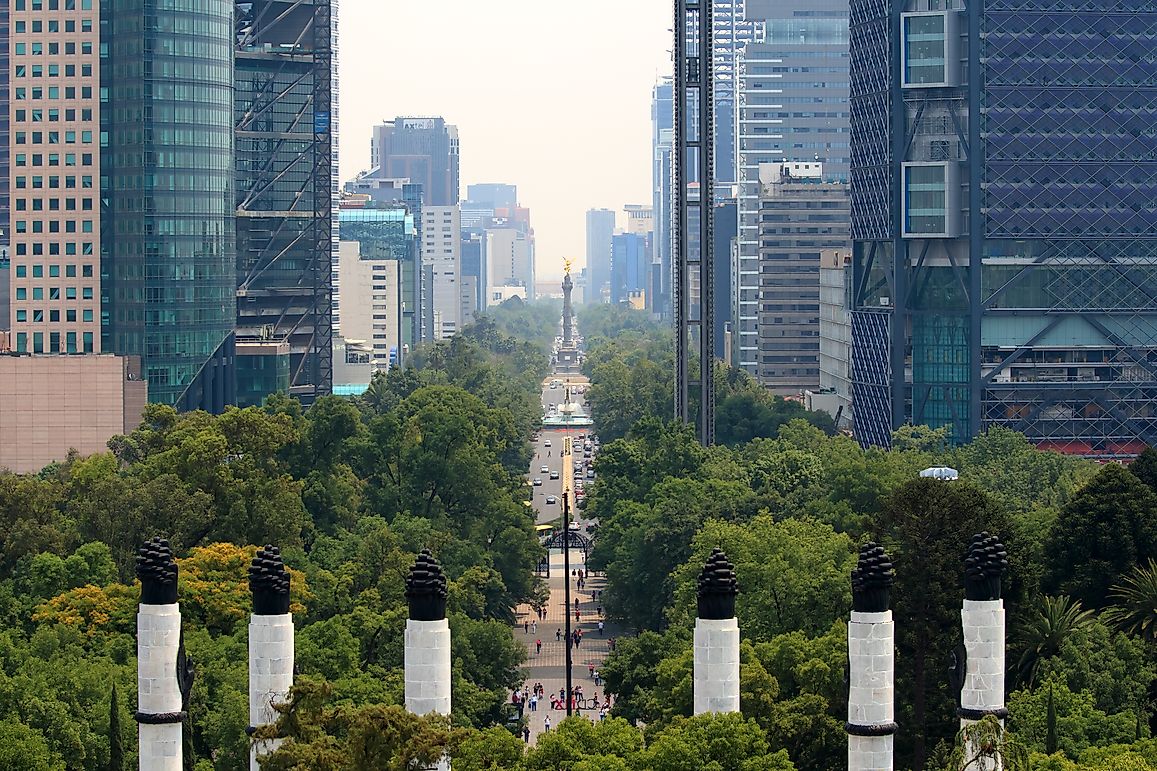 The Tallest Buildings in Mexico
Mexico is home to impressive towers, some of which tan over 900 feet tall. Six of the ten tallest buildings are situated in the country's capital, Mexico City. The city is fast developing into a sprawling metropolis complete with building towers intended for office and residential space.
Torre KOI
The Torre KOI building dominates the skyline of San Pedro Garza Garcia City at 915 feet. Construction of the skyscraper commenced in 2013 and ended in 2017. It was designed by the VFO Arquitectos architectural firm as a mixed residential/office space building. The structural material used was concrete. The building has 69 floors making it the third tallest skyscraper in Latin America. Torre KOI is the most significant feature in the VAO Complex situated in the Valle Oriente neighborhood of the suburb Monterrey. It has nine levels of parking, and it offers impressive views of the surrounding mountains.
Torre Reforma
Standing at 801 feet is the Torre Reforma, Mexico's second tallest skyscraper. The building's construction commenced in 2008 and ended in 2016. At its completion, it was Mexico's tallest building. It was designed by LBR & A Architectos to have 57 floors which contain retail and office spaces. It has a distinctive triangular shape, and it is regarded as a turning point for contemporary vertical growth in the city. Its sculptural form takes into account environmental, financial, and social factors. The building is designed to be energy and space efficient, and it has LEED Platinum certification.
Torre BBVA Bancomer
The third tallest building in Mexico, the Torre BBVA Bancomer, is also located in Mexico City. The skyscraper is 771 feet tall and has 50 floors. It was completed in 2015 having been started in 2010. The architectural practices involved in its design were Legorreta & Legorreta, and Rogers Stirk Harbour & Partners, together acknowledged as LegoRogers. The structural material used was steel, and it was intended for office space. It serves as the headquarters of the nation's largest bank, BBVA Bancomer. The building features garden terraces and offers the employees an open working environment.
Torre Mayor
Mexico City is also home to the country's fourth tallest building. The Torre Mayor is 738 feet high, and it is situated on the Paseo de la Reforma Avenue. By the time it was completed in 2003, it was not only the tallest building in the country but in Latin America as well until the completion of Ocean Two in Panama City in 2010. The skyscraper was designed by Toronto-based Executive Architects Adamson Associates Architects and Zeidler Partnership Architects. It has 55 floors, and it is fitted with 29 elevators. It was designed to withstand seismic events, and it is an intelligent building as well.
Trends
Economic development has facilitated the growth of skyscrapers across the major cities in Mexico. Taller structures have already been proposed such as the Torre Insignia, a mixed-use building set to be 330 meters. Its completion is slated for 2019 in Monterrey. The demand for office space has fueled the construction of tall buildings which use less space and maximize the number of available units. Tall urban buildings in Mexico are increasingly embracing green technology and intelligent systems to make them more livable, efficient, sustainable, and innovative.
What is the Tallest Building in Mexico?
The 279.5 meter Torre Koi is the tallest building in Mexico. It is found in San Pedro Garza Garcia.
Which Are The Tallest Buildings In Mexico?
| Rank | Building | City | Height | Completed |
| --- | --- | --- | --- | --- |
| 1 | Torre KOI | San Pedro Garza García | 279 m (915 ft) | 2017 |
| 2 | Torre Reforma | Mexico City | 244 m (801 ft) | 2016 |
| 3 | Torre BBVA Bancomer | Mexico City | 235 m (771 ft) | 2015 |
| 4 | Torre Mayor | Mexico City | 225 m (738 ft) | 2003 |
| 5 | Hotel Riu Plaza Guadalajara | Guadalajara | 215 m (705 ft) | 2011 |
| 6 | Torre Ejecutiva Pemex | Mexico City | 211.3 m (693 ft) | 1982 |
| 7 | Pabellón M | Monterrey | 206 m (676 ft) | 2015 |
| 8 | Torre Altus | Mexico City | 195 m (640 ft) | 1998 |
| 9 | World Trade Center Mexico City | Mexico City | 191.3 m (628 ft) | 1994 |
| 10 | Hyatt Regency Andares | Zapopan | 185 m (607 ft) | 2016 |
This page was last updated on August 12, 2019.
Citations
Your MLA Citation
Your APA Citation
Your Chicago Citation
Your Harvard Citation
Remember to italicize the title of this article in your Harvard citation.