Society
Biggest Cities In Liechtenstein
Schaan is the biggest municipality of Liechtenstein by population, and a major economic hub in the country.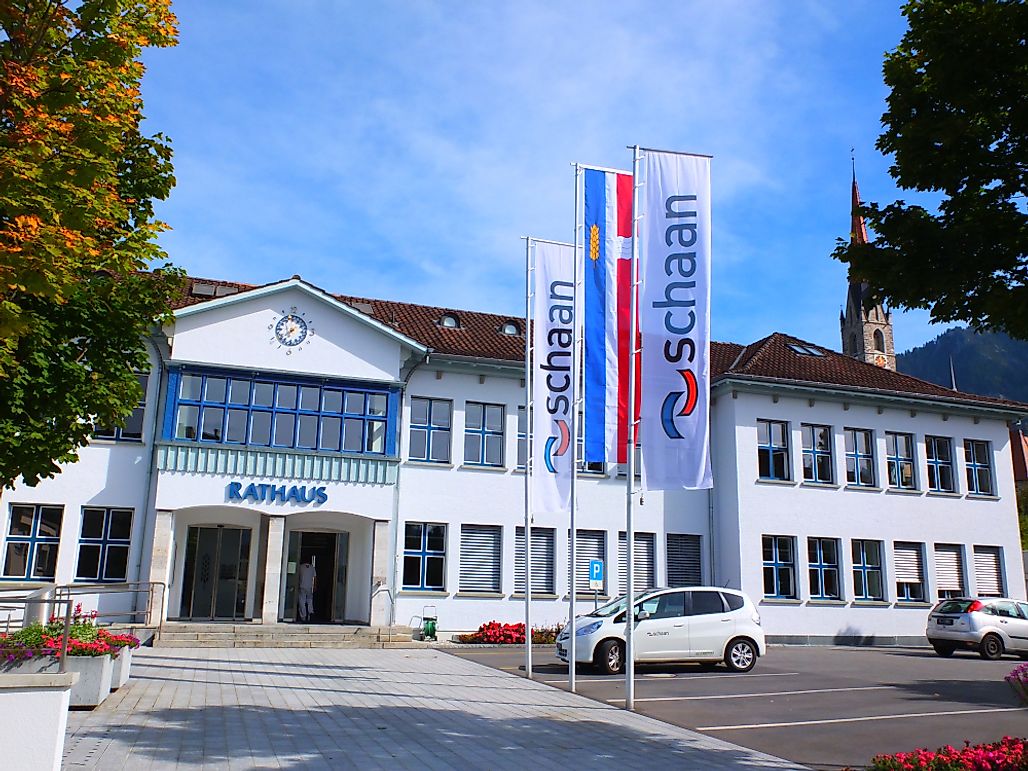 Schaan is the largest municipality of Liechtenstein by population and a major economic hub. Liechtenstein is an independent Principality nestled between Austria and Switzerland. The country occupies an area of 160 km2 and has an estimated population of 37,000 people. Liechtenstein has eleven municipalities headed by a mayor and each with its administration.
The Four Biggest Cities In Liechtenstein
Schaan
Schaan Municipality boasts a population of 5,748 inhabitants and occupies a total area of 26.8 km2. Schaan is an ancient region as witnessed in the numerous buildings built in the Baroque period such as the Chapel of St, Mary Consolation. The tower of St. Laurentius Parish Church, built in the 1100s, stands in the Municipality. The Municipality is an economic hub and is home to large global manufacturers including Hilti Corporation and Ivoclar Vivadent AG. The region is also a tourism hub since it is located in proximity to the mountain range along the border with Switzerland.
Vaduz
The Municipality of Vaduz is home to 5,197 inhabitants. Vaduz serves as Liechtenstein's capital, and it covers an area of 17.3 km2. As a political center, Vaduz is the location of the national parliament and the Vaduz Castle. The region was established by the Counts of Werdenberg in 1322 and has medieval architecture as part of its history including the Cathedral of St. Florin and City Hall. The Municipality has a well-established tourism sector and cultural centers such as the National Museum and Art Gallery. The municipality enjoys good infrastructure although it lacks railway and airport stations.
Triesen
Triesen is the third largest municipality with a population of 4,701, and it occupies a total area of 26.4 km2. The Municipality lies south of Vaduz and in proximity to the Rhine. Triesen is a historic center, being home to numerous medieval buildings, churches, and chapels as well as a weaving mill built in 1863. Triesen is largely a hillside, complete with vineyards and ancient houses. The region has however been modernizing in recent times, and it is characterized by a blend of new and old. Triesen has been experiencing a growing population who are attracted to the excellent infrastructure and modern residential areas.
Balzers
Balzers Municipality lies in southern Liechtenstein, and it is home to 4,447 residents. The region occupies a total area of 19.6 km square, and it is Liechtenstein's fourth largest municipality. One of the most famous landmarks in the Municipality is Gutenberg Castle. The castle has been occupied since the 12th century, and it has undergone construction works throughout the centuries. It is a major tourist attraction, and it serves as a public museum in a modern day. As an economic center, the city is home to the headquarters of Oerlikon Balzers.
Other Municipalities In Liechtenstein
The rest of Liechtenstein's municipalities and their populations are include Eschen (4,008); Mauren (3,626); Triesenberg (2,689); Ruggell (1,862); Gamprin (1,268), and Schellenberg (1,004). The population of Liechtenstein is projected to reach 39,000 by 2030, with the increase being spread out across its municipalities. The municipalities are also expected to experience an increased number of foreign immigrants, fueled by economic growth, urbanization, and good infrastructure and amenities.
What is the biggest city in Liechtenstein?
Schaan is the largest community in Liechtenstein and has a population of around 6,000 people.
Which Are The Biggest Municipalities In Liechtenstein?
| Rank | City | Population |
| --- | --- | --- |
| 1 | Schaan | 5,748 |
| 2 | Vaduz | 5,197 |
| 3 | Triesen | 4,701 |
| 4 | Balzers | 4,447 |
| 5 | Eschen | 4,008 |
| 6 | Mauren | 3,626 |
| 7 | Triesenberg | 2,689 |
| 8 | Ruggell | 1,862 |
| 9 | Gamprin | 1,268 |
| 10 | Schellenberg | 1,004 |
About the Author
Benjamin Elisha Sawe holds a Bachelor of Arts in Economics and Statistics and an MBA in Strategic Management. He is a frequent World Atlas contributor. 
This page was last updated on July 30, 2019.
Citations
Your MLA Citation
Your APA Citation
Your Chicago Citation
Your Harvard Citation
Remember to italicize the title of this article in your Harvard citation.