World Facts
Where is the Shinmoedake Volcano?
The Shinmoedake Volcano is located in Japan.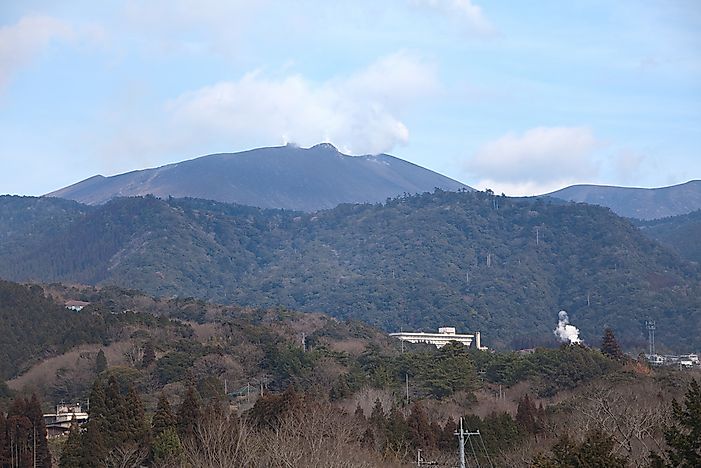 Japan lies on the famous Pacific Ring of Fire and has around 110 of active volcanic mountains. Countries and mountains that lie on the Pacific Ring of Fire are more prone to earthquakes and having volcanic eruptions. One such mountain is the Shinmoedake volcano that is situated in the Kagoshima Prefecture which is in Kyūshū, Japan. The mountain is part of the Mount Kirishima volcano group and rises to a height of 4,660 feet. Experts place its formation at roughly between 7,300 & 25,000 years ago.

History of Eruptions
Over the years, some of the volcanoes have had minor eruptions including an eruption of Mount Ontake which led to the demise of around 60 people in 2014. Another minor eruption of a minor volcano in central Japan recently killed a soldier who was out training and injured 11 others. Shinmoedake also has a history of eruptions. Recorded eruptions of Shinmoedake started from 1716. Since then there have been eruptions scattered across all the years to present day. Among the more historical eruptions include that of 2011.
2011 Eruption
The 2011 eruption was the largest eruption since the one that occurred in 1959. The eruption began on January 19, 2011. A few days later, on January 26, increased activity led to the closure of four railway lines and a few flights were canceled. The threat level was set to level three out of the five threat levels.
The activity continued to February with the eruptions growing bigger. On February 1, 2011, plumes of smoke went up an incredible 1.5 miles into the air. In addition to the smoke, volcanic bombs were also launched into the air up to heights of almost 1 mile. Volcanic bombs are simply masses of huge molten rocks that are launched into the air after an eruption. The rocks eventually cool before or after reaching the ground.
The eruptions were so extensive that a lava dome was formed at the crater that is at the peak of Mount Shinmoedake. Eventually, the authorities put evacuations into effect for the locals in the Miyakonojo area. 63 people were evacuated with the rest advised to stay on high alert. In addition to the Tōhoku earthquake in March 2011, the Shinmoedake volcano also erupted again forcing mass evacuation of the locals.
2018 Eruption
More recently in 2018, the volcano has begun erupting again. Ash and smoke was launched up into the air up to heights of approximately 7,500 feet. This eruption makes it even bigger than that of 2011. Lava was also observed at the top of the crater. Authorities also predict that rocks with a diameter of at least 50 cm would be emitted and thrown to a radius of 2.5 miles. No casualties were reported. Neither were there any evacuations although locals are on high alert since authorities expect the activities to continue for months. History supports this expectation.
Cultural References
Mount Shinmoedake is famous in the world after being used in shooting a blockbuster James Bomb film back in 1967. The film is known as "You Only Live Twice."