Where is the Deepest Pool in the World?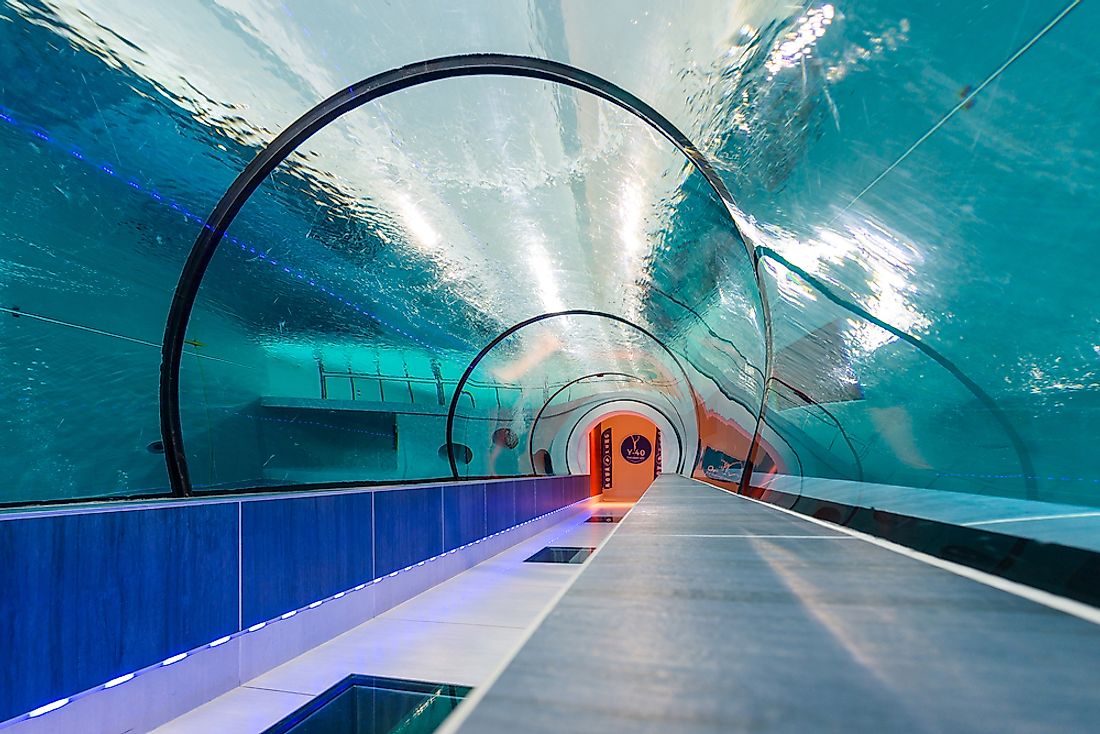 The world's deepest swimming pool is Y-40, nicknamed "The Deep Joy" and located in a hotel in Italy. Part of a spa resort near Venice, Hotel Terme Millepini is located in Montegrotto Terme, Padua, Italy. The hotel was built in 1997, but the pool was not added until years later. Designed by architect Emanuele Boaretto and opened June 5, 2014, the pool is 137 feet deep, has a volume of 1,135,939 US gallons of water supplied by local springs, and is kept at a constant temperature between 90–93 °F. After construction, the pool took nine days to fill.
Features
Popular among divers, The Deep Joy features a series of platforms that range in depth from 4.3 to 39 feet, after which the walls of pool narrow in a funnel shape. The pool features numerous underwater caves for scuba diving and training, and the water is maintained at a warm temperature to ensure that divers do not suffer from hypothermia. Y-40 also contains a suspended and transparent underwater tunnel that enable spectators to observe the pool.
Swimming in the Pool
The hotel sells tickets to swimmers and divers who wish to experience the world's deepest pool. However, swimming in Y-40 is not for the faint-hearted or aquaphobic, as the pool plunges 12 stories deep. Therefore, swimming and diving is not recommended for amateurs, but the hotel does offer training sessions to inexperienced divers. The water is continuously pumped out to keep water in the pool.
Previous Record Holder
Y-40 was declared the world's deepest pool by the Guinness World Records upon its opening in 2014. The previous record was held by the Nemo 33 pool in Brussels, Belgium. Nemo 33 has a depth of 113 feet, contains 660,000 US gallons of non-chlorinated, filtered spring water, and its temperature of 86 °F is maintained by solar heating. Like Y-40, the pool is used commonly used for diving. Nemo 33 opened May 1, 2004, and held the record of the world's deepest pool until it was surpassed by Y-40 in 2014.