World Facts
Where is Russia's Largest Arctic Port?
Murmansk is Russia's largest Arctic port.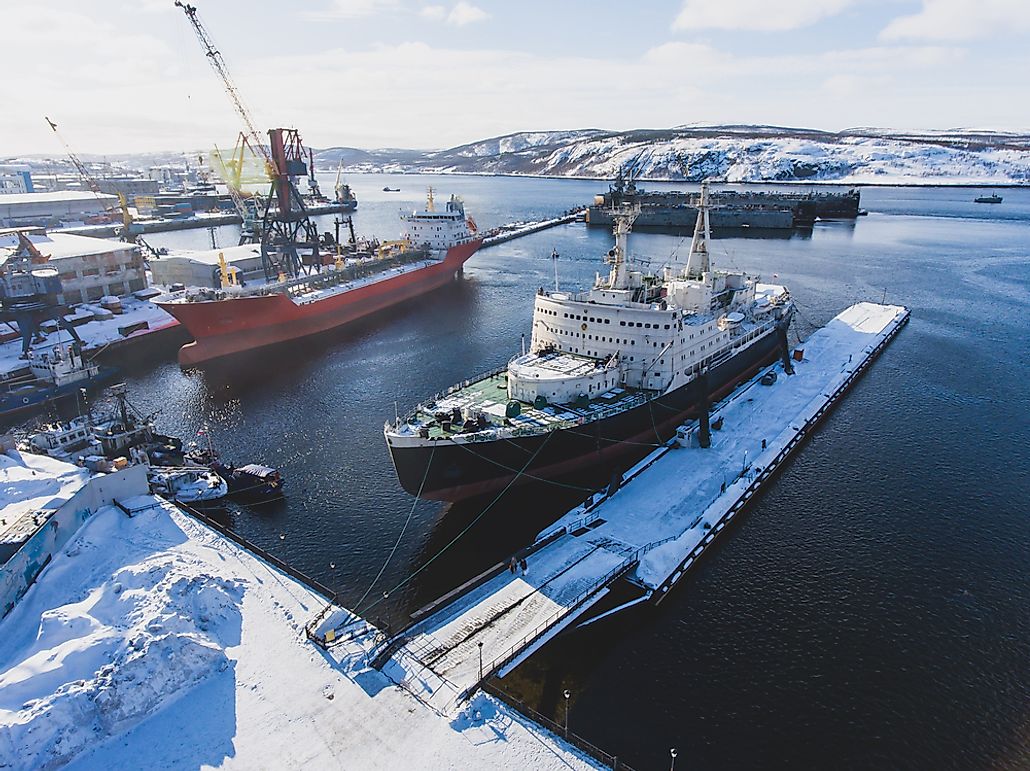 The city of Murmansk is an Arctic port city in northern Russia. Murmansk is located along the Kola Bay. Kola Bay is an inlet that leads to the Barents Sea. This Arctic city is part of the Kola Peninsula. The latitude Murmansk is located at is 68°58'N, 2 degrees north of the Arctic Circle. The population of Murmansk is 299,148 people. This makes Murmansk the largest city north of the Arctic Circle.
Murmansk's importance as an Arctic port comes from having in ice-free harbor despite its Arctic location. Ocean currents give Murmansk an ice-free port. Not only is it Russia's largest Arctic port city, it is the largest Arctic port city in the world. It is a large city for its location because of transportation geography. Its own transportation geography, as well as the decline of Arctic sea ice, is a reason it is sought after as a hub for transportation on the Northern Sea Route.

Murmansk, An Ice-Free Arctic Port
How does a large city exist so far north? The answer to this question originates in the Gulf of Mexico. This is where the Gulf Stream originates. The Gulf Stream is an ocean current that flows from the Gulf of Mexico towards the northern Atlantic Ocean. This current becomes the North Atlantic Drift and flows past northern Europe and towards the Kola Peninsula in Russia. Despite the subarctic climate of Murmansk, the waters near Murmansk generally remain ice-free. The North Atlantic Drift aids in keeping those waters ice free for the most part.

It was the ice-free waters of Murmansk that would lead to this city being founded. During World War I, it was important to have a port to ship military supplies from. A railroad was constructed, spanning from Petrozavodsk to Kola Bay. With ice-free waters, a port was built on Kola Bay, and Romanov-on-Murman (now called Murmansk) was founded in 1916. Today, Murmansk is home to Russia's largest Arctic port. It is also the home of the only nuclear icebreaker fleet.
Northern Sea Route Aspirations
Murmansk stands out from many port cities in the Arctic region. Cities such as Barrow, Alaska and Iqualuit, Nunavut, are often isolated. Murmansk is more connected than other Arctic cities. Highways and railroads connected Murmansk to the rest of Europe.
Murmansk is also located along the Northern Sea Route. As Arctic ice melts in increasingly larger amounts, the Northern Sea Route is becoming more and more attractive for shipping. Shipping companies in South Korea are particularly interested in the Northern Sea Route. South Korean container ships often go through the Suez Canal to reach Europe. The Northern Sea Route is a shorter route to Europe. A transportation hub is being planned in Murmansk. A new railway is currently being built as part of the new hub. Murmansk being well-connected to the rest of Europe and having an ice-free port is why it is being chosen as one of two hubs along the Northern Sea Route (the other one being Petropavlovsk-Kamchatskiy in the Kamchatka Peninsula). One South Korean shipping company, Hyundai, is planning trial runs on the Northern Sea Route in 2020.
About the Author
Marques Hayes is a freelance writer and World Atlas contributor. He holds a BA in geography from Kennesaw State University. 
This page was last updated on January 18, 2018.
Citations
Your MLA Citation
Your APA Citation
Your Chicago Citation
Your Harvard Citation
Remember to italicize the title of this article in your Harvard citation.