Where is it Hardest to Get Your Driver's License?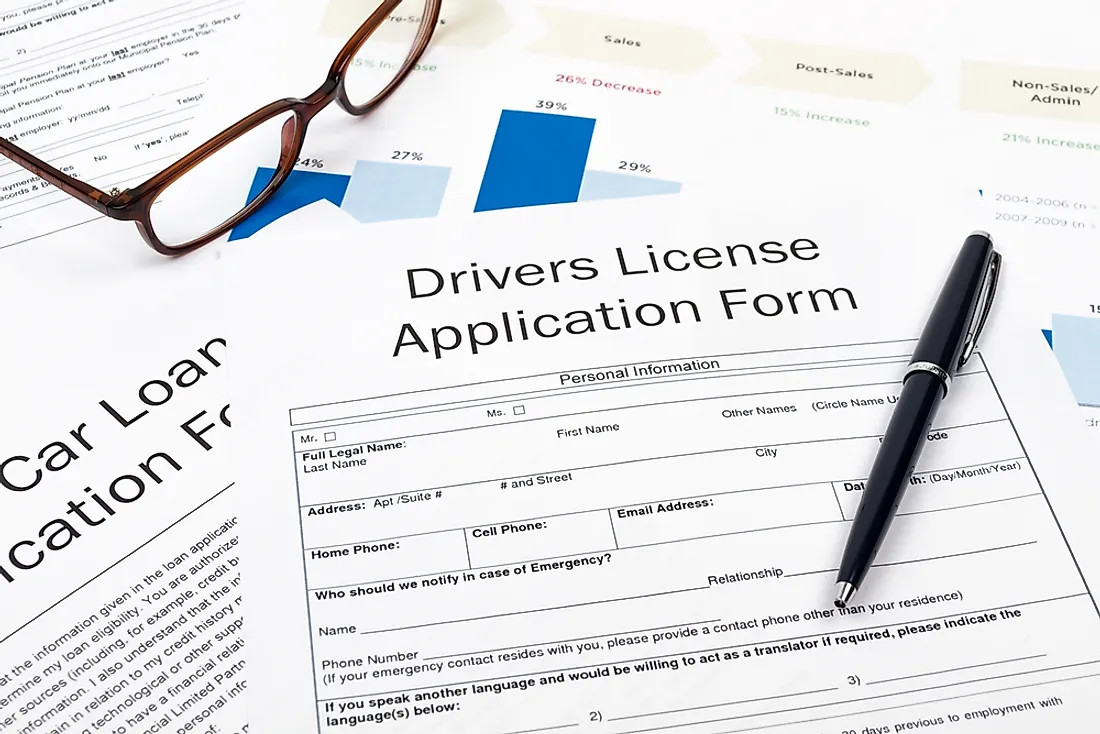 In many countries around the world, driving an automobile is considered to be a privilege rather than an inalienable right. These countries have a formal procedure, which is strictly followed before a person is deemed suitable for a driver's license. It may come as a surprise to some that generally, it is more difficult to get a driver's license in Europe than in the United States. The following is a list of countries where getting a driver's license is anything but easy.
Saudi Arabia
 A driving license can be obtained in Saudi Arabia in three ways. Those applying for the first time (women have recently been permitted to drive) have to take a written and practical test at the certified center. Before they do so, they need to have a file that contains their blood and eye test reports, four passport size photographs, as well as copies of the front and back pages of your passport. They are also required to join driving classes at the certified institute before the final driving test.
Expatriates can drive with their native licenses for three months, after which they have to apply for a Saudi Arabian license. Their files will additionally contain a copy of their resident permit, an Arabic translation (from a certified institute) of their native license. They need not take driving lessons, but the driving test is mandatory. However, males from countries like USA, Germany or United Kingdom can merely get their passports converted to a local one due to Saudi Arabian driver's license treaties with these countries.
South Africa
In South Africa, you first need to obtain a learner's license from a certified Driving License Testing Centre. Required documents are identity document, two photographs, proof of residence and utility bill. If you are not the house owner, he or she has to make an affidavit that you live at that address. People living in settlements must bring an authorized letter. You will also need to have your eyes tested. Before the written examination drivers will study road signs, traffic rules, and motor vehicle controls. If you pass, you can drive only when accompanied by a person with a permanent license.
After obtaining the learner's license, you need to apply for the driver's license and submit the aforementioned documents again. After passing the K53 driving test, you will get a temporary license before the permanent one arrives six months later. Foreign nationals can drive with their native licenses for a year, Afterwards, they can convert it to a South African license provided it is valid and translated into one of South Africa's official languages. Conversion requires the same set of documents as for first-time applications.
United Kingdom
The United Kingdom issues permanent driving licenses in three stages. First comes the provisional driving license, which one must apply for. But one should be a British resident to do so. You will take your eye test at this stage. The next step is the driving theory examination, which tests hazard perception besides your knowledge of traffic rules and road signs. The driving theory test is valid for two years, before which the practical driving test should be passed. The third part of the process involves driving instructions including classes before the final driving test.
Foreign drivers can use their native licences for one year, including in Northern Ireland, after which they must exchange them for a British license. However this applied only to EU/EFTA, Channel Islands and other 'designated countries'. People with driving licenses from other countries can drive with their native licenses for a year, after which they have to apply for a provisional driver's license and go through the same process as for a new license, including submission of the prescribed documents.
Singapore
To drive in Singapore, people must take a private account at one of the three designated driving schools and pass the Basic theory Test or BTT. Minimum pass marks for BTT is 45 out of 50. This makes you eligible to apply for the advanced Final Theory Test FTT. After passing FTT, people get a Provisional Driving License (PDL), which is valid for six months. There is an equal cost for renewal of the PDL. A PDL is a prerequisite for driving lessons, and even after that, drivers are not allowed on expressways.
Driving lessons can be taken at a school or with a private instructor while you wait for the results of the Final Theory Test. Driving lessons can also be taken before enrolling for the BTT. However, after passing the FTT, again with minimum marks of 45 out of 50, you can reserve a spot for the Traffic Police driving test. Be sure you are well prepared for this as each test can cost between 150-200 Singapore dollars, including a warm-up session, car rental and test fees. The driving test has to be passed within two years of passing the FTT.
Finland
The Finnish can either train for a license in a driving school or take lessons from a near relative. The latter must obtain an instructor's permit and have the training car fitted with an extra pair of passenger brakes as in driving school cars. Finland also has a graduated licensing regime. The B class license requires the supplicant to undergo 19 theory lessons and clock 18 hours of driving with the instructor. This includes a spell on icy and slippery courses. After this, comes the computerized theory test and finally a driving test in city traffic. Training for a C class license is similar but longer.
The initial license is valid for only two years, during which the new driver may receive two fines in total otherwise the license is revoked. There are two different phases in this two-year period. The first is the practicing period during which you fine-tune your driving skills. In the second, advance phase, the driver can take some more training and engage in dark-time driving, in case this was not covered in the initial training. Finland's geographic position prevents dark-time driving in the summer months.
Japan
Driving license seekers in Japan may apply for one in their own prefecture's driver's license center whose test methods may be different from other prefectures. Driving students have to finish 30 hours of driving lessons with a maximum limit of two hours a day, which naturally increases the duration of obtaining a license. Most people in Japan enroll themselves in designated driving schools, which offer a learner's license permit after a written examination at a higher cost. The practical test is particularly harsh with the applicant being made to artificially dramatize real-life scenarios like merely looking into the rear-view mirror.
Foreign drivers can convert their licenses to a Japanese one. Depending on your country of origin you may be asked to take the written test or both the written and practical driving tests. As an aside, the demerit points system is particularly strict in Japan with common instances of licenses being suspended or revoked. 
Germany
German driving license seekers must first learn how to drive and pass a two-stage theory test at designated driving school. The schools handle all the paperwork like registering for tests etc. Students also have to pass an eye examination test and a first-aid course. The schools hand out study packages for the written theory test, which consists of software, textbooks and sample examination papers. Schools usually take responsibility for the success of their students and charged 1400 Euros in 2014.
School tests are conducted by authorized inspectors who visit the schools. Practical training involves a minimum number of driving lessons on the Autobahn, in rural areas, and in the dark. However, urban driving is the most difficult part of the practical driving test. During the test, the driving instructor is present in the automobile and the assisting features are deactivated. If the instructor has to intervene in any way, the result is a failure. The passing rate is quite low. Automobile associations attribute it to deliberate lapses on the part of the private schools so that people return for retests. Conversion of foreign licenses depends on the country of origin.  
France
In France, just like in other countries, a driving license can be obtained after passing a two-stage examination and completing a driver's course. France also has a graduated licensing system for people older than 15 but younger than 18. The driving license B puts certain restrictions on drivers like being accompanied by a holder of a full license. New license holders have a probationary period of three years during which there are certain restrictions like a lower maximum speed limit.
Foreigners from certain countries are allowed to use their native licenses for up to year after which they must be exchanged for a "permis de conduire". However, the native license should be valid and must be accompanied by an international driving permit or a French translation duly notarized.
Norway
 Getting a driver's licence in Norway is a lengthy process. There are various kinds of requirements for people of different nationalities and age groups. After the online application is registered, the police perform a background check to check eligibility of the applicant. The verification is valid for 6 months before which you have to start the next step, which is reading the book "The Road to your Driving License" in its entirety. Then the applicant practices the theory questions process for the theory exam. The theory exam can be taken at the nearest traffic station.
 Now begins the driving instructions. The training consists of four parts: The Basic Course, which includes first-aid training, Basic Vehicle and Driving Skills, Road Traffic Skills and Final Training. For the last segment, your current driving skills will be assessed in a 45- minute driving session. If the applicant has good control of the automobile, he or she may only take a mandatory course. The driving school has to approve the applicant's preparedness for the final driving test. On passing the driver's test, the applicant receives a temporary license before the permanent one arrives a month later.
Quebec
The process of applying for a driver's license in the Canadian province of Quebec begins with a vision test. The minimum age is 16 years but those under 18 must have written consent from a parent or legal guardian. Then, the applicant begins the mandatory driver training classes. The training course must be approved by the Association Quebecois des Transports (AQTR). Applicants need two types of self-identification, one of which can the health insurance card, which verifies the person's ability to drive safely. Quebec also follows the Graduated Driving License (GDL) system.
In Quebec, people with a learner's license must have a person in the car who has a permanent license. Applicants become eligible to take the knowledge test after ten months of obtaining the learner's license. People must drive with their learner's license for a year before they can apply for a road test. Also, the driver must have successfully completed the AQTR driver training class. Drivers who pass the road test are granted a provisional license, which has few restrictions. The provisional license is valid for two years, after which the driver becomes eligible for a full driver's license provided he or she meets all criteria.