Where Does Most Of The Drinking Water In The US Come From?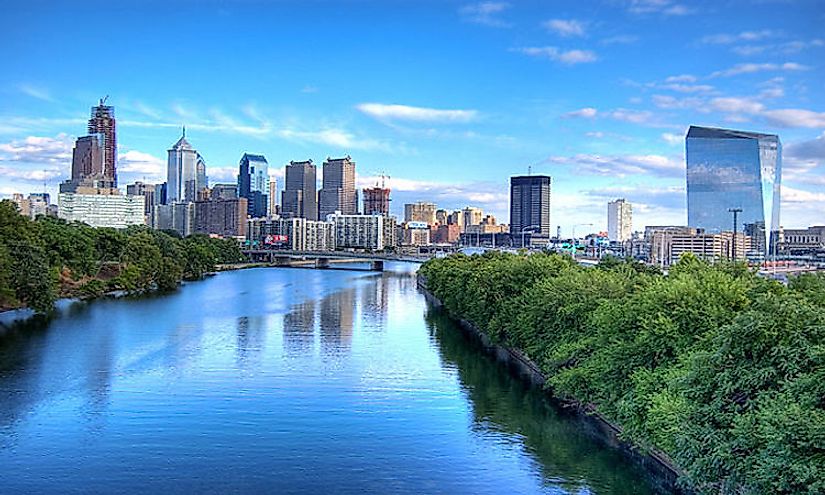 Sources of water range from lakes, rivers, aquifers, aqueducts, and reservoirs. American drinking water has been identified as one of the safest in the world thanks to major strides in water treatment and sanitation. The right to safe drinking water in the nation is provided for by legislation such as the Clean Water Act of 1972 as well as the Safe Drinking Water Act of 1974 which has been amended over time.
Water Sources In The United States
History
Water treatment has had a long history in the US and in the modern day, municipally supplied drinking water is strictly regulated. Prior to the era of water treatment, contaminated water had claimed many lives due to water-borne diseases such as the 1849 cholera epidemics which claimed an estimated 5,000 lives in New Orleans and 8,000 in New York. The first attempt at water treatment in the US was implemented at the turn of the 20th century using the slow sand filter, a simple process which removed most of the waterborne pathogens as water passed through a bed of sand. In 1908, Jersey City in New Jersey used chlorination to disinfect community drinking water, a move which was contested in the courts. The courts upheld the right of a city to chlorinate its public water as a safeguard to public health and set the precedence for cities and towns across the US to follow suit. The implementation of chlorination across the nation reflected in the dramatic decrease of diseases such as typhoid and cholera.
Surface Water Sources
The country has over 100,000 lakes and more than 250,000 rivers as well as hundreds of reservoirs which are primary sources of freshwater in the cities they are located in. Before the water is dispatched into households, it must meet federal and municipal standards of purity. Some cities rely 100% on rivers and lakes for their freshwater needs such as Chicago (Lake Michigan), Detroit (Detroit River), Washington, D.C. (Potomac River), New Orleans (Mississippi River), St Louis on (Mississippi/Missouri River), Cleveland (Lake Erie), and Seattle (Cedar River/South Fork Tolt River Watershed).
Among the reasons why reservoirs are constructed include water storage for subsequent supply to households. The cities of Boston and San Francisco get 100% of their drinking water from Quabbin Reservoir and Hetch Hetchy Reservoir respectively. Less than 50% of Baltimore's drinking water is sourced from the Liberty Reservoir. Other cities get a percentage of their drinking water from rivers and lakes including Las Vegas from Lake Mead (90%); Phoenix from Salt River-Verde River (50%); Los Angeles from Owens River/Mono River (50%); San Diego from Northern California/Colorado River; Atlanta from Chattahoochee River (70%); Philadelphia from Delaware River (60%).
Underground Water Sources
Underground water is used to supply US households alongside surface water sources. The Biscayne aquifer fulfills less than 50% of Miami's drinking water needs. New York depends on the Catskill/Delaware Aqueduct for 90% of its drinking water.
Emerging Concerns Related To The Quality Of Drinking Water
The contamination of underground, as well as surface water sources has been recognized as a major impediment to safe drinking water. Ground water is contaminated by fertilizers, pesticides, oil, chemicals, and road salts which seep through layers of soil. Surface water has not been spared of pollution too by pollutants from both industries and households. Underground water depletion is also an emerging concern in the US, especially in the context of climate change where rainfall is significantly reduced.
Where does most of the drinking water in the US come from?
| Rank | City | Water Source | Percentage |
| --- | --- | --- | --- |
| 1 | Las Vegas | Lake Mead | 90% |
| 2 | Phoenix | Salt River-Verde River | 50% |
| 3 | Los Angeles | Owens River/Mono Lake | 50% |
| 4 | San Diego | Northern California/Colorado River | <50% |
| 5 | Atlanta | Chattahoochee River | 70% |
| 6 | Chicago | Lake Michigan | 100% |
| 7 | Detroit | Detroit River | 100% |
| 8 | Philadelphia | Delaware River | 60% |
| 9 | Washington, D.C. | Potomac River | 100% |
| 10 | Miami | Biscayne Aquifer | <50% |
| 11 | Houston | Trinity River | 71% |
| 12 | New York | Catskill/Delaware Aqueduct | 90% |
| 13 | Boston | Quabbin Ressrvoir | 100% |
| 14 | Baltimore | Liberty Reservoir | <50% |
| 15 | New Orleans | Mississippi River | 100% |
| 16 | St. Louis | Mississippi/Missouri River | 100% |
| 17 | Kansas City | Missouri River | 100% |
| 18 | San Francisco | Hetch Hetchy Reservoir | 100% |
| 19 | Seattle | Cedar River//South Fork Tolt River Watershed | 100% |
| 20 | Cleveland | Lake Erie | 100% |