Living without a permanent home can be a difficult experience in any country, both mentally and physically, and with the cold winters in Canada, it can be downright harsh. Many people do it, however. According to the State of Homelessness in Canada 2016 report, it was estimated that at least 235,000 Canadians experience homelessness in any given year. 
Some sources estimate that number to be even higher. Data from an Ipsos Reid poll done in March 2013 showed that as many as 1.3 million Canadians had experienced extreme housing insecurity or homelessness at some point during the previous five years.  
There are many factors that can cause a person to become homeless, and the solutions to the problem can be complex. Here is a look at the issue in more detail.  
Causes
What does it mean to be without a home? Homelessness is defined in Canada as "an individual, family or community that does not have stable, safe, permanent, appropriate housing, or the immediate prospect, means and ability of acquiring it", according to  HomelessHub.ca. 
Some of the top reasons people end up being homeless in Canada include suffering from domestic abuse, experiencing job loss or mental illness, going through a divorce, experiencing a health crisis, and having a death in the family. Each of these contributors can increase a person's chances of becoming homeless, especially when combined. 
Cost Of Living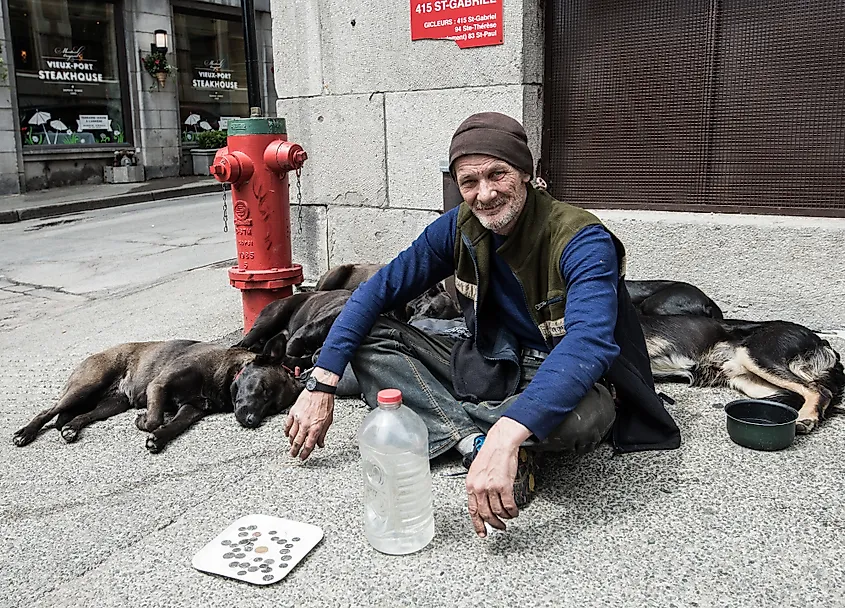 Living in Canada can be costly. In the country's most populated city, Toronto, the average rent for a one-bedroom apartment can often be well over $1200 per month, and utilities may be added to that. Once city-dwellers add in the costs of phone bills, transportation, groceries and other daily needs, such as clothing and toiletries it is clear that a single person living in Toronto needs to earn more than $38,000 per year, just to get by, according to Homelesshub.org. 
In order to earn this money, a person needs to work for  a salary of $18.27 per hour, which is above minimum wage, for forty hours per week, all year round. Because of this, even those who are employed and working full-time may be at risk of being homeless if they earn minimum wage or less. 
Solutions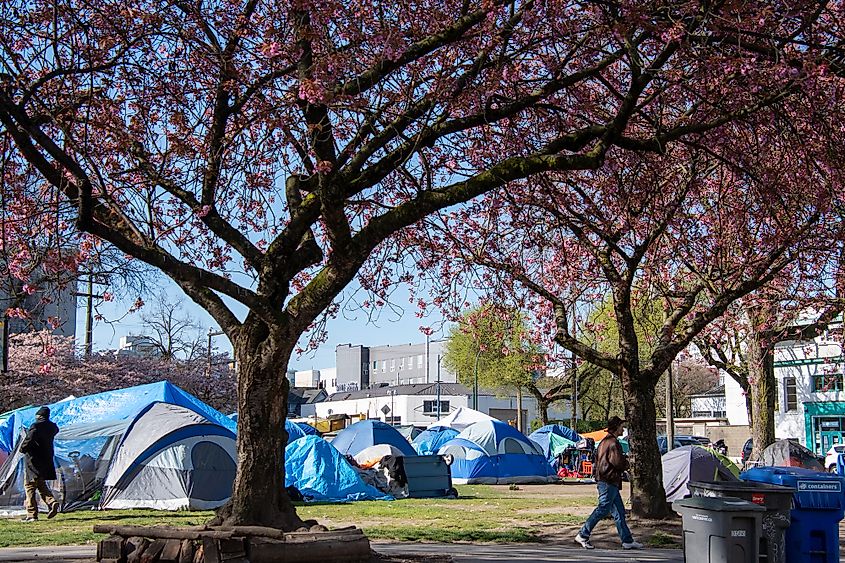 Because homelessness is caused by multiple factors and is a multifaceted issue, the answers to it can be complicated. Organizations in Canada such as RaisingtheRoof.org focus on prevention, system response and early intervention in order to stem the tide of homelessness in the country. 
It is suggested that by mediating with landlords and family, organizations can help to address the early stages of homelessness, which can help people stay housed. In addition to this, primary prevention aims to target groups of people who are at risk of becoming homeless, in order to minimize their chances of entering into homelessness through awareness campaigns and support. Other methods offer ongoing support to vulnerable individuals once they obtain housing, in order to ensure they stay housed in a safe way. 
According to the Guardian.com, Finland is a country in which homelessness has all but been eradicated. This has been done by offering homeless people permanent housing in an independent rental flat with its own contract, as soon as they are on the street.
This is a national strategy that provides people in need with homes and individually tailored support, in place of temporary accomodation and shelter, with the aim of keeping vulnerable people safe and out of harms way, when it comes to finding a place to live. Over 16,000 people are now part of Finland's housing program, helping to prevent a housing crisis in the country.