Major Religions Practiced in Utah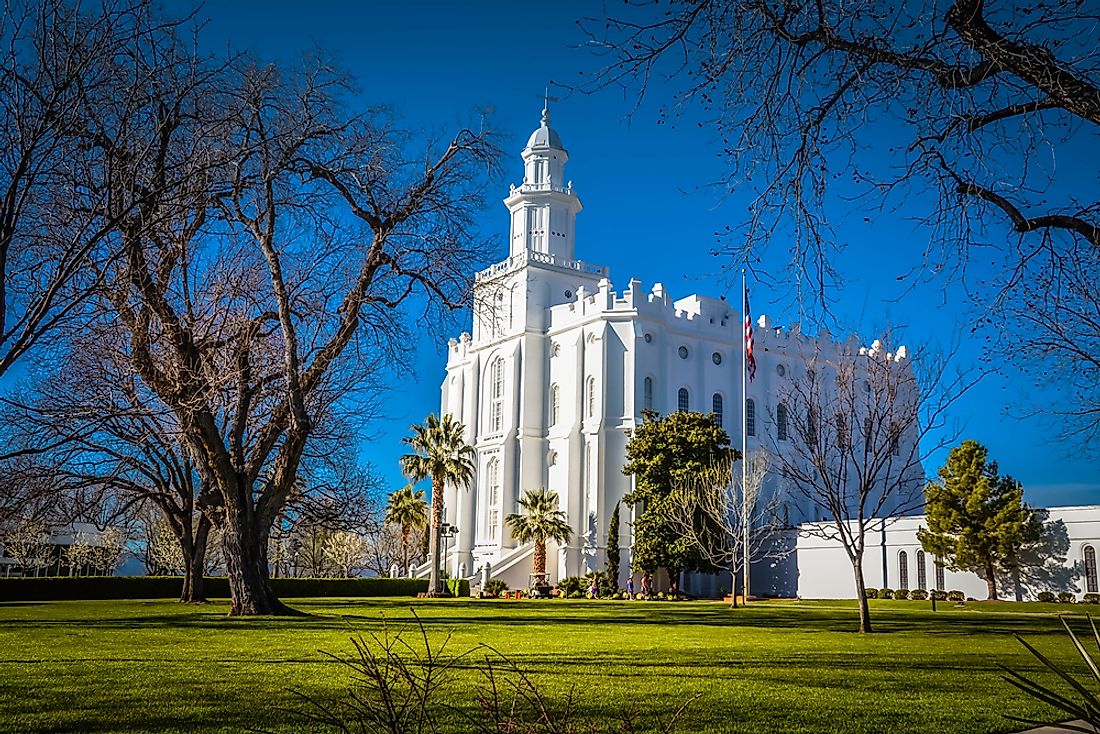 The state of Utah is the 13th largest and 31st most populous of the 50 states of the United States. It is located in the western part of the country. Utah was admitted to the Union on January 4, 1896, as the 45th state. As of 2016, the state had a population of approximately 3 million people. Between 2010 and 2017 the state had the third highest rate of population growth (12.23%) in the country, below DC (15.33%) and Texas (12.56%). In 2013 a survey conducted countrywide by Gallup concluded that Utah is the "best state to live in" based on thirteen variables including lifestyle, environment, health, education, and economy.
Population Of Utah
A majority of the three million people in Utah reside in towns and cities along the Wasatch Front. St George Metropolitans ranks second in terms of population growth behind Las Vegas metropolitan. About 81.4% are non-Hispanic White; African American, Alaska Native, and American Indian make up 1% of the population respectively while Asians make up 1.9% of the population. 26.0%. English is the largest ancestry at 26% followed by German 11.9%, 11.8% are Scandinavian, while 9.0% are Mexican. A majority of Utahns track their origin to the Northern European descent. About one-third of the workforce can speak in more than one language due to the education program which promotes the acquisition of the second language. A majority of the population use English as the first language (87.5%), 7.4% used Spanish while German, Navajo, and French are spoken by less than 2% of the population. The English used in the state is a merger of the Midland and Northern American dialects.
Religious Demographics Of Utah
A majority of religious adults in Utah are Christians (73%) of which 7% are evangelical Protestants, 6% are mainline Protestants, 5% are Catholics and 55% practice Mormonism. 4% practice other religions other than Christianity while 22% of the do not have religious affliliation. A large number of Utahns are members of the Church of Jesus Christ of Latter-day Saints (LDS), popularly referred to as Mormons. About 55% of the state's population are said to be members of the religion, the highest percentage in the country. Mormons make up between 34%–41% of Salt Lake City's population. The LDS church has a high influence on the people of Utah and prefers conservatism rather that contemporary, a view clearly witnessed in the state's high birth rate that is 25% higher than the U.S average. The LDS church has a following of about 1.9 million people, the Catholic church 160,125, while the Southern Baptist Convention has a population of 12,593.
What Is The Religious Composition Of The Adult Population Of Utah?
| Religion | % of adherents in total population |
| --- | --- |
| Christian | 73% |
| Non Christian Faiths | 4% |
| Unaffiliated | 22% |
| Don't Know | 1% |