World Facts
What Is the Capital of Mississippi?
The capital city of Mississippi is Jackson.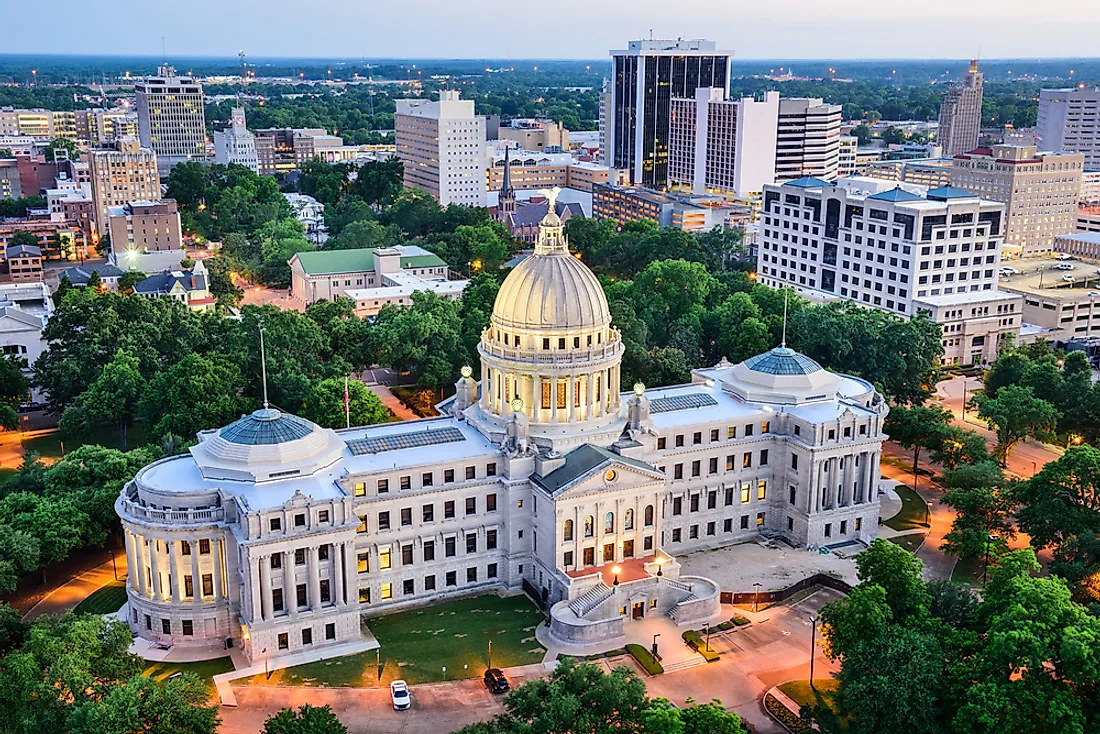 The state capital of Mississippi is Jackson. It owes its name to General Andrew Jackson who was honored for his role in the Battle of New Orleans in 1812. Its slogan is, "The City with Soul" and it has spurned great musicians from the gospel, folk, and jazz genres. The 2010 US Census put the population of Jackson at 173,514 and the Metropolitan jurisdictions at 539,057 people.
History Of The Capital City Of Mississippi
The city of Jackson was founded in 1822 by Peter Aaron Von Dorn, who was a lawyer and plantation owner of Dutch descent. In 1863, the city of Jackson was captured during the two battles of Vicksburg. Upon capture of the city, the forces of the Union/Confederate army burned it down, and only chimneys were left standing. The city then gained the moniker of "Chimneyville."
The discovery of natural gas in the 1930's around Jackson spurned economic growth in the city, which was witnessed through the 20th century. From the mid-1960's to the present, Jackson has developed rapidly. On the entertainment front, the city is home to one of the leading recording companies for Blues, gospel, and soul music in the US, Malaco records. Jackson is also the medical center of the state of Mississippi, and the first lung transplant was successfully carried out in the state in 1963. CN Traveller named Jackson as one of the "top 10 friendliest cities" in the United States.
Geography Of The Capital Of Mississippi
Jackson lies in the northeastern parts of Hinds County and a small part of the city is also shared by Madison and Rankin counties. Pearl River lies on its eastern border. Jackson, according to the US Census Bureau, occupies an area of 113.2 square miles. Jackson city is located on top of an extinct volcano found 2,900 feet below the surface and is therefore the only city in the US with this feature. The peak of the dead volcano is buried directly beneath the Mississippi Coliseum
Economy Of Jackson

The economy of the capital city of Mississippi is primarily based on the manufacturing industry. It houses major industries like machinery, food processing, and metal products among others. Agriculture is also practiced around Jackson which includes rearing of livestock and poultry, and growing crops such as soybeans and cotton. Major corporations with headquarter in Jackson include the EastGroup Properties Inc, Cal-Maine Foods inc, and Trustmark Corporation among others
What is the Capital of Mississippi?
The capital city of Mississippi is Jackson.
This page was last updated on August 25, 2017.
Citations
Your MLA Citation
Your APA Citation
Your Chicago Citation
Your Harvard Citation
Remember to italicize the title of this article in your Harvard citation.