Society
What Is Rhythm And Blues Music (R&B)?
Following World War II, R&B, originating in the African American musical community, exploded into the mainstream.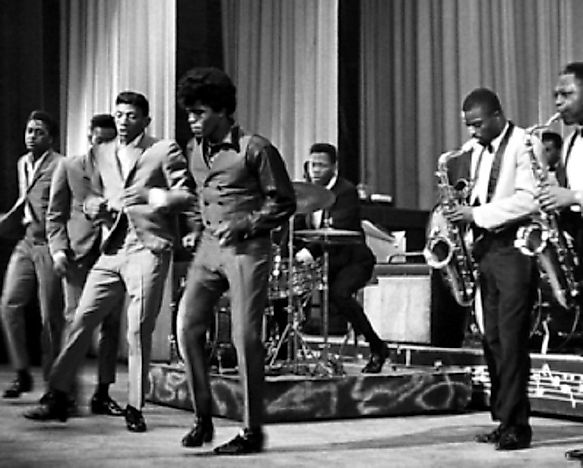 One notable characteristic about good music is that, when it hits you, you seemingly no longer feel much of the pain of daily life. Music is like medicine to the body and the soul. It reduces anxiety and helps the mind to focus rather than wander. Music comes in different forms and styles commonly referred to as genre. Musical genres can be categorized according to time, place, function, and outstanding characteristics such as dancing or the performance mode. Artists and music composers have the ability to mix two or more musical genres to come up with a unique form of music. One of the most popular music genres is the rhythm and blues, commonly abbreviated as R&B or RnB.
5. Overview and Characteristics -
Rhythm and Blues is an African-American genre of music which combines soulful singing and a strong back-beat. Rhythm and blues was used to describe any music that was composed by and for black Americans. RnB music band usually consist of a piano, a pair of guitars, drums, bass, and saxophones. There are background vocalists to back up the main singer. Singers are usually emotionally engaged with the lyrics although they remain cool and in control. The band is normally dressed in uniform, mostly suits. The music follows a predictable structure and patterns of chords. Rhythm and blues music thus combines the element of Jazz and blues to create a very personalized form of rhythm which is an outstanding musical style in around the world.
4. Origins -
R&B is a popular music form that was initially created by and for African Americans in the United States, and rally taking off at the national level in the 1940s. The unemployment during the World War II led to the migration of the rural poor to the cities leading to the creation of young and energetic urban black audience. The dominance of the swing music began to fade with the demand for exciting dance music increasing. Artists broke away from big bands to perform in small combos emphasizing blue-styled music structure. In 1949, Billboard Magazine coined the term "Rhythm and Music" to reflect a change in musical tastes of African Americans. R&B quickly captured the imaginations of both the whites and the black audience.
3. Spread and Development -
In 1948, black music was being marketed under the name "Blues and Rhythms" by the recording company RCA Victor. However, the words were reversed by Wexler of Atlantic Records. By then musicians cared little about the difference between jazz and R&B with musicians often recording both genres. Many swing bands, including Johnny Otis, recorded and performed R&B weekly with Atlanta becoming a focal point for early RnB. By 1950s, R&B had developed regional variations with a strong distinctive style which managed to spread out of New Orleans. From the 1960s to 1980s, rhythm and blues bands dominated most of the national charts in most parts of the US.
2. Notable Musicians, Past and Present -
Some of the notable musicians who have propelled R&B to its current fame include Chuck Willis, who was at the top of the chart in the 1950s. Ray Charles was a talented pianist who infused different styles including country and pop music into his performance. James Brown and Little Richard are also some of the pioneers of R&B music. The contemporary R&B world has been dominated by artists such as R Kelly, Usher Raymond, Mary J Blige, Tony Braxton, Boys II Men, and Aaliyah, among many other famous artists.
1. Cultural Significance and Artistic Legacy -
Rhythm and Blues music played a critical role in the decentralization of the independent record labels, ranging from Los Angeles to other parts of the country such as Atlanta in the 1940s. The sound quality of recordings improved significantly. Some of the top female artists like Ruth Brown and LaVern Baker were introduced into R&B. R&B was a preferred music for the teenagers because unlike rock and roll which was mainly composed of adult content, R&B was content friendly.