Economics
What Are the Top Exports of Canada?
Cars, aircraft, helicopters, spacecraft, coal, potassic fertilizers, wheat and raw aluminum all top the list of Canada's top exports.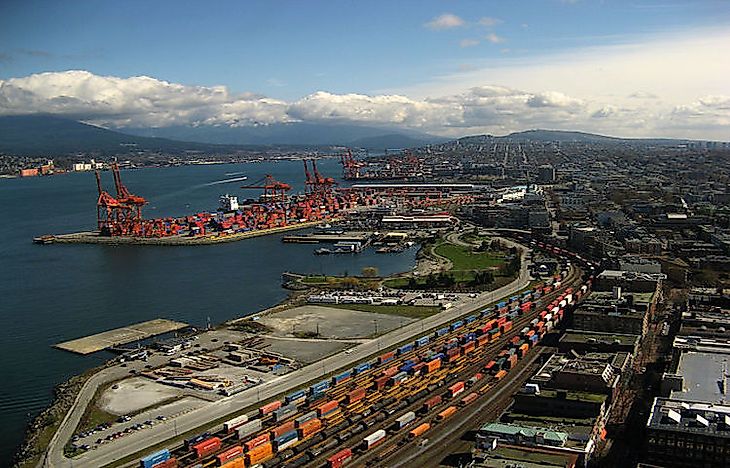 Cars, aircraft, helicopters and spacecraft, coal, potassic fertilizers, wheat, and raw aluminum all top the list of Canada's top exports. The country ranks as the 11th largest economy worldwide and its exports were valued at $523.904 billion in 2015. Canada boasts a highly developed economy dominated by the services, manufacturing, and mining sectors. Its manufacturing sector produces both industrial and consumer goods which have a market within and outside its borders. In addition to manufactured materials, the country's natural resources compete favorably in the world market including oil, iron ore, coal, and aluminum. The service industry has established Canada as a world leader in finance, tourism, telecommunication, wholesale and retail, and healthcare.
What Are The Top Exports of Canada?
Economy Of Canada
The Canadian dollar, the country's currency, is ranked fifth in regards to reserve currencies held by countries. The nation's GDP is estimated at $1.6 trillion, and it ranks 10th and 15th by PPP. In 2015 Canada's GDP reflected a 0.5% growth. The country's GDP per capita stands at $56,100 to rank 10th and 9th by PPP. Contribution by sector to the GDP is approximated as follows: services (69.8%), industry (28.5%), and agriculture (1.7%). The nation's primary industries range from petroleum and natural gas, food items, minerals, transportation equipment, fisheries, chemicals, and wood and paper products. Canada's unemployment rate stands at 6.6%, and the services sector is the largest employer at 76%. The public debt is 33.8% of GDP and foreign reserves held are estimated to be $65.82 billion. In 2012, the country's expenses were $750 billion while the revenues were $682.5 billion.
Top Exports Of Canada
Cars make up the bulk of Canada's exports, and they are exported at a value of $47,632 million. Aircraft, helicopters, and spacecraft follow at $7,322 million and aircraft parts shipped are worth $2,758 million. Top exports from the mining industry are coal ($6,766 million); raw aluminum ($5,570 million); iron ore ($4,569 million); gold ($3,730 million); and copper ore ($3,107 million). Major exports from the manufacturing sector are potassic fertilizers ($6,519 million); pharmaceuticals ($5,162 million); sulfate chemical wood pulp ($4,390 million); ethylene polymers ($4,022 million); gas turbines ($3,231 million); spark-ignition engines ($2,740 million); and refined petroleum ($2,514 million). The rest of Canada's top exports are wheat ($6,317million); rapeseed ($5,190 million); rapeseed oil ($3,398 million); pork (2,828 million).
Top Export Partners Of Canada
The nation benefits from a Free Trade Agreement with the US, and the two countries are signatories to the North American Free Trade. This close relationship has placed the US as the largest buyer of Canada's exports at 75.2%. Mexico is also a member of the North American Free Trade, and it thus enjoys strong trade ties with Canada. 1.51% of Canada's exports are destined for Mexico. China has established trade relationships with Canada since 2003, and it currently imports 4.10% of Canada's exports. Canada's top export partners in Europe are the UK (3.17%), Germany (0.8%), France (0.7%), Belgium (0.6%), and the Netherlands (0.5%). An estimated 11% of the country's exports head to Asia including the countries of Japan (1.93%), India (0.86%), South Korea (0.81%), and Hong Kong (0.4%).
What Are the Top Exports of Canada?
| Rank | Export | Value ($USD, Millions) |
| --- | --- | --- |
| 1 | Cars | 47,632 |
| 2 | Aircraft, Helicopters, Spacecraft | 7,322 |
| 3 | Coal | 6,766 |
| 4 | Potassic Fertilizers | 6,519 |
| 5 | Wheat | 6,317 |
| 6 | Raw Aluminum | 5,570 |
| 7 | Rapeseed | 5,190 |
| 8 | Pharmaceuticals | 5,162 |
| 9 | Iron Ore | 4,569 |
| 10 | Sulfate Chemical Woodpulp | 4,390 |
| 11 | Ethylene Polymers | 4,022 |
| 12 | Gold | 3,730 |
| 13 | Rapeseed Oil | 3,398 |
| 14 | Gas Turbines | 3,231 |
| 15 | Copper Ore | 3,107 |
| 16 | Pork | 2,828 |
| 17 | Aircraft Parts | 2,758 |
| 18 | Spark-Ignition Engines | 2,740 |
| 19 | Nickel Mattes | 2,563 |
| 20 | Refined Petroleum | 2,514 |