Economics
What Are The Major Industries In Ethiopia?
Food processing is an important industry in Ethiopia.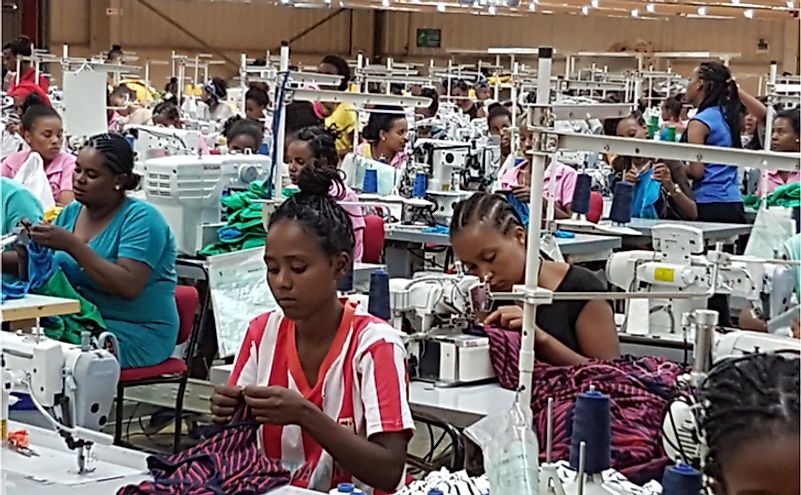 Ethiopia is strategically located in the Horn of Africa. The country is home to approximately 102 million people. The land-locked country is renowned for its beautiful landscapes with numerous rivers, jungles, fertile land, and the Great Rift Valley.
Ethiopia is located near the markets of Middle East, Sudan, South Sudan, Kenya, and Somalia. Being a landlocked country, Ethiopia uses Djibouti's seaport for its trading activities. Ethiopia one of the fastest-growing economies in the continent. According to the Economist Intelligence Unit (EIU), Ethiopia's GDP growth rate will increase by around 7.8% to 10% by 2023. The country intends to be a middle-income economy by 2025. Ethiopia's major industries include agriculture, construction, manufacturing, resources and energy, tourism, and food processing.
Agro-based Industry
The agriculture industry in Ethiopia contributes to over 50% of its GDP. Ethiopia experiences favorable weather conditions leading to intensive agricultural practices within various diverse ecological zones. Additionally, the government has embraced both small scale and large-scale farming leading to high production of livestock products and crop yields. The Ethiopian agricultural sector covers agro-processed products, beverages, livestock products (eggs, milk, and meat), leather and textile industries. It also produces apparel, leather goods, and finished meat products for export and domestic purposes. The cash crop farming sector employs over 60% of Ethiopian working population. Major cash crops grown include spices, coffee, tea, cut flowers, honey, cotton, wheat, oilseeds, khat, beeswax, vegetables, fruits, and pulses. The high-value oil seeds cultivated in Ethiopia accounted for $446 million in exports while fruits and vegetables generated $538 million in the year 2017.
Moreover, Ethiopian farmers also grow coffee which is among the most traded products in the world. Over 15 million workers get involved in various processes of producing coffee with annual export revenue amounting to $881 million in 2016/2017. The government plans to increase its coffee exports revenue to 2 billion dollars by 2019/2020. The subsistence livestock farming is also part of Ethiopia's agricultural sector with most activity taking part in the lowlands. Mutton, beef, and goat meat processing contributed $97 million worth of revenue while leather and raw hides' exports revenue amounted to approximately $74 million in 2017. The agriculture-related industries act as a pillar to other segments of the Ethiopian economy such as machinery production as well as wholesale and retail businesses.
Food Processing Industry
Ethiopia's food sector generates large amounts of revenue to the government. The popular food factory products are meat, butter, pasteurized milk, frozen food, fresh fruits, bakery products, sugar, and cheese. The food processing industry employs about one million people. The food processing industry is closely related to the Agriculture industry as most of its raw materials are farm produce.
Construction Industry
The construction sector in Ethiopia has recorded 11.6% annual growth fuelled by an increase in infrastructure investments across the regions. The non-residential and residential areas may further escalate the growth creating more employment, trade, and industry value. Most of the construction investment falls under the energy and infrastructure sector. This sector contributes over 9.5% of the country's GDP. The industry has been able to provide cost-effective homes for the benefit of low-income households. Moreover, Ethiopia's construction sector employs over 1.8 million people making it the second-largest operating segment. The government policies help to identify the various constraints within the industry and facilitates the implementation of laws. Additionally, policy implementation and rapid growth have attracted foreign businesses. The policies have paved the way for the involvement of the Chinese and European investors in industrial growth and infrastructural development. The Ethiopian construction industries have also embraced partnerships with suppliers, consultants, contractors and engineers among others.
Manufacturing Industry
The manufacturing industry in Ethiopia plays a significant role in the country's economy. Companies engage in the production of processed food, textiles, beverages, tobacco, chemical products, footwear, soaps, and leather among others. Small enterprises and cottage industries have embraced the nonfarm employment; creating more working opportunities for Ethiopians. The industries have also led to the production of consumer-ready products like furniture, woven fabrics, jewelry, footwear, baskets, utensils, pottery, farming, and construction products. Ethiopia has the most prominent manufacturing park in Africa the "Hawassa Industrial Park." The park boasts of numerous co-related manufacturing industries dealing with a textile mill and water treatment plant. Furthermore, it is the only park in Africa to exclusively manufacture textile and apparel products. The park employs over 60,000 people who are mostly women. Ethiopia's manufacturing sector has helped the economy by employing many people. It has also contributed to a diversified economy.
Resources And Energy Industry
Mineral resources mined in Ethiopia like tantalum and gold contribute about 10% of its GDP. The major gold mining areas are Kibre Mengist and Yubdo which are located south and west of Ethiopia respectively. On the other hand, tantalum mining takes place at the Kenticha mines in Oromia region. The approximate annual production of tantalum is 120 tons. As of 2013, Ethiopia was one of the world producers of tantalum. The country also has niobium, gemstones, soda ash, and rock salt (found in Danakil plain). Ethiopia has the potential of mining natural gas and petroleum. The energy sector impacts both the social and economic lives of the Ethiopian population. Hydroelectricity comes from dams stationed at Blue Nile River and its tributaries, Awash River, Shebele River, Omo River, and Gilgel Gibe River. The government plans on expanding its hydroelectric power stations to various other parts of the country. This expansion will result in rural electrification.
Tourism Industry
In 2006, the tourism and services sector contributed to 5.5% of Ethiopia's GDP with significant players being private companies. The industry employs thousands of local people. Some of the main tourist attractions in Ethiopia include national parks such as the Simien Mountains National Park, historical sites, and antiquities. More specifically, tourists visit the rock-hewn Lalibela churches, Aksum ruins, Tiya, Negash Mosque, Harar Jugol and Gondar among other places. Additionally, the diverse and intriguing Ethiopian culture also acts as a tourist attraction. Tourism is among the many initiatives that the government is promoting to eradicate poverty and heighten economic development. The European Council named Ethiopia as the "World's Best Tourism Destination" in 2015.
About the Author
Sharon is a Kenyan native with a wide range of interests. An accountant and financial analyst by profession, Sharon enjoys writing about world facts, the environment, society, politics, and more.
This page was last updated on September 11, 2019.
Citations
Your MLA Citation
Your APA Citation
Your Chicago Citation
Your Harvard Citation
Remember to italicize the title of this article in your Harvard citation.