Economics
What Are The Biggest Industries In Belgium?
Belgium has a well-developed industrial sector.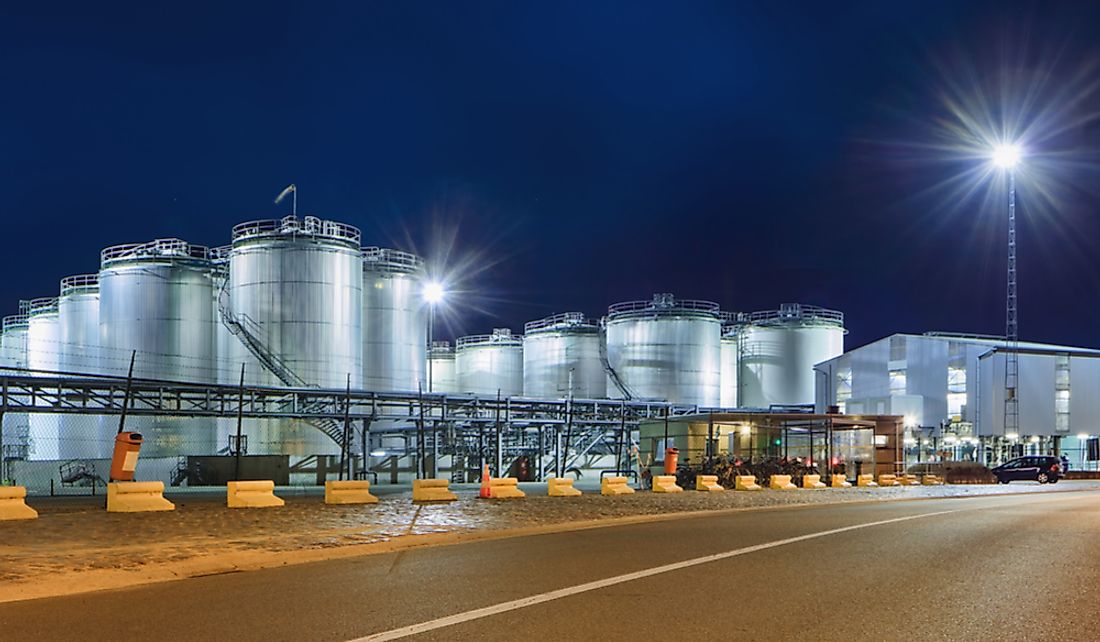 Belgium's economy is among the most advanced in Europe which has taken advantage of its geographical location in the continent and has developed a highly sophisticated transport network with a diversified commercial and industrial base. Belgium underwent the first industrial revolution in Europe in the 19thC and so far, it has developed a sophisticated transportation infrastructure which includes highways, railways, canals, and ports which have enabled the country to incorporate its industries with those of its neighbors. Most of the industries in Belgium are located in the most populous regions in the northern part of the country particularly in the Flanders and around the city of Brussels. According to the estimates of 2018, Belgium had a nominal GDP of about $512 billion while its GDP based on purchasing power parity in 2017 was about $529.23 billion. The country's nominal GDP ranks the 25th highest in the world and the 37th highest based on purchasing power parity. Belgium imports most of its semi-finished and raw material goods which are processed and exported as finished goods to different countries around the world. Belgium has relatively few natural resources except for coal which is no longer exploited because it is not economically viable anymore, and the fertile soils; however, different industries are found within the country which includes refining, textiles, chemicals, steel, pharmaceuticals, food processing, electronics, machinery fabrication, and automobiles among others. The service sector accounts for about 74.9% of the country's GDP and agriculture contributes approximately 1% of the GDP.
Agriculture
Arable land is one of Belgium's most important natural resources, however, only a tiny fraction of the population in Belgium engages in agriculture. The agricultural industry has been shrinking both as an employer and its significance to GDP. Approximately 1/4 of the country's land is utilized for agriculture, and they are under permanent cultivation and out of these more than 1/5 comprises of pasture and meadows. Some of the main crops cultivated in Belgium include sugar beets, flax, potatoes, cereals, and chicory. In the Flanders region, cultivation of ornamental plants, vegetables, and fruits are the main agricultural activity. The country's major agricultural activity surrounds livestock particularly meat and dairy products which account for more than two-thirds of all farm output value. Potatoes, forage crops, oats barley, and wheat are widely cultivated across the country, but they are particularly common in the southeastern part of the country. Typically, there are two trends in agriculture observable in Belgium; the first one is the diminishing or disappearing of small family farms and secondly the increasing dominance of large-scale agribusiness. Over the last 30 years, small scale farms in Belgium declined by 80%. This trend has resulted in expanding output in agriculture as a result of adopting new technology and scientific research on crops. Although the number of small scale farms has been reducing over time, Belgium produces more and from 1995 to 1999 crop output in the country went up by 9%. In 1999, Belgium produced sugar beets of approximately 6.15 MMT, potatoes of 2.7 MMT, and wheat of about 1.3 MMT. The country has attained self-sufficient in sugar production, and it imports most of the food items from the Caribbean, which are re-exported to different countries in the European Union. Similarly, Belgium imports also raw crops and processes them for export markets.
Manufacturing
Industries in the manufacturing sector in Belgium account for approximately one-third of the country's GDP and play a significant role in the economy. Major manufacturing activities are found in the eastern provinces of Limburg, Flanders, and Hainaut. One of the regions that has come forward as a key manufacturing zone in Belgium includes the corridor running between Antwerp and Brussels where several industries are located. Some of the dominant industries include food processing, paper manufacturing, glass, chemicals, textiles, steel, and metallurgy. Belgium is among the global leaders in processing of cobalt, zinc, copper, lead, and radium. Petroleum refineries are located around Antwerp where it is also the leading location in trading and diamond cutting. Lace from Belgium has had global fame for centuries although currently there has been a decline in the sector which has largely been depending on handwork particularly with the aging population. Currently, there are specialist schools in Binche and Mons, which have been established to train young people. In the 20th century, there was a phenomenal growth in engineering and foreign direct investment. There are numerous assembly plants in Belgium, four different foreign automobile makers, and similarly the presence of foreign manufacturing companies of heavy electrical equipment and goods. There are also numerous manufacturers of specialized plastics and machine tools.
Finance
The financial sector in Belgium has experienced tremendous growth from the early 1960s, and there are numerous banks operating across the country but most of them being foreign and they are mainly found in the city of Brussels. The country's central bank, also known as the National Bank of Belgium, is responsible for issuing of currency and ensuring the security of national finance as well as providing financial services particularly to the Federal Government. Similarly, the European Central Bank is also located in Brussels, and it is responsible for formulating key financial and monetary policies for the European Union. The country's stock exchange was founded in the early 19th century in Brussels and in 2000 they merged with Paris stock exchange and Amsterdam stock exchange to form the Euronext which became a wholly integrated cross-border stock and equities market. The country has been targeted by most foreign investment companies in finance and energy, especially in the 21st century.
Trade
The economy of Belgium relies heavily on trade and the country exported goods worth $250.8 billion in 2016. The country exports a wide range of items such as chemicals, pharmaceuticals, motor vehicles, machinery, food items, textiles, diamonds, iron, and steel among many others. The leading export destination for most of Belgium's products includes the United States and several countries of the European Union especially France, Germany, Netherland, Italy, and the United Kingdom among others. In 2016, Belgium imported goods valued at $251.7 billion in 2016. Some of the import items include raw materials, raw diamond, machinery, foodstuffs, Pharmaceuticals, Petroleum, and transport equipment among others. Some of the leading import partners include Germany, Netherlands, France, the UK, Ireland, and China among others.
Prospects of the Economy
According to OECD, the economy of Belgium slowed down in 2018, and it is projected to maintain 1.5% growth in 2019 and 2020. The main driver of Belgium's economy in future will be the domestic demand, and it is expected that government investment will be strong in 2020, and similarly, the private investment will offer the much-needed support particularly in the coming two or more years.
About the Author
Benjamin Elisha Sawe holds a Bachelor of Arts in Economics and Statistics and an MBA in Strategic Management. He is a frequent World Atlas contributor. 
This page was last updated on May 1, 2019.
Citations
Your MLA Citation
Your APA Citation
Your Chicago Citation
Your Harvard Citation
Remember to italicize the title of this article in your Harvard citation.