Westminster Cathedral - Notable Cathedrals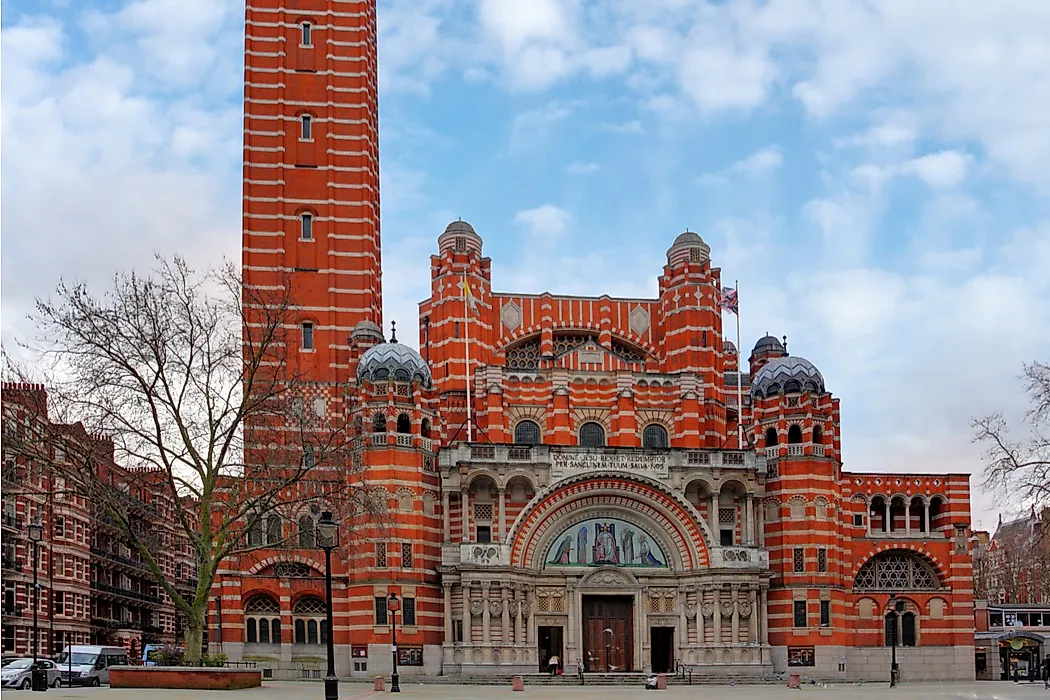 The Metropolitan Cathedral of the Precious Blood of our Lord Jesus Christ, commonly known as Westminster Cathedral, is the largest Catholic Church in Wales and England. It is located in the city of Westminster. It acts as the mother church of the Catholic Church of England and Wales and is the seat of the Archbishop of Wales. The land on which the cathedral is located was a marshland known as the Bulinga Fen in medieval times.
History
After the religious turmoil of the Reformation in Britain, Catholic worship was banned and heavily abridged in the country. It was not until the 19th century that Catholic worship was restored and the Catholic Church officially reestablished. Since the newly established hierarchy of the church wanted a mother of all the established churches in Britain, they acquired the Tothill Fields in Westminster and foundation of the Westminster cathedral commenced in 1895. John Francis Bentley designed the structure of the Cathedral in extravagant Byzantine style, making it unique among all English Cathedrals in Europe. In 1903, the Cathedral opened its doors to worshipers, but since the interior was incomplete, it could not be consecrated until 1910. Queen Elizabeth II became the first serving monarch in the United Kingdom to visit a Catholic Church in 1977 since the Reformation.
Unique Features
The Westminster Cathedral is one of the most remarkable Cathedrals in Europe incorporating neo-Byzantine architecture. The most dominant feature of the Cathedral is the massive Baldacchino made from white and colored marble, lapis lazuli, pearl, and gold above the high altar. Throughout the Cathedral and its chapels, there are colorful mosaic art and craft designs created after the death of Bentley.
The cathedral hosts the shrine of St. John Southworth, a Catholic martyr who was executed for his strong Catholic belief in 1654 at Tyburn. His body was brought to the cathedral in 1930. St. Gregory Chapel and the English Martyr crypt hosts the tombs and remains of Catholic martyrs and renowned leaders who played a great role in the growth of the Catholic Church in Europe.
Albeit having a short history as compared to the other English Cathedrals in Europe, the Westminster Cathedral has a distinguished choral tradition as seen from the beauty and integrity of the liturgy. Unlike other cathedrals, Westminster does not have a separate quire for the choir, instead, the choir is hidden in the apse behind the high altar. The exceptional acoustic choral coupled with the separate quire of the cathedral's building contributes to its distinctive sound.
Conservation
For over a century, no major reforms had been made in the Westminster Cathedral until 1976 when John Phillips, a renowned architect, was appointed as the Surveyor to the Fabric to commence on maintenance and repairs in the cathedral. Philips has overseen the sculpturing of mosaic arts in the cathedral albeit being opposed as they do not match with Bentley's original designs.