US Industries With The Highest Unemployment Rates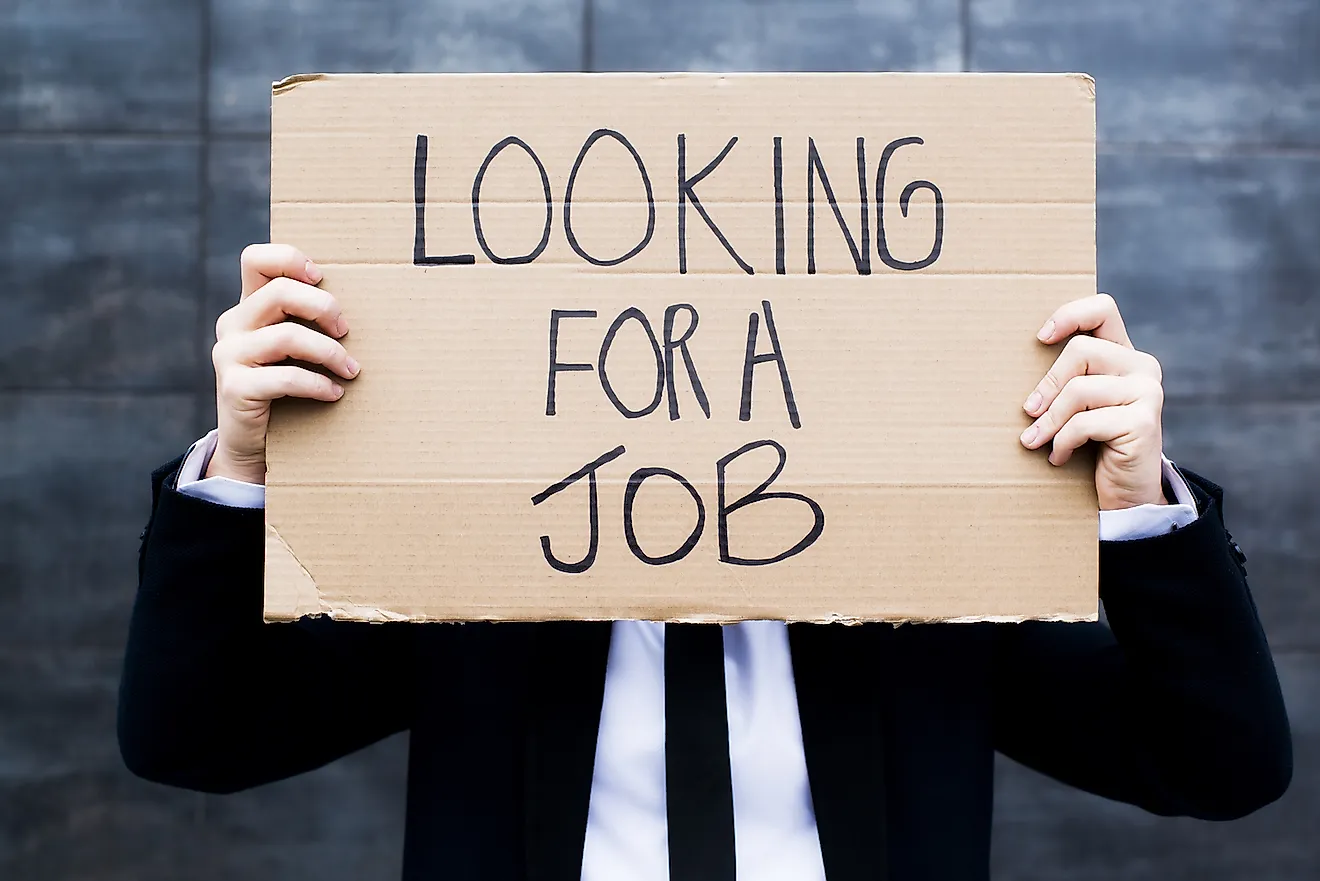 Job loss is not uniform in all industries operating in the country and also varies depending on a variety of national and international events affecting a country's economy.
As of June 2020, the leisure and hospitality industry had the highest unemployment rate in the US.
Due to new pandemic suppression measures, it is unlikely that many sectors will bounce back to pre-COVID prosperity.
Unemployment in the United States, as in other countries, is a topic that is nearly always in conversation. Unemployment rates are important because they can be used as correlative predictors of factors like overall happiness, marital health, and satisfaction. Job loss is not uniform in all industries operating in the country and also varies depending on a variety of national and international events affecting a country's economy like war, recessions, and pandemics. 
The table below exhibits 15 US industries with the highest unemployment rates. It provides a picture of the industries that are most vulnerable to pandemics as it provides data from June 2020 when the US and the rest of the world are fighting COVID-19 and its deleterious effects on economies. As per data, the leisure and hospitality industry had the highest unemployment rate in the US as of June 2020.
Income Aside, Why Does Unemployment Matter So Much?
Why does our employment status have so much impact on our state of mind as people? We're goal-driven as a group, and we like to feel like we have contributed to society. Feeling like your contribution makes a difference bolsters confidence, happiness, satisfaction, and overall contentment. This applies not only at the societal level, but the familial level as well. If we're not contributing to the wellbeing and prosperity of our families, instances of depression, anxiety, and other mental health issues are noticeably higher. 
Mental health is so closely tied to employment that the Canadian Mental Health Association likens the loss of a job to the loss of a loved one. In other words, we grieve the loss of our jobs, and go through many of the same stages and feelings as we would in any other grieving process. Additionally, the impact of unemployment crosses the barrier from mental to physical health. Studies show that men, specifically, make significantly more trips to the doctor with illness while unemployed, and imply a potential correlation between unemployment and immune health.
Whatever the lens you view unemployment through, its effects overall are negative on both societal and individual levels. Industries with higher unemployment rates, therefore, have populations who are more susceptible to the negative impacts from unemployment.
US Industries With The Highest Unemployment
Hospitality & Leisure - 28.9% 
The hospitality sector in the US was estimated to provide jobs for 17.68M Americans in 2019 and is what the Bureau of Labour Statistics classes as a "supersector". It is also an industry that has been heavily impacted by the COVID19 pandemic, as restaurants, resorts, hotels, casinos, and other leisure-related businesses shuttered their doors for an indefinite time in March 2020. The unemployment estimate for the hospitality sector in June 2020 is 28.9%. Using the 2019 numbers, that puts 5,109,520 hospitality workers out of work. 
The US Bureau Of Labour Statistics lists the bulk of hospitality workers being between 16-54 years of age. This is a wide age range, indicating that hospitality in the US is not restricted to a certain age group, and individuals are making life-long careers in this supersector. 
Mining, Quarrying, Oil & Gas Extraction - 17.8%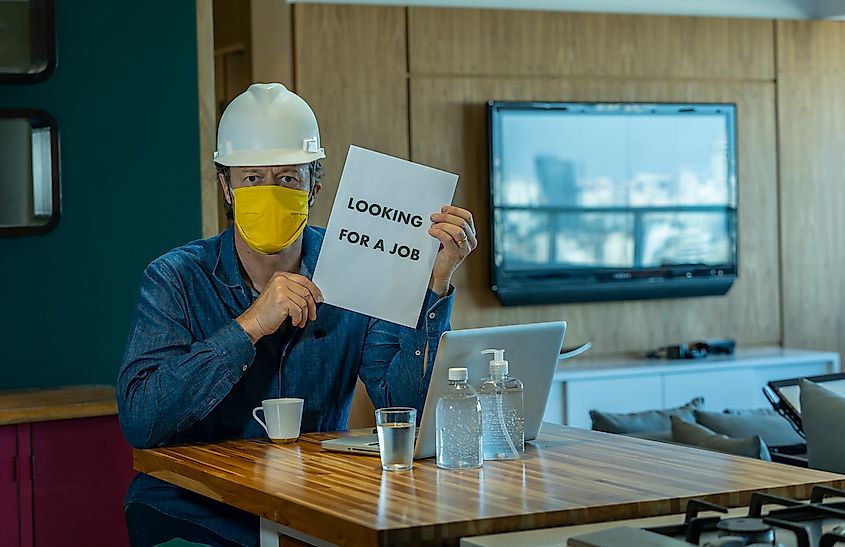 Central activities in the mining, quarrying, oil and gas extraction sector were impacted by COVID19, and this sector experienced a large downturn as a result of COVID. Pandemic quarantine rules and social distancing measures resulted in the closure of many large-scale operations. Those that were deemed essential services have still experienced difficulties with having to run much smaller teams to abide by social distancing guidelines. 
This sector is already vulnerable to market fluctuations, especially in oil and gas. Fossil fuel extraction is a complex and volatile market and combined with the uncertainty of COVID creates uncertain employment futures for many Americans. 572,500 people are employed in this sector, using the June 2020 unemployment rate that equals 101,905 Americans in this sector that are without work. Many of these individuals are furloughed, however, and are hopefully expected to return to work as the situation surrounding COVID normalizes. 
Trade, Transportation & Utilities - 12.9% 
Like Hospitality & Leisure, this is another supersector, employing 25,732,000 people in the US. Wholesale trade, retail trade, transportation and warehousing, and utilities are all included in this sector. 
Many of the businesses that operate in the trade, transportation and utilities sector were classified as essential services during the COVID19 pandemic, and felt a slightly less direct impact from quarantine protocols. The exception to this is public transportation. Due to social distancing and essential travel policies, public transportation infrastructure has gone vastly underused during the pandemic, causing the layoffs of many operators. Tangentially, fees for public transportation are a large source of income for many municipalities, and they are feeling the squeeze from such a sharp drop in ridership. As COVID lockdown eases and the public begins to move around more again, some of this will return to normal, but many expect that due to social distancing and reduced ridership, it will never bounce back to pre-COVID levels. 
Can Unemployment Levels Get Too Low?
Generally, concern about unemployment is about the rate being too high - meaning too many people are out of jobs that are eligible and looking for employment. You might think that means that 0% is the ideal amount of unemployment because everyone who wants one would have a job. What economists have found, however, is that when the unemployment rate falls below about 5%, the economy as a whole becomes inefficient. In order to provide jobs for everyone, the market creates roles that cost more than they produce. This inefficiency in productivity is negative for our economy as a whole, although on the surface it seems to be a positive indicator. 
Looking Ahead Of COVID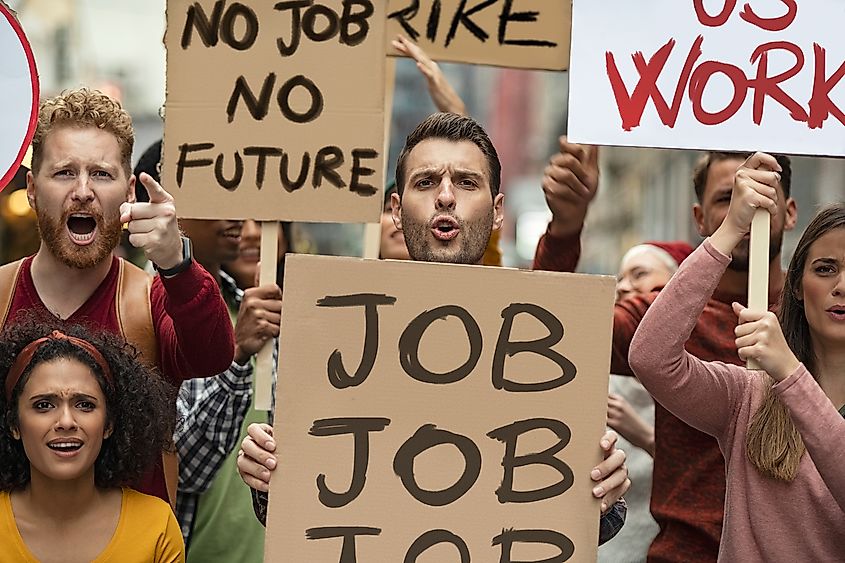 There are differing outlooks on a post-COVID economy, but most sources agree that whatever the economic landscape looks like, it will be different than it was. 
Revenues are expected to decline nearly across the board as companies cope with reduced hours, output, and volume of work. From hospitality to mining, adjustments will be made, and the consequences will be felt far into the future. Restaurants will no longer be able to seat at a pre-COVID capacity. Mining operations that use employee vehicles will have to find solutions to ensure social distancing measures can be upheld. New investments into making businesses safe for employees and customers alike are costing money at a time where sales are already suffering. 
While the details of the many projections for what the employment future holds might vary, the themes are unified - we will make it work, and we will be okay again.
Industries In The US With The Highest Unemployment Rates
| Rank | Industry and class of worker | Unemployment rate (as of June 2020) |
| --- | --- | --- |
| 1 | Leisure and hospitality | 28.9% |
| 2 | Mining, Quarrying, Oil & Gas Extraction | 17.8% |
| 3 | Other services | 14.5% |
| 4 | Transportation and utilities | 12.9% |
| 5 | Information | 12% |
| 6 | Total | 11.2% |
| 6 | Wholesale and retail trade | 11.2% |
| 8 | Construction | 10.1% |
| 9 | Manufacturing | 9.1% |
| 10 | Education and health services | 8.6% |
| 10 | Professional and business services | 8.6% |
| 12 | Self-employed workers, unemployed and unpaid family workers | 8.1% |
| 13 | Government workers | 7.3% |
| 14 | Agriculture and related private wage and salary workers | 5.4% |
| 15 | Financial activities | 5.1% |