US Cities With the Worst Road Rage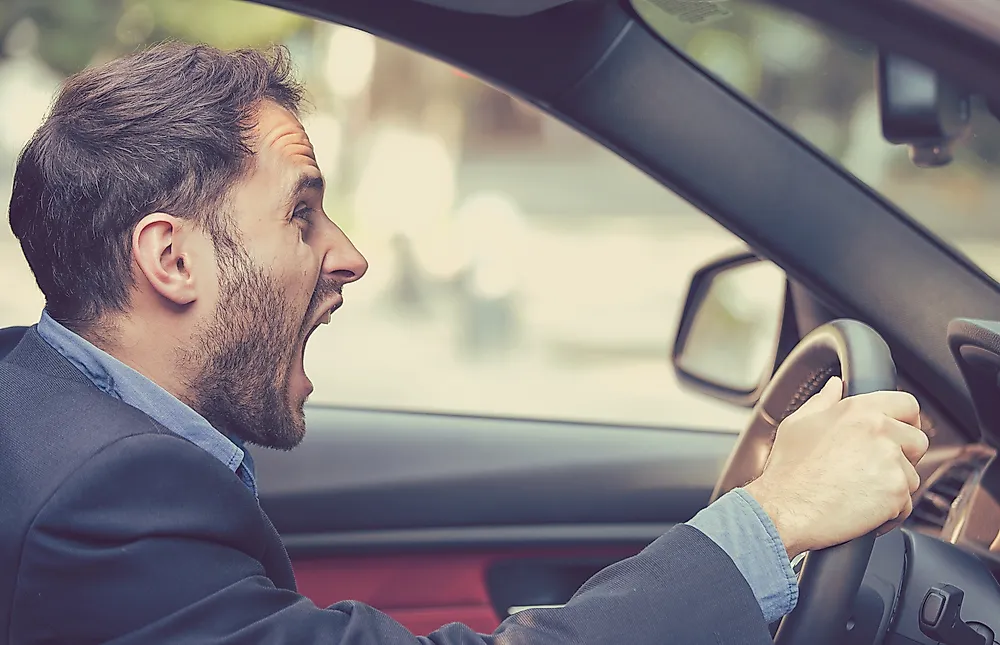 Road rage is best described as the spontaneous act of aggression by one road user towards another, often aimed at intimidating them. It can be a traumatizing experience, which has been known to result in the destruction of property, serious injury, or even death. Road rage aggression occurs in different forms. In its mildest form, it may consist of actions such as rude gestures and verbal insults. However, in many cases road rage has escalated to more aggressive levels of confrontation, involving physical altercations, assaults, and even fatal collisions. The aggression is often triggered by frustration over an event occurring on the road, such as obstruction or delay, or just plain bullying.
US Cities With the Worst Road Rage
Understanding Road Rage
A study by the Auto Insurance Center between June 2013 and April 2016, covering 24 cities in the US, brought out interesting facts about road rage.The study analyzed 65,535 Instagram posts from road users who had experienced road rage and was able to show correlations between the months, days of the week and time of the day when most cases of road rage occurred in these cities. Some of the determinants include seasonal high traffic, busy commuter days and rush hour timings, all of which represent timings when stress levels are likely to be highest.
Prevalence of Road Rage
Grouping the 24 cities in this study into four categories, the larger cities reported the highest accounts of road rage.The cities that fell in the category with highest incidents were led by Los Angeles, CA and New York City, NY which ranked first and second respectively. These were followed by Mount Pleasant, NC, Chicago, IL, San Diego, CA and San Francisco, CA, in that order.The next category of six also recording high prevalence of road rage, comprised of Anaheim, CA, Huston TX, Austin, CX, Atlanta, GA, Santa Monica, CA and Seattle, WA. Relatively lower incidents were reported in Washington, DC, Weehawken, NJ, Beverly Hills, CA, Dallas, TX, Miami FL and Philadelphia, PA.The six cities in the category with the lowest incidents, from the 24 reported, comprised Culver City, CA, Boston, MA, Hoboken, NJ, Honolulu, HI, Portland, OR and Scottsdale, AZ, in that order.
Prevailing over Road Rage
Road rage can be a serious issue that could result in injury or even death. Meanwhile, studies are showing a worrying trend that incidents of road rage are on the rise and continue to be more and more aggressive. Measures to reverse this trend are therefore urgently required. Noting that prevalence and severity of road rage are attributed to known factors such as time, location, emotional status, lifestyle, and age, it is possible for road authorities and stakeholders to develop programs around this knowledge, aimed at prevailing over road rage. For instance, driver education on measures that can help them manage frustration build up while on the road will not only deter them from becoming aggressors but also prepare them to deal with possible incidents of aggression from others without aggravating the situation.
US Cities With the Worst Road Rage
| Rank | City |
| --- | --- |
| 1 | Los Angeles, CA |
| 2 | New York, NY |
| 3 | Mount Pleasant, NC |
| 4 | Chicago, IL |
| 5 | San Diego, CA |
| 6 | San Francisco, CA |
| 7 | Anaheim, CA |
| 8 | Houston, TX |
| 9 | Austin, TX |
| 10 | Atlanta, GA |
| 11 | Santa Monica, CA |
| 12 | Seattle, WA |
| 13 | Washington, DC |
| 14 | Weehawken, NJ |
| 15 | Beverly Hills, CA |
| 16 | Dallas, TX |
| 17 | Miami, FL |
| 18 | Philadelphia, PA |
| 19 | Culver City, CA |
| 20 | Boston, MA |
| 21 | Hoboken, NJ |
| 22 | Honululu, HI |
| 23 | Portland, OR |
| 24 | Scottsdale, AZ |