Travel
UNESCO World Heritage Sites In South Africa
Meteorite impacts, wetlands, and ancient kingdoms are all represented among South Africa's 8 World Heritage Sites.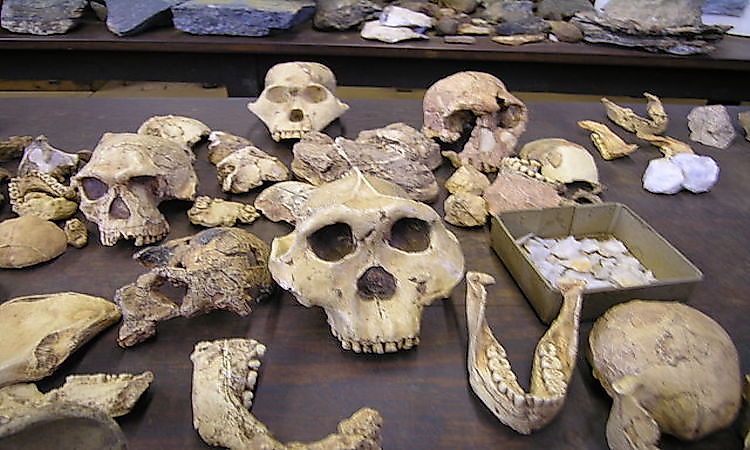 South Africa is the southernmost country in Africa bordering both the Atlantic and the Indian Oceans and has surrounded the kingdom of Lesotho. The country has three capitals; Pretoria, Bloemfontein, and Cape Town with Pretoria being the administrative capital. The largest city is Johannesburg. Tourism an important economic sector in South Africa. Unlike other African countries where the majority of tourists are Europeans, 73% of tourists in South Africa come from the neighboring Southern African Development Community (SADC). The country offers a diverse collection of tourist attraction and is rated as one of the most megadiverse countries in the world.UNESCO has inscribed several sites in the country as world heritage sites. They include; Cape Floral region, hominid fossil sites, Isimangaliso Wetland Park, Maloti-Drakensberg Park, Mapugumbwe cultural landscape, Richtersveld Cultural and landscape, and Robben Island. In this article, we look at the history and the significance of these sites.
UNESCO World Heritage Sites In South Africa
Cape Floral Region
The Cape Floral Region is a floristic region located at the tip of the country and is the smallest of the 6 recognized floral kingdoms in the world. It is highly diverse and endemic with over 9,000 species with over 69% o them being endemic. The economic importance of this region is derived from ecotourism and harvest of the wildflowers. The World Wildlife Fund has divided the area into three ecological regions namely; Montane fynbos, Albany thickets, and the lowland fynbos. The Cape floral region experiences one of the rapid rates of extinction due to habitat loss, land degradation, and invasive foreign plants.
Fossil Hominid Sites
It is also known as Cradle of humankind as the site has produced a large number of fossils ever found with some dating back to as far as 3.5 million years ago. 2.3 million years old Australopithecus africanus was found on the site by Robert Broom in 1947 on the site. The site contains a network of limestone caves and occupies a land area of 180 square miles and has produced more than a third of the worlds discovered hominids before 2010. The hominid fossil sites have more than thirty fossil-bearing caves. In 2005, the then South African President Jacob opened a visitors center by the name Maropeng Visitors Centre which had forecasted to hold more than 500,000 visitors annually.
Isimangaliso Wetlands Park
It is located in Kwa Zulu-Natal area near Durban City. It was inscribed by UNESCO in 199 as a natural heritage center. Several natural physical features make up the park, and they include; lakes, game reserves, nature reserves, bays, and capes. The area was historically occupied by the Tsonga people who were forcefully evicted by the British colonialists in 1895 to turn the area into the wildlife reserve. They also established a town, St Lucia. UNESCO proclaimed the Park a world heritage center due to its rich biodiversity occurring in a relatively small area. The diversity is mainly caused by a variety of ecosystems which include coral reefs, sandy beaches, savannas, and wetlands. The reef in Sodwana Bay is inhabited by color changing octopuses and squid which are always ready to ambush unsuspecting prey.
Robben Island
The Robben Island is located in Cape Town and is only two square miles inhabited by 116 people as per the 2011 census. It is inscribed as a cultural site by the UNESCO. This island has been historically used to imprison political prisoners including the former president; Nelson Mandela. Due to ancient erosion, the island is only a few feet above the sea level and is relatively flat. During World War II, the island was fortified by 9.2-inch and 6-inch guns as part of the defenses for Cape Town. The Island presents a grave danger to ships and has a history of wrecking ships, this led to a Dutch administrator Jan Van Riebeeck ordering the lighting of huge bonfires in the island to warn the incoming ships. A Lighthouse in 1865 later replaced the bonfire. In 1958, a naval officer Lieutenant Peter Klerk introduced various animals to the island. The population of rabbits has immensely increased up to 25,000 and measures have been taken to reduce this number by massive hunting.
South African Attractions
South Africa, one of Africa's most developed economies is a major tourist attraction due to its biodiversity and the many heritage sited found in the country. The existence of these sites are is being threatened due to changing weather patterns and human activities.
Are There Any World Heritage Sites in South Africa?
UNESCO World Heritage Sites in South Africa include the Cape Floral Region Protected Areas, the Mapungubwe Cultural Landscape, and the Vredefort Dome.
UNESCO World Heritage Sites In South Africa
| | |
| --- | --- |
| UNESCO World Heritage Sites in South Africa | Year of Inscription; Type |
| Cape Floral Region Protected Areas | 2004; Natural |
| Fossil Hominid Sites of South Africa | 1999; Cultural |
| iSimangaliso Wetland Park | 1999; Natural |
| Maloti-Drakensberg Park | 2000; Mixed |
| Mapungubwe Cultural Landscape | 2003; Cultural |
| Richtersveld Cultural and Botanical Landscape | 2007; Cultural |
| Robben Island | 1999; Cultural |
| Vredefort Dome | 2005; Natural |
This page was last updated on April 25, 2017.
Citations
Your MLA Citation
Your APA Citation
Your Chicago Citation
Your Harvard Citation
Remember to italicize the title of this article in your Harvard citation.