UNESCO World Heritage Sites In India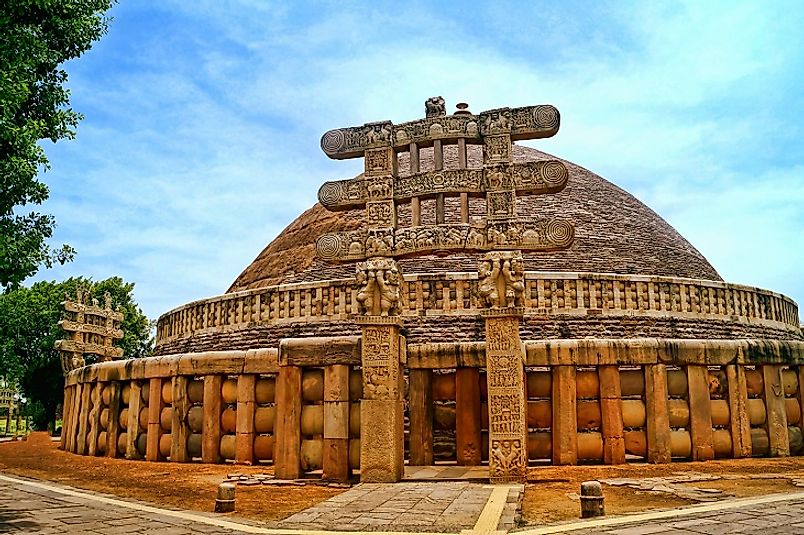 The United Nations Educational, Scientific, and Cultural Organization (UNESCO) first began to inscribe its list of World Heritage Sites in 1972. This move was taken in order to preserve and protect the world's most important cultural and natural sites. Today, India has 35 World Heritage Sites. Of these sites, 27 are cultural, 7 are natural, and 1 is of mixed importance. This article takes a look at some of the most famous UNESCO World Heritage Sites of India. Other UNESCO World Heritage Sites in India can be seen listed in the chart below.
Agra Fort
The Agra Fort was the first site in India to be inscribed as a UNESCO World Heritage Site in 1983. This cultural site, a walled city, was built during the 16th Century and used as an imperial residence during the Mughal Dynasty. This site sits along a river and is surrounded by 70-foot tall walls. The Agra Fort covers 94 acres and consists of several red sandstone palaces, including the Jahangir Palace and the Khas Mahal. The architecture here is considered a fusion of Persian and Indian styles. Four gates lead into the fort. Delhi Gate is the most famous of these, commissioned by Emperor Akbar in 1568. This gate has a wooden drawbridge for crossing the river, white marble inlays as decoration, and two life-sized stone elephant statues guarding the entrance. The Parachute Brigade of the Indian military continues to use this gate and a section of the Agra Fort.
Taj Mahal
The Taj Mahal may be the most famous UNESCO World Heritage Site located in India, and was also inscribed in 1983. It is located close to the previously mentioned Agra Fort and was built between 1681 and 1648 by Shah Jahan. He dedicated this beautiful building in memory of his favorite wife, Mumtaz Mahal. This site is protected because it is the greatest example of Indo-Islamic architecture in the world. It is recognized by its white marble buildings with precious and semi-precious stones inlaid among all of the structures. Some of the structures include a mausoleum, a mosque, a guest house, gates, and gardens. The tomb is famous for its large dome and four minarets as well as the reflecting pool leading up to its entrance. The tombs of both Mumtaz Mahal and Shah Jahan are resting next to each other in the lower level of the building.
Kaziranga Wildlife Sanctuary
The Kaziranga Wildlife Sanctuary is located in Assam, a state in northeastern India. It is located along the border of the Eastern Himalaya Biodiversity hot spot and was inducted as a natural UNESCO World Heritage Site in 1985. The environmental value of this area has been recognized since at least 1908, when it was protected as a reserved forest. This 170 square mile area became a National Park in 1974. Today, the Kaziranga Wildlife Sanctuary harbors a population of 2,401 Indian one-horned rhinoceros, the largest in the country. In addition, this sanctuary was declared a Tiger Reserve in 2006 because it is home to the highest concentration of tigers of any protected area in the world. Other animals living here include elephants, swamp deer, and water buffalo.
Prospective Future UNESCO World Heritage Sites in India
India is home to one of the highest numbers of UNESCO World Heritage Sites among the countries of the world. Its list is expected to continue growing. Currently, this country has a proposed list of an additional 43 sites. These sites have already been submitted to the UNESCO World Heritage Site Committee for evaluation, a process known as pre-listing. Among these 43 sites are temples, palaces, national parks, waterways, and monuments.
UNESCO World Heritage Sites In India
| | |
| --- | --- |
| UNESCO World Heritage Sites in India | Year of Inscription; Type |
| Agra Fort | 1983; Cultural |
| Ajanta Caves | 1983; Cultural |
| Bhimbetka Rock Shelters | 2003; Cultural |
| Champaner-Pavagadh Archaeological Park | 2004; Cultural |
| Chandigarh Capitol Complex Modernist Architecture of Le Corbusier | 2016; Cultural |
| Chhatrapati Shivaji Terminus (Victoria Terminus) | 2004; Cultural |
| Chola's Great Living Temples | 1987; Cultural |
| Elephanta Caves | 1987; Cultural |
| Ellora Caves | 1983; Cultural |
| Fatehpur Sikri | 1986; Cultural |
| Goa's Churches and Convents | 1986; Cultural |
| Great Himalayan National Park Conservation Area | 2014; Natural |
| Hampi Group of Monuments | 1986; Cultural |
| Humayun's Tomb in Delhi | 1993; Cultural |
| Kaziranga National Park | 1985; Natural |
| Keoladeo National Park | 1985; Natural |
| Khajuraho Group of Monuments | 1986; Cultural |
| Khangchendzonga National Park | 2016; Mixed |
| Konârak Sun Temple | 1984; Cultural |
| Mahabalipuram Group of Monuments | 1984; Cultural |
| Mahabodhi Temple Complex at Bodh Gaya | 2002; Cultural |
| Manas Wildlife Sanctuary | 1985; Natural |
| Mountain Railways of India | 1999; Cultural |
| Nalanda Mahavihara (Nalanda University) Archaeological Site in Bihar | 2016; Cultural |
| Nanda Devi and Valley of Flowers National Parks | 1988; Natural |
| Pattadakal Group of Monuments | 1987; Cultural |
| Qutb Minar and its Monuments in Delhi | 1993; Cultural |
| Rajasthan's Hill Forts | 2013; Cultural |
| Rani-ki-Vav (the Queen's Stepwell) at Patan in Gujarat | 2014; Cultural |
| Red Fort Complex | 2007; Cultural |
| Sanchi Buddhist Monuments | 1989; Cultural |
| Sundarbans National Park | 1987; Natural |
| Taj Mahal | 1983; Cultural |
| The Jantar Mantar, Jaipur | 2010; Cultural |
| Western Ghats | 2012; Natural |