Travel
UNESCO World Heritage Sites In Germany
These 41 sites praise thousands of years of vibrant German culture, as well as the country's many natural riches.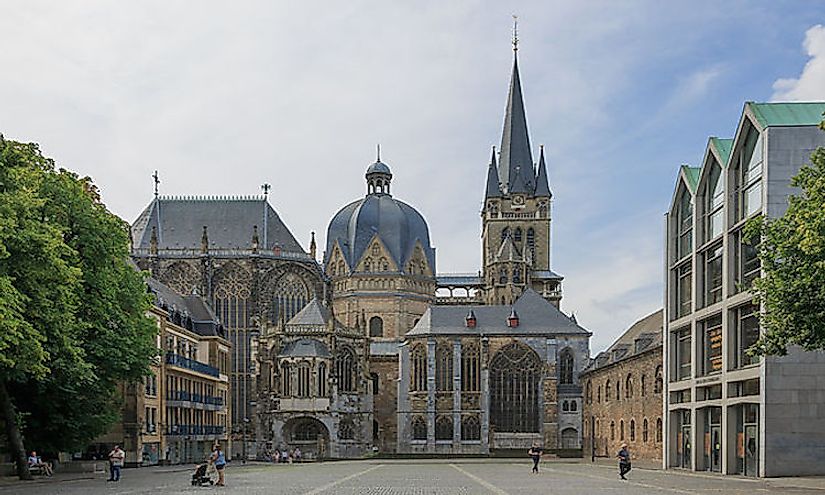 These 41 sites praise thousands of years of vibrant German culture, as well as the country's many natural riches. For example, the Aachen Cathedral was Charlemagne favorite abode and burial-place after his death. The ancient town of Bamberg is a perfect fusion of Carolingian architectural design with modernity in the most remarkable way. The natural world heritage sites like the Wadden Sea is a beautiful place full of biodiversity and features like sand dunes, sandy beaches, and low tidal coastlines. Also in this category are the Ancient Beech Forests of Germany characterized by their ecological phenomenon processes and the remarkable natural lowland beech ecosystem in the world other than the beech forests in Slovakia and Ukraine.
UNESCO World Heritage Sites In Germany
Wadden Sea
The Wadden Sea is the only place on earth characterized by extensive and continuous tidal mud flats, deep tidal creeks, and islands usually contested for by land and sea. This region unique appearance dates back to the 10th-14th centuries, formed from storm tides carrying large deposits of peat; behind coastal dunes. Thus, the whole place offers a natural heritage in the form of a coastal dune remnant. The islands have sand dunes, vast sandy beaches lie in the North Sea, and low tidal coasts are in the Wadden Sea. UNESCO declared this intertidal ecosystem a natural world heritage site in 2009. It has a high biodiversity with the salt marshes housing more than 2000 flora and fauna species. It offers breeding grounds for around 30 bird species and a bird-watching site where more than 6.1 million birds land at any given time. This region regulates the Africa-Eurasia and East Atlantic migratory flyway. Preservation efforts revolve around conserving the freshwater, coastal, and marine ecosystems by managing protected areas like marine no-take zones. Also, regulating the main activities taking place in the region such as fishing, shipping, and tourism is also important. The Trilateral Wadden Sea Cooperation controls preservation, management, and conservation of this heritage site. Even so invasive species such as algae, exotic plants and small animals introduced by human activities are a threat to this ecosystem.
Aachen Cathedral
The Aachen Cathedral is the world's oldest cathedral in Northern Europe constructed during the reign of Emperor Charlemagne, buried there in 814 upon his death. This Frankish royal estate served as a spa, Charlemagne favorite abode. The central regions in the Imperial Palace were the Palace Chapel now known as the Aachen Cathedral and the Coronation Hall located in Town Hall. For more than 595 years, the Aachen chapel functioned as the coronation church for 30 German kings and 12 queens. In the middle Ages, the Gothic Choir and more chapels were added to create a composite array that characterized the cathedral. There are round arches on the lower story in the interior and a gallery constructed with Carolingian bronze gates describes the upper story. This chapel has all the necessary elements that express an Outstanding Universal Area for which UNESCO declared Aachen Cathedral a cultural World Heritage Site in 1978. The Aachen Cathedral benefits from many laws and regulations that protect and conserve the site. For example, the Protection and Conservation of Monuments listed in paragraphs 2 and 3 in North Rhine State.
Bamberg
Bamberg is an ancient town in Upper Franconia, Germany, dating back to the 10th century. During this time, it served as a vital link to the Slav people residing in Poland and Pomerania. Before that, Henry II, the Duke of Bavaria, and a German king in 1007 had tried to make Bamberg the second Rome by making it the Bishopric Seat. During the 12th century, the town experienced its greatest prosperity regarding architecture relating to that of northern Germany and Hungary. By the 8th century, the town was already an Enlightenment Center in Southern German where prominent philosophers and historian writers like E.T.A Hoffmann and Georg Wilhelm Friedrich Hegel lived. The city's medieval and baroque architecture exerts a strong influence on its urban formation. As such UNESCO enlisted this outstanding medieval town a cultural world heritage site in 1993. The site comprises of three historical regions; the Episcopal town, the market gardener's region, and the island. Highlights in this old town include St. George and St. Peter imperial cathedrals, tombs of Pope Clemence II tomb and the Emperor Heinrich II and Cunigunde, his wife, the Tanners' cottages lying in the old Canal, Little Venice where the famous smoked beer is brewed. Bamberg benefits from the consistent protection offered forth by the laws and regulations of Germany and Bavaria.
Ancient Beech Forests Of Germany
The Ancient Beech Forests constitute of five forests all located in Germany. These forests offer a dynamic, fascinating, romantic, and a great biodiversity giving it the perfect picturesque. These forests form an extension to the great Carpathian Primeval Beech Forests, an interstate World Heritage Property as well. The forests form an array of undisturbed and complex temperate forests exhibiting the unique and comprehensive ecological features and processes. These ecosystems harbor a genetic Beech reservoir and many species that depend on the forests habitats for survival. An essential process highlighted in this ecological hub is the outstanding dominance of a single tree species in a broad range of environmental parameters. UNESCO declared this unmatched ecosystem a World Heritage Site in 2007. Preservation efforts accredited to the site include buffer zones of protected areas like national and nature parks, landscapes, biosphere reserves to safeguard the integrity of this site. Long-term protection is managed through the federal legal protection of territories belonging to national parks and biosphere reserves.
A Unique World Cultural Site
Every walk into the cultural heritage sites feels like a stroll in a far-away past. The ancient towns, museums, cathedrals and cottages carry centuries-old memories of a culture and lifestyle long gone. The natural sites are a haven of biodiversity untouched by human activities. Throughout Germany, the UNESCO World Heritage Sites provide breathtaking sceneries and memories worth a lifetime of exploring.
How Many UNESCO World Heritage Sites Are There In Germany?
Germany has 41 UNESCO World Heritage Sites that praise thousands of years of vibrant German culture, as well as the country's many natural riches. 3 out of the 41 sites are natural sites and the rest are cultural sites. Some examples of Germany's UNESCO World Heritage Sites are Weimar Classical City, Wadden Sea, Aachen Cathedral, Berlin Modernism Housing Estates, Cologne Cathedral, Frontiers of the Roman Empire, Messel Pit Fossil Site, Prehistoric Pile dwellings around the Alps, etc.
| | |
| --- | --- |
| UNESCO World Heritage Sites in Germany | Year of Inscription; Type |
| Aachen Cathedral | 1978; Cultural |
| Alfeld's Fagus Factory | 2011; Cultural |
| Ancient Beech Forests of Germany | 2007; Natural |
| Augustusburg and Falkenlust Castles at Brühl | 1984; Cultural |
| Bamberg | 1993; Cultural |
| Bauhaus and its Weimar and Dessau Sites | 1996; Cultural |
| Bayreuth's Margravial Opera House | 2012; Cultural |
| Bergpark Wilhelmshöhe | 2013; Cultural |
| Berlin Modernism Housing Estates | 2008; Cultural |
| Bremen's Town Hall and Roland on the Marketplace | 2004; Cultural |
| Carolingian Westwork and Civitas Corvey | 2014; Cultural |
| Cologne Cathedral | 1996; Cultural |
| Dessau-Wörlitz Garden Kingdom | 2000; Cultural |
| Eisleben and Wittenberg Memorials to Luther | 1996; Cultural |
| Essen Zollverein Coal Mine Industrial Complex | 2001; Cultural |
| Frontiers of the Roman Empire | 1987; Cultural |
| Hildesheim's Saint Mary's Cathedral and Saint Michael's Church | 1985; Cultural |
| Lorsch Abbey and Altenmünster | 1991; Cultural |
| Lübeck Hanseatic City | 1987; Cultural |
| Maisons de la Weissenhof-Siedlung, Modernist Architectural Work of Le Corbusier | 2016; Cultural |
| Maulbronn Monastery Complex | 1993; Cultural |
| Messel Pit Fossil Site | 1995; Natural |
| Museumsinsel (Museum Island) in Berlin | 1999; Cultural |
| Muskauer Park (Park Mużakowski) | 2004; Cultural |
| Potsdam and Berlin Palaces and Parks | 1990; Cultural |
| Prehistoric Pile dwellings around the Alps | 2011; Cultural |
| Quedlinburg Collegiate Church, Castle, and Old Town | 1994; Cultural |
| Rammelsberg Mines, Historic Goslar, and Upper Harz Water Management System | 1992; Cultural |
| Regensburg Old Town and Stadtamhof | 2006; Cultural |
| Reichenau Monastic Island | 2000; Cultural |
| Speicherstadt and Kontorhaus District with Chilehaus | 2015; Cultural |
| Speyer Cathedral | 1981; Cultural |
| Stralsund and Wismar Historic Cities | 2002; Cultural |
| Trier's Roman Monuments, Cathedral of Saint Peter, and Church of Our Lady | 1986; Cultural |
| Upper Middle Rhine Valley | 2002; Cultural |
| Völklingen Ironworks | 1994; Cultural |
| Wadden Sea | 2009; Natural |
| Wartburg Castle | 1999; Cultural |
| Weimar Classical City | 1998; Cultural |
| Wies Pilgrimage Church | 1983; Cultural |
| Würzburg Residence, Court Gardens, and Residence Square | 1981; Cultural |
About the Author
Benjamin Elisha Sawe holds a Bachelor of Arts in Economics and Statistics and an MBA in Strategic Management. He is a frequent World Atlas contributor. 
This page was last updated on April 25, 2017.
Citations
Your MLA Citation
Your APA Citation
Your Chicago Citation
Your Harvard Citation
Remember to italicize the title of this article in your Harvard citation.