UNESCO World Heritage Sites In Argentina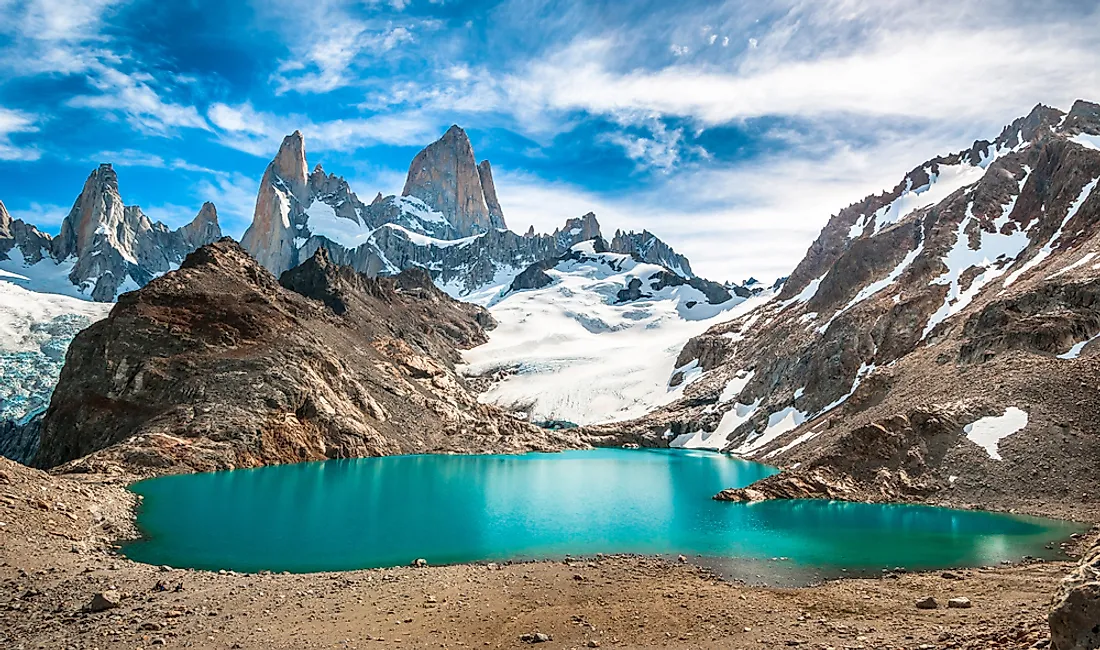 Argentina presents virtually the entire range of possible climates seen on earth, including humid warm, cold dry, dry warm, temperate, cold humid, semi-arid, steppe, subtropical, sub-Antarctic, snowy, and cold mountain. It enjoys a huge range of micro-climate ranging from the tundra in the sub-polar south to the tropical climates of the north. Argentina accepted the UNESCO World Heritage Convention on the 23rd of August, 1978, and, as of 2014, eleven locations have been inscribed on the World Heritage List.
Los Glaciares National Park
Los Glaciares National Park is a federally protected area in Santa Cruz Province, Argentina. The park covers an area of 726,927 hectares, the largest national park in the country and has an exceptional area with natural beauty. The park is covered with rugged towering mountains and numerous glacial lakes, including Lake Argentino which is 160 kilometers long. At its farthest end, three glaciers meet to dump their effluvia into the milky gray glacial water, launching massive igloo icebergs into the lake with thunderous splashes. The park established in 1937 and declared a World Heritage Site by UNESCO in 1981.
Jesuit Missions of the Guaranis
The Jesuit Missions of the Guaranis are the archaeological remains of towns created by the Jesuit Order. The towns existed between 1609 and 1818. The Jesuit Missions are considered as one of the most important cultural initiatives of South America colonization according to UNESCO. Four of the Jesuit Missions are located in Argentina, namely including San Ignacio Mini, Santa Ana, Neustria Senora de Loreto, and Santa Maria Mayor. The four missions are open to both local and international tourists. Jesuit Missions of the Guaranis was listed as World Heritage site in 1983
Iguazu National Park
Iguazu National Park was created in 1934 and incorporated into the World Heritage List in 1984. The park contains one of the greatest natural beauties of Argentina. It is located in the northeast, area of subtropical forest, on the border with Brazil. The park has good infrastructure development and touristic with very different walks. Lined with dense forests, the Iguazú river flows into 275 waterfalls, plunging more than 70 meters with a deafening noise over 2.7 kilometers.
Cueva de las Manos, Río Pinturas
Cueva de las Manos, Río Pinturas is a series of caves located in the province of Santa Cruz, Argentina, 163 kilometers to the south of the town of Perito Moreno. It contains an exceptional assemblage of cave art, executed between 13,000 and 9,500 years ago. It has many painted rock shelters with magnificent pictographs. It is surrounded by an outstanding landscape with a river running through the deep canyon. The site was listed as a World Heritage Site in 1999.
UNESCO World Heritage Sites In Argentina
| Rank | UNESCO World Heritage Sites In Argentina | Year of Inscription |
| --- | --- | --- |
| 1 | Los Glaciares National Park | 1981 |
| 2 | Jesuit Missions of the Guaranis | 1983 |
| 3 | Iguazu National Park | 1984 |
| 4 | Cueva de las Manos, Río Pinturas | 1999 |
| 5 | Península Valdés | 1999 |
| 6 | Ischigualasto and Talampaya Natural Parks | 2000 |
| 7 | Jesuit Block and Estancias of Córdoba | 2000 |
| 8 | Quebrada de Humahuaca | 2003 |
| 9 | Qhapaq Ñan Andean Road System | 2014 |
| 10 | Modern Movement Architectural Work of Le Corbusier | 2016 |
| 11 | Los Alerces National Park | 2017 |