Society
Types of US Visas
Depending on the nature of your visit to the United States, various types of visas may be required.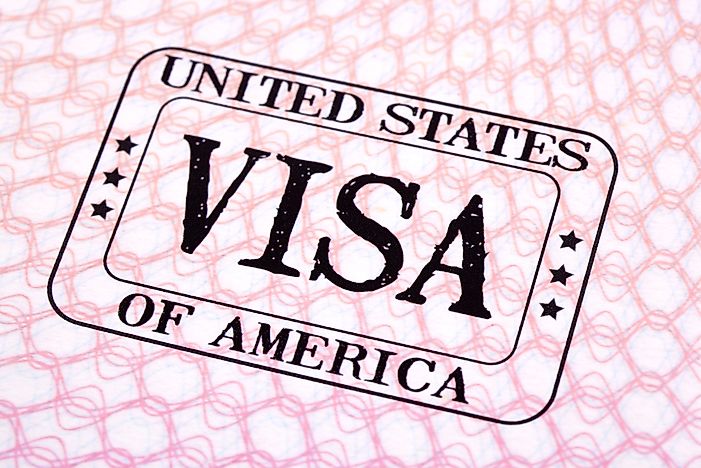 In the United States, different Visa types are issued relying upon the reason of the visit. A Visa is required so as to allow movement, entry and stay in the United States. On the off chance that the foreign nationals originate from Visa-excluded nations or under Visa Waiver Program, at that point they don't have to acquire a Visa. There are various types of immigrant and non-immigrant United States visas as explained below.
Types of US Visas
Type A
Type A Visas are issued for official government exercises and incorporate three unique classes. These are type A-1, A-2, and A-3. A-1 is issued to foreign government authorities and their families including envoys, consular officers, vocation representatives and government ministers. A-2 is issued to other foreign government authorities together with their representatives. A-3 is issued to individual workers, participants and representatives of both A-1 and A-2 Visa holders.
Type B
B-1/B-2: These are issued to non-immigrants for brief business purposes (B-1) or leisure (B-2).
Type C
This kind of non-migrant Visa is issued to foreign nationals who are in travel to another nation through the United States. It incorporates three classifications. C-1 is issued to outsiders on travel, C-2 to outsiders in travel to the United States and C-3 to foreign government authorities and their families in travel.
Type D
Type D Visas are issued to crew individuals from planes and ships. DV-1 are issued to Diversity Visa lottery victors, and DV-2 to assorted variety visa lottery winner companions and children.
Type F
This kind of Visa is issued to foreign understudies coming to study in the U.S. There are two sorts of Student visa. The F-1 visa and the J-1. The F-1 Visa is issued to full-time understudies who are enlisted in a scholarly program. It is additionally issued to understudies in a language study program. The F-1 visa gives the student authorization to remain in the United States for the entire scholarly period and an additional 2 months. It is a compulsory prerequisite for every single foreign student and terminates after the period expressed in the I-20 form by which the student ought to have finished their examination. The J-1 visa is issued to foreign trade understudies. It is otherwise called the Exchange Visitor Visa. This Visa is valid for a long time after which the student is committed to return to their nation of origin. The J-1 visa is strictly for academic purposes and issued to students seeking a practical experience that is not found in their country of origin.
Type G
This visa is issued to workers of global associations that are situated in the United States. It is additionally issued to government authorities and ambassadors who are workers of these organizations.
Other Types of US Visas
Temporary Worker Visas (Skilled Workers)
H1-B Visas are issued to temporary skilled workers who have specialized in a particular area or occupation. To obtain this, one must have an employee-employer relationship and must be earning above the prevailing wage of that occupation.
Permanent Residency Visas (Green Cards)
Green cards authorize an individual to settle and work in the United States permanently. They are valid for 10 years for permanent residents and for two years for conditional permanent residents. After the respective periods elapse, they must be renewed or replaced.
Types of US Visas
| Visa Type | Description |
| --- | --- |
| A | Official government activities |
| B-1/B-2 | Temporary visitor for business or pleasure |
| C | Transit through the United States to another country |
| D | Crew members of planes and ships |
| E | Visa for traders or investors |
| EB | Employment based permanent residency |
| F | Foreign students |
| G | Employees of international organizations |
| H-1B | Skilled foreign workers for speciality employment |
| H-2A | Employees of seasonal temporary agricultural work |
| H-2B | Employees of seasonal temporary work |
| H-3 | Training that is not available in applicant's home country |
| H-4 | Immediate family members of H visa holders |
| I | Members of foreign media |
| J-1 | Work and study exchange visitor program |
| J-2 | Spouses and dependents of J-1 holders |
| K-1 | Fiance or fiancee of a US citizen |
| K-2 | Unmarried children of K-2 holders under the age of 21 |
| K-3/K-4 | Foreign spouses and children of US citizens |
| L-1 | International transfers who have worked in a related field abroad |
| L-2 | Dependent spouse or children of L-1 holder |
| M | Students of vocational/technical schools |
| O | Someone who posses extraordinary ability in science, arts, education, business, or athletics |
| P | Athletic teams or entertainment groups |
| Q | Participants in an international cultural exchange program |
| R-1 | Temporary religious workers |
| R-2 | Dependents of temporary religious workers |
| S | Individuals who have assisted law enforcement as a witness or informant |
| T-1 | Victims of human traafficking |
| TN | Citizens of Canada or Mexico whose profession is on the NAFTA list |
| U-1 | Victims of crimes who are willing to help law enforcement |
| U-2 | Spouses of U-1 holders |
| U-3 | Children of U-1 holders |
| U-4 | Parents of U-1 under the age of 21 |
| U-5 | Unmarried children of U-1 holders |
| V | Temporary visa for spouses or minor children of green card holders |
This page was last updated on March 16, 2018.
Citations
Your MLA Citation
Your APA Citation
Your Chicago Citation
Your Harvard Citation
Remember to italicize the title of this article in your Harvard citation.