Economics
Top Taro Producing Countries In The World
Nigeria produces the highest quantity of taro in the world.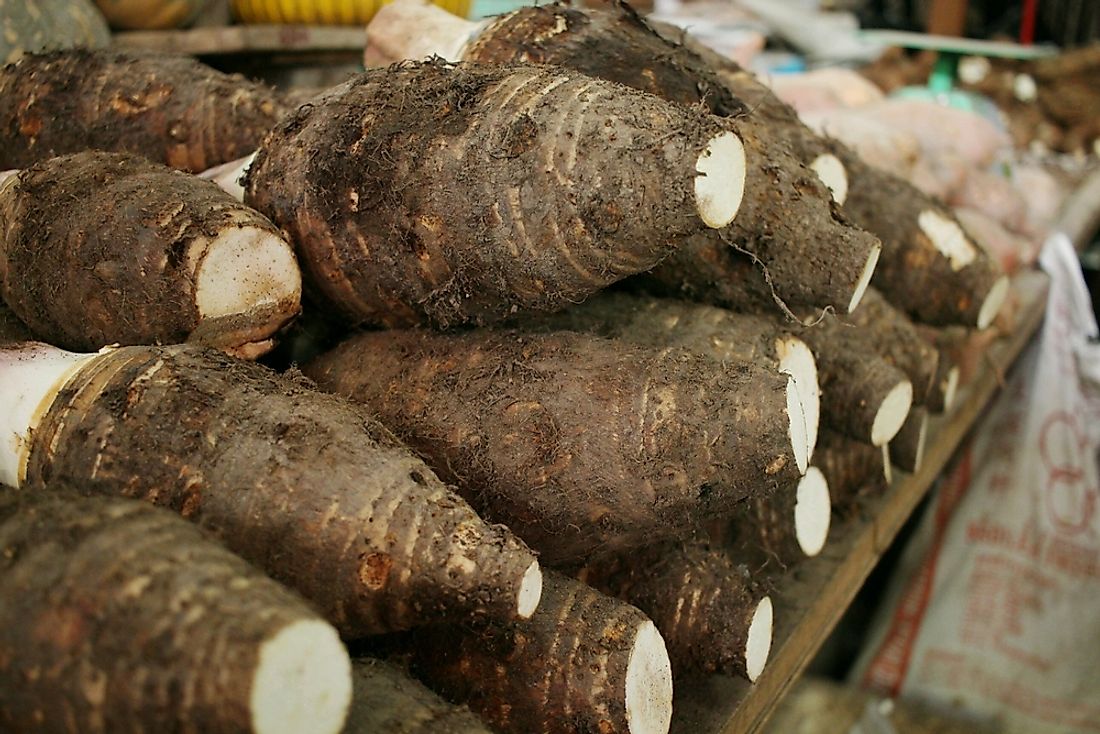 The scientific name for taro is Colocasia esculenta. The plant belongs to the Araceae family, and it is widely cultivated for its leaves, corms, and petioles which are consumed as vegetables. Taro is native to Southeast Asia and Southern India, but it is widely neutralized as it spread by cultivation to other parts of the world. It grows in paddy fields with abundant water or upland areas with sufficient rainfall or supplemental irrigation. Flooded cultivation of the crop yields a higher harvest as compared to dry-land farming. In the year 2014, the top five taro producing countries from across the world produced about 10.2 million metric tons of taro corms.
The Top 5 Taro Producing Countries In The World
1. Nigeria
Nigeria is the number one producer of taro in the world. The crop is also known as old cocoyam in the country, and locals from the Igbo community call it ede. It is a staple food in the state, and its methods of preparation include frying, boiling, or roasting. According to FAOSTAT, Nigeria accounts for approximately 32% of the world share in taro production. The country produced 3,273,000 metric tons of old cocoyam corms in 2014 from a cultivated area of 639,980 hectares.
2. China
Taro features widely in Chinese cuisine. When steamed, stir-fried, or boiled, the vegetable is taken as a main dish. Taro cake, a savory pastry dish whose main ingredients are taro and rice flour is traditionally eaten during celebrations of the Chinese New Year. China ranks second in taro production globally, according to FAOSTAT. In 2014, for example, the country produced 1,884,987 tons of taro corms, which comprised 18.6% of the world share. The total land area under cultivation was about 97,601 hectares.
3. Cameroon

The crop is also called macabo or cocoyam in Cameroon where it is a staple food. The country is the third top producer of taro worldwide. In 2014, Cameroon's production was 1,672,731 metric tonnes, constituting 16.5% of the total yield from around the world. The harvested area was around 172,324 hectares. Although the plant is cultivated throughout the country, it does better in areas with higher precipitation, especially in forest zones.
4. Ghana

Taro is a staple crop in Ghana and natives of the country call it cocoyam. They use cocoyam leaves to make popular local sauces like egusi and palaver sauce. It is also used to make cocoyam chips, baby food, and fufu as a substitute for plantains when they are out of season. According to FAOSTAT's statistics, Ghana is the fourth highest producer of taro corms in the world. The country produced 1,299,000 metric tons of cocoyam in 2014 from a cultivated area of 200,000 hectares.
5. Papua New Guinea

Taro is the fourth root crop in terms of production in Papua New Guinea after sweet potato, cassava, and yam. It ranks second as a staple root crop in the country after sweet potato. Taro farming in the country is mainly subsistence. The country produced 274,620 tons of taro corms in 2014, contributing 2.7% to the total production around the world. The yield was from a cultivated area of approximately 36,620 hectares. Papua New Guinea is the fifth top taro producing country.
Top Taro Producing Countries In The World
| Rank | Country | Taro Production (million metric tons), 2014 |
| --- | --- | --- |
| 1 | Nigeria | 3.3 |
| 2 | China | 1.8 |
| 3 | Cameroon | 1.6 |
| 4 | Ghana | 1.3 |
| 5 | Papua New Guinea | 0.3 |
This page was last updated on November 28, 2017.
Citations
Your MLA Citation
Your APA Citation
Your Chicago Citation
Your Harvard Citation
Remember to italicize the title of this article in your Harvard citation.