Economics
Top Soybean Producing US States
Illinois produces the highest amount of soybean in the US.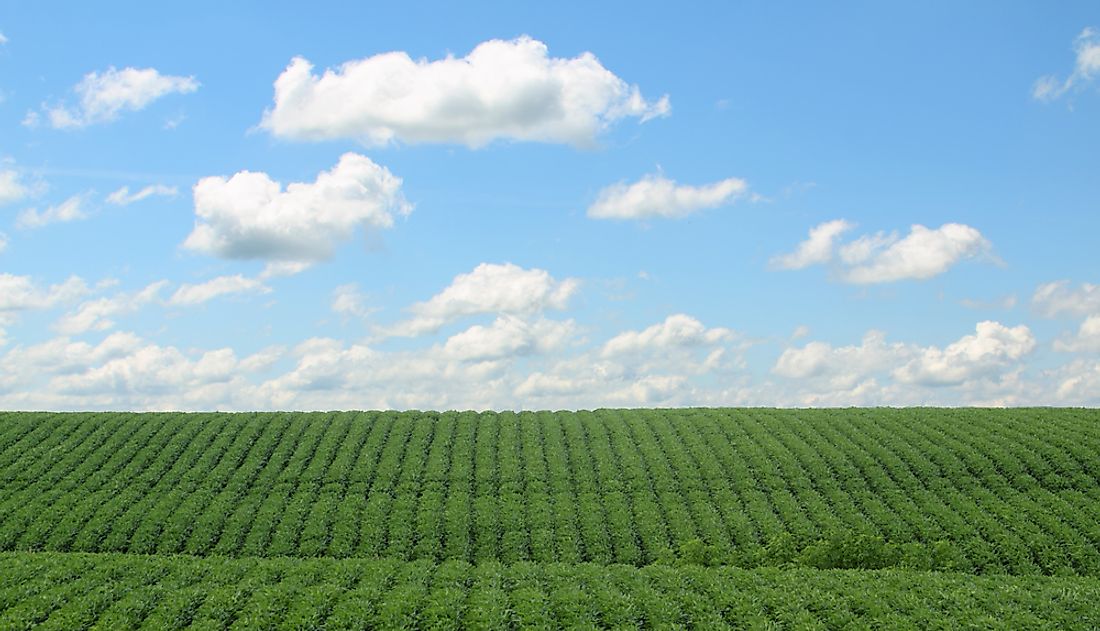 Aside from corn, soybeans are the most planted agricultural crops in the US. Belonging to the category of oilseed crops, soybeans in the US mostly thrive in May and early June. Maturity and harvesting work does not happen until late September and October. Data shows that the crop is usually planted alongside corn with a 50-50 ratio, which is one of the reasons why the acreage of soybean planting has gone up. Another reason is that the production costs of soybeans are lower than most crops. In addition, soybean has been a successful crop to grow on a commercial level after bioengineering, which improves its chances of successful growth. The beans are used as animal food and for human consumption. Some of the soybean products that human beings eat include tofu, soy flour, and soymilk.
Top Soybean Producing US States
Data from 2017 shows that the state of Illinois had the highest amount at 611,900,000 bushels. The state of Iowa is in the second position with 561,610,000 bushels while Minnesota was third with 380,230,000. Closing the top five were the states of Nebraska and North Dakota with 327,700,000 and 326,025,000 bushels respectively. In the tenth position was Arkansas with a production of 178,500,000 bushels.
The high yields from Illinois in 2017 set a record high production of about 201 bushels per acre of land. According to the National Agricultural Statistical Service, the yields will go even higher in 2019 to a new record of 207 bushels per acre. However, this amount is dependent on a number of factors such as the weather. For example, a late spring in Illinois will mean that soybeans will be planted more than corn, which may increase the yield even further. Aside from the weather, more farmers in Illinois may be inclined to plant more soybeans because of their higher profitability compared to corn, especially after 2014. The trend of switching to soybeans from corn has been observed in the country since 2012.
In the case of Iowa, the yields are also projected to grow. In 2018, the state has projected that it will post a record high production of 590 million bushels with each acre producing 206 bushels. This production is despite the unfavorable dry conditions that Iowa has had to deal with, especially in the later stages of July. In Iowa, farmers have planted soybeans on land spanning about 9.94 million acres and expect to harvest from 9.84 million acres.
Looking at the last state in the list, Arkansas, soybean farming has been present since 1926 by a small family that immigrated from Germany. At that time, rice was the most dominant crop in the state. The major motivation for soybean farming was that rice was depleting the nutrients in the soil. Come 2017, the farmers in the state used about 3.5 million acres of land to plant soybeans. In 2016, the crop was able to raise revenue worth a whopping $1.4 billion, which was about 20% of the revenue from the agriculture sector. In recent years, the average yield of soybeans per acre stands at 40 bushels.
Top Soybean Producing US States
| Rank | State | Soybean Production (In 1,000 Bushels) |
| --- | --- | --- |
| 1 | Illinois | 611,900 |
| 2 | Iowa | 561,610 |
| 3 | Minnesota | 380,230 |
| 4 | Nebraska | 327,700 |
| 5 | North Dakota | 326,025 |
| 6 | Indiana | 320,760 |
| 7 | Missouri | 289,590 |
| 8 | Ohio | 251,955 |
| 9 | South Dakota | 241,230 |
| 10 | Arkansas | 178,500 |
About the Author
Ferdinand graduated in 2016 with a Bsc. Project Planning and Management. He enjoys writing about pretty much anything and has a soft spot for technology and advocating for world peace.
This page was last updated on November 13, 2018.
Citations
Your MLA Citation
Your APA Citation
Your Chicago Citation
Your Harvard Citation
Remember to italicize the title of this article in your Harvard citation.