Travel
Top Source Countries Of Tourists To Brazil
Argentina, the United States, and Chile contributed the highest number of tourists to Brazil in 2014.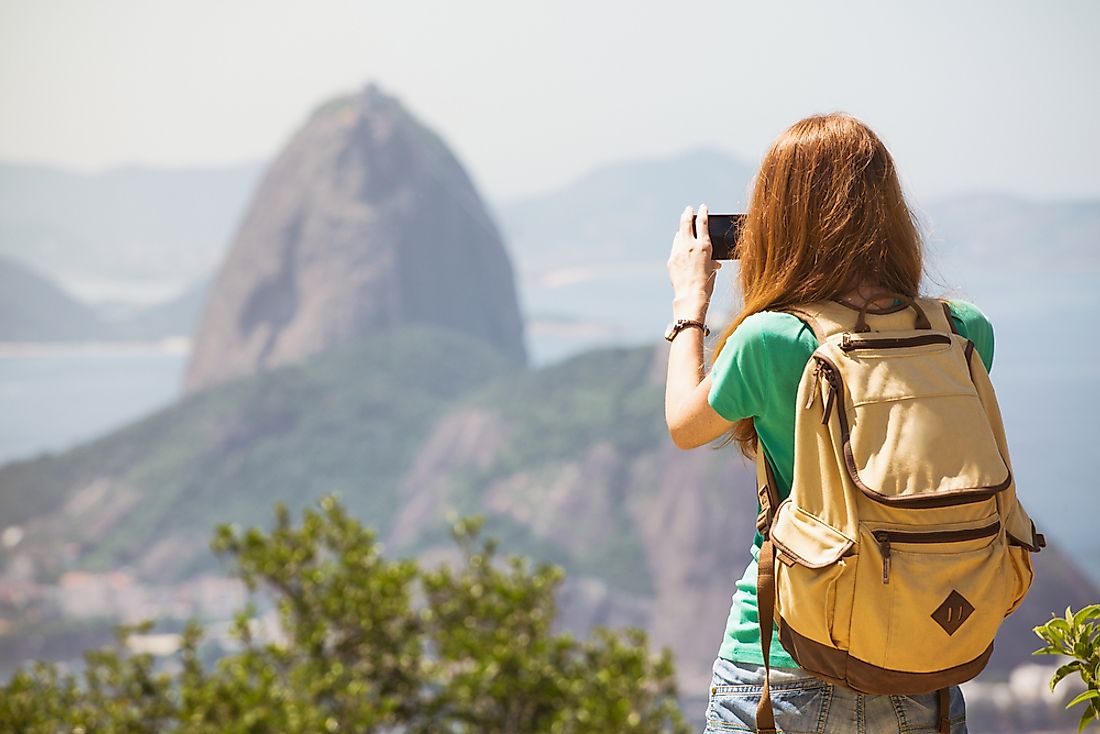 Tourism In Brazil
Tourism is a critical component of the economy in Brazil, contributing $6.6 billion in revenue from international tourists in 2012. Brazil ranks number 3 in the Americas in terms of being an attractive place to open a business in the tourism industry. In fact, the travel and tourism industry is responsible for creating 7% of the employment opportunities here. It is the second most popular tourist destination in South America and has sustained consistent growth in the number of international tourists it receives every year. This country received 5.6 million visitors in 2012. Foreign arrivals grew in 2016 by 4.8% in response to the Olympics Games. This article takes a closer look at where those tourists come from and where they go within the country.
Tourist Destinations In Brazil
Brazil offers tourists a wide range of activities, ranging from ecotourism to beaches and cities to historic tours. The most popular cities with international travelers are: Rio de Janeiro, Sao Paulo, Foz do Iguacu, Florianopolis, and Salvador. For those tourists who are looking for an adventure in nature, Brazil also offers tours to the Amazon Rainforest, the Pantanal tropical wetland area, and beautiful beaches in Rio de Janeiro and Santa Catarina. This country is also home to a number of World Heritage Sites, including several historic city centers, the Discovery Coast Atlantic Forest Reserves, and Iguazu National Park.
Top Source Countries For Tourists To Brazil
Although Brazil is the third most competitive location in the Americas for the travel and tourism industry, it only ranks number 28 in the world. In addition to its very popular tourist attractions, Brazil also has some issues that have yet to be resolved like underdeveloped infrastructure and high crime rates. Another problem for this country is that Brazilians have begun traveling outside of the country more often, spending more money internationally than foreign tourists spend inside the country. This results in a negative net foreign exchange for Brazil.
Argentina
The majority of international tourists visiting Brazil are from Argentina. In 2012, Argentinians made up 29.4% of all tourists found in Brazil. Their numbers increased in 2014, when a total of 1,743,930 individuals from Argentina visited Brazil. Argentina and Brazil are both members of Mercosur (the Southern Common Market) and the Andean Community, both trade blocs and customs unions designed to unite South America. Citizens of member countries are permitted to travel to other member countries without a visa, which may help encourage tourism.
United States
The United States is the second largest source of international tourists to Brazil. In 2012, 586.463 US citizens spent their vacations in this South American country, representing approximately 10.3% of total arrivals. This number increased to 656,801 in 2014.
Chile
Chile, another South American country and member of the Andean Community, is the third largest source of foreign tourists to Brazil. Much like the previously mentioned countries, the number of individuals visiting from Chile is also on the rise. In 2012, Chileans made up 4.4% of total arrivals to Brazil, around 250,586. That number increased to 336,950 in 2014.
This is just a look at the top 3 source countries of tourists to Brazil. The chart published below offers a more detailed look at which countries are most interested in traveling to Brazil.
Where do Tourists to Brazil Come From?
Argentina, the United States, and Chile contributed the highest number of tourists to Brazil in 2014.
Top Source Countries Of Tourists To Brazil
| Rank | Country of origin | Visitor arrivals 2014 |
| --- | --- | --- |
| 1 | Argentina | 1,743,930 |
| 2 | United States | 656,801 |
| 3 | Chile | 336,950 |
| 4 | Paraguay | 293,841 |
| 5 | France | 282,375 |
| 6 | Germany | 265,498 |
| 7 | Italy | 228,734 |
| 8 | Uruguay | 223,508 |
| 9 | Portugal | 170,066 |
| 10 | Spain | 166,759 |
| 11 | United Kingdom | 217,003 |
| 12 | Colombia | 158,886 |
| 13 | Peru | 117,230 |
| 14 | Mexico | 109,637 |
| 15 | Bolivia | 95,300 |
| 16 | Japan | 84,636 |
| 17 | Netherlands | 81,655 |
| 18 | Switzerland | 80,277 |
| 19 | Canada | 78,531 |
| 20 | Australia | 67,389 |
About the Author
Amber is a freelance writer, English as a foreign language teacher, and Spanish-English translator. She lives with her husband and 3 cats.
This page was last updated on August 1, 2017.
Citations
Your MLA Citation
Your APA Citation
Your Chicago Citation
Your Harvard Citation
Remember to italicize the title of this article in your Harvard citation.